Eight years ago today I went for my first ride on Zwift.
The winter of 2015 was my first "indoor season" as a serious cyclist, and I was already dreading the roller sessions. At the time, none of my local riding buddies were on Zwift – I don't think any of them had even heard of it. But I saw it somewhere on Facebook, downloaded the game, ran it in "just watch" mode, and immediately knew I had to give it a try.
I found a website in Germany selling Tacx Vortex Smart trainers for ~$290 to my door, so I pulled the trigger. The night it arrived I put it together, hooked my bike in, and went for my first Zwift ride from the middle of my living room. The trainer wasn't calibrated, and I wasn't dressed for a real ride… so that effort didn't last long.
But two days later I went for my first "real" Zwift ride – two laps of Watopia's Hilly Route (the only route on Watopia at the time). Uploading it to Strava certainly confused local friends. "Are you in the Solomon Islands right now?"
That's how it all began for me. And I jumped in with both feet! Less than a month later I launched ZwiftBlog.com, which became Zwift Insider two years later.
I wish I had been on Zwift from the beginning, but when Zwift beta launched in 2014 I was just rediscovering cycling after an 18-year hiatus. So I never got to ride Jarvis. But what I have been a part of so far has been really special. So each year, I look back and deliver my perspective as a Zwifter and the editor of the web's biggest Zwift fansite.
Post-Covid Normalization
Our all-time Peak Zwift of 49,114 came in January 2021. Remember that time? It was actually illegal to ride your bike outdoors in some European countries! Covid lockdowns sent Zwift numbers off the chart.
A year later traffic numbers were much lower than their mid-Covid peak. The following year was the same story, and this year looks like it's trending in a similar direction. Zwift is by far the most popular indoor cycling platform, but growth seems stagnant post-Covid.
(Disclaimer: Zwift doesn't provide detailed user stats, so any number claims in this post are based on educated guesses, Companion app "Zwifting Now" accounts, and any other sources we can pull from.)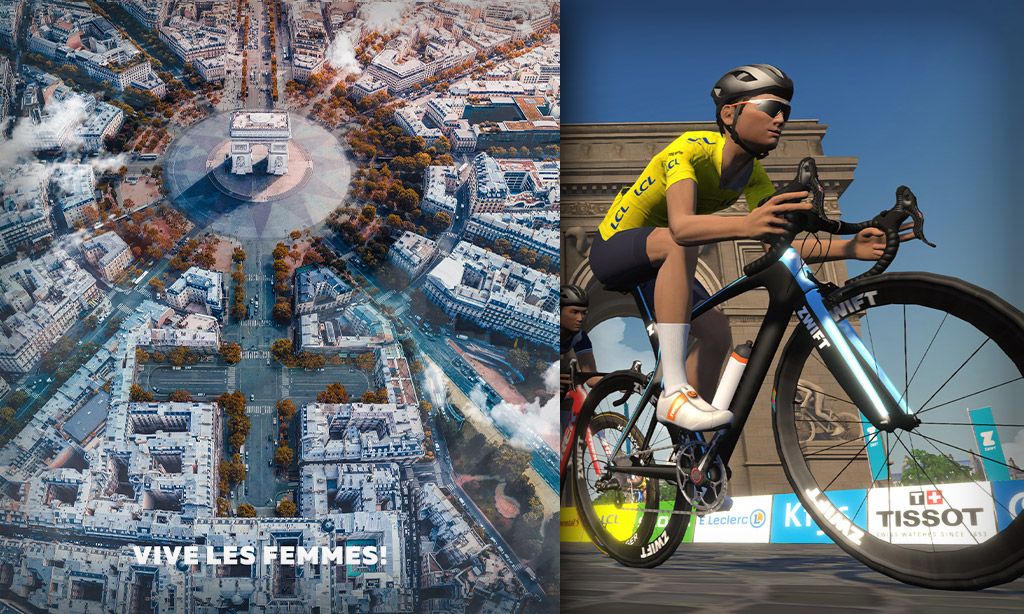 Leading the Cycling World
Zwift is far and away the industry leader based on the size and engagement of its user base. But they're also leaders in the overall world of cycling. Consider this:
Zwift has multi-year deals as the title sponsor of the women's Roubaix and Tour de France
Zwift was the cycling platform selected for the Olympic Esports Series 2023
Each year, Zwift's Road Academy continues to place riders into pro teams – the first virtual cycling platform to do so
The "Zwift Games" were just announced for Feb-Mar 2024, and they will aim to be "the largest cycling esports competition ever held"
Zwift was dealt one big blow this year, though. They lost the bid to host the 2024 UCI Esports World Championships, a race that Zwift has hosted since its inception. The bid went to competitor MyWhoosh, who was selected as the exclusive platform for 2024-2026.
This news surprised me since Zwift seemed like the only sensible choice for such a partnership. We could speculate all day long about what motivated the UCI's decision, but at the end of the day, my positive take is that this will allow Zwift to concentrate on making their platform better for everyone, which can only be a good thing long-term.
It's Not All Roses
2022 saw Zwift making some major cuts to their workforce, reducing staff by approximately 20% along with other big players in the indoor market. 2023 saw it happen again when Zwift reduced staff by 15% in March.
The news we didn't report on, though, were the names who exited not long after that March cut. Zwift made cuts at all levels of leadership, including some very senior staffers who had been with Zwift since early days. That list included Chief Marketing and Revenue Officer Steve Beckett, VP of Acquisition Ian Vinten, SVP of Brand Experience Laurent Janneau, Director of Content Programming Craig Taylor, and more.
Zwift calls their employees "Watopians", and it's always a bummer for me to say goodbye to a Watopian who I've worked with over the years. That said, former Watopians seem to have a knack for staying positive and landing on their feet. Must be something in the La Croix at ZHQ.
The restructuring clouds had a silver lining, though: it allowed Zwift to bring on fresh leadership. First we heard of Kurt Beidler coming on as Co-CEO, then Mike Lusthaus and Manlio Lo Conte followed not long afterward.
Will these three (and other new Watopians) have what it takes to move Zwift to the next level? Beidler and Lusthaus came from Amazon, while Lo Conte came from Meta. One would think their experience working in companies on the bleeding edge of big tech would lend itself well to Zwift's further development. So far, I'm optimistic that fresh leadership is moving things in the right direction. Let's talk about that…
Moving Forward
For years, Zwifters (myself included) have been disappointed in Zwift's lack of progress as a platform. Over and over again I've heard the same phrases from Zwift superfans, the same ones I mutter myself: I love Zwift, but I wish they'd add more roads. I love Zwift, but they need to build out the features. I love Zwift, but they need to fix the bugs.
Superfans like me love Zwift, and because we love it we dream about how much better it could be and get frustrated when it's not.
During Covid and even for the year or two following, Zwift seemed just to be keeping their heads above water. Hardly any new features shipped, but the platform stayed stable so people could use it.
This year, things seem to be moving forward more noticeably. Zwift updates are now scheduled every two weeks, and they've been coming out as planned. Zwift Play controllers were released in June, which is big news. The Hub trainer continues to evolve; it now supports virtual shifting, which is more big news. We got a library of famous climbs in the colorful Climb Portal, and even got a Watopia expansion!
Is it enough? Perhaps. Zwift has to keep current subscribers happy while expanding its market, and that's a difficult balance to strike. While I'd love to see more new roads, expanded race features, rowing, AI-based coaching, and more, I'm happy to see Zwift planning and releasing new features on a regular schedule for the first time in a few years.
A Look at the Competition
Last year I wrote about how RGT may be a serious competitor to Zwift now that they were backed by Wahoo, who had just opened up a lawsuit against Zwift.
A year later, Wahoo and Zwift settled the lawsuit. On top of that, Wahoo shut down RGT at the end of October! From what I'm hearing, Wahoo and Zwift are working together well today and have big plans for the future.
So who is Zwift's competition in the software space in 2023? While there are lots of indoor cycling platforms out there, only a few are worth mentioning today:
IndieVelo: the new kid on the block, IndieVelo is where many former Zwift racers have migrated due to its racing-first architecture and rapid speed of development.
MyWhoosh: they got the nod from the UCI to host Esports Worlds for 2024-26, but it feels like people only use the platform because it's free and awards some big prize money.
Rouvy: a popular platform for riders who want to ride "real" roads.
While IndieVelo is bringing some nice race-specific features to the table, and MyWhoosh gets to host Worlds, Zwift doesn't seem very concerned with trying to beat these competitors.
And they shouldn't be.
For Zwift to survive and thrive far into the future, they have to focus on growing the market, not on market share. To put it another way: it doesn't make sense to fight over Rouvy's happy but tiny user base when there are hundreds of thousands of potential customers ripe for the picking once Zwift makes its product easier to use and more compelling.
Have Trainers Plateaued?
Zwift early success fueled demand and development in the smart trainer space, but ever since Covid we haven't seen anything happening apart from:
Iterative improvements of existing smart trainer models
Price drops
This year Wahoo released the KICKR Move and KICKR Bike Shift, but we haven't seen much else for new trainers or smart bikes. What we have seen, though, are price drops. Most trainers that used to be priced between $600-$1000 are now $350-$750. Why so cheap? Multiple reasons:
Glut of product: some companies are still trying to sell trainers they ordered during Covid
Price competition: when Zwift's Hub sells for $599 with a year of Zwift, it's hard to justify pricing your mid-level trainer any higher
Apart from Zwift and Wahoo, it feels like trainer companies are simply selling the products they've already created. And perhaps that makes sense: maybe we've reached a spot on the development curve where continued investment into R&D doesn't turn a profit. Maybe cyclists already have the features they want.
Maybe.
Or maybe there's a big opportunity here for someone to come in and do something amazing, like creating a smart bike that works well without breaking the bank.
Still Rocking
Rocker plates are getting more mainstream every year, and I think that's a great thing. I say this every year, and I'll say it again: I still don't understand how people ride for hours on a static setup.
Today you can find affordable rocker plates on Amazon, and full-motion models are becoming the standard as designs are tested and dialed in. The UK has Omnirocker, while here in the US we have lots of options including the SBR Rockr, Velocity Rocker, InsideRide's E-Flex, Axxion Rocker Plate, KOM Cycling plate, and more. Rock on, I say.
Racing Development
I love to race on Zwift because it pushes me to my limits, which in turn makes me stronger. Just last month I finished my 1000th race (according to ZwiftPower). That's a lot of sweat!
I've been recording most of my races this year, partly because it's nice to have a way to go back and review what happened. Here's one recent race where I managed to sneak onto the podium:
Racing continues to develop on Zwift, with category enforcement now the standard for breaking up the field into fun competitive groups. Still, as has been the case historically with Zwift, some of the biggest developments have come from the community. While the ZwiftPower site languishes, Tim over at ZwiftRacing.app keeps adding amazing features, the Ladder races are getting popular, and of course ZRL, WTRL TTT, and my baby the Tiny Races are all working to keep racing fresh and fun.
While I had hoped we would see results-based categories by now, I truly think that in the next six months, we'll see a big leap forward as Zwift moves into results-based ranking. This should put a stop to sandbagging and really shake up the peloton.
So Many Rides, So Little Time
There was no in-game event calendar eight years ago, and today (I just checked) there are literally 400+ events per day on Zwift's calendar. Amazing!
That said, the calendar needs a refresh. Back in December 2022 it was announced that the race calendar would get a cleanup… but it never felt like that happened. It feels like there are still a lot of races and group rides on the calendar that aren't actively maintained, and see very little participation.
Participation in community-organized events has surely been impacted by Zwift organizing so many of their own group rides on the platform. These days there's often a Zwift-owned event happening each hour, as well as the always-on Robopacers. Is that a bad thing? Not necessarily, but the simple fact is that Zwift's stronger presence on their calendar makes it harder for community members to launch new group rides or even maintain existing ones.
Working with the community to develop a properly-dense event calendar is no easy job, and I'm glad I don't have to do it. James Bailey: I salute you!
What I am responsible for is a small number of Zwift Insider events including the Epic Series and Tiny Race Series. Based on my experience with those events, I would love to see Zwift invest in better backend tools for event organizers. Improving these systems would reduce event configuration errors and streamline the creation and editing of events, logically leading to higher-quality event experiences for end users.
Clubs: What Now?
Last year I had the biggest Club on Zwift, but the media juggernaut that is GCN surpassed me a couple months back.
I've got a confession to make, though. Even with the second-largest Club on Zwift (31.3k members, click here to join) I still struggle to put it to good use. The Club chat tool is very limited (no tagging members, no clickable URLs) which means most members just turn off notifications and never check the chat. And apart from chat, the club really just becomes a container for Club events.
Which is fine, I suppose. But having built and interacted with online communities for 20+ years, I can't help but believe Zwift Clubs could be so much more. I'd love to see:
Club kit designs
Voice chat in game with Club members
Team racing where Club members are automatically linked together
More powerful Club chat/discussion tools
Club leaderboards, to promote competition between Clubs
and more!
The Future Is Bright
It's not hyperbole to say my involvement with the Zwift community has been life-changing. It's changed my fitness, it's changed my work life – it's even changed my vacation plans! And I've loved every minute of it.
I am truly blessed to serve the community through my work here at Zwift Insider. And I look forward to doing it for many years to come.
Ride on!
What about You?
How long have you been on Zwift? Do you feel he platform is moving in a good direction? What's features are at the top of your wishlist? Share below!