Zwift Racing League (ZRL) has taken racing to the next level on Zwift. It's well-organized bike racing on an unprecedented scale, a multi-week team points competition held across all timezones and catering to thousands of teams. And that's why serious Zwift racers show up week after week: because everyone knows ZRL is where Zwift racing is at its highest level.
With eight successful rounds completed, ZRL organizers WTRL continue to evolve their systems and tighten rulesets to provide a fair, engaging, and competitive platform for Zwift racing.
The next ZRL round begins January 10th, and it's officially named 2022/23 Season – Round 3. We'll use this page to display all the key info in one place, and update it as more info becomes available.
Ruleset Updates
See the latest version of ZRL rules on WTRL's website (heads up: an updated version is supposed to be released this week)
If you're new to ZRL, you'll definitely want to get familiar with the ruleset and scoring structures, as these will inform strategic decisions made as a team.
Segment Battle Points
New this round, "Segment Battle Points" (SBP) are being awarded along with the points we all know and love (finish points, FAL, and FTS).
What exactly are SBP? Only WTRL knows, currently. The scoring page just says "…all riders will score Segment Battle Points. More details to follow." Once updated info is released, we'll post it here.
(Our theory is, SBP are points every rider earns based on their efforts on intermediate segments. WTRL may be instituting this additional scoring to give riders an incentive to push hard on segments, even when they're dropped from the front pack and/or don't have hopes of being fastest through the segment. Something to keep everything battling to the end!)
Timeslots and Divisions
The number of divisions is the same as last round, although some names have been modified. Start times for certain divisions have also been adjusted. See below: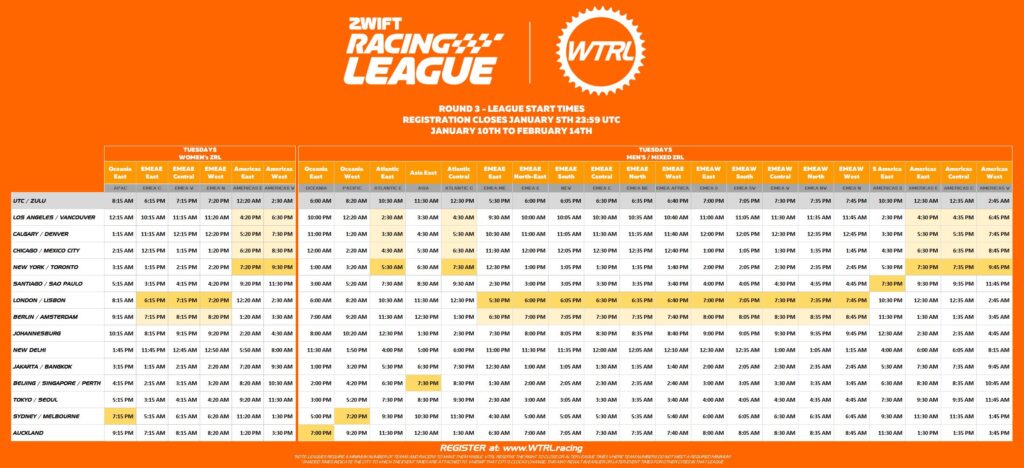 Teams and Registration
New teams can register now at wtrl.racing/zrl-registration. Team registration closes midnight UTC on Thursday, Jan 5. You can have up to 12 riders nominated for your team. Again, see the ruleset for details.
Existing teams with 3 or more round 2 races are automatically reregistered.
Want to race, but don't have a team? You can find a list of teams recruiting riders by visiting wtrl.racing/zwift-racing-league/#teams ("All Teams" in the ZRL menu). WTRL says an inquiry form will be available soon on that page, so you can click and ask to join a team that is recruiting.
Until then, you can track down the team's contact info and message them, or simply post your info on the Facebook group to have teams contact you. Use tags so your post can easily be found by others using "popular topics":
If you are looking for a team, tag your post with the topic #zrlteamhunt
If you are recruiting, tag your post with #zrlrecruiting
Tips for First-Timers
If this is your first time racing on Zwift, here are a few tips and links to get you started fast:
You have to be signed up for ZwiftPower in order to participate. Instructions
You must create a WTRL account as well – do so at wtrl.racing/registration
The category you'll race is determined by your FTP in watts per kilogram. Talk to your team manager if you have any questions on where you should race, or read this post from Zwift.
Riders must use a power sensor to transmit power to the game – this would be a smart trainer, smartbike, or power meter. (You're allowed to race C and D categories with a "classic" trainer and virtual power, but your points are cut in half.)
Heart rate monitors are required. (You're allowed to race without a HRM, but your points are cut in half.)
It's really best that you have at least a few races under your belt before you try to join a team, so you know what sort of power numbers you can hold in a race.
Race Routes and Dates
Each ZRL round is made up of weekly races which are either points races or team time trials (TTT). Points race winners are the teams who amass the most total points by the end of the race, while TTT winners are the teams who complete the racecourse fastest (team time is taken from the fourth rider across the line).
"Intermediates" are sections on the course where riders compete for points. Intermediates may count for Fastest-Through-Segment (FTS), First-Across-Line (FAL) points, and/or the new Segment Battle Points (SBP). See the scoring page for details.
Race #1: Chain Chomper
January 10, 2023 (Points Race)
This route begins easily enough, but quickly begins to hurt as you hit the short Castle KOM then head straight into the dirty Temple KOM Reverse. We've got a custom finish line for this race, too, meaning it ends atop our second run up the Temple KOM Reverse. Bike choice is going to be an interesting challenge!

Race #2: The Magnificent 8
January 17, 2023 (TTT)
We've raced this one before, as a TTT. It's a fairly flat affair, except for the trip of the Hilly KOM Reverse where proper pacing will be essential so you can keep your team together for the long flats that follow!

Race #3: Innsbruckring
January 24, 2023 (Points Race)
Prime your 1-minute power, racers. Every trip up the Leg Snapper is going to force a selection, and those at the front will have access to piles of sprint points!

Race #4: Neon Flats
January 31, 2023 (Points Race)
With a total of 8 sprint intermediates, this is going to be a study in team strategy.

2 Laps of Makuri Islands' Neon Flats (29.7km, 144m elevation)
PowerUps: Aero Boost (40%), Draft Boost (30%), Invisibility (30%) 🛈
Intermediate Segments:
Race #5: R.G.V.
February 7, 2023 (TTT)
Our second TTT of Round 3 is on a course familiar to ZRL racers. R.G.V. is quite flat, so your team's performance will come down to efficient formations and maximizing each rider's contributions as you rotate pulls.

1 Lap of France's R.G.V. (25km, 133m elevation)
PowerUps: (Draft Boost listed, but powerups have yet to work in TTT events) 🛈
Race #6: Rolling Highlands
February 14, 2023 (Points Race)
The first-ever ZRL race on Zwift's new Scotland map takes riders on repeated figure 8s of the rolling Scottish Highlands. Lots of places for small attacks plus a punchy KOM at the end of each lap will keep these races animated!

3 Laps of Scotland's Rolling Highlands (31.9km, 260m elevation)
PowerUps: Aero Boost (34%), Draft Boost (33%), Feather (33%), 🛈
Intermediate Segments:
March Championships
After the three rounds of the 2022/23 season, WTRL is planning a championship based on this season's rounds. This will happen between March 7 and 21, but we don't have any further details.
Questions or Comments?
We recommend checking out WTRL's Zwift Racing League page for rules, team registration, results, and more. They also have a new Help Center with lots of useful info, and their Facebook page is the place to go for discussion of all things ZRL.
Feel free to share questions or comments below!