WTRL's Zwift Racing League page with tons of details about all things ZRL, and we couldn't be more pleased with their obvious attention to detail. There's so much that goes into planning a multi-division, team-based racing league that really works, but WTRL is really on top of things.
Here are the details on event times, dates, and routes for the first season of the Zwift Racing League.
Race Times
The Premier League teams (an invitational league) will race on Mondays, a day before the Open (community) Division's Tuesday races. Premier League has just one time slot.
Open Divisions have four time slots, as shown below. When a team signs up, they must select which time slot they will race for the duration of the season. Larger, more established Zwift teams are having riders sign up by time slot, then combining those riders onto 6+ person teams. These larger teams are anticipating have (for example) at least one B squad racing in each time slot.
Smaller teams, of course, may need to pick just one time slot and field just one team.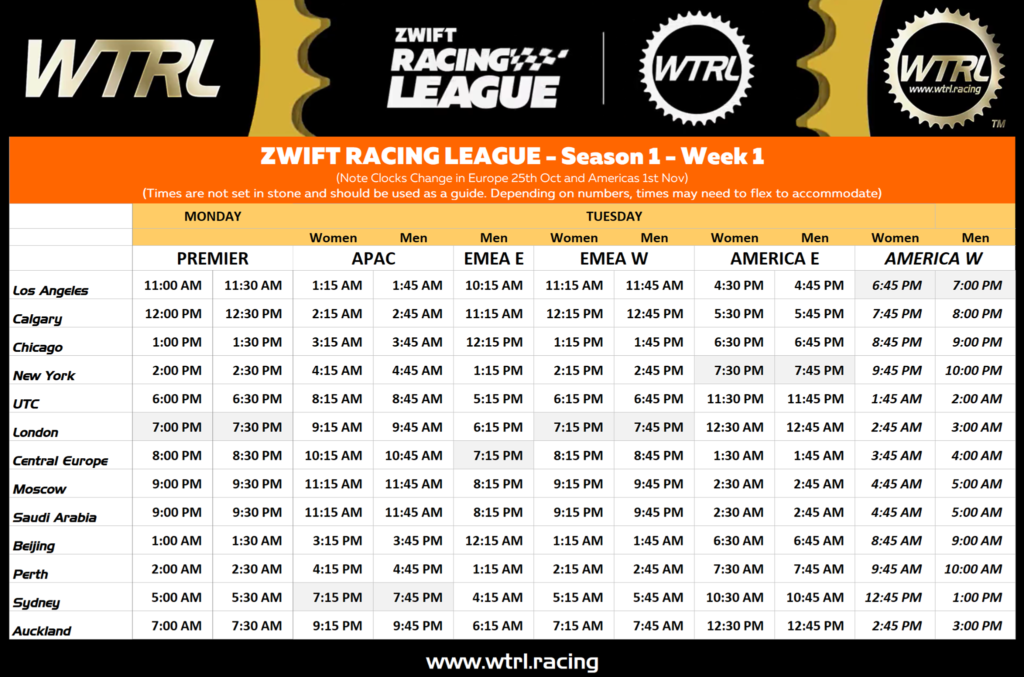 WTRL notes, "Note times shown are for INDICATIVE purposes at this time. ACTUAL race times may vary depending on broadcast requirements around screening both women's and men's divisions."
Note, too, that for TTT races, each TTT team will have its own start time, like a typical TTT. With up to 20 teams per time slot and division, your team's start will probably be delayed from the start time above.
Race Routes and Dates
Note: "Intermediates" are points on the course where riders will compete mid-race for additional points. Only the first five riders through each intermediate will score points.

We kick off the season with the longest race of the series, and it's not flat, either! (While none of the climbs are very long, they'll definitely split up the field and reveal the top riders/teams for the season. Can you hang in there?) This route includes the Volcano KOM, along with other (shorter) timed KOMs.
Premier, A, and B Divisions: 50km (custom distance) finish at Titans Grove Q/KOM Reverse
C & D Divisions: 35km (custom distance) finish at Volcano Q/KOM arch
Intermediates:

Titan's Grove Q/KOM
Hilly Q/KOM
Volcano Q/KOM
October 19/20: France's R.G.V. Team Time Trial

The shortest of the TTT events for season 1, this race will be fast and flat.

Our second race is held on Zwift's first-ever worlds course, and it's a brilliant one with its mix of flat sections and punchy climbs. The clear breakdown of sections on this route may give teams a chance to execute a more straightforward plan, such as heading to the front to make everyone work hard on the flats. Lots of intermediate points available here with 4 intermediates on each lap for a total of 8 for the top divisions.
Premier, A, and B Divisions: 2 Laps – 32.4km
C & D Divisions: 1 Lap – 16.2km
Intermediates:

Monument Ave
Broad Street
Libby Hill
23rd St

This "mostly flat" route includes the reverse Hilly KOM, making it the climbiest TTT of the series.

Hitting the steeper pitches of the NYC KOM in both directions is going to prove decisive for these races. Hope your VO2 max power is strong!
Premier, A, and B Divisions: 1 Lap – 34.2km
C & D Divisions: 27km (custom distance) finish at NY Q/KOM
Intermediates:

NY Q/KOM Rev
NY Sprint Rev
NY Q/KOM (Premier/A/B only)
NY Sprint (Premier/A/B only)

A fairly straightforward and flattish route this week. Just watch out for those rises out in the park area, and keep your team together!

The second-longest race on the calendar, we're skipping the final zig-zag climb up the Petit KOM, making this a fairly flat stage. The only substantial climb being the straighter road up to the top of the Petit KOM.
Premier, A, and B Divisions: 45km (custom distance) finish at Marina Sprint
C & D Divisions: 30km (custom distance) finish at Pavé Sprint
Intermediates:

Pavé Sprint rev
Aqueduc Q/KOM rev
Ballon Sprint rev
Pavé Sprint (Premier/A/B only)
November 30/December 1: Watopia's Waistband Team Time Trial

Another flat, short TTT route. This is gonna be fast!

The Harrogate Circuit is a the lumpiest route on the schedule. The climbs here are never long, but the roads are rarely flat, leading to constant surges of power and small opportunities for micro-recoveries. The long slightly uphill finish is always exciting and painful.
Premier, A, and B Divisions: 2 Laps
C & D Divisions: 1 lap
Intermediates:

Yorkshire Q/KOM
Yorkshire Sprint

Wrapping up our series with a TT on Fuego Flats just feels right. Tick Tock has no steep climbs, but enough rises to keep things interesting in terms of managing your power for maximum speed in a TTT.
Questions or comments?
We recommend checking out WTRL's page for all things Zwift Racing League. Feel free to share questions or comments below!