Zwift Racing League has taken competition to the next level on Zwift. Now with two seasons completed, the good people at WTRL have clearly worked out most of the kinks in a series of events that requires massive amounts of planning, organization, and data crunching. Kudos to them for their longsuffering and hard work fine-tuning the biggest race league in Zwift's history!
The third season of Zwift Racing League begins April 6th, and we'll use this page to display all the key info and links in one place.
Rules (and Season 3 Changes)
The updated Season 3 ruleset is available at wtrl.racing/zwift-racing-league/#rules. This is a much more official and thorough ruleset than we've seen in past seasons, and that's a good thing. It shows the league is maturing!
Here are a few key changes we spotted:
Nominated riders: in past seasons, any rider could race for any team, as long as they met the category requirements and only raced for two teams (or less) in a given week. In theory, this meant teams could have a totally different set of riders each week. (In practice, this didn't really happen.) The new rule states that, "A Squad (roster) can be comprised of up to 12 nominated riders of which a minimum of 4 to a maximum of 6 riders can be selected from each week to form the Team racing in the event."

A minimum of 4 riders must be nominated for the Squad before registration closes.
New riders can be added at any time up to the maximum of 12 riders per Squad.
New riders must be added prior to participating in an event.
Riders cannot be dropped from the Squad to free up space or if they have been asked to upgrade (UPG) within their first 4 events. Once the riders name is nominated for the Squad it is there for the entirety of the season.
Riders can only be nominated to two teams

In-game kit (no funny business): teams are required to select an in-game Team Kit at the start of the season and maintain use of the same kit throughout. Deliberately changing team kit or race names to confuse opponents would be considered as against the fair spirit of the competition and may result in a points deduction or disqualification.
Height/Weight verification: Each week The Board may randomly select teams from each Division to provide height and weight video per rider up to 12 hours pre and 12 hours post race.
If you're new to ZRL, you'll definitely want to get familiar with the ruleset and points structures, as these will inform strategic decisions made as a team.
Teams and Registration
New teams can register now at wtrl.racing/zwift-racing-league. Teams that raced in season two should receive an email invite from WTRL.
Want to race, but don't have a team? Post your info on the Facebook group, and teams will get in touch.
Timeslots and Divisions
Timeslots have been modified and expanded. More specifically:
New timeslots have been added for EMEA S, EMEA N, and EMEA (women's only)
Premier Division moved from Mondays to a Tuesday timeslot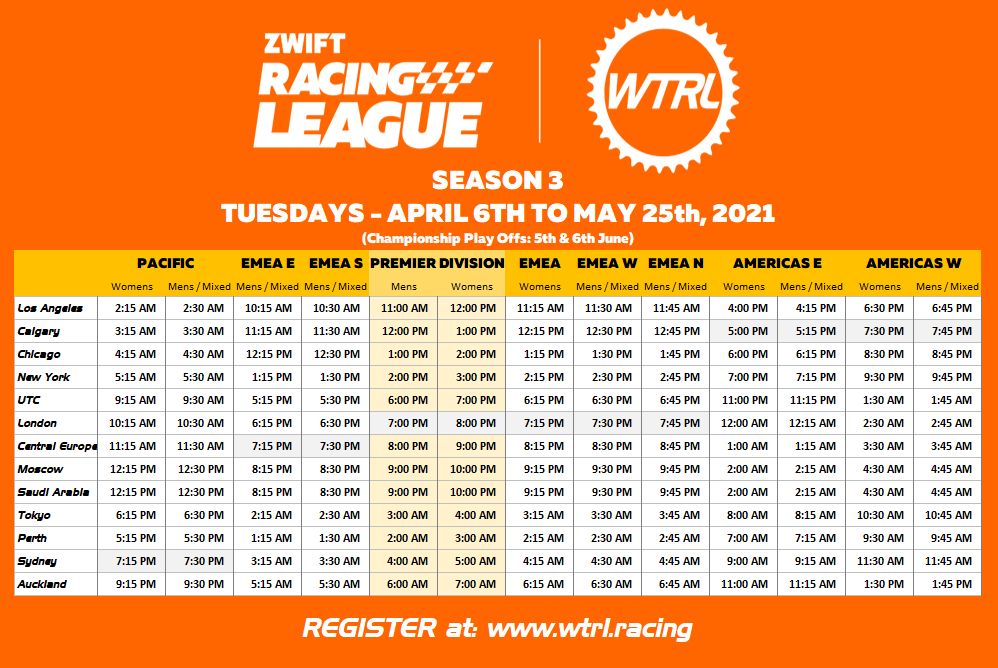 Race Routes and Dates
Note: "Intermediates" are sections on the course where riders will compete mid-race for additional points. Intermediates include both Fastest-Through-Segment (FTS) and First-Across-Line points, and the top 10 riders score points.
We've raced France's R.G.V. route as the first TTT of Season 1 and 2, but this time around we're going to switch directions! Douce France covers the same roads as R.G.V., but in the opposite way. That means the tricky "Les Intestins" section will come at the start, instead of the end – and we'll have a long, straight run-in to the finish.

This is the Beach Island Loop route's first appearance in ZRL, but Zwifters will already be familiar with the roads, since the route is nearly identical to Volcano Flat Reverse. Quite flat, with a sprint intermediate, this route is one's for the sprinters. But watch out – it's a tricky one, because that sprint comes just seconds after finishing the snaking dirt climb up to the Italian Villas!

3 Laps (38.4km)
PowerUps: Aero Boost, Draft Boost, Steamroller
Intermediate(s): Watopia Sprint
This mixed course has something for everyone, with sprints to contest early on and the punch KOM to decide the overall winner. Lots of strategic decisions to made this week.

3 Laps (37km)
PowerUps: Aero Boost, Burrito, Feather
Intermediate(s): New York Sprint 4x, New York KOM (Finish)
We've already raced this route for the TTT in seasons 1 and 2, so ZRL teams should be pretty familiar with what's required.

Make no mistake: this race is going to be brutal. Each lap of the course takes you up Richmond's three climbs: Libby Hill, 23rd St, and Governor Street. That means fifteen climbs, with 10 of them awarding intermediate points. How big is your matchbook?

5 Laps (46km) (lower categories will do 3 laps, 28km)
PowerUps: Aero Boost, Draft Boost, Feather
Intermediate(s): Libby Hill KOM, 23rd St KOM
Riding on the Champs-Élysées may look like a parade on the final day of the TdF, but it's far from that in reality… or on Zwift! Get ready for hill repeats and an uphill sprint intermediate.

6 Laps (42.8km) (lower categories will do 4 laps, 29.6km)
PowerUps: Aero Boost, Draft Boost, Feather
Intermediate(s): Lutece Sprint
A "mostly flat" route, the Magnificent 8 made an appearance as the playoff TTT course for season 2. It's a good test of a team's full breadth of ability since it features slightly technical sections, a short climb, and plenty of flats for pacelining.

May 25, 2021: Surrey Hills (Points Race)
The regular season ends with one for the climbers. We'll have a go at Fox Hill, Leith Hill, Box Hill, then the route ends atop Keith Hill for a mercifully-shortened version of Surrey Hills… for the lower categories. The rest will continue on and have one more climb up Fox hill, with a mountaintop finish. In terms of length + distance, this is definitely the queen stage of season 3!

1 Lap (45km) (lower categories have a 32km custom finish atop Keith Hill)
PowerUps: Anvil, Draft Boost, Feather
Intermediate(s): Leith Hill KOM, Keith Hill KOM, Fox Hill KOM
June 5, 2021: tba (Playoff Points Race)
June 6, 2021: tba (Playoff TTT)
Questions or Comments?
We recommend checking out WTRL's Zwift Racing League page for rules, team registration, results, and more. Their Facebook page is the place to go for discussion on all things ZRL.
Feel free to share questions or comments below!