Zwift Racing League (ZRL) has taken racing to the next level on Zwift. It's well-organized bike racing on an unprecedented scale, with eight weeks of team-based points competition held across multiple timezones catering to thousands of teams. And that's why serious Zwift racers show up week after week: because everyone knows ZRL is where Zwift racing is at its highest level.
2097 teams took part in the previous ZRL season, comprised of just under 17,000 racers. Wow!
With five successful seasons completed over the course of the past year+, ZRL organizers WTRL continue to evolve their systems and tighten rulesets to provide a fair, engaging, and competitive platform for Zwift racing.
The next ZRL season begins April 5th, and it's officially named 2021/22 Season 3. We'll use this page to display all the key info and links in one place (updates will be made as more info comes available).
Ruleset Updates
The latest ZRL ruleset is available as a PDF linked from this page. The ruleset doesn't appear to have changed significantly from the prior season.
If you're new to ZRL, you'll definitely want to get familiar with the ruleset and points structures, as these will inform strategic decisions made as a team.
Timeslots and Divisions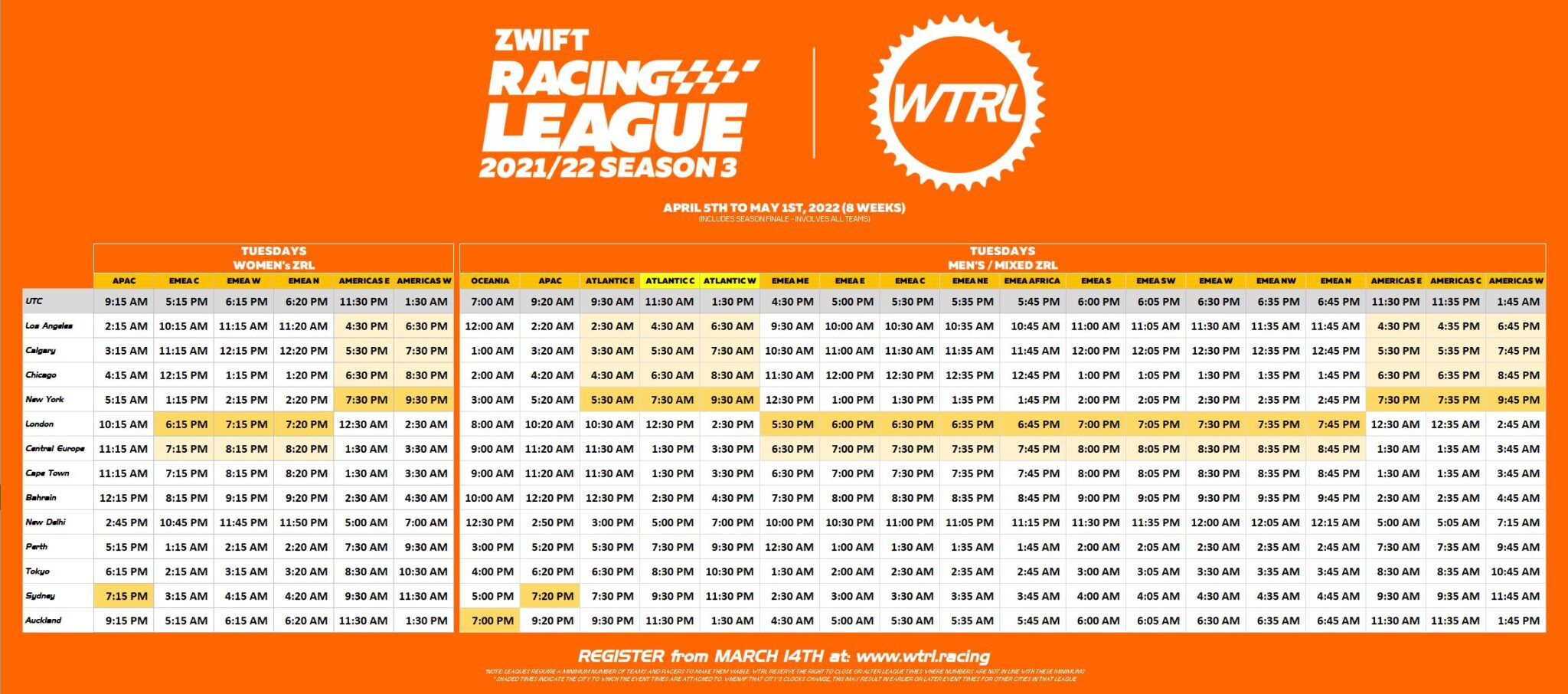 Additional divisions have been created since the start of last season:
Women have one new league: EMEA N
Men's/Mixed has several new leagues: Atlantic E/C/W, EMEA NE, EMEA SW, EMEA NW, and Americans C
Teams and Registration
New teams can register now wtrl.racing/zrl-registration. Teams must have at least 4 riders nominated before registration closes April 1, and you can have up to 12 riders nominated for your team. Again, see the ruleset for details.
Want to race, but don't have a team? You can find a list of teams recruiting riders by visiting wtrl.racing/zwift-racing-league/#teams. It appears there still isn't a simple process to request joining a recruiting team, so for now you can track down the team's contact info and message them, or simply post your info on the Facebook group to have teams contact you. Use tags so your post can easily be found by others using "popular topics":
If you are looking for a team, tag your post with the topic #zrlteamhunt
If you are recruiting, tag your post with #zrlrecruiting
Tips for First-Timers
If this is your first time racing on Zwift, here are a few tips and links to get you started fast:
You have to be signed up for ZwiftPower in order to participate. Instructions
You must create a WTRL account as well – do so at wtrl.racing/registration
The category you'll race in is determined by your FTP watts per kilo. Talk to your team manager if you have any questions on where you should race, or read this post from Zwift.
Riders must use a power sensor to transmit power to the game – this would be a smart trainer, smartbike, or power meter. (Technically, you're allowed to race B, C, and D categories with a "classic" trainer and virtual power., but your points are cut in half.)
Heart rate monitors are required. (Technically, you're allowed to race B, C, and D categories without a HRM, but your points are cut in half.)
It's really best that you have at least a few races under your belt before you try to join a team, so you know what sort of power numbers you can hold in a race.
Race Routes and Dates
Each ZRL season is made up of weekly races which alternate between points races and team time trial (TTT) formats. Points race winners are the teams who amass the most total points by the end of the race, while TTT winners are the teams who complete the racecourse fastest (team time is taken from the fourth rider to cross the line).
"Intermediates" are sections on the course where riders compete mid-race for points. Intermediates may count for Fastest-Through-Segment (FTS) and/or First-Across-Line (FAL) points – see the scoring page for details.
Race #1: Road to Ruins
April 5, 2022 (Points Race)
This is the first time Road to Ruins has been raced in ZRL, and the first time we've had a points race without any intermediates! With the dirt Jungle Circuit thrown into the middle of the route, this race will surely have lots of riders contemplating a bike swap.

1 Lap Watopia's Road to Ruins (30.2km, 276m elevation)
PowerUps: Draft Boost, Feather, Steamroller 🛈
FAL and FTS Segments: none
Race #2: Greater London Flat
April 12, 2022 (TTT)
A flat, fast TTT with powerups included. This is one for the wattage bazookas!

Race #3: Chasing the Sun
April 19, 2022 (Points Race)
Another first-time course for ZRL, Chasing the Sun has a nice mix of sprints and climbs.

1 Lap Makuri Islands' Chasing the Sun (35km, 315m elevation)
PowerUps: Aero Boost, Draft Boost, Invisibility 🛈
FAL and FTS Segments:

Alley Sprint FWD x1
Railway Sprint FWD x1
Country Sprint FWD x1
Temple KOM x1
Tower Sprint FWD x1
Race #4: Libby Hill After Party
April 26, 2022 (Points Race)
We haven't raced this route since last February's ZRL season 2, but it's a fun one with 6 sprints followed by a finish up Libby's cobbles. A little something for everyone here, if you play it right!

1 Lap of Richmond's Libby Hill After Party (33.1m, 108mlevation)
PowerUps: Aero Boost, Burrito, Draft Boost 🛈
FAL and FTS Segments:

Monument Avenue Sprint FWD x5
Broad Street Sprint FWD x1
Libby Hill Climb FWD x1
Race #5: Figure 8
May 3, 2022 (TTT)
In contrast to the first TTT of this season, race #5 will be technically challenging as teams have to pace themselves optimally up the Hilly KOM in both directions.

1 Lap Watopia's Figure 8 (30.2km, 255m elevation)
PowerUps: Aero Boost, Draft Boost, Feather none 🛈
Race #6: 2018 UCI Worlds Course
May 10, 2022 (Points Race)
The Queen Stage! With the longest climb of the season coming early in the lap, this race is one for the climbers. Whoever makes it over in the front pack and stays away from the chasers can pick up sprint points as well.

Semi Finals: Downtown Titans
May 17, 2022 (Points Race)
Learn more about the semi-finals and finals here >

1 Lap Watopia's Downtown Titans (25.4km, 295m elevation)
PowerUps: Aero Boost, Draft Boost, Feather 🛈
FAL and FTS Segments:

Titans Grove Rev KOM x1
Hilly KOM x1 (FAL only!)
JWB Sprint x1
Finals: Sprinter's Playground
May 21, 2022 (Points Race)
Learn more about the semi-finals and finals here >

3 Laps Makuri Islands' Sprinter's Playground (37km, 201m elevation)
PowerUps: Aero Boost, Draft Boost, Feather 🛈
FAL and FTS Segments:

Tower Sprint Rev (FAL only)
Castle Park Sprint (FAL only)
Alley Sprint Rev
Railway Sprint
Questions or Comments?
We recommend checking out WTRL's Zwift Racing League page for rules, team registration, results, and more. Their Facebook page is the place to go for discussion on all things ZRL.
Feel free to share questions or comments below!