Now in its 11th round, Zwift Racing League continues to take racing to the next level on Zwift. The first round of the 2023/24 season has just wrapped up, and it was the biggest in ZRL history! Signups for Round 2 open Friday, October 20th.
Here's everything you need to know about what's coming next for Zwift Racing League…
Intro to Zwift Racing League (ZRL)
ZRL is the world's largest virtual cycling competition. How big is it? 16,300 riders from 1,835 teams participated in the previous round (Sep-Oct 2023)!
Organized by WTRL, this is a team-based points competition spread across multiple weeks, with teams organized into divisions based on time zones and ability. Races happen every Tuesday, and the season is broken into three 6-week rounds with short breaks in between.
ZRL is Zwift racing at its highest level. Its unique structure and varied race formats drive serious Zwift racers to show up week after week while providing a place for new racers who jump in and find their first team home.
Below you'll find all the latest info about the current ZRL round. This post is updated as WTRL announces new details.

Ruleset Updates
If you're new to ZRL, you'll definitely want to get familiar with the ruleset and scoring structure, as these inform strategic team decisions.
For Round 2 we have four key ruleset changes:
Transmitting cadence to the game will become mandatory for all.
Any form of unconventional cadence technique (such as sprint-coast) will be outlawed and will result in an instant and automatic DQ.
Scratch race scoring will change to 80 finish points for the winner, decreasing in 1-point increments for everyone else with all riders receiving at least 1 point for finishing.
Teams may change up to 4 un-disqualified racers on their team BETWEEN rounds. If they change more than 4, their team will be entered into the reranking pool which may mean they are placed in a different division. (This is being done to prevent, for example, a team in Division 3 from removing all racers and bringing on much stronger riders.)
Timeslots and Divisions
Divisions and start times may be tweaked for Round 2, so make sure you pick the time slot that works for your team.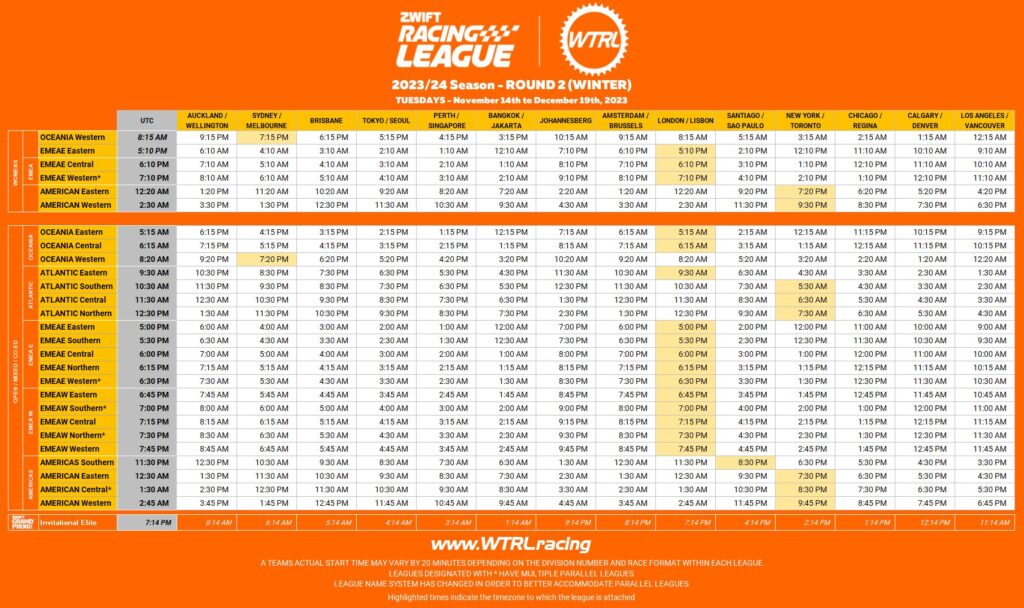 Teams and Registration
ZRL is a team-based competition – you cannot sign up as an individual rider. Teams can have up to 12 racers rostered, but only 6 can race in each event. Teams must have at least 4 riders on their roster, and a rider can be rostered on no more than 2 teams per round.
Team registration opens October 20 at wtrl.racing/zrl-registration. Teams signed up for Round 1 will be automatically registered for Round 2.
Want to race, but don't have a team? Here are six ways to find a team:
Recruit friends and family onto a new ZRL team, then sign up your team at wtrl.racing/zrl-registration/.
If you're already a member of a larger Zwift Club, contact a senior Club representative to see if you can join one of your Club's ZRL teams.
Join an official team-lead ZRL Group Recon Ride where several teams can be found looking for more riders. These run several times a day starting two weeks before the first race. Learn more >
Join the ZRL Facebook Group and post preferred race times/league, Pace Group Category, and any other preferences under the #zrlteamhunt tag where many teams are eagerly waiting.
Reply to one of the #zrlrecruiting posts that teams make in the ZRL Facebook Group if you don't want to post your own request.
Reach out directly to WTRL and they can match you to a team based on race times, category, and team preferences.
Race Routes and Dates
Each ZRL round comprises weekly races which are either scratch races, points races, or team time trials (TTT). Scratch Races and Points Races are both actually points-based in terms of final results, but Points races include intermediate segments while Scratch Race points are all earned at the finish line. TTT winners are the teams who complete the race course fastest (team time is taken from the fourth rider across the line).
"Intermediates" are sections on the course where riders compete for points. Intermediates award points for Fastest-Through-Segment (FTS) and First-Across-Line (FAL). See the scoring page for details.
Race #1: London Loop Reverse
November 14, 2023 (Scratch Race)
Round 2 starts off with a bang, taking racers straight up Fox Hill for an attritional climb… twice! Climbers may drop sprinters on the KOM, but can the sprinters pull it back on the descent and flat that follows?

2 Laps of London Loop Reverse (29.8km, 462m elevation)
PowerUps: Anvil (KOM arch), Feather (Lap arch) 🛈
Intermediate Segments: none
Race #2: Glasgow Crit Circuit
November 21, 2023 (Points Race)
Glasgow's super-punchy crit circuit will be made even punchier with the addition of intermediate points on the Clyde Kicker and Champion's Sprint each lap. No one can go all-in for 10 intermediates, so it's going to take strong teamwork and communication to optimize your result.

Race #3: Watopia's Waistband
November 28, 2023 (TTT)
Our first TTT of Round 2 is short and flat, so it's going to be fast. Optimize your team formation, maintain a high speed, and give it everything you've got to the line!

Race #4: Suki's Playground
December 5, 2023 (Scratch Race)
Suki's Playground is a sprinter's delight… but it's got a cheeky little kicker heading into the final stretch!

Race #5: The Muckle Yin
December 12, 2023 (Points Race)
Tackle every road in Scotland, including the Sgurr climb in both directions. This points race has it all: flat sprints, punchy and short KOM intermediates, and the longer Sgurr climbs. Maximize your team's strengths across these intermediates and you may just come out on top for the day!

1 Lap of Scotland's The Muckle Yin (23.7km, 282m elevation)
PowerUps: Draft Boost (Champion's Sprint arch), Feather (Lap arch), Steamroller (Breakaway Brae Reverse arch), Anvil (Sgurr Summit arch), Feather (Lap arch), Steamroller (Breakaway Brae arch), Feather (Lap arch), Anvil (Sgurr Summit arch), Aero Boost (Clyde Kicker arch) 🛈
Intermediate Segments:
Race #6: Triple Flat Loops
December 19, 2023 (TTT)
Our second TTT of Round 2 is a bit longer and pitchier than the first, testing riders' endurance and ability to stay in efficient formation on short climbs and rollers.

Tips for First-Timers
If this is your first time racing on Zwift, here are a few tips to get you started fast:
You have to be signed up for ZwiftPower to participate. Instructions >
You must create a WTRL account as well – do so at wtrl.racing/registration
The minimum category you'll race is determined by your power history on Zwift. See this post for details.
Riders must use a power sensor to transmit power to the game – this would be a smart trainer, smartbike, or power meter. (You're allowed to race C and D categories with a "classic" trainer and virtual power, but your points are cut in half.)
Heart rate monitors are required. (You're allowed to race without a HRM, but your points are cut in half.)
Cadence monitors are required (new rule for Round 2).
You'll want to have at least a few races under your belt before you try to join a team, so you are confident that you're in the correct category. It causes a lot of hassle if you join a team, and then are forced to upgrade to a new category mid-round.
Recons, Previews, and Broadcasts
Official Recon Rides

If you're unfamiliar with a particular week's race course, join a ZRL recon ride! These happen multiple times per day and are led by experienced racers who may share route info and racing tips as you ride.
You can find a list of upcoming ZRL recon rides at zwift.com/events/tag/zrlrecon.
Grand Prix Previews

For this round, the top Zwift teams in the world will be racing each ZRL event in the Zwift Grand Prix each Thursday before the Tuesday race. Want to preview the race course or see how top racers attack it? Watch the Grand Prix broadcast!
Learn more on our Grand Prix post >
Live ZRL Broadcasts
Select ZRL races will be broadcasted with commentary by Zwift Community Live. See their scheduled YouTube playlist, or watch below:
2023/24 ZRL Season Dates
Round 1: Sept 12-Oct 24, 2023
Round 2: Nov 14-Dec 18, 2023
Round 3: Jan 16-Feb 20, 2024
Finals: March/April 2024
Questions or Comments?
We recommend checking out WTRL's Zwift Racing League page for rules, team registration, results, and more. They also have a Help Center with lots of useful info, and their Facebook page is the place to go for discussion of all things ZRL.
You may also share questions or comments below!