One "coming soon" feature from today's Zwift announcement that has Zwifters talking is the "Climb Portal" – a new way to experience new climbs on Zwift.
While we don't have detailed screenshots or gameplay videos, I've spoken to sources within Zwift to learn more about this exciting feature. Here's what I know, along with some speculation and fun ideas!
How Climb Portals Will Work
Two portals will be available when the feature launches: one in Watopia (near the Volcano), the other in France (near the Castle).
You can access the portal as a route option from the home screen or navigate to the portal yourself while riding on the map. Once you begin your portal climb you'll get a short warmup on flat ground before heading uphill.
A Curated Climb Collection
Zwift says the famous Col du Tourmalet and Col d'Aspin will be featured climbs in the portal, "both storied for their prominence in some of history's most exciting bike races."
Other climbs will be available as well, but it sounds like just one climb will be available in each portal (so two climbs total) at any given time. Zwift says this "will give the Zwift community the chance to enjoy the segments together."
So Zwift is developing a curated library of famous climbs, then rotating them as the featured portal climbs on some sort of defined schedule.
About the Visuals
Zwift is doing something very different with the visuals for these climbs… but I'm not altogether sure what that is! Zwift's Climb Portal FAQ includes this:
Q: What will the environment inside the portal look like? Will the climbs look like what they look like in real life?
A: Zwift has created a completely new visual experience that gives you the chance to focus on the climb, and enjoy the company of other Zwifters. We can't wait for you to see it!
Clearly, Zwift are choosing their words carefully:
New visual experience
Gives you the chance to focus on the climb
Enjoy the company of other Zwifters
Because Zwift's current methods of creating new worlds/maps/roads seems to be quite time-intensive, my guess is that portal climbs won't have the custom, detailed environmental visuals we're used to seeing on climbs like Alpe du Zwift or the Epic KOM. While the climbs will be GPS-accurate, I bet the surrounding environment will be programmatically generated so Zwift's art team doesn't have to place each building, rock, tree, etc.
Zwift calls it a "new visual experience", which may indicate something even more radical, like a Mario Cart's Rainbow Roads!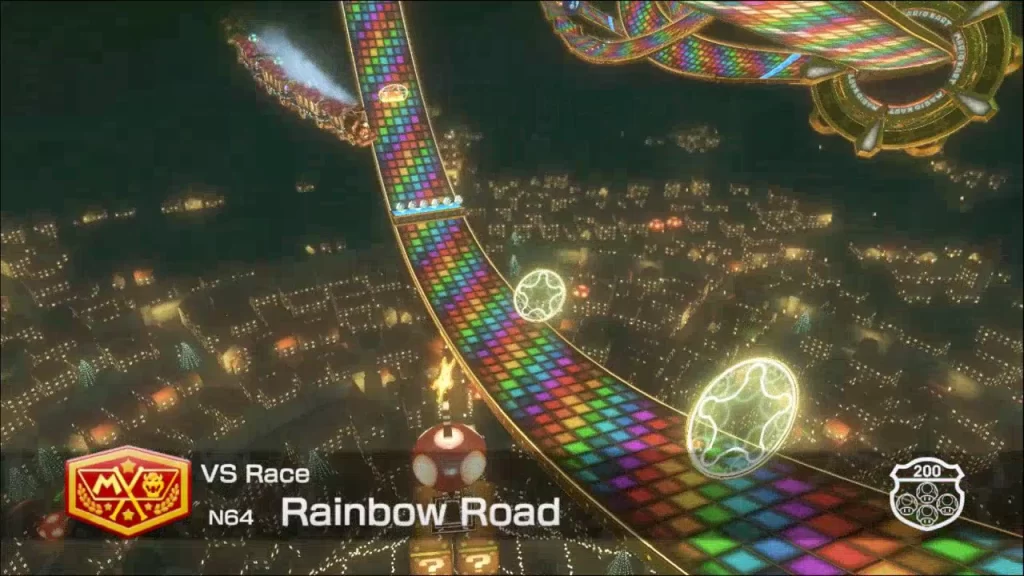 Launch Date
Zwift is saying "this summer." My guess is we'll see Climb Portals roll out between June and August.
More Tidbits, Ideas, and Questions
The portal segments will not be available for club events or races, probably because of the way Zwift wants to curate the schedule.
There will certainly be some sort of in-game leaderboard for the featured portal climbs. But it would be really fun to have a web and/or Companion-based leaderboard for the featured climbs that any Zwifter could access.
Giving the current leader a virtual jersey would be a nice touch, and I assume that will happen.
How will this work on Strava? Will all the portal climbs originate from the same place in Watopia or France, then "spider" off from there if you were to overlay multiple climb activities on one Strava map? Or will entering the portal start a new activity, which then records using the IRL climb's GPS coordinates?
Will we be able to turn around at the top and descend the climb, or is this one way? Are there turnarounds at the top and bottom so you can do hill repeats (vEveresting, anyone)?
I'd love to be able to spawn my own RoboPacer at the start of the climb, at a defined w/kg. Chasing a bot on screen is more fun than watching my wattage and trying to hold target power, so if I could just choose Col du Tourmalet, set my bot at 3.5w/kg, then start the climb that would be a fun challenge!
Questions or Comments?
Those are the details I know, and the questions I have. But what about you?
What climb(s) would you love to see on the Climb Portal? Got questions or other comments? Share below!