Zwift's Climb Portal went live July 2023, and it's included lots of new stuff worth talking about! New climbs. New look. New HUD features. And new world-spanning wizardry (more on that later).
Here's a complete look at how the Climb Portal works…

The Basics
Zwift's Climb Portal provides easy access to a rotating schedule of GPS-accurate virtual versions of famous real-life climbs. Its most noticeable quality is the "gamified" appearance of the roads, which are colored to match the gradient, with no surrounding real-life environmental visuals.
Why this design choice? Simple: it allows Zwift to quickly add new climbs to the game with no custom artwork required.
The Climb Portal Experience
Both Watopia and France have Climb Portals. These can be accessed from the routes menu of the Watopia or France maps, where you will find the day's scheduled climb as an option.
You can also access the Climb Portals by navigating to them during your free ride in Watopia or France.
Watopia's Climb Portal is reachable via the Volcano Circuit: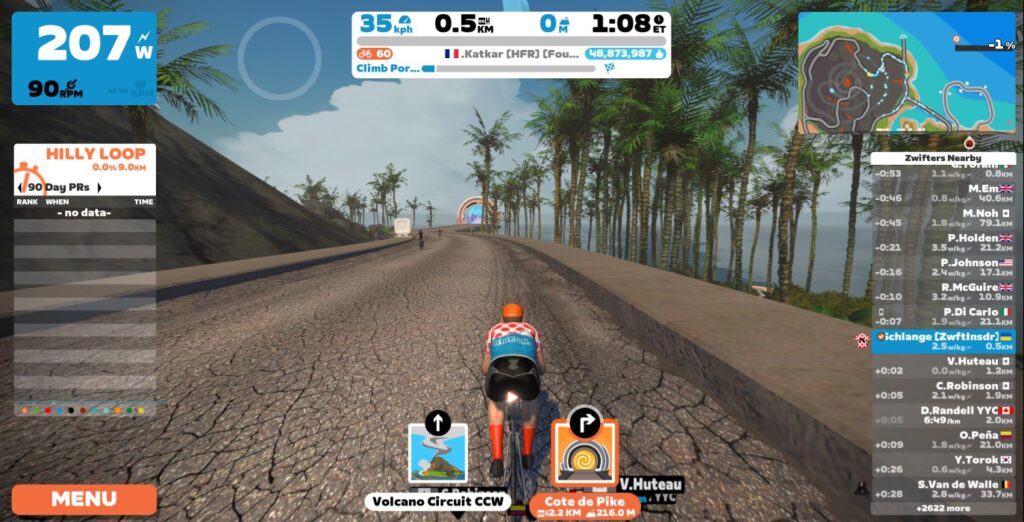 While France's Climb Portal is reachable via a left-hand turn toward Mont Saint-Michel when traveling the main loop clockwise: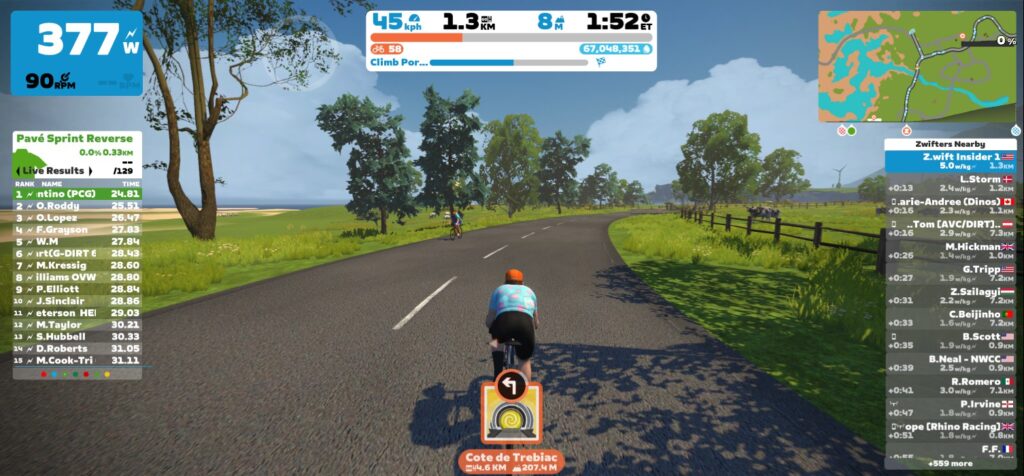 You'll ride a short lead-in before going through the Climb Portal, which is labeled with your selected climb. Once you're through the Portal, your climb begins!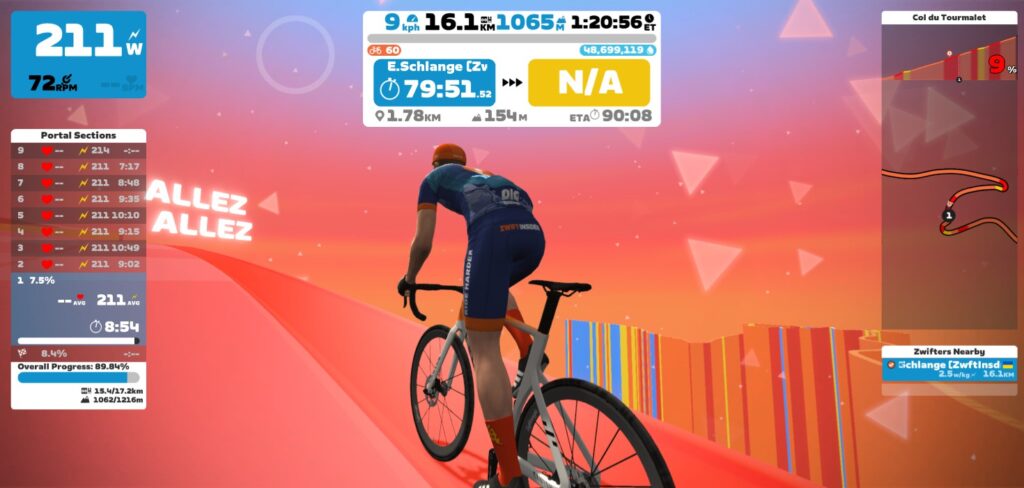 Other riders are visible on the climb, and in an unexpected twist, you'll see everyone who is currently on the climb, whether they entered it from France or Watopia. (It's called a "portal", after all!) If you have HoloReplay(s) enabled, they will also show up if you've already completed this climb in the past 90 days.
As you climb, the road changes color based on gradient. Floating text and geometric shapes help fill the air and give you a feeling of movement, while the 10 equidistant portal section arches give you a goal up the road to work toward.
Once you reach the top, a summary of your climb will show on screen as you ride the small ring road that loops you around to start your descent. Ride through the finishing arch and begin your descent, and the environment changes. While descending, the sky and road turn to cooler colors, encouraging you to spin those legs out as you enjoy the descent and the animated constellations above.
Ride through the Portal at the bottom of your descent and you'll find yourself back in your starting world.
Customized HUD
Zwift has implemented Climb Portal-specific HUD elements which you'll see as long as you're climbing within the portal. These elements include:
Portal Sections: the climb is divided into 10 equidistance sections, and your data (average HR, average power, and section time) is tracked for each. If you've already ridden that section before, your PR time will be displayed as you ride each section, so you can compete with your previous effort.
Progress Meter: at the bottom-left, just below the Portal Sections box, sits this new element which displays an overall progress % meter for the climb, as well as how far you've ridden and how far you've climbed compared to the climb's overall distance and elevation.
Map: the right side of your screen is mostly taken up by a map element which includes a profile and overhead view. These views don't display the entire climb – just the nearby portions.
ETA: at the top-center you've got your distance remaining, climb remaining, ETA, and the name of the closest rider whose time you could possibly beat.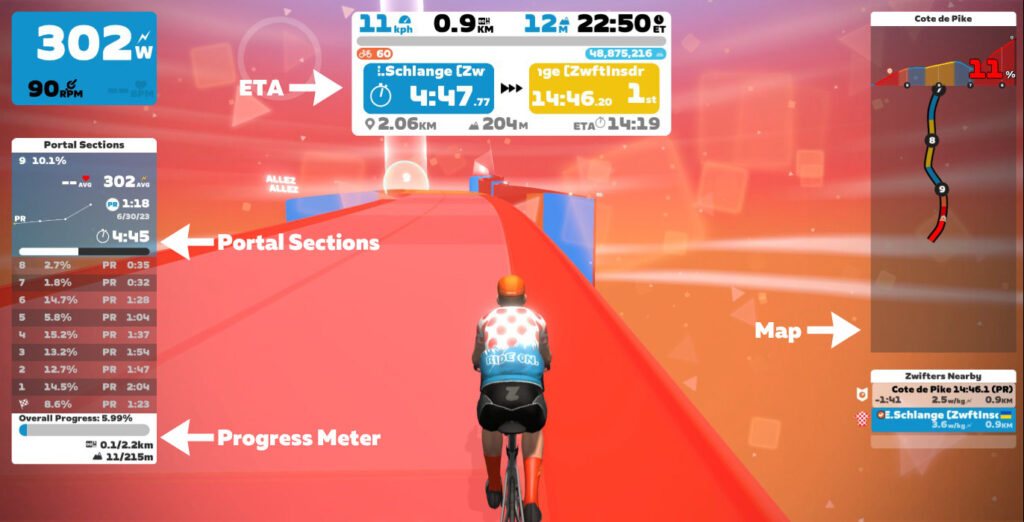 List of Climbs
The Climb Portal is a growing library of uphill challenges! See the full list of Portal climbs below (click a climb for details):
Climb Schedule
While the library contains many climbs, Zwifters can only ride the currently scheduled climb for the day. Zwift says they will rotate climbs every 2 weeks, with the same climb scheduled in both France and Watopia.
This seems like an odd schedule (why not rotate them every day, or perhaps every week?) but Zwift certainly have their reasons. Additionally, they'll be listening to feedback and can modify the schedule whenever they'd like.
Powerups and XP Farming
While on a Portal climb, you are given one of three powerups as you ride through each of the 10 section arches on the way to the top:
Feather
Small Bonus (+10XP)
Large Bonus (+250XP)
Looking to level up faster in Zwift? Short Portal climbs are the best way to do it currently in game. Read all about it >
Improvement Ideas
We wouldn't be true Zwifters if we didn't have at least three ideas how Zwift could improve a just-released feature. So here are nine:
More useful maps: the climb profile and overhead views only show nearby portions of the climb. We'd like to be able to click and zoom out to see the full climb.
Different background sounds: the ambient background sounds while climbing are… odd. Too somber, too heavy, for our taste. That said, we usually ride with sounds off, so this isn't a big deal.
Smarter Portal Sections: the "portal sections" seem programmatically generated, just breaking the climb into 10 equidistant sections. This makes adding new climbs easy, but it sure would feel a bit fancier if the sections broke the climb into logical sections at key turns or gradient changes.
Achievements: there are no achievement badges for portal climbs at this time, which seems like a big miss. We'd love to see smart badges which count how many times you've finished each portal climb.
Companion Leaderboards: we have Leaderboards in Companion now. These should include portal Climbs!
Average Wattage fix: the climb report that pops up at the top includes an average wattage figure, but this figure seems to include your lead-in effort (before entering the portal). This needs to be fixed so you only see your average wattage for the climb portion.
Include the climb's name in the activity title when saving my ride: Zwift already does this for other routes. They should do it for portal climbs! Done in version 1.44.
Enable Fan View and Teleporting: currently you can't fan view or teleport to a rider who is on a Portal climb. That seems a bit silly.
Better preview map/graphic from the homescreen. When you click the featured climb from the homescreen, the preview window doesn't show the selected climb graphically in any way (not an overhead view or an elevation profile).
Final Details
We love that all riders will be visible on the same climb, whether they joined from Watopia or France. That's a fresh sort of wizardry we haven't seen before in Zwift.
It results in a bit of oddness, though, regarding Strava segments. If you start a portal climb from France, your Strava data will show you as climbing it attached to Zwift's France map (which is based on the French island of New Caledonia for Strava GPS positioning). Start the same climb from Watopia and your Strava data will show you riding in Vanikoro, in the Solomon Islands (where Watopia is located for the purpose of Strava GPS positioning).
This means we'll have to create two Strava segments for each climb: one for starting in Watopia, the other for starting in France. That means we'll have a France leaderboard and a Watopia leaderboard for each climb.
Example: here's a Strava segment for Côte de Pike in Watopia, and here's the France version.
Want a Climb Portal video walkthrough? As always, our favorite Aussie Lama's got you:
Got questions? Check out Zwift's Climb Portal FAQ.
Your Thoughts
Tried Climb Portal yet? Share your thoughts below!