Here is the latest version of the Watopia map created by myself and posted for the Zwift community. My goal is to create a useful reference which also looks good hanging on the pain cave wall.
You are free to download and print the PDF for your personal use. You may also support my efforts by purchasing an affordable full-size 24″x36″ poster print.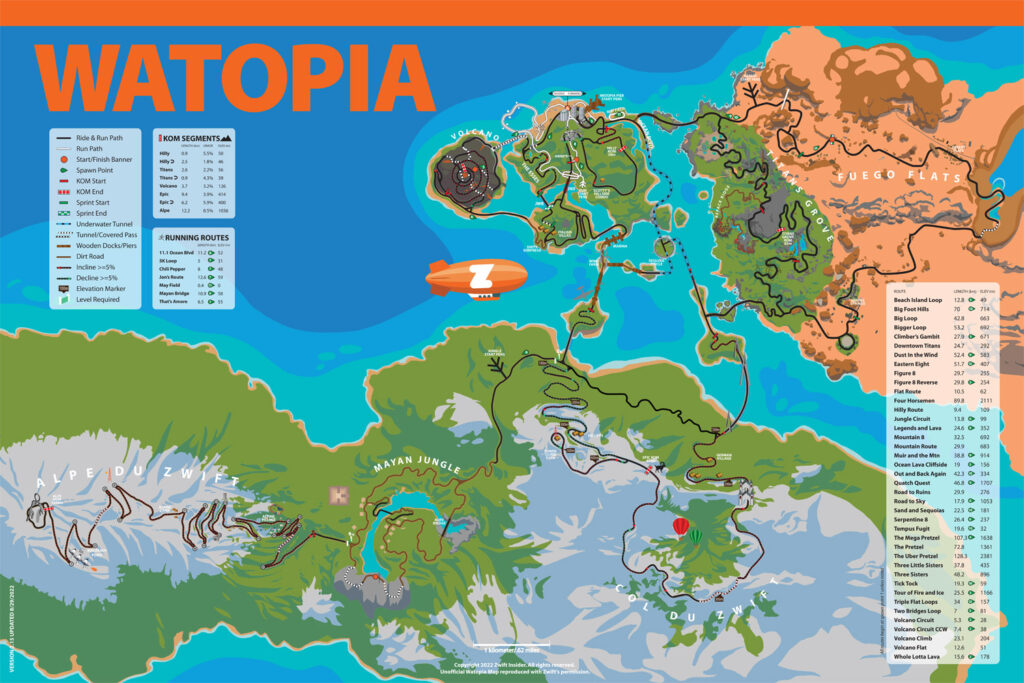 This page, and the map itself, will continue to be updated as I enhance the map and Zwift HQ updates Watopia.
Update Log
v2.15, 8/29/22: added new routes, updated their distances and elevations to match in-game data. Named the Dirty Sorpresa, created spawn point #12.
v2.14, 12/29/20: added 4 new routes with bypasses from recent Zwift update.
v2.13, 11/26/20: updated level requirements for Jungle and Alpe
v2.12, 1/4/20: minor update. Added May Field, changed Road to Sky spawn point and fixed a couple minor errors.
v2.11, 10/15/19: a big update! Watopia has expanded! So we zoomed out the entire map in order to fit the new Fuego Flats/Titans Grove area in.

Added roads and features for Fuego Flats, Titans Grove, and Repack Ridge
Removed the intersection labels and point-to-point distance table, to declutter the overall layout
Added Jungle Start Pens (which aren't operational yet, but should be soon)
Colored all dirt roads brown, since these roll slower on road tires and riders may wish to plan out their races accordingly
Labeled Jungle Rope Bridge
Expanded routes list to include all in-game routes, updated spawn points to reflect what is currently in game
Reduced overall size of info tables (legend, KOMs, routes)
Lots of general cleanup and visual tweaks to polish things up nicely
Switched to full-saturation background, changed text to white
Added Jarvis the bear, a brontosaurus, and more…

v2.05, 11/1/18: fixed Volcano Climb elevation
v2.04, 10/2/18: added run-only paths from Oct 1 2018 update, renamed some areas to match Zwift's naming, added KOM table, updated the blimp.
v2.02, 9/11/18: various fixes thanks to feedback from Zwift Riders. Fixed biodome, distance table, level barrier to Jungle. Also corrected and numbered spawn points and added them to routes table so you can see where each route spawns.
v2.01, 9/10/18: massive update! Added Jungle and Alpe sections. Used Zwift's background image for increased accuracy and visual appeal. Reformatted routes table to accommodate increasing number of routes. Added additional spawn points. Renamed "Zwift Alps" to "Col du Zwift" for obvious reasons. Rotated the entire map 90 degrees to accommodate all the new roads.
v1.11, 3/8/17: added Volcano KOM, updated routes and distance tables
v1.10, 1/27/17: added Volcano Expansion routes, updated routing and distance tables
v1.02, 5/20/16: updated routes to reflect changes from v1.0.11783 release ("The Pretzel" and "Mountain 8" routes changed substantially).
v1.01, 5/5/16: Added new Mountain route which arrived with v1.0.11783 release, deleted "Mountain Route" road title. Changed roads leading from Watopia Pier to standard roads since group features are now live. Removed "course map" from main title. Moved version/date to bottom-left re-arranged elements. Standardized font sizes (enlarged smallest fonts). Also made these changes at the request of Zwift HQ: removed Zwift logo, added permission tagline in footer, changed "Carnival & Staging" to "Watopia Pier", "Mini Jarvis" to "The Biodome" (Jarvis is more than that iconic tree tunnel), added the name of the bridge by The Esses – JWB (there's actually a plate on the bridge with these initials).
v1.0, 5/2/16: Added course profiles to routes, added snow/fog area icon, moved/resized elements for better poster layout.
v0.9, 5/2/16: Upgraded graphics for blimp, hot air balloons, Hank's, Scotty's condo and the drive-through university. Enlarged distance points for ease of reading. Added graphics (Zwift logo used by permission and epic KOM ibex). Added text titles for Zwift Alps, Ski Lifts, German Village, Italian Village, and Scotty's Hillside Condo. Changed bridge tower sizes to reflect game scale where middle is much larger. Changed "Redwood Island" to "Mini Jarvis". Removed "Observatory Island" title.
v0.8, 4/28/16: Added snow line on mountain section, elevation signs, incline/decline road overlays (arrows always point downhill), bridge near waterfall, concrete ring around Redwood Island, island west of Redwood Island. Fixed mileage for B-C, changed Epic KOM elevation to match 373m sign nearby. Made various terrain adjustments to better match game terrain and "best guesses" for mountain sections to the south which cannot be seen.
v0.7, 4/22/16: added bridge at end of Ocean Blvd, marina and docks on and near Ocean Blvd, hillside condo before statues, waterfall on Observatory Island, fixed reverse KOM start location, added building next to radio tower, added route details/diagrams.
v0.6, 4/14/16: added carnival/group staging pier, distance points, city, and small planes near Spruce Goose.
v0.5, 4/11/16: added tunnels and covered pass, Hank's, bridge spires and updated statues
v0.4, 4/8/16: fixed village location, added bridge indicators, spawn point, named Observatory Island, modified land/water contrast for improved, black and white printing.
v0.3, 4/7/16: added buildings, changed the sprint banner to checkers for clarity, changed start/finish to orange to match jersey, modified airplane shape to real Spruce Goose.
v0.2, 3/31/16: added water and land, distance scale, blimp and hot air balloons, underwater tunnel, KOM elevations, airplane.
v0.1, 3/30/16: first version released