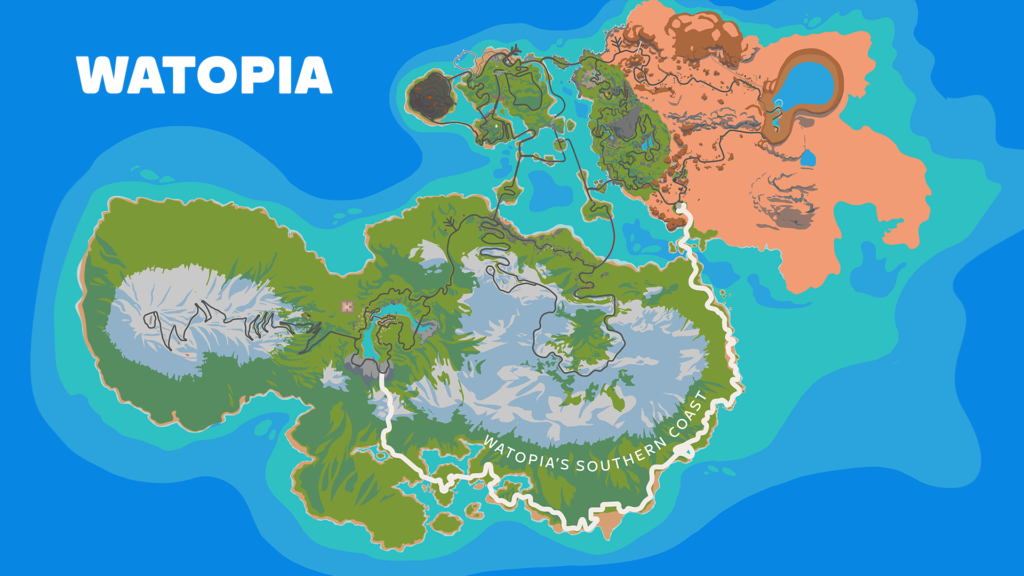 New Routes
This expansion includes eight new routes. Four are over 40km long! (Note: the distance figures below include lead-ins from the free-ride spawn point, but some routes will be longer when used in events.)
New Route Badges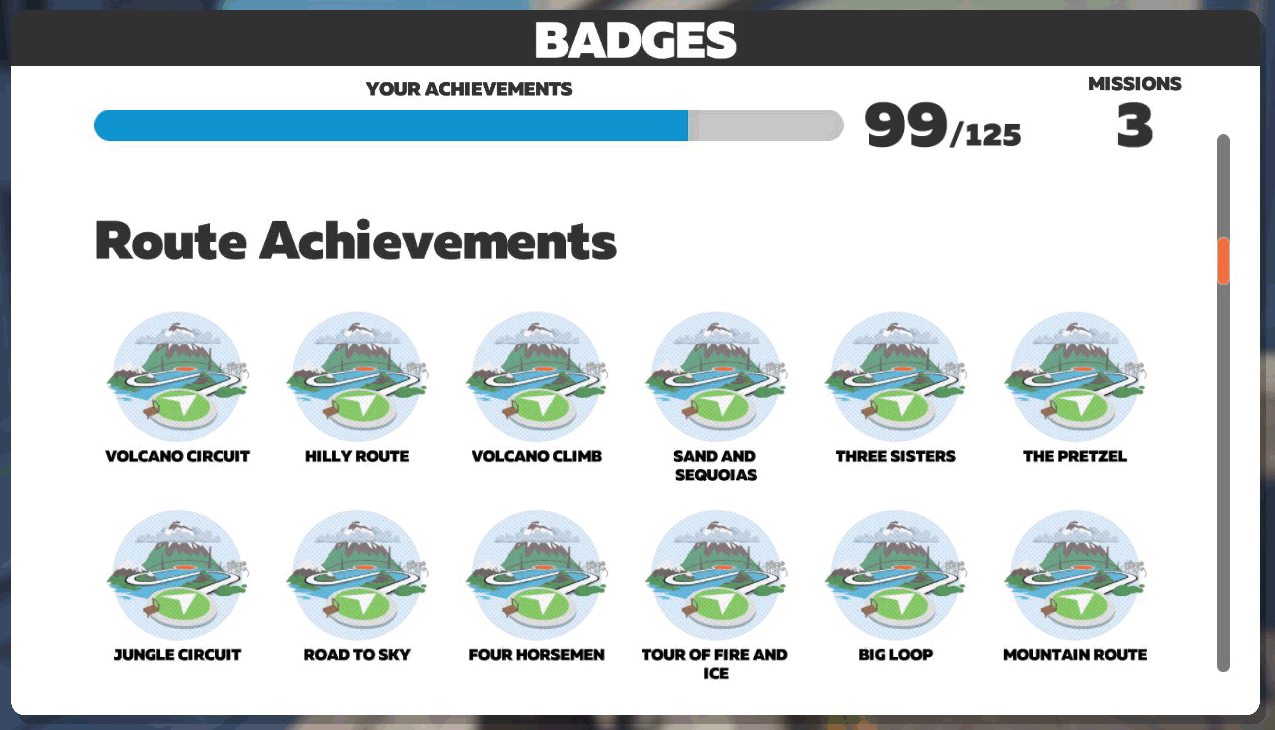 Each new route also has a route badge, so you'll earn a chunk of XP and the achievement badge the first time you complete the route! (Zwift tweaked the way they compute route XP in this release, and we're not sure what the new algorithm is. But it's close to the previous 20XP/km, so you're effectively earning double XP the first time you ride each route.)
Sightseeing Tour
The new road has four distinct areas. Here's a quick photo tour of each one, progressing from the Fuego Flats side toward the Mayan Jungle side (east to west).
Googie Springs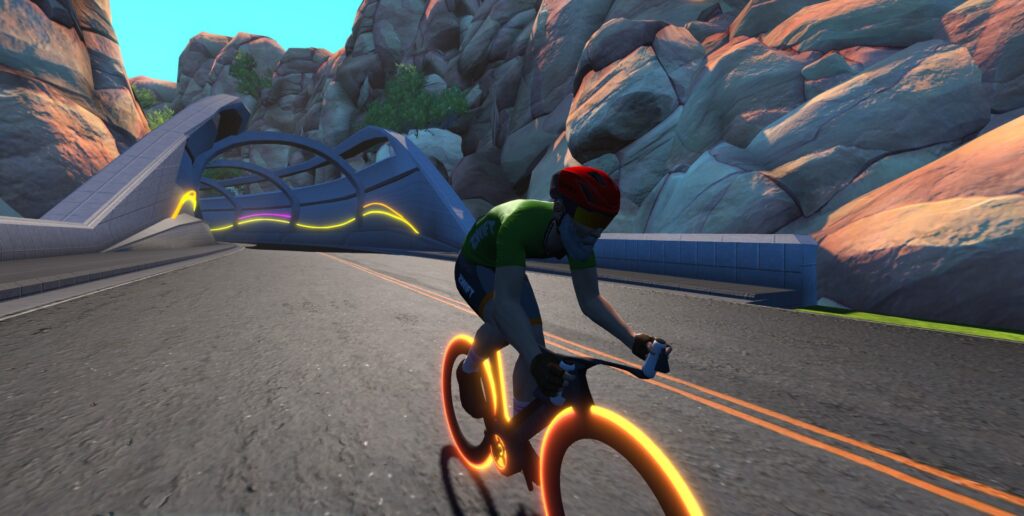 Turn at the LAX roundabout in Fuego Flats and head through the narrow corridor and you arrive at the hamlet of Googie Springs. Named for the architecture style you'll find just up the road in Saddle Springs, this fishing village includes the world-famous Mr Crankie's Crab Shack.
Evergreen Coast
Up the road from Googie Springs, the trees close in around you as you enter the large Evergreen Coast section. Here you'll see lots of Sasquatch (Bigfoot) references, an old shipwreck, Misty Pines campground, and your first two sprint segments (Woodland Sprint and Sasquatch Sprint).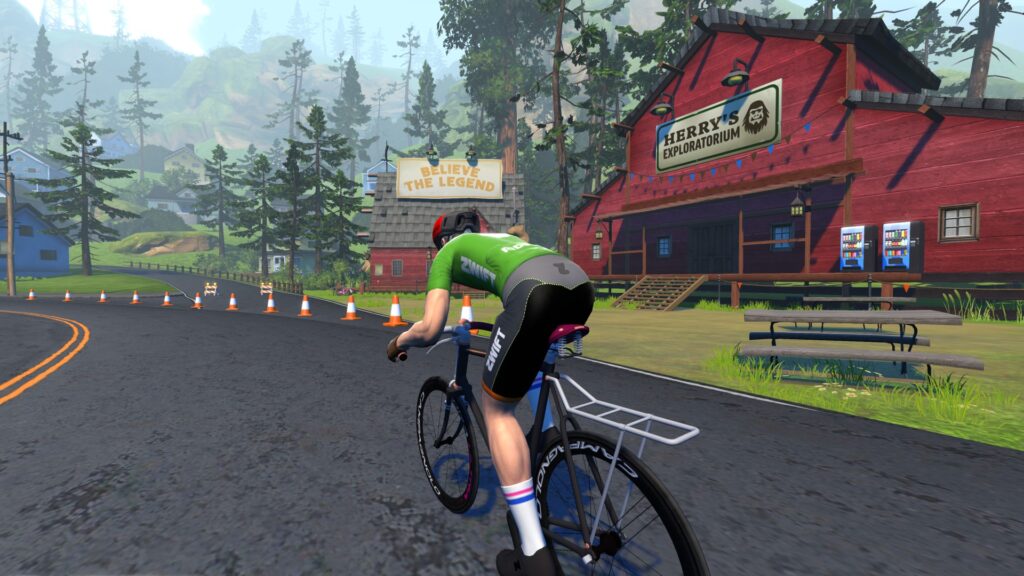 Ciudad La Cumbre
Ride through the "tunnel with a view" and you'll find yourself in Ciudad La Cumbre ("Summit City"), named as such since it's located at the base of the Epic KOM.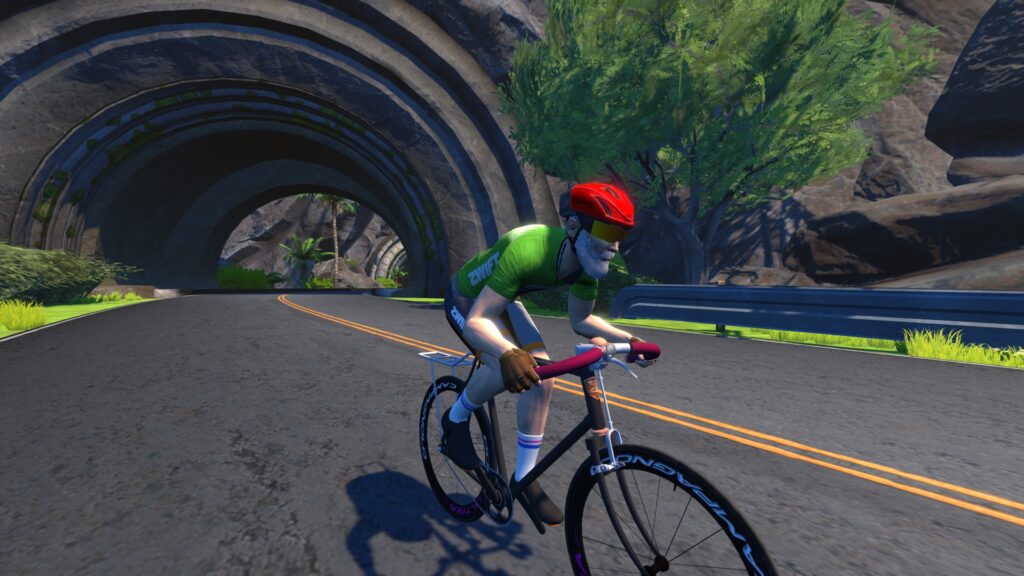 This Spanish-themed town includes many colorful buildings, a beautifully-tiled oceanfront walk, and even an "umbrella sky" art installation.
Sandy Coast
Another tunnel takes you out of Cuidad La Cumbre and you're heading into the fourth and final section, the settlement of Sandy Coast.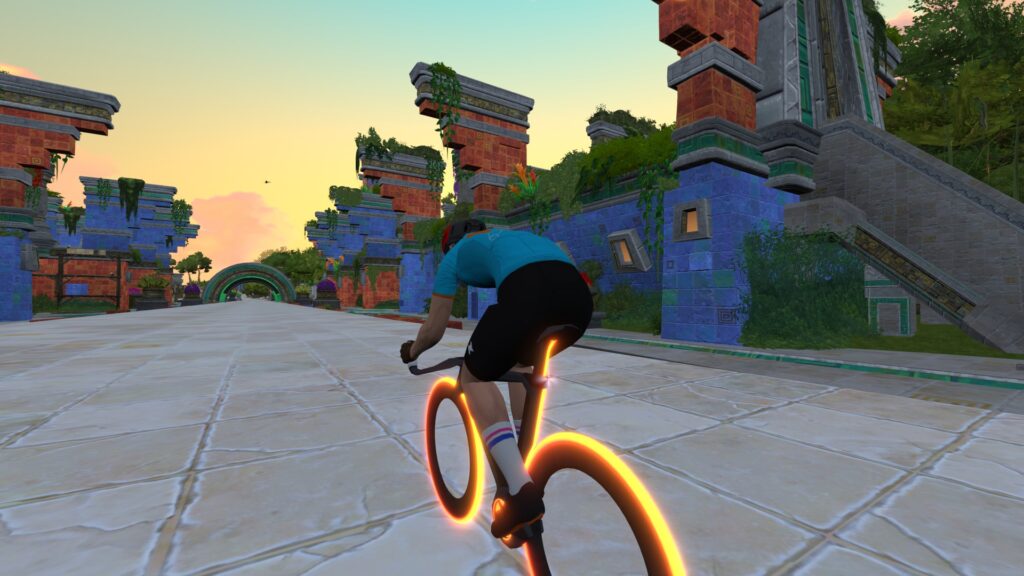 This area features distinctive colorful Mayan architecture and has two more sprint segments: Acropolis Sprint and Stoneway Sprint.
Keep going and you'll find yourself on the Jungle Circuit.
Four Sprints… Or Eight?


It may be hard to believe, but before this expansion, Watopia only had three proper sprint sections:
This coast expansion adds four sprint arches to the map, each with a sprint segment in both directions. This means eight new sprint segments have been added to Watopia!
In-game leaderboards show the same sprint name regardless of direction, but that's confusing when referencing a sprint segment for points races like Zwift Racing League. Therefore we've added "reverse" to the sprints' names in one direction. We've set the "forward" direction as coming from the Jungle (so traveling east) and the "reverse" direction as coming from the desert (traveling west).
Believe the Legend
In the Evergreen Coast section you'll see various references to Sasquatch, including warning signs: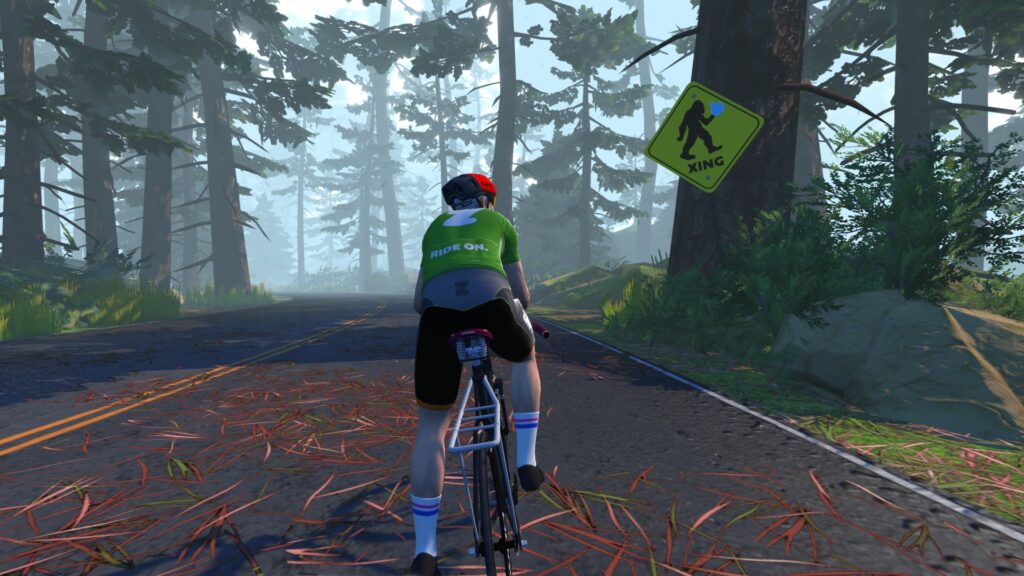 Does Sasquatch exist? Well, we knew his cool cousin the Yeti was in Zwift, so we assumed Sasquatch was as well. Then we found him:
More Videos
Accessing the New Road
All Zwifters can ride these new routes as soon as they update to Zwift version 1.51+. Choose any of the new routes from the Watopia route list, or freely navigate your way there by making the proper turn near the Jungle Circuit lap arch or the LAX roundabout in Fuego Flats.
Beginning October 30, some of the new routes will be featured in the fifth stage of the Tour of Watopia. Once the Tour of Watopia ends, Zwifters must be at level 10+ to ride the new road/routes.
More to Come?
Zwift's press release about the new roads includes this tantalizing bit: "In the future, Watopia's construction planners expect to use the new causeway as a backbone for additional new roads, giving Zwifters access to other remote parts of Watopia that are not currently developed for cycling."
We aren't sure what Zwift's planners have in store, but a connector climb from the coast to midway up the Epic KOM would make a brilliant (and scenic) addition!
Your Thoughts
Got questions or comments about Zwift's newest road? Share below!