Today Zwift and Wahoo have confirmed an amicable settlement in the patent infringement lawsuit brought by Wahoo against Zwift 11 months ago. (The original lawsuit from Wahoo claimed the design of the Zwift Hub infringed on multiple Wahoo-owned patents related to their KICKR trainers. Wahoo further requested an injunction preventing Zwift from selling the Zwift Hub trainer, and that injunction was later denied.)
News of the settlement was first published on BRAIN last week, and I reached out to Zwift and Wahoo for official statements. I haven't heard back from Wahoo yet, but here's what Zwift had to say:
Zwift and Wahoo Fitness today confirm the amicable settlement of all pending litigation. The agreement will see both parties embark on a renewed approach to collaboration, with a view to growing the indoor fitness category and delivering continual, ongoing improvements to customers – through increased innovation, ease of use and better value.

Wahoo has granted Zwift a limited license to use its patents. Zwift will continue to sell its Zwift Hub smart trainer in existing ecommerce markets – US, UK and Europe.

In addition to selling Zwift Hub, Zwift will return to selling a selection of Wahoo smart trainers, bikes and accessories on Zwift.com from mid-September. The assorted range will offer customers a simple selection across a range of price points, all sold with one year of Zwift.

Wahoo Fitness will also offer customers the option to bundle one year of Zwift with the purchase of a smart trainer or bike via Wahoofitness.com.

Both parties look forward to sharing further details in the coming months.

Zwift
Of course, this is positive news for indoor cyclists. Wahoo and Zwift are the two biggest names in the indoor cycling industry, and the fewer resources they waste on litigation, the more they can pour into making their products amazing.
It's worth noting that Zwift's statement says, "Wahoo has granted Zwift a limited license to use its patents," meaning the agreement doesn't give Zwift free rein to sell the Hub or use Wahoo's patented design in any way they please. The agreement allows Zwift to "continue to sell its Zwift Hub smart trainer in existing ecommerce markets – US, UK and Europe." Does this mean the Hub isn't coming to other markets (Canada and Australia, for example) anytime soon? It appears so.
Wahoo also benefits from Zwift returning to selling Wahoo trainers at Zwift.com. Of course, to be competitive with the Hub's price, Wahoo's KICKR Core needed a price reduction – and I believe that's what drove this week's price drop on Wahoo's mid-range trainer (see below).
Lastly, Wahoo is adding the ability to bundle a year of Zwift with their trainers when sold via WahooFitness.com. That's a win for Zwift, and I bet we'll see more of this bundling in the future – perhaps with a discounted annual rate (12 months of Zwift for price of 10, like Wahoo does with Wahoo X). Perhaps we'll even finally see an annual plan from Zwift themselves!
Wahoo KICKR Core Price Reduction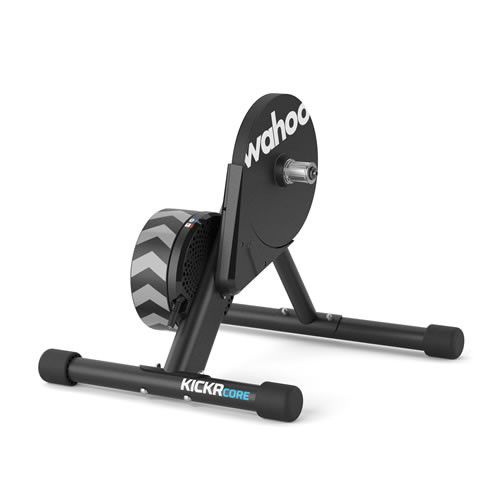 In related news, early this week Wahoo reduced the price of their popular KICKR Core smart trainer from $899USD to $599USD – a huge price reduction! While you still need to purchase a cassette ($49.99 from Wahoo), the KICKR Core is probably the most positively-reviewed mid-range direct-drive trainer on the market.
Shop KICKR Core at Wahoo.com >
Your Thoughts
Share below!