When I first saw the Axxion Rocker Plate, I was intrigued because its design was unlike any rocker I've tried. Created by Max McAllister (a keen cyclist/Zwifter and owner of Traxxion Dynamics), the Axxion is a much simpler design than the typical rocker plate.
Most rocker plates (including the popular SBR ROCKR and CoPlate, both which I've put thousands of virtual miles into) use inflatable balls or bladders to allow riders to dial in the balance and "tightness" of the plate. Some (like the Saris MP1) use big metal leaf springs. But the Axxion is made of machined T60601 aluminum – nothing bends. There's nothing to inflate or adjust. It's really just a platform mounted to two metal "ribs" with curved bottoms that allow the platform to rock back and forth on the floor.
A super-simple design. But does it work? That's what I wanted to learn!
Assembly/Setup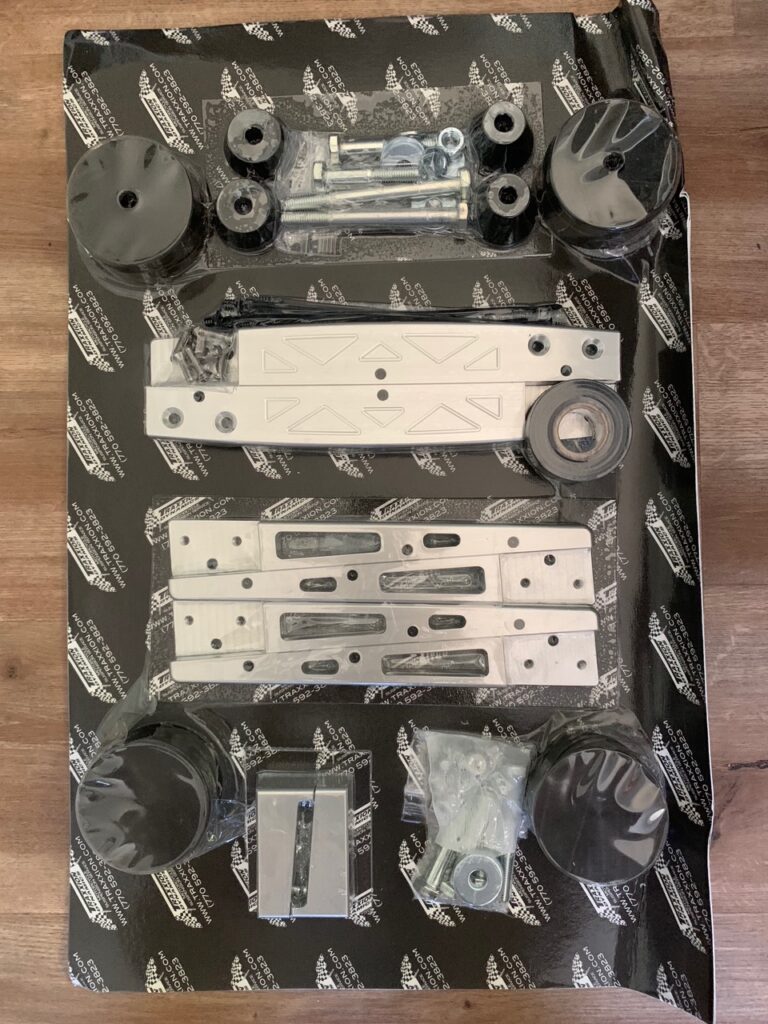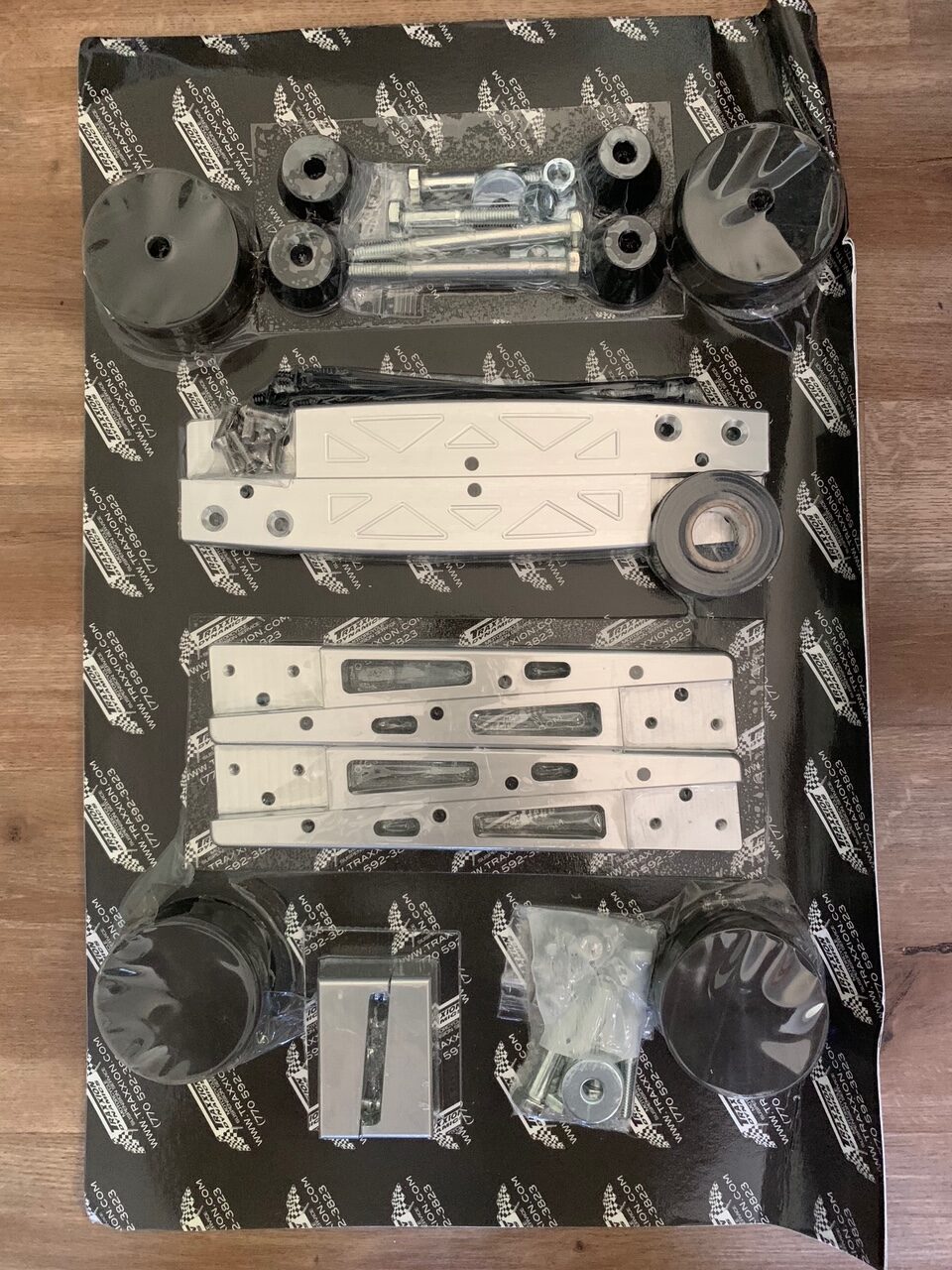 Assembly is actually quite simple, but since written instructions weren't included I was a bit baffled as I looked at the various parts. Turns out, watching this intro video from Max is a great way to understand how the plate is built:
A simple allen wrench was enough get the ribs assembled and mounted to the plate – this can be done in 5 minutes. The more involved step is mounting your trainer to the plate.
You'll want to purchase the correct mounting kit for your trainer, as this allows your trainer to be mounted perfectly to the platform. I was using my Wahoo KICKR Gen 4 at the time of this review, so Max sent over the aluminum plate and mounting kit that would work with my KICKR.
The solidity of Max's mounting design for the Wahoo KICKR is something to behold. His system makes the metal straps or velcro used by other rocker plates look wimpy in comparison!
Essentially, mounting the KICKR to to the Axxion requires removing the KICKR's feet (and legs, temporarily) so it can be directly bolted onto the Axxion's top plate. Max's TD Rocker Mounting Kit includes new feet, bolts, and washers. He explains how it all works in this video:
The Wahoo KICKR is not evenly weighted left to right, so a counterbalance is needed on the right side in order to give your plate an even feel. Max sells a counterbalance weight kit which allows you to dial in the amount of counter-balance you need in your setup.
Total build time was about 45 minutes.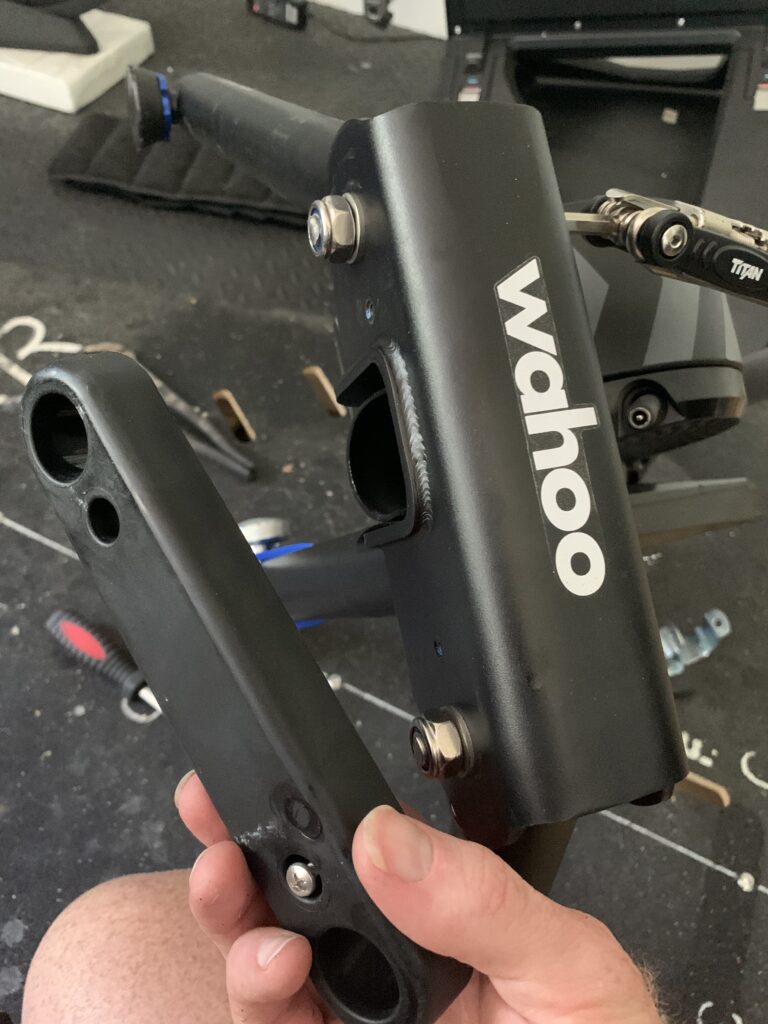 Let's Get Rocking
I thoroughly tested the Axxion plate over the course of approximately 75 Zwift sessions, covering over 1800 virtual miles. This included plenty of out of the saddle work in weekly races and Sprintapalooza rides! During the early rides I learned a few simple things that improved my experience with the Axxion, so I'll share those here.
Flooring Fixes
When I first began using the Axxion, it felt as though the rocking motion was more limited and stiff in comparison to the SBR ROCKR plate I'd been using. (Mind you, I had my ROCKR set up very loose, so this wasn't surprising!) But as I chatted with Max about this issue, he asked a simple question: what kind of floor was the Axxion sitting on?
Well duh. It was on a softish foam floor. And that was the problem. Unlike the SBR ROCKR (which has a big plywood base), the Axxion only contacts the floor with its ribs. If the floor is soft, those ribs sink into it, which effectively changes the curve/design of the ribs.
I removed the foam floor square from underneath the Axxion, and viola! A much free and more natural feel.
But now I had a different problem. When I would sprint hard, the aluminum ribs would wiggle back and forth a bit (maybe 1/2″) on the hard laminate flooring! I asked Max about this, and he informed me that this is precisely why he includes a roll of gaffer's tape when he shipped my plate. (I was wondering what that was for. That man has thought of everything!) Strips of tape on the bottom of the ribs reduced the movement by probably 90%, so it was barely noticeable. Nice!
The ideal flooring for a plate like the Axxion would be a hard rubber surface, something like this roll available on Amazon. This would be grippy enough to keep the Axxion in place, but hard enough that the ribs wouldn't sink into it.
Rock Solid
Once I had the flooring issue resolved, my experience with the Axxion was a very positive one. The rocking feel is natural, which is the most important thing for me. But what really makes the Axxion stand out from the rocker plates I've tested is the simple solidity of it all. The KICKR's direct-bolt mounting to the Axxion plate was rock-solid, and the plate itself is made of aluminum with no moving parts. Simply a bulletproof design, obviously developed by a dude who is very experience in both indoor training and aluminum parts CNC machining!
Here's a video I shot of the Axxion plate in action (this was done before I tested it with a hard rubber floor, so you may see it moving a bit on my laminate flooring):
Options
I was used the Axxion "Rear-Only, 2-Piece 1/4″ Anodized Aluminum Deck" kit which currently costs $525. Max also offers full-length plate designs (handy if you're using the Wahoo KICKR Climb), and you can choose a more affordable plywood deck instead of aluminum if you'd like. (But the aluminum is super cool and solid. It's like the Apple Mac Pro of rocker plates!)
You can also purchase just portions of the kit for a much lower price. For example, if you simply purchase the ribs ($225) and the mounting kit ($50), you can make your own platform from plywood using their mounting template ($10).
Reach out to Max over at Traxxion Dynamics if you're interested in purchasing an Axxion Rocker Plate. Feedback I've heard from other Axxion users is that Max has always been responsive to questions and happy to help them order just what they need.
Question or Comments
Share below!