Zwift CEO Eric Min recently shared on LinkedIn that Kurt Beidler is coming aboard as Co-CEO. The entire text of Eric's post can be read below:
---
After a long search, I'm excited to announce that Kurt Beidler has joined Zwift as Co-CEO. Kurt joins us from Amazon, where he has led large teams and built multiple successful businesses over a 17-year run. For most of the past eight years, Kurt has been leading Amazon Kids+, a hardware/software/content subscription service structurally similar to Zwift. Kurt led the Kids+ team of several hundred people to grow Kids+ into the largest kid-focused subscription service in the world. Before that, Kurt built and ran several books and Kindle-related businesses across the US, Europe, Japan, and China.
I will also be stepping into the role of Co-CEO, where I will partner closely with Kurt as he takes the reins of Zwift's core business and ramps up in his new role. In the long term, while there are strategies where Kurt and I will partner closely together, the most significant value this new Co-CEO relationship brings to Zwift is the ability for Kurt and me to divide and conquer. There is much work to do! For me, rather than being spread thin trying to do it all myself, I will have time to go deeper into specific areas that are also critical to Zwift's long-term success. In addition to my new role as Co-CEO, I will continue to chair the Board.
I'm excited about this. We're better equipped than ever, and I'm excited for what's next. 
Welcome, Kurt!
---
We'll talk more about the announcement and Kurt below, but let's start by saying the LinkedIn comment of the day goes to Iain Weir:

The Co-CEO Question
To some, the idea of Co-CEOs may seem odd. But it's not unheard of in today's world, and is especially sensible in startups where CEO duties are more than one person can handle, or where the founder CEO is preparing for an exit.
Based on Eric Min's post, we would say he's simply looking to share the load. As he says, "There is much work to do!" I asked Eric for details on the precise split of duties between the two CEOs, and he said, "Kurt will be focused on the core business and the day to day operations. We'll be working on many things together including long term strategies. My goal is to make sure he and Zwift are successful."
My guess is, this move frees Eric up to do what he seems to do best: nurturing crucial partnerships with organizations like the UCI and IOC, making sure the company remains financially stable (courting investors), and keeping an eye on long-term vision. Of course, Eric (who relocated from London to Long Beach last past summer) remains Chair of the Board, giving him continued oversight and input into Zwift's business.
About Kurt Beidler

Doing a bit of digging into Kurt, he's clearly done some good work at Amazon with teams of 400+, building and running three different business units at Amazon: Amazon Kids/Kids+, Kindle China, and Print on Demand. He's had success at Amazon, too, as Eric's LinkedIn post says: "Kurt led the Kids+ team of several hundred people to grow Kids+ into the largest kid-focused subscription service in the world."
His LinkedIn bio ends by saying "Passionate about all things outdoor and active, especially cycling, ultimate Frisbee, and hiking." So he's a cyclist. That's a good sign.
But what sort of cyclist is he? He's a level 13 Zwifter, but almost all of his activity on the platform has been since October 2022. This is a bit unexpected, but perhaps admirable given he lives in Seattle, where cyclists have every excuse to ride indoors. Maybe he's just the ultimate hard man?
He doesn't appear to have a ZwiftPower account. He's got 53 Strava activities saved for 2022 (110 all time), including his most recent, a 3R race on Sand and Sequoias with an average power of 183W. His Zwift profile shows him as 52 years old.
On November 30, 2022, he recorded a solid IRL ride in Rio de Janeiro, posting this pic: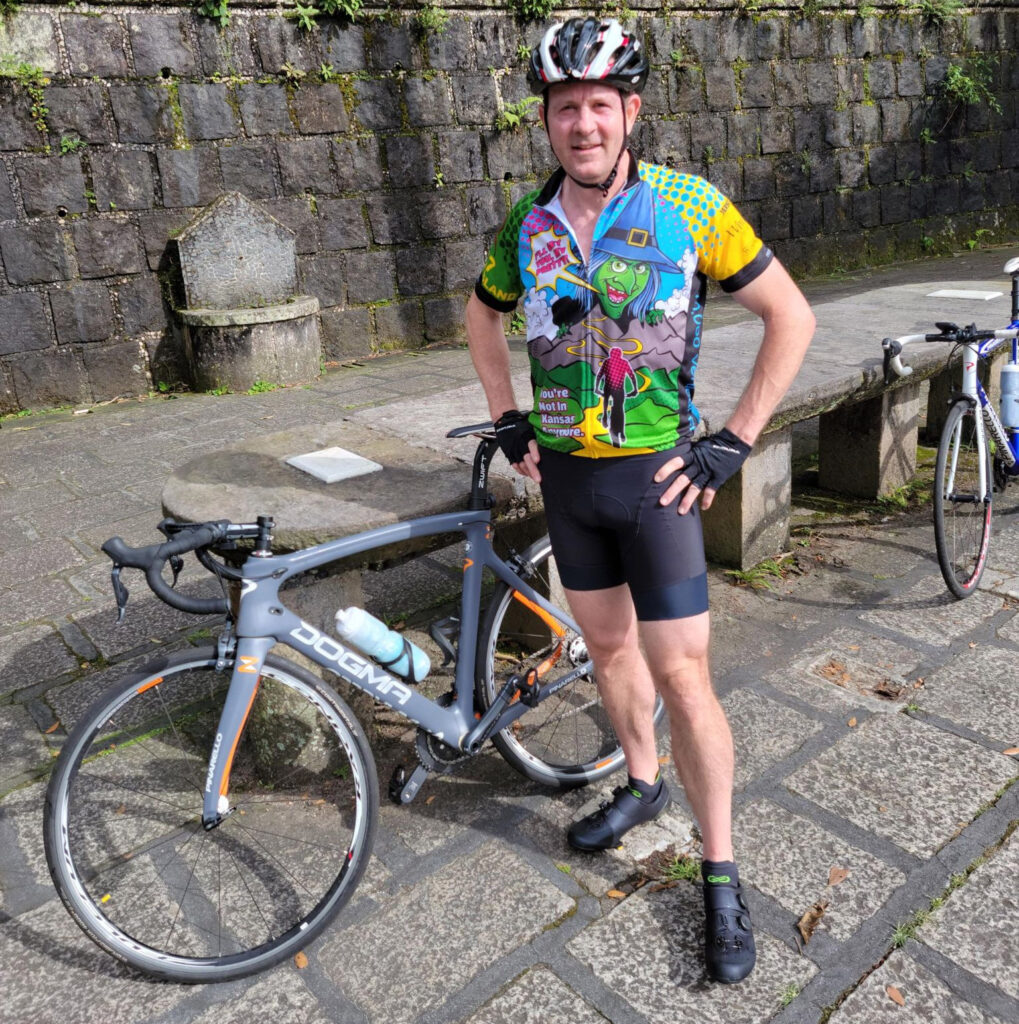 Three notable things about this ride/pic:
He was on a Zwift-branded Pinarello (vintage skinny Z!)
Zwift's AWS server team is based in Rio
Quadzillas!
Concluding Thoughts
Everything's a bit crazy right now, isn't it? And this is especially true in the indoor fitness + cycling space that Zwift occupies. Bike shops are fighting to survive, trainer manufacturers are awash in inventory, and layoffs are happening everywhere (including Wahoo and Strava in the past month).
But this is no time to duck and cover. Businesses in this space that play it smart and survive the next few years will grab vital chunks of market share. There's a huge swath of cyclists who are not on Zwift's subscriber list, and a much larger cohort of non-cyclists who would get into Zwift if it was more affordable and simple.
If Zwift can focus on its core business and build out a product riders love, it could begin doubling its subscriber base year over year once again.
But that will require extreme focus, razor-sharp business acumen, and prescient market vision. Hopefully this Co-CEO role will give both Eric and Kurt the bandwidth to give Zwift the leadership it requires not only to survive, but to thrive.
Your Thoughts
Share below!