Tacx Vortex Smart
Wheel On Trainer

For quite a while, the Tacx Vortex Smart filled a niche in the budget wheel-on trainer space. It wasn't very accurate, but it was cheap!
Tacx has since changed their product line, and the Tacx Flow Smart is their budget model. But there are still lots of Zwifters on the Vortex.
Key Specs
MSRP: $369.99 USD
Accuracy: +-10%
Flywheel: 3.5lb
Max Wattage: 950 W
Max Incline: 7%
Where to Buy
This trainer is no longer in production, but you may find a good deal on used or old stock.
More Details
Brand:

Tacx

Year Released: 2014 (No longer in production)
Axle Compatibility: 130/135mm quick release
Requires Calibration
Weight: 10kg
Cadence: Built in
Communication: ANT+ and Bluetooth
Physical Dimensions: 26" x 25" (66 cm x 63 cm)
Overall Rating

3.7 stars
based on 66 reviews
Easy setup
83%
Accurate power
26%
Realistic inertia
15%
Well-built
67%
Helpful support
14%
Portable/storable
73%
Quiet
11%
Budget-friendly
92%
Good quality/price ratio from Dav February 3, 2021 


I use it since 2015 and it works pretty well.

Pros :
- I can connect it to any Garmin (tested : EDGE 1000, 1030, Fenix6) without problem.
- I can connect it to my Mac with an ant+ dongle or Bluetooth.
- Ok for Zwift, compatible with erg mode.
- Price is good according to what I paid for.
- I can fold it in half to store it.

Cons :
- It is noisy. Like a lot. If you are doing high-intensity interval training, sounds like taking off a helicopter.
- This is a WHEEL-ON trainer, despite the use of the official Blue Tacx tire, sometimes the tire slips a bit.
- Setting the correct position for the road wheel size was a bit tricky.

Conclusion :
At the time of purchase, I had no idea if I would really use it a lot or not. So I made this "budget" purchase, with the intense usage I have now, I would buy a DIRECT-DRIVE trainer and more silent. But I'm still happy with my purchase, I can do all what I need.

Easy setup Accurate power Realistic inertiaWell-built Portable/storable Budget-friendly
Excellent Wheel On Trainer from JStricker October 4, 2020 


Though advanced riders will want more precision this is an excellent trainer. I have an older cycle which makes finding a direct drive to match my indexing difficult. Tire wear becomes a nuisance as slippage starts taking place on hard climbs.
After less than a month of near daily usage and I feel the trainer has paid for itself. Only 2 months into cycling after years of sedentary life, my performance is climbing rapidly and I jumped from struggling to keep up with D group rides to being a leading B group IRL rider.

Easy setup Well-built Portable/storable Quiet Budget-friendly
Efficient, but noisy! from stephgreg14 September 29, 2020 


It is a great trainer for ERG mode and everyday use. Although, a bit noisy. It is a perfect trainer for 85% of us out there.
The fact that your wheel stays on the trainer adds to the realistic inertia.
It is very sturdy. Tacx did a great job of doing a jack of all trade trainer.
The fact that the legs fold makes it one of the most portable/storable trainer out there.

If you want a bit more reality, I'd suggest upgrading to a direct-drive trainer, especially for the increased incline.

Easy setup Accurate power Realistic inertiaWell-built Portable/storable Budget-friendly
Trainereview from Aaron September 28, 2020 


I bought this trainer after using a friend's and finding it simple to use. I wanted the trainer for Zwift and I originally used a laptop to access it. After calibrating the trainer with the app on my phone (which took a couple of minutes) I realised that I needed an ant usb stick to connect my laptop to the trainer. A cheap eBay purchase and I was away. I've owned this trainer for about 2 years now, it's helped me enjoy numerous Zwift events now through Apple TV. Occasionally I have issues with ERG mode, I'm not sure if this is a trainer issue or the type of workout I have chosen. I also find that when sprinting the trainer rocks but only at full gas. I don't think I could get a trainer anywhere near as good now for the same money and have no intention of upgrading.

Easy setup Well-built Portable/storable Budget-friendly
Vortex Smart Review from camzie September 28, 2020 
Easy setup Well-built Budget-friendly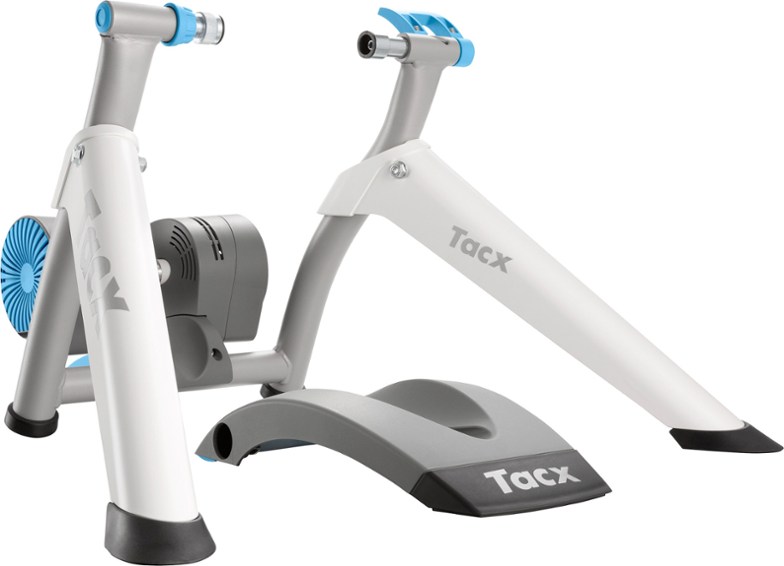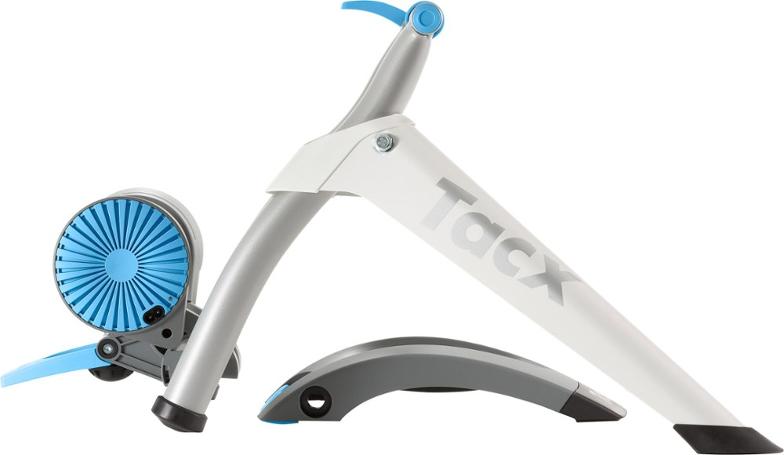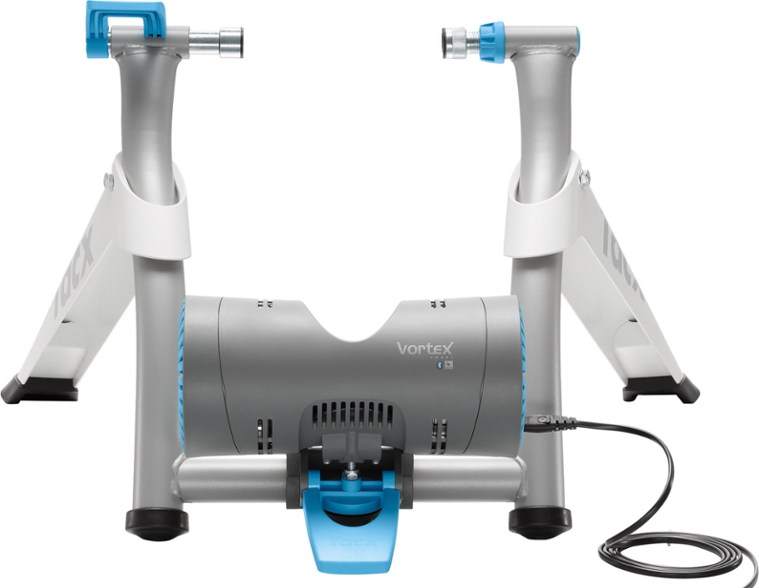 More Tacx Vortex Smart Reviews
Own this trainer? Post a review!
Good quality/price ratio from Dav February 3, 2021 


I use it since 2015 and it works pretty well.

Pros :
- I can connect it to any Garmin (tested : EDGE 1000, 1030, Fenix6) without problem.
- I can connect it to my Mac with an ant+ dongle or Bluetooth.
- Ok for Zwift, compatible with erg mode.
- Price is good according to what I paid for.
- I can fold it in half to store it.

Cons :
- It is noisy. Like a lot. If you are doing high-intensity interval training, sounds like taking off a helicopter.
- This is a WHEEL-ON trainer, despite the use of the official Blue Tacx tire, sometimes the tire slips a bit.
- Setting the correct position for the road wheel size was a bit tricky.

Conclusion :
At the time of purchase, I had no idea if I would really use it a lot or not. So I made this "budget" purchase, with the intense usage I have now, I would buy a DIRECT-DRIVE trainer and more silent. But I'm still happy with my purchase, I can do all what I need.

Easy setup Accurate power Realistic inertiaWell-built Portable/storable Budget-friendly
Excellent Wheel On Trainer from JStricker October 4, 2020 


Though advanced riders will want more precision this is an excellent trainer. I have an older cycle which makes finding a direct drive to match my indexing difficult. Tire wear becomes a nuisance as slippage starts taking place on hard climbs.
After less than a month of near daily usage and I feel the trainer has paid for itself. Only 2 months into cycling after years of sedentary life, my performance is climbing rapidly and I jumped from struggling to keep up with D group rides to being a leading B group IRL rider.

Easy setup Well-built Portable/storable Quiet Budget-friendly
Efficient, but noisy! from stephgreg14 September 29, 2020 


It is a great trainer for ERG mode and everyday use. Although, a bit noisy. It is a perfect trainer for 85% of us out there.
The fact that your wheel stays on the trainer adds to the realistic inertia.
It is very sturdy. Tacx did a great job of doing a jack of all trade trainer.
The fact that the legs fold makes it one of the most portable/storable trainer out there.

If you want a bit more reality, I'd suggest upgrading to a direct-drive trainer, especially for the increased incline.

Easy setup Accurate power Realistic inertiaWell-built Portable/storable Budget-friendly
Trainereview from Aaron September 28, 2020 


I bought this trainer after using a friend's and finding it simple to use. I wanted the trainer for Zwift and I originally used a laptop to access it. After calibrating the trainer with the app on my phone (which took a couple of minutes) I realised that I needed an ant usb stick to connect my laptop to the trainer. A cheap eBay purchase and I was away. I've owned this trainer for about 2 years now, it's helped me enjoy numerous Zwift events now through Apple TV. Occasionally I have issues with ERG mode, I'm not sure if this is a trainer issue or the type of workout I have chosen. I also find that when sprinting the trainer rocks but only at full gas. I don't think I could get a trainer anywhere near as good now for the same money and have no intention of upgrading.

Easy setup Well-built Portable/storable Budget-friendly
Vortex Smart Review from camzie September 28, 2020 
Easy setup Well-built Budget-friendly

First trainer from sol September 28, 2020 


Pretty happy with this as a first trainer. Easy to put together and use, noisy but not excessive.

Easy setup Portable/storable Budget-friendly
sharp as a tacx? from Goose September 27, 2020 


I would say that the vortex smart is a great option for those who can't quite justify being able to buy a direct drive trainer.
This is more of a gateway trainer, where you get to experience the change in elevation but after a few months of having it you really want more.

Budget-friendly
Good overall wheel-on trainer from rmaxschwartz September 26, 2020 


Had the trainer about two years. Steady state power matches reasonably well with my Power2Max power meter. Erg mode works reasonably fast/well if I'm in an easy gear.

Easy setup Accurate power Well-built Helpful support Portable/storable Quiet Budget-friendly

Good wheel on trainer from plewis61 September 26, 2020 


This was an upgrade over a Satori Smart, so having Zwift controlling the gradients was a game changer for riding a trainer. Not a bad wheel on trainer that is built really well. It is loud compared to a direct drive trainer, but for the price it seems it would be hard to beat.

Easy setup Realistic inertiaWell-built Portable/storable Budget-friendly

Cheap, noisy but good from ronanmac September 26, 2020 


Good but noisy. Mine was a bit generous with wattage and upgrading to the Tacx Flux S was a bit of a shock to the system when I began to place lower in races! All in all, difficult to fault given the cost. Quick reaction time to changes on the Zwift course.

Easy setup Well-built Portable/storable Budget-friendly

Good budget trainer from ldinsdale September 25, 2020 


It's not the most accurate, but great for the beginner Zwifter looking to get into indoor cycling. Calibration needs to be taken seriously for accuracy!

Portable/storable Budget-friendly
Decent for the money, great first smart trainer from Hcw350 September 25, 2020 


This was my first smart trainer, as such my FTP took a nose dive compared to Travel Track dumb trainer. As demoralizing as that was, i pretty quickly was able to build it back up utilizing ERG controlled workouts. No i understand that the vortex has a reputation for over inflating FTP. To that I say, who cares. I generally don't do many races and I am cat c at best. all I care about is having a consistent measurement as a basis of comparison. The trainer does what I want it to do. It is a little fickle about having the skewer tightness, wheel tension, and tire pressure right. any one of those things is off and the calibration goes to whack and I start getting tire slip.

Accurate power Well-built Quiet Budget-friendly
Tacx Vortex Review from Francis September 24, 2020 


Great trainer to get started and easy to setup. I might have gotten lucky with the setup since I didn't have to play around with the tightness of the unit on my tire. It is a loud trainer but have seen a few methods to make it more quite which I have yet to try.

Easy setup Portable/storable Budget-friendly
Vortex by a brazilian from joaopaulogb September 24, 2020 


This smart trainer is very good for start experience in indoor bike and make improvement in health.

Easy setup Accurate power Portable/storable Budget-friendly

Decent Smart trainer from Eddie H September 24, 2020 


Very loud. But easy to set up and works well.
Seems to have a 50 watt or so boost, which I can't change by calibration. I hear others have similar issues. This is an ego boost for zwift, but not great when you get dropped irl.

Easy setup Well-built Portable/storable Budget-friendly
Good entry level trainer from Graeme September 24, 2020 
Easy setup Well-built Portable/storable Budget-friendly
Tacx Vortex Smart Review from andrea1967 September 24, 2020 
Easy setup Well-built Portable/storable Quiet Budget-friendly
Extremely decent for the money from spiriakou September 24, 2020 


Slightly higher spec than the Tacx Flow smart. The Vortex offers Smart Trainer benefits and connectivity without breaking the bank.
Setup is simple and connections (Bluetooth or Ant+) are picked up quickly and reliably
Cadence is transmitted with speed and power so you don't lose precious Bluetooth channels on Apple TV.
It folds down to under-bed dimensions for storage and is stable enough to stand up for sprints.
OK, so it's not as quiet, powerful or accurate as direct drive models but, as a basic portable smart bike trainer, it's excellent value

Easy setup Realistic inertiaWell-built Portable/storable Budget-friendly

Cheap but not very accurate from Hoppes September 24, 2020 


Used it for about a year. Always checked my tire pressure and calibrated it once a week.
Power values are far off. About 10%. Found out after buying a powermeter and switched to a Kickr core.
A friend of mine still uses his Vortex Smart. In Zwift he is racing like a Pro. In real life he can not match his Zwift power values.
Also very loud an tire wear off is really high.

But if you can live with wrong power numbers and only got a small Budget, I would sill recommend it for beginners

Portable/storable Budget-friendly

not bad for a wheel on trainer from sam September 23, 2020 
Easy setup Well-built Budget-friendly
Tacx Vortex Smart from M. Coles September 23, 2020 


Very good beginner Turbo Trainer. Not sure accuracy is 100%. Medium noise. Reliable connections.

Easy setup Well-built Budget-friendly

Four Years, 6000+ miles, and 300+ hours of ride time and it's still kicking from justin September 23, 2020 


The Vortex Smart has been a solid trainer, allowing me to do what I need to do to ride indoors. I wouldn't call it an enjoyable experience for Zwifting and Titan's Grove is my least favorite section in the game thanks to the rolling hills and the Vortex's abrupt resistance changes and lack of inertia. However, it gets the job done and works great in ERG mode. I have no clue about the accuracy, but it seems to be consistent at least.

Getting the correct alignment for the rear tire was pretty easy. I do a spindown every time I put my trainer tire on, otherwise I just make sure that I'm running a consistent tire pressure before each ride.

It's also loud. So very loud. But cheap. I've been looking for an excuse to upgrade for the last 3 years but this thing just keeps chugging along. It's hard to justify when it's doing it's core function of getting me in shape. It may not be an enjoyable road to get there, but I guess that's why they call it the sufferfest.

Well-built Portable/storable

Does the job from Jackbeenie September 23, 2020 


Have had it for 2 years and it's still going well. I'm also around 100kg and have been training hard this year, so it puts up with 350W for extended periods of time, which is great/fine for threshold and endurance stuff.
Unfortunately it suffers a bit above that. Sprints are maxed out around 1100W and spinning 160rpm which honestly is better than it says on the box. I would recommend it for anyone who is a little lighter than me, or doesn't need to sprint. I really feel (particularly this year) I got my money's worth (it was around 500aud)
I have noticed it overheating so these days it gets its own fan, and during a sprint session the MAG resistance unit jumped off. It clicked back in again and has been fine since. Quite loud as well, but it never woke the baby.

Easy setup Portable/storable Budget-friendly

Good starting point for budget smart trainer from Barney September 22, 2020 


if you want a wheel on smart trainer - it isnt accurate so only good if you want to use recreationally if you can spend a extra and get a Kickr core or Elite Suito

Helpful support Portable/storable Budget-friendly
A good budget option from TGilbert September 22, 2020 


I am using my second Tacx Vortex. The first one had a problem with the resistance unit, it would not vary the reported power and it would not create resistance above 150 watts.

I contacted Garmin about the problem. Garmin replaced the resistance unit over a year ago and it has worked perfectly since then. It has over 4,000 Zwift miles on it and it's going strong. Garmin's customer service was top-notch.

This is a great budget option for Zwifting.

Easy setup Realistic inertiaWell-built Helpful support Portable/storable Budget-friendly
Vortex review from Beyne September 22, 2020 


Nice trainer with easy setup. Trainer isn't quite silent. It's budget friendly and hasn't failed me the past 3 years. Budget well spent!

Easy setup Budget-friendly
Vortex review from Beyne September 22, 2020 
Easy setup Budget-friendly
Solid entry trainer from Looj September 21, 2020 
Easy setup Well-built Portable/storable Budget-friendly
Great entry level trainer from Adam September 20, 2020 


Had this trainer as my introduction into virtual bike rider and it did everything I needed. It can be fairly loud at high watts and needs regular calibration to ensure accurate readings. However, I never experienced any slippage, was easy to set up and always connected straight away. I now have a direct drive trainer which is much quieter and provides a more realistic experience, but I would highly recommend this as a cheaper/ first trainer option.

Easy setup Well-built Budget-friendly

Decent baseline trainer from Nobby September 16, 2020 


Folds away to not take up too much room. The tech says up 8% and 2500W - I get no were near that power (950 max) and the resistance is plenty for training and racing on Zwift. Pairs easily to Zwift via my Apple TV enabling smart control features. Wheel on is no issue and makes it easy to switch my commuter bike in and out with ease

Easy setup Accurate power Realistic inertiaWell-built Helpful support Portable/storable Budget-friendly
Super reliable, but loud from Adil Filoso September 14, 2020 


I've been using the TACX Vortex during the last 3 years, at least 4 times per week, and excepting by a firmware update, I've never had any problem. It works perfectly with only two minor faults: it's actually loud at high rotation and the 7% max slope capacity is a bit limited if you're a climber.

Easy setup Budget-friendly
Vortex is a good entry-level smart turbo trainer, but be warned of a wheel-on whirling mass of fury from jimhaysom September 10, 2020 


The Vortex effect. You may have read about this on social media, and essentially the free watts it gives you. But honestly, do you really care? Others most certainly will. Granted, this is an entry level smart trainer, around the GBP 300 price, and is a wheel-on trainer, so requires you to mount your back wheel, where resistance is provided by the pressure from the freewheel. You want to try Zwift, and other virtual platforms, but don't want to fully invest in a direct-drive trainer which are way more expensive, or maybe you don't know if you're really going to like indoor cycling at all. It's a lower risk investment and it does what it says on the tin.

This was my first trainer, something that was budget friendly, that was a massive appeal. Also, with an additional QR back wheel and 11-28 cassette (same as my road bike) and fitted with a Tacx specific turbo tyre, I could easily swap the wheel out and jump on the trainer in a matter of minutes and not have to worry about using my existing road tyres or repeatedly swapping a turbo tyre.

Set-up is really easy. Connect the adapter at the bottom based on wheel size. There is a convenient front wheel riser that is included is really useful. Place rear wheel on trainer, ensuring it is at the recommended pressure for the tyre. The QR skewer provided is shaped differently on the ends so it fits into the clamping mechanism. Download the Tacx Utility App. Switch on trainer, and pair to the app. It has Ant+ and Bluetooth connectivity. It's worth riding the bike for about 10 mins to warm up the tyre. Do a calibration spin down, which is basically riding the bike up to about 30kph and then stop pedalling. The app has a red to green zone, based on whether your tyre is too tight or loose on the medal spinning freewheel. Hop off the bike and give the tension knob a quarter turn. Jump back on the bike and repeat the calibration. If you can get it in the middle or near the middle, you are good to go.

Ride feel and resistance is something many like to be vocal about. Listen, this trainer is at the bottom end of smart trainers. The elevation simulation max slope is 7%, so it's not going to give you that realistic ride feel going up the Alpe du Zwift. You can find the wheel slipping if you're smashing out some watts and you don't have the trainer calibrated properly with a recent spin down. But to get you on your bike and riding some virtual miles or kilometres, it does a good job with all things considering. If you've never used a smart trainer, you'll certainly feel the difference and some resistance.

Accuracy is the bit that the Vortex will let you down on. The stated accuracy is <10%. In simple terms. Let's say you are throwing down a watt bazooka for a final 20 second sprint finish and hitting 500w. If the accuracy was effectively 90%, then the real watts you're providing is 450w, and not the broadcasted 500w that's shown on the screen or transmitted to your virtual platform. This gives you an unfair advantage. It is what annoys the hell out of other racers in Zwift. It would impact things like your true FTP, or your racing category, e.g. ABCD, making you appear stronger that you actually are. You could be racing and winning in the Cat B's, when the harsh reality is you're not as good as you think, and could be actually a Cat C rider. Sandbagger, you! If you are not interested in racing, and want to enjoy the benefits of indoor cycling, you can't really fault the Vortex as a starter trainer. Keep it calibrated, keep the pressure in your tyre correct, be mindful that it's not the same as a Neo 2T or a KICKR v5, and go enjoy riding your bike in the virtual world.

Wheel-on trainers are more accessible to people because they are cheaper, but don't dismiss them. I owned a Vortex for almost 12 months before upgrading to a direct-drive trainer. It was simply because I got hooked on Zwift and was spending hours each week on the trainer. I wanted to up my own game, and improve my own performance. I went one step further, and bought power metre pedals, as I wanted to experience the power insights outdoors as well. I think giving the Vortex a 3/5 is a not demonstrating the value you can get from it, so it gets a 4/5 from me.

Oh, going back to my power pedals and dual recording against the Vortex. I raced hard a Crit City race, 8 laps of The Bell Lap, 16km. Only 4% difference to my Favero Assioma Duo power pedals.... 280w average for the pedals vs 291w for the Vortex over a 21 minute balls all-out race. The Vortex seemed to overstate the larger efforts, my peak power numbers, and be lower when the power was at its lowest. This was evident during the rolling bumps section of Crit City. It was slightly over the pedals power for much of the race regardless, albeit a few %. Depending on what type of riding you do, climbs, steep climbs, rolling, flats, the performance will likely be impacted in someway.

Easy setup Well-built Portable/storable Budget-friendly
Big Lad, Big power. from TBallS46 September 10, 2020 


Ive been using the vortex for just over a year. My FTP has risen from 200 to 390. I wasnt willing to commit big money to puchasing a smart trainer, But i managed to pick one up new for £162.

Its easy to set up, i share it with my wife and change bikes on it daily, allthough the cam lock system on the axle is now a bit stiff.

Ive allways found its easy to slip the wheel, unless i have it set up as tight as the calibration will allow. at first i thought it was because i was using a road tyre, but it does the same with the tacx trainer tyre. It only slips at low speed and low cadence, but im a very powerfull rider.

I have found that i cant use inner tubes with puncture repairs, the wheel seems to heat up and melt the glue and puncture again. I have since changed to only new and thicker tubes.

Noise wise, its not quiet. But its no different to traditional non-smart turbo.

Power wise, it is posible to top out the stated power, allthough i have supposidly hit over 1100w. I am limited on my sprints as a heavy rider my maximum posible w/kg on the trainer is about 9w/kg before it tops out.

Power accuracy. I have no way of measuring this. I train hard and set the calibration regually. It does seem repeatable, no large changes in performance.

In summary, i never thought a turbo would be so much fun. I have lost a significant amount of weight and gained more fitness than i have ever had. Riding on this turbo is imersive enough to really let go.

Easy setup Well-built Portable/storable Budget-friendly
Excellent value for money from Triboy G September 10, 2020 


As this was my first turbo trainer, I wanted to be conservative with the budget allowance, so I was not sure what to expect in terms of performance based on some of the reviews that I had read about Smart trainers in this price range but also more expensive ones. Pleasingly it has delivered more than I expected. It is also used by the whole family of four and during lockdown has certainly had some miles put through it!

Easy setup Portable/storable Budget-friendly
Cracking entry level trainer for Zwift from a.wiemers September 9, 2020 


Thoroughly enjoy using this trainer to zwift... yes it's wheel on and yes it only simulates 6% but has totally transformed my training... well over 1500 miles riden on zwift and reached level 26! only used in off season / rainy days, but fully emersive... so much so I've looked several times at upgrading to direct drive, but honestly get all I need from my Tacx

Easy setup Well-built Portable/storable Budget-friendly
Tacx Vortex Smart Review from Abe September 9, 2020 


I've put about 5,500 miles on the Tacx Vortex Smart and I've been pleasantly surprised. If you're looking for something budget friendly, with a decent road feel, give this trainer a go. Not the quietest, but with fans and music going you won't even notice.

Easy setup Accurate power Realistic inertiaWell-built Budget-friendly
Good Smart Trainer from Kona Ken September 9, 2020 


This was a reasonably price smart trainer that worked great with my indoor training and with Zwift. Easy to set up and move around if needed. I logged 1000's of miles on it over the past several years on it during the winter/rainy months and it has worked great. Easy to connect via ANT+ to my PC. I did have to use a USB cable to extend the ANT+ stick closer to the trainer as I was getting occasional drop outs, but my wife also had a smart trainer as well and I think there was interference. Once I extended it, there were no more issues. Power seemed to be pretty accurate. Good utility tools with it for upgrading the firmware. The only draw back is that it is starting to get more noisy. But like I said, I've put a lot of miles on it. 🙂

Easy setup Accurate power Budget-friendly
Great Budget Trainer! from kylebredesky September 9, 2020 


I found this trainer at a great price from Chain Reaction Cycles. I think it was just a little over 200 USD. For a smart trainer, I thought that was a steal! I have had no problems with connectivity or function and I've put over 1000mi on Zwift with it! It does great through Bluetooth or ANT+ Connection. The power matches my Pioneer dual sided power meter very closely. No complaints with accuracy on power, but the cadence sometimes lags just a little. Not enough to be a problem though.The setup out of the box may take 30min, but after that it stashes and folds easily, my bike goes right on and right off. There is great functionality for adjusting the tension and it fits a wide range of rim sizes. I'd highly recommend! Note: If you buy it off of a European site, you will probably need a plug adapter to work with US outlets.

Easy setup Accurate power Well-built Helpful support Portable/storable Budget-friendly
Tacx Vortex Smart trainer review from Craig September 9, 2020 


After many years of using dumb trainers, this was my first foray using a smart trainer. The price was good for an entry level wheel-on trainer. Set-up was a little tricky getting the resistance unit onto the main frame. It took some time adjusting the height for proper calibration. No signal drop-outs after about 1.5 years of regular use. It does get a little on the loud side when the wheel speed increases. Overall, I'm happy with this. I have thought about upgrading to a direct drive trainer, but getting rid of the Vortex Smart would feel like a waste.

Well-built Portable/storable Budget-friendly
Good starting trainer from Jlinker September 9, 2020 
Easy setup Portable/storable Budget-friendly
Perfect starter trainer from Swickers September 9, 2020 


The perfect first Turbo. Simple, reliable and if set up correctly fairly accurate (most people who complain about the power accuracy don't set them up correctly or are powerful cyclist. If you regularly put out over 350W for long periods this isn't the right Turbo for you). I had one which I used a lot for three years before it failed. I could have fixed it, but it was cheaper to buy a new one which only cost £180 (€197, $232). I still have one as a stand by for when my much fancier and far less robust turbo fails, again. Great value, good support, much better than many realise if you make the effort to set them up properly.

Easy setup Accurate power Well-built Helpful support Portable/storable Budget-friendly

vortex smart from JelleT September 9, 2020 


Basic trainer to get started with zwift. Perfect for the training programs. Too light for intensive riding. Starts slipping when you hit higher power

Easy setup Budget-friendly

Good value, unrealistic power from CJGagnon September 8, 2020 


Good value for the dollar, but the power numbers are 10-20% too high.

Easy setup Well-built Portable/storable Budget-friendly

Tacx Vortex from aam.maloney September 8, 2020 


Really awesome way to get into Zwift, would highly recommend as a first smart trainer. The power is generally accurate, but is more of an approximation than a direct read. My cadence reading changes pretty drastically depending on the gear, which is fine in ERG mode, but really requires a cadence sensor to get a real true workout or ride, especially when hitting cadence targets at various levels of power. Very happy with it for the first two years, but will definitely move on to a direct drive trainer once that's in the budget.

Easy setup Accurate power Well-built Budget-friendly
Tacx Vortex smart from m_hotte2000 September 8, 2020 


Not as realistic feeling and quiet as a direct drive but for a lower budget it does the job just fine. Connection with zwift is neat.

Easy setup Well-built Portable/storable Budget-friendly
Great budget trainer from Mark September 8, 2020 


Great price but does everything needed to get you on Zwift quickly and simply. Good response to changes in gradient and simple to calibrate using the Tacx app.

Easy setup Accurate power Realistic inertiaWell-built Portable/storable Quiet Budget-friendly

Solid trainer, but inaccurate power measurement. Noisy, hard on tires. from martinheintzel (Riding DIRTy) September 8, 2020 


This trainer has been my workhorse for 3 years. When I added Assioma Power Pedals, it was clear the Vortex overestimated my power by 20-30%. This was a brutal reality check for me. I've also shredded several tires, and it is not infrequent that my rear tires lose air under the heat and/or pressure. The road feel is fine, but there is a noticeable lag on hills - especially noticeable in roller sections. This was a great purchase for me, but I am looking forward to switching to a wheel off trainer.

Easy setup Well-built Portable/storable Budget-friendly
Great starter unit from J-McA September 8, 2020 


It's a great unit to get started on.
Mine was rock solid for reliability and played well with my Garmin watch (ie could pair ANT to the watch and Bluetooth to the Apple TV). There's a bit of lag vs a direct drive (your avatar may take a second or two to move when you put the hammer down and may overshoot the bunch you're trying to join) but you'll quickly adjust. The smaller flywheel also means that hills have a more immediate impact. The 950W threshold is fine for steady state riding, but a larger (or just powerful) rider will be able to overwhelm it in a sprint. Similarly, the 7% gradient isn't much compared to many climbs in zwift but there are two considerations - newer riders will likely have the default 50% trainer difficulty setting on anyway, so they won't exceed it until they hit a 14% grade, at which point they may be thankful that it's capped!
The noise wasn't that bad for a wheel on trainer either - it was much quieter than my Minoura dumb trainer.

Easy setup Well-built Portable/storable Budget-friendly
Tacx review from deannas_59 September 8, 2020 


This has been a pretty solid trainer for the past 4 years of heavy use. No calibration issues, easy to set up. The only reason I would upgrade would be to move to a trainer that doesn't require the rear wheel. Changing to a trainer tire is a pain.

Easy setup Accurate power Realistic inertiaWell-built Portable/storable

Not fabulous from Katipo September 8, 2020 


One of the cheapest on the market, but unimpressive given the still sizable investment. My washing machine cost about the same and hasn't missed a beat in 12 years despite being overloaded many times. I had to get a warranty repair on the Vortex because the roller is only plastic with a thin metal sleeve. This is a critical component! Slippage is also a problem at higher watts and I don't have much confidence in the accuracy of the power measurements. It is helping me get fit and it pairs reliably so I'm giving it 3 out of 5 start for could (should) be better.

Easy setup Portable/storable Budget-friendly
Great cheaper trainer from Harry September 8, 2020 


I used to use a non smart trainer and changed to the Vortex as my Zwift experience and my fitness improved. I found the setup very easy once having used the Tacx App to run the calibration test. Zwift recognises the trainer every time I log in and to be honest it has been ultra reliable during my use. I am not a powermeter user so have no idea how accurate it is and when climbing in Zwift the power comes in after a lag which when doing rolling hills can mean it being a little unrealistic. On long climbs it is not a problem and the power comes off quickly enough but it is definitely not instant as I believe it might be on the top end systems from Tacx. It is quite heavy and noisy in use but I still consider this a portable system you just need to lift it correctly and be careful if storing it upright. I use a thick sound absorbing mat under the trainer as I do use it in the house but the family know when I am Zwifting but it is not intrusive. I am very happy with the Vortex but would like to move up to the Tacx Neo in due course. Happy to recommend this trainer if you are just starting out, do not expect accurate power curves and are happy with a slight delay in the resistance changes when climbing or descending. I have recorded over 600 watts during sprints and with my bike gearing never feel that I would ever spin out due to a lack of resistance.

Easy setup Well-built Helpful support Portable/storable Budget-friendly

Good starter trainer from richardgubby September 8, 2020 


A low price trainer and good for getting started. The tyre will slip though, which is annoying. If you went from uphill to downhill and back to uphill, you had a lag in power, which can result in unrealistic spikes of power on the 2nd uphill.

Easy setup Budget-friendly

OK, does the job. from TJ September 8, 2020 


Decent trainer, however the slight delay for the gradients do get a bit annoying.

Easy setup Portable/storable

Vortex used during 6 years from jpp September 8, 2020 


I had used this model during 6 years doing firmware update to be able to use Zwift last year (not easy but it worked at the end!).
Noisy compare to Wahoo for sure (or Wahoo very quiet!).
Accuracy not so good depending of gear and pace used (check again powertap P1S used since 3 years now). However after 15-20min stable which allow reproducible workout. What more to expect for the price?

Easy setup Budget-friendly
Great trainer on a budget from LoobyLoo September 8, 2020 


This is a great budget trainer! It's wheel on rather than direct drive so requires a dedicated trainer tyre that won't overheat.

The construction is robust and everything you need to get started comes in the box - except the trainer tyre which needs to be purchased separately. I really like the riser block which keeps the front wheel secure and immobilised. It's easy to fold up and packs away fairly flat, although I prefer to just leave it set up most of the time.

It's easy to set up and calibrate with the Tacx Utility app. It's compatible with Zwift and others such as Sufferfest. I really like that you can link your Garmin and the trainer responds to any route or workout you load up, it's super useful for days when the WiFi is flaky!

Power wise it seems to read accurately and it's reasonably responsive, although there is a slight lag between effort and seeing the numbers increase on screen. I've not noticed any tyre slip when using the dedicated Tacx tyre, I do calibrate it regularly but it only takes a minute or two.

ERG mode is powerful and I've been in the 'spiral of death' a few times, it takes a bit of getting used to but it's good once you've learned how it functions.

This trainer is really quiet and I've Zwifted many times with my kids asleep upstairs with no problem whatsoever. It's easy to listen to music whilst using the trainer, it's mostly the noise of the fan you can hear rather than the trainer!

Overall I'm really happy with this trainer and see no reason to get a direct drive at the moment, although I may do eventually.

Easy setup Accurate power Well-built Portable/storable Quiet Budget-friendly
Solid and reliable from Stuntmark September 8, 2020 


I have been using this for 4 years with no problems whatsoever.
I know it was their bottom of the range trainer but it has been rock solid.
My only issue is that it reports power about 6% higher than my power meter.
It has connected with no issues to multiple laptops and PCs and an Apple TV.
It is quite noisy even when on a trainer mat on a concrete garage floor which may be an issue for you but as I ride with headphones on it isn't a problem.
It folds up very easily and calibration is child's play

Easy setup Well-built Helpful support Portable/storable Budget-friendly

Tacx Vortex Smart from Oli September 8, 2020 


This trainer is perfect for someone who is starting out in the zwift world and wants a trainer that is smart. It's around 600CAD new (can be found for around 350-400cad used) but needs a training tyre (60cad give or take).

The setup is not super hard but you need to make sure that the tyre and the resistance unit are well placed so that the tire won't slip and that the accuracy of the trainer is as close as it can be to what you output. Talking about power, it is pretty good for a low end smart trainer.. From what I have seen, it over estimate the power output a bit but not by much..
Biggest down side of it power wise is the 900W max the company says it can sustain. After that, it gets less accurate and the tire tends to slip a bit more.
In the time I've used it, I have been lucky not to have too much tires slips when ascending punchy climbs needing to stand and push hard on the pedals but I've heard of friends having this problem.. Is it because of the way I push or the way I had it set up? I'm not sure.

One other limitation to take into consideration is the maximum gradient it can simulate. Tacx says it can simulate slopes up to 6% gradient, which means you won't feel that Alp Du Zwift or Mont Ventoux average gradient on it. At first I didn't think it'd be a big deal until I got back outside the next summer and was wondering why I was having so much difficulty pedaling at a higher cadence on my local climbs (which are WAY WAY easier than most hilly KOM on Zwift). I had forgotten that the max simulated gradient was 6% and thought I had improved quite a bit on climbs (I could go up ADZ on 100% trainer difficulty while spinning at 90rpm on a 11-30 cassette) but it was in fact just me forgetting the limits of my trainer..

With all of that in mind, this well built and easy to store trainer, is a great way to start your Zwift (or other indoor app) journey at a smaller price. It gets the job done and you will be able to get fitter and ready for next season or for the next outside ride. If you have a tighter budget, this is the trainer you need.

Well-built Portable/storable Budget-friendly

Vortex from robbin.geuens September 8, 2020 


Not accurate. Bluetooth connect issues

Portable/storable
Great Tariner from Bento September 8, 2020 


I use it since 2016 and trained for several Iron Man, XTerra and Sprint Triathlons with great performance and NO maintenance.

Easy setup Accurate power Well-built Budget-friendly

Good for beginner but soon overwhelmed it from Acbooker September 8, 2020 


Bought used to try Zwift. Did its job and was fun, but soon ran into limits. To keep the rear tire from slipping I had to crank it into the flywheel, which caused the tire to wear out prematurely. Even then, above 375-400W it slips and squeaks. Recognizing this is more a function of any wheel on trainer, I plan an upgrade this Fall. As a basic smart trainer, this did the job, but I guess I outgrew it 🙂

Portable/storable Budget-friendly

Tacx Vortex Smart from zaza September 7, 2020 
Easy setup Well-built Budget-friendly
Best entry Smart Trainer from IdentifyAScat1 September 4, 2020 


A great introduction to smart trainers!

Price. Typically can find half price resell of this trainer as people look to upgrade to direct drive.

Customer support is top notch and responsive. Parts are readily available.

Power. Power data is off by about 10-15 watts over the course of long efforts exceeding 250watts.

I upgraded to direct drive and am not convinced the price is worth the upgrade.

Easy setup Accurate power Well-built Helpful support Portable/storable Quiet Budget-friendly
Vortex Smart from Skip September 4, 2020 


Great wheel on trainer. Works as described.

Easy setup Accurate power Realistic inertiaWell-built Portable/storable
Tacx vortex – using it for 3 years from Matej28 September 3, 2020 


It's great smart trainer - budget friendly, accurate, easy to setup. I have been using it for three years now and it's perfect for me. It's not very quiet but I often listen to music or watch something so I don't mind the noise from the trainer. It has only one small problem - when gradient in Zwift becomes very steep, sometimes tyre slips, but if you set it up and adjust it well you won't have problems. It's not heavy and it fits well in car or small truck so sometimes I bring it with me to races so I can warm up on it. I tested accuracy and it's within 3% with my powerhub wheel. If money isn't problem for you I would suggest you to buy on-wheel trainer. But if money is obstacle this trainer is for you.

Easy setup Well-built Budget-friendly

Hard to beat… for the price from eschlange August 27, 2020 


This was my first smart trainer, and I used it for almost a full year. Bought it from a German online shop for ~$200 less than US retail. It worked well for me and I sold it to a friend when I eventually upgraded.

The downsides of this trainer are
1) it tends to overstate power, no matter how well you calibrate it. I've got a couple friends with these, and I would guess it's overstating by ~10%
2) the roller tends to get really noisy... I've seen this on lots of Vortexes
3) old versions of the trainer need their firmware updated before Zwift can control them... and that can be a real pain for some reason

Portable/storable Budget-friendly

A good starter trainer from dchandisingh August 27, 2020 


Needs fairly frequent calibration, and accuracy is quite dependent on temperature, tyre pressure and roller adjustment. I used mine happily for three years before upgrading to a Neo 2.

Easy setup Well-built Portable/storable Budget-friendly