Included in Zwift's latest update are some new carrots that should encourage us all to explorer Zwift's long list of routes.
Zwift has added 25 routes to its list of achievement badges, which you can access by clicking Menu>Badges in game. Here is the complete list (click a route to learn more about it):
*we don't yet know the XP bonus for completing this route. If you completed the route and know the bonus, please comment below!
To get the badge, ride the route in a free ride (including workouts) or event. Important note: you don't get badges for manually navigating a route. You must select it from the routes list, or ride it in an event.
How do you know when you've received the badge? Here's a route badge that popped up yesterday while my butt was getting kicked in a BRT Criterium race: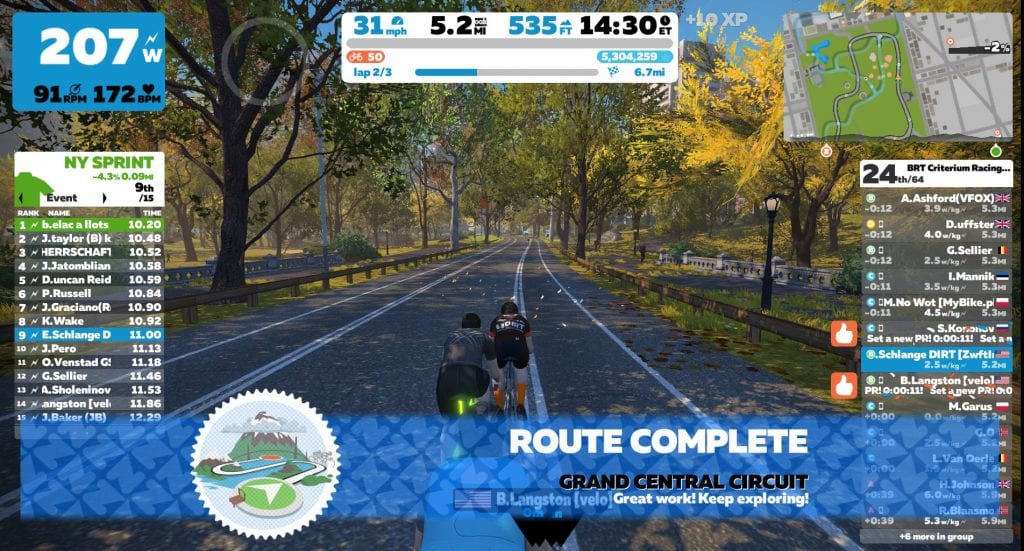 XP Bonus Per Badge
Each route has an XP bonus attached, and it appears from my limited testing that you get more XP for more challenging routes. For example, Volcano Circuit awards 80XP, while Park Perimeter awards 190XP.
Our buddy Shane Miller did a quick video on these new achievements–watch it below:
A Small Complaint
Shane alludes to a Zwift UI foible which has become more apparent with these new route badges.
What do I have to restart the game to pick a different route?
This is something Zwifters have been requesting for years. When starting up the game takes 2-3 minutes on a computer, it feels silly to reboot Zwift every time I want to change routes. Let me pull up the route screen and pick a new route!
Into Exploring?
We announced the Route Hunter leaderboards earlier this week. These rank riders by how many routes they've completed, plus their time in completing the route. Want to push your Zwift exploration to new heights? Check it out!
Your Thoughts
I like carrots, so this addition is a welcome one. What about you? Will the badges push you to explore other routes and/or ride a bit more?