I like to set goals. Then I like to crush them.
Does this resonate with anyone else? I know I'm not alone in this–that little shot of dopamine received every time we achieve something is a powerful thing.
Cycling is a wonderful sport for goal-setters because a variety of metrics are easily tracked. When I came back to cycling after an 18-year hiatus I quickly discovered Strava, and it changed everything. Now I could have what I already loved about cycling (fitness, friends, exploration) while tracking my progress against myself and other riders.
Likewise, my first season on Zwift was full of goals and achievements. I quick leveled up with my 150-mile weeks, finishing off the California, Italy, and Everest challenges. I didn't unlock the Tron bike for a year, but by then I had unlocked just about everything: all the achievement badges, challenges, and levels in the game.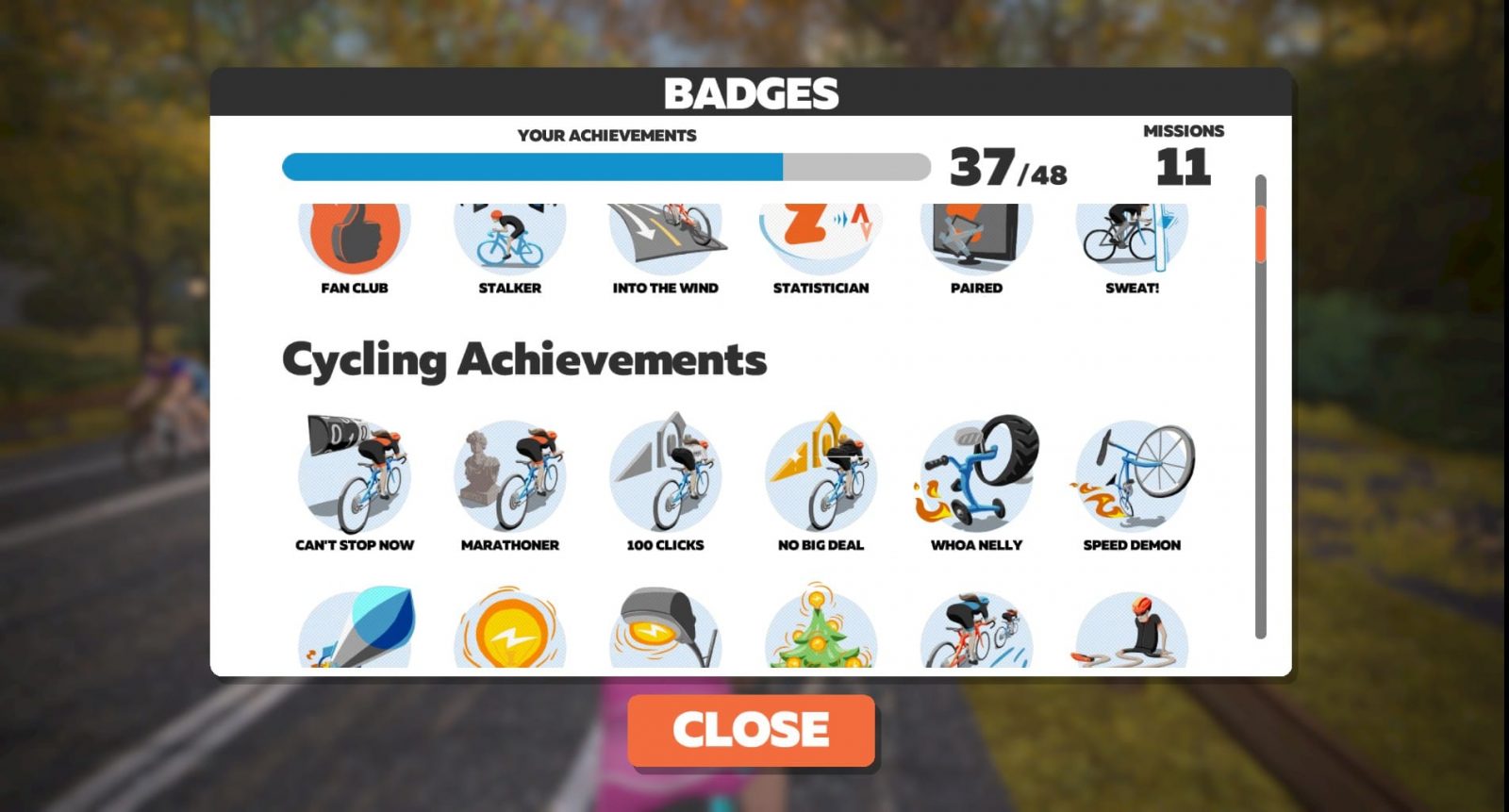 As of today there are two cycling badges I haven't yet received:
On Fire (Complete 25 Laps of the Volcano Circuit)
Masochist (Climb Alpe du Zwift 25 times)
I had forgotten they even existed until I went looking as I researched this post. These were added without much fanfare after I had completed all the other badges, so I never gave them much thought. But now I'm figuring out how to get them done, too!
Current Carrots
Let's talk for a moment about the carrots Zwift has already placed in the game. If you've been around Zwift for a while it's easy to forget all the little badges and other achievements from your first season or two, but they are worth mentioning because there's a lot that's right about them.
Here's a list of the various carrots Zwift currently dangles in front of us:
XP: perhaps the most fundamental of carrots, XP still drives me to put in a few more pedal strokes and get that last little distance XP hit before I end my ride. Learn how XP works >
Levels: driven by XP, that progress bar atop your screen is a good longer-term motivator. I'm at 46, and I rather dread the day I hit level 50 and it stops moving.
Badges: a variety of achievements for everything from riding 10 miles to ascending the Alpe 25 times (click Menu>Badges to see yours)
Missions: these temporary challenges typically last 2-4 weeks, with only one (and sometimes none) available at any given time. Example: the 10,000 Calorie Mission was available in January 2018.
Challenges: Tour of Italy, Climb Mt. Everest, and Ride California (click Menu in game to choose one)
Alpe du Zwift spinner: I've been to the top 6 times in the past week, and landed on the helmet every. single. time. I want those Meilensteins!
Random Drawings: lots of events (like the ASSOS Speed Club series) enter you into a random drawing for real-world stuff if you finish.
Kit unlocks for events: some virtual Zwift kits are unlocked by participating in just one event, while other unlocks require completion of multiple stages.
In-Game Goals: Zwifters can set distance and time goals for their week and/or month via the Companion app.
Zwift Academy: the annual Zwift academy events bring riders together to work out and compete. Finishing the Academy earns you an icon next to your name, as well as a virtual kit and (sometimes) other goodies. Of course, top riders get to move onto the semi-finals, etc.
Virtual Store: this is coming soon, but will certainly provide added incentive to accumulate virtual currency to buy bikes, wheels, etc in game. I can't wait!
All of these carrots help motivate new Zwifters to use the platform in a variety of ways, and that's smart.
Even as a veteran Zwifter I'm still motivated by some of these carrots today, including the virtual kit unlocks for events. It's a bit silly, really: multi-stage tours are fun for me even though I'll probably never wear the kits I get for completing them. I imagine the kit is framed and mounted in my imaginary man cave, finding its place among various other achievements only I care about.
More Carrot Ideas
Ideas for additional carrots have been talked about in Zwift forums for quite a while. Here's my list of favorite ideas, most of which are not original to me:
Challenges: I like the California, Italy, and Everest Challenges. It's motivating to see your progress towards the goal at the end of every ride, and I like that you can be working towards these long-term challenges while doing other missions or achievements in game. The only bummer is that there aren't more challenges! I'd like to see many more available, such as:

LeTour: ride the distance of the first Tour de France (2,428 km/1,509 miles) and unlock an old-school steel single speed La Française with toe clips–the bike Maurice Garin used to win the first TdF. You could do challenges for the Vuelta and Giro as well.
RAAM: complete the Race Across America distance (approximately 3,000 miles). Unlock a touring bike complete with panniers.

Missions: The temporary nature of missions is what makes them special: if you don't finish them in time, you miss out! I'd like to see a new mission every month. Why not? There's always something a partner wants to advertise, a prize people could win in a random drawing, a fitting challenge for that particular time of year. You could even have multiple challenges each month, but only let people pick one at a time.
Achievement Badges: lots of options here, from the mundane to the straight-up crazy.

KOM King: take 5 KOMs (on a course that's actually open, no world hacking you big cheater!) Additional unlocks for 10, 25, etc.
Speedy Sprinter: take 5 sprint jerseys (on a course that's actually open) Additional unlocks for 10, 25, etc.
Racehorse: complete 50, 100, 200, etc races
Workout Warrior: complete 50, 100, 200, etc group workouts
Levelheaded Leader: unlock some special piece of clothing by leading at least 10 group rides. Award additional pieces of kit for leading 50, 100, 200 group rides.
25 Trips To the Radio Tower: this is my most-hated stretch of road in game, so any incentive to tackle it is good for me.
Around the World (riding 40,074 km/24,901 miles): obviously this would take a while, but why not set it up?
1 Ride, 1 Pizza (burn a large pizza's worth of calories in one ride): at 300 calories per slice and 12 slices in a large that 3600 calories
World Traveler: unlock this achievement by completing a century in every Zwift map. Lose the badge when a new map is released! Perhaps have two levels of achievement: metric and imperial.
Prestige System: decorate jerseys with numbers or something that gives the rider more prestige. Maybe just for riders over level 50?
Lemming: complete 10 group rides where you stayed within 15 seconds of the ride leader throughout the ride. Use this to train the "zinners" who like to go off the front of every group ride (you know who you are!)

Explorer: get a badge for completing every route (including reverse!) in a world. Different badge for each world, and when a new route is released… you lose the badge. Zwift would need to tell you the badge is lost, though, so you know you need to ride the new route.

Superfan: follow 500 other Zwifters

ZwiftFamous: get 500 followers

Good Student: finish one of the training plans

Kit Unlocks: give us more events that unlock limited-edition kits, and make it easier for us to find these events with search filters. It's nearly impossible to do right now! Here's the thing with kit unlocks, though: they have to be visible. Make it a distinctive jersey or hat.
More Body Accessories: let us unlock jewelry, tattoos, crazy hairstyles… you get the picture.
Levels: why not have more levels? I don't personally care about this much today, but once I'm at level 50 for a week I know I'll be wishing for 51.
Real stuff: this year's Tour de Zwift did this for the first time I can remember. After I completed the tour I received an email invite to purchase a TdZ prize box with special water bottles, stickers, etc. I like this idea. Perhaps Zwift could have some exclusive merch available only for certain levels?

Carrot Concerns
I'm sure HQ has talked about additional carrots numerous times. Some of the concerns I can imagine them having as they discuss new carrots would be:
Legal Liability: you don't want to get sued for offering a badge that encourages people to do something dangerous. (This is why Strava doesn't alert you when your downhill KOMs are stolen.)
Too Many Achievements: you don't want so many different achievements that it gets confusing for new Zwifters, or you're hitting so many achievements that the unlocks are distracting or no longer feel special.
Developer/Artist Time: obviously, creating these carrots takes time, and time is money. Zwift has to balance this with other priorities.
With those concerns in mind, I still think it's time for some new carrots.
What About You?
Do carrots encourage you to push harder? What do you think of my carrot ideas, and what would you add to my list?