Did you know Zwift has 100+ different cycling routes which earn you a special achievement badge and XP bonus the first time they're completed?
Here's everything you need to know about Zwift route achievements, including the little gotchas that trip up new Zwifters. Ride on!
Every Badge has a Bonus
When you earn a route achievement badge you also receive a one-time XP bonus for completing that route. This bonus is equal to the XP you already earned for the route (20XP per km), so you effectively double your XP earning rate when riding routes for the first time, helping you level up faster.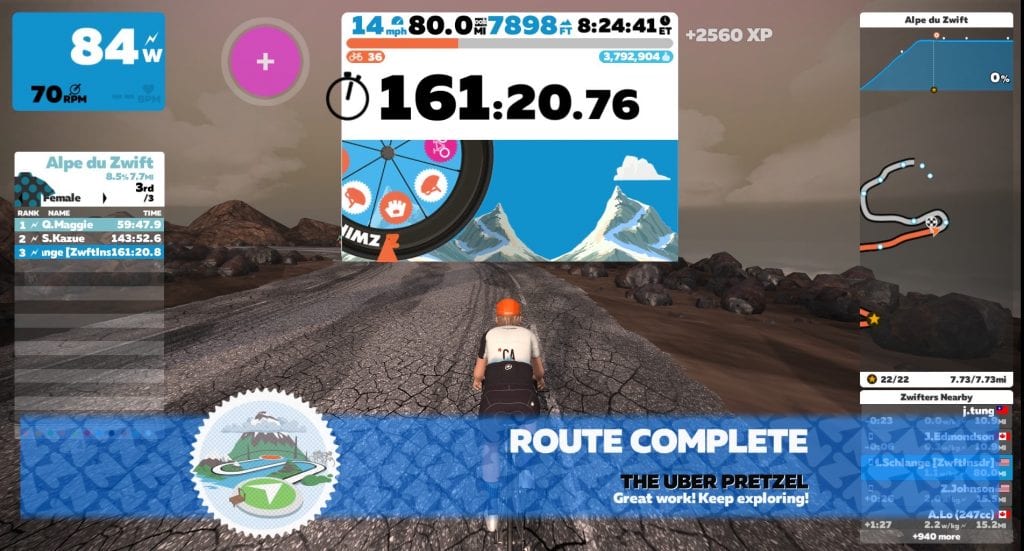 What Counts (and What Doesn't)
Route badges can be earned in two ways:
Selecting the route from the startup screen, then riding the full route on your own. The game will make the correct turns for you. You can do this as a "free ride" or a workout.
Joining an event (group workout, social ride, race, etc) or Meetup which uses the route, and riding the full route. If the event ends before the route is finished, you must continue riding in order to finish the route and earn the badge.
What will not earn the badge is you freely navigating the route without having selected it from the startup screen or by joining an event or Meetup which uses the route. Many Zwifters have hopped into the game, completed a particular route, then attempted to keep riding and complete another route in the same session. This won't work. You may ride all the right roads, but since you never selected that route for your ride, the Zwift game doesn't know it's supposed to give you the badge.
Your route selection is only saved when you select a route from the route picker menu, or begin a new event/Meetup. So if you want to earn two badges (or more) in a day, you'll need to restart your session and pick another route, or join an event on the second route.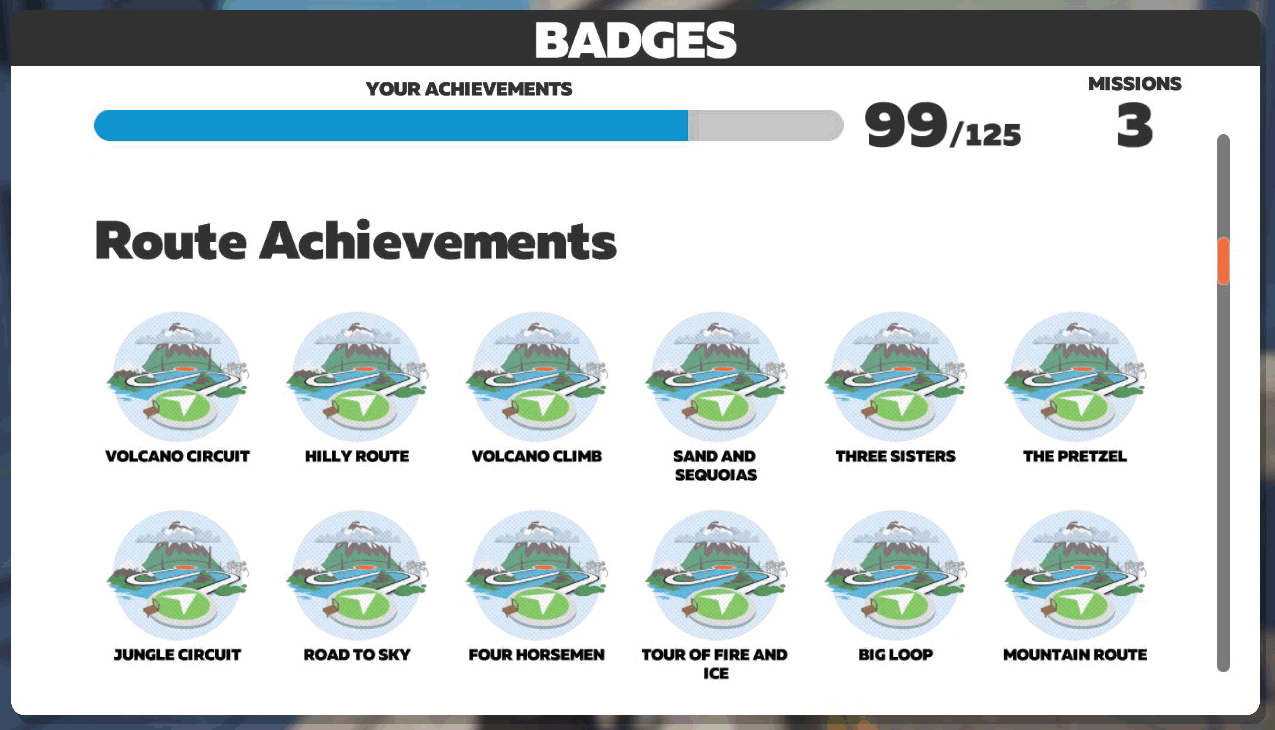 Routes Without Badges
There are two types of routes which do not earn badges in Zwift:
Event-only: these routes are not available from the route picker menu or Meetup menu, and thus can only be ridden in official calendar events. Examples include fondo routes like the Gran Fondo, as well as many reverse routes and after-party routes.
Run-only: these routes are only available to runners, and have their own running achievement badges. Examples include Jon's Route and Hudson Roll.
For a complete list of available routes on Zwift, including event-only routes, see our Master Routes List.
Mind the Lead-In!
This is a big "gotcha" that trips up many Zwifters. Due to how Zwift's maps and routes are laid out, many Zwift routes require a lead-in: some road you have to ride before the official route begins. I see questions from riders daily that say something like this:
I chose the Serpentine 8 route and rode 21km, but never got the badge. Is it broken?
You have to add the lead-in distance to the route distance in order to calculate the total distance needed to earn the route badge. The Serpentine 8 route has a 7.3km lead-in, followed by the 19.2km route, for a total length of 26.5km. That's how far you'll have to ride to earn the badge. (Keep in mind this distance may vary by 100-200 meters, as spawn locations are a bit flexible so riders don't all start on top of each other.)
You can see this lead-in when selecting a route from the route picker menu in Zwift. The lead-in portion comes at the start of the route animation and is in blue instead of the normal white used for the actual route.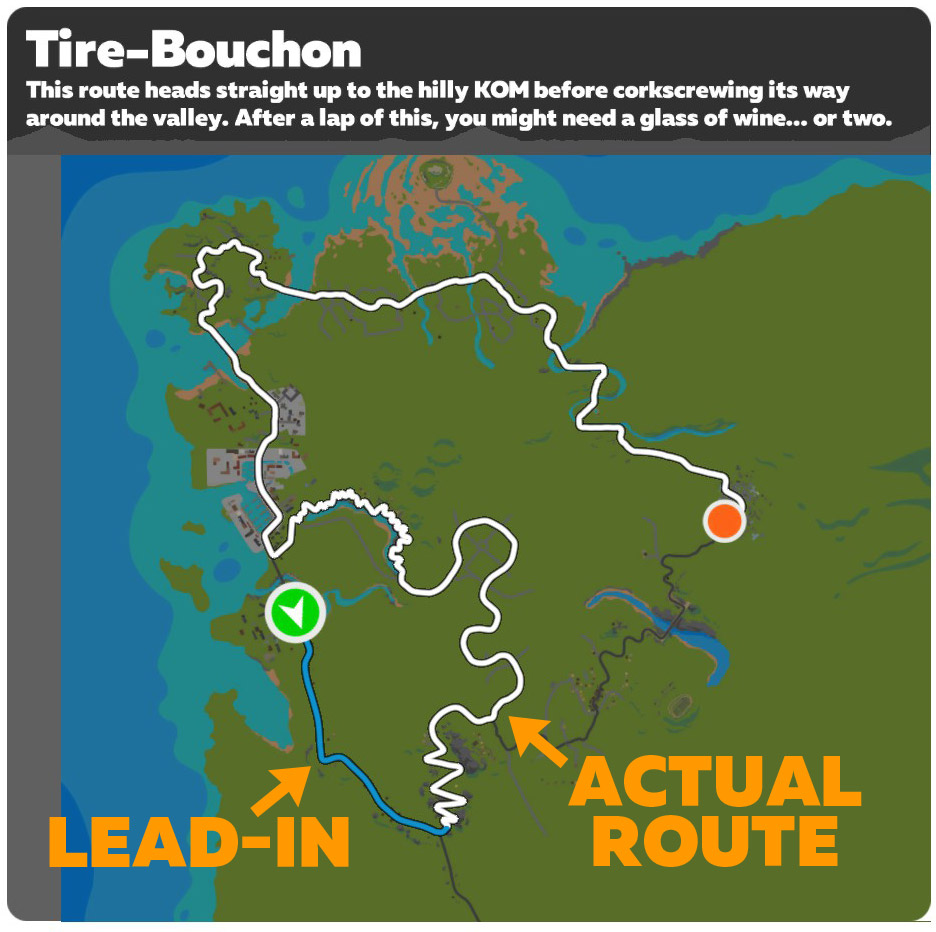 At the time of this post, there are 25 routes with badges you can earn who have lead-ins of 2km or more. Again, our Master Routes List is a big help here: it shows the route length as well as the lead-in length for each route.
Planning and Tracking Your Progress
Some Zwifters like to use tools like Zwifthub to track which routes they've completed.
I keep it simple – I have Zwift installed on my phone (even though I never use my phone for Zwifting). This lets me easily sign into the game, pull up my list of route badges, and see which routes I haven't yet completed.
If you're looking for a progressive plan to help you complete every route, check out our schedule for completing all badges in 12 weeks.
Questions or Comments?
Share below!