(Pictured above: my first Zwift ride, then a ride at Zwift's 2019 Eurobike booth almost 4 years later.)
Five years ago today I went for my first ride on Zwift.
It was my first winter after returning to serious road cycling, and I was already dreading the roller sessions. At the time, none of my local riding buddies were using Zwift – I'm not sure any had even heard of it. But I saw it on a random Facebook post, downloaded the game, ran it in "just watch" mode, and immediately knew I had to give it a try.
After a little research, I found a website in Germany selling Tacx Vortex Smart trainers for ~$290 to my door, and I pulled the trigger.
The night my Vortex arrived I put it together, hooked my bike in, and went for my first Zwift ride from the middle of my living room. The trainer wasn't calibrated, and I wasn't dressed for a real ride… so that effort didn't last long.
But two days later I went for my first "real" Zwift ride – two laps of Watopia's Hilly Route (which was the only route on Watopia at the time). Uploading it to Strava certainly confused local friends. "Are you in the Solomon Islands right now?"
And that's how it all began for me. I jumped in with both feet! Less than a month later I would launch ZwiftBlog.com, which became Zwift Insider two years later.
I wish I had been on Zwift from the beginning, but when Zwift beta launched in 2014 I was just returning to serious cycling after an 18-year hiatus. So I never got to ride Jarvis. But what I have been a part of has been special. So each year, I look back and deliver my perspective as a Zwifter and the editor of the web's most popular Zwift fansite.
Zwifting as a Necessity
Our all-time Peak Zwift of 34,940 came in the middle of worldwide Covid lockdowns. Those same lockdowns shut down pro cycling for months, driving many pros indoors, where they discovered Zwift. At one point in mid-lockdown we had several pro teams per week leading group events, and pro riders on course at all hours of the day. It was wild!
The same happened to non-pros, of course. Cyclists who had never considered Zwift now found it as the best of only a handful of options. Smart trainer sales soared, with some retailers reporting a 900% increase year over year. Getting up and running on Zwift is no small thing – it typically means purchasing a smart trainer, and often some accessories. This barrier to entry was simply too big for many cyclists, but when it became the only option, that barrier was suddenly a minor factor.
Stepping Into the Mainstream
This year, much more than ever before, Zwift has become part of the mainstream cycling world. What was once a small bunch of misfit techies celebrating one hundred concurrent riders is now a massive online community where several thousand regularly ride together.
Thanks to massive subscriber growth and events like the Virtual Tour de France and the upcoming UCI eSports World Championships, Zwift's profile has risen even higher in the cycling community and the sporting world at large. This led to a massive $450 million investment round announced just a couple of months back, giving Zwift a unicorn valuation of $1 billion.
Zwift is no longer a small startup. It's not just a beta for nerdy cyclists. This year, Zwift was, in many ways, the biggest thing in cycling.
Today most cyclists know what Zwift is, even if they aren't "Zwifters". We see setups in bike shops, ads during the Tour de France, events at world tour UCI races. Most of my local riding buddies are now on Zwift – even the ones who poked fun at me that first winter.
And Zwift is no longer seen as the bad weather antidote: it's avoiding city traffic. It's confidence for elderly riders. It's inspiration for anyone recuperating from injury. It is a supportive community you can access from wherever, whenever. And that's powerful stuff.
Zwift has become a thing. A really good thing.
Trainers: Much Progress, but Further to Go
If you wanted a smart trainer in late 2015 your choices were slim. Wahoo's KICKR ruled the day, but if you couldn't shell out $1200 you were limited to a small number of trainers that weren't terribly accurate or reliable. The Vortex Smart I purchased did the job for a season, but I would upgrade after a year to a Tacx Neo and become a "direct driver" for life. (Today my wife rides the Neo while I use a KICKR v5).
Today we have a lot of options when it comes to choosing a smart trainer! (I spent many hours this summer putting together the Zwift Insider Smart Trainer Index, and one thing that experience taught me was that there are many, many smart trainer models on the market.)
Lots of options is a good thing. Lots of good options is even better! Unfortunately, the past twelve months haven't seen much innovation in the smart trainer space. While we did celebrate the release of an updated Direto and KICKR, there hasn't been anything eye-opening in the smart trainer world in months. What we are seeing is the price of high-quality direct-drive trainers slowly dropping, as the features of "budget" direct drive trainers begin to match the features of past years' premium trainers. Today for ~$900 you can get a trainer with the same capabilities as the $1200 trainers of a few years back.
Covid has slowed this drop in prices, as demand has outpaced supply. But we'll continue to see prices drop and features improve in the $700-$900 range of trainers.
Are we living in the golden age of indoor trainers? Not by a long shot. I would summarize today's trainer market as there is still plenty of room for improvement, but we've come a long way. Today's smart trainers still suffer from compatibility issues with certain frames, connectivity challenges, poor calibration tools, and setup requirements that are daunting to many cyclists. It's still too hard to get going on Zwift, and that needs to change.
ZwiftHQ sees this. That's why they've spun up a "Fitness Tech" division. They're being pretty tight-lipped about what's in the works, but suffice it to say it won't be the same as what's already on the market. They want a simple, reliable solution. I'm thinking a plug and play smart bike, probably with an integrated screen/computer. Just buy it, plug it in, and start riding. Like a Peloton bike… but for cyclists. 😉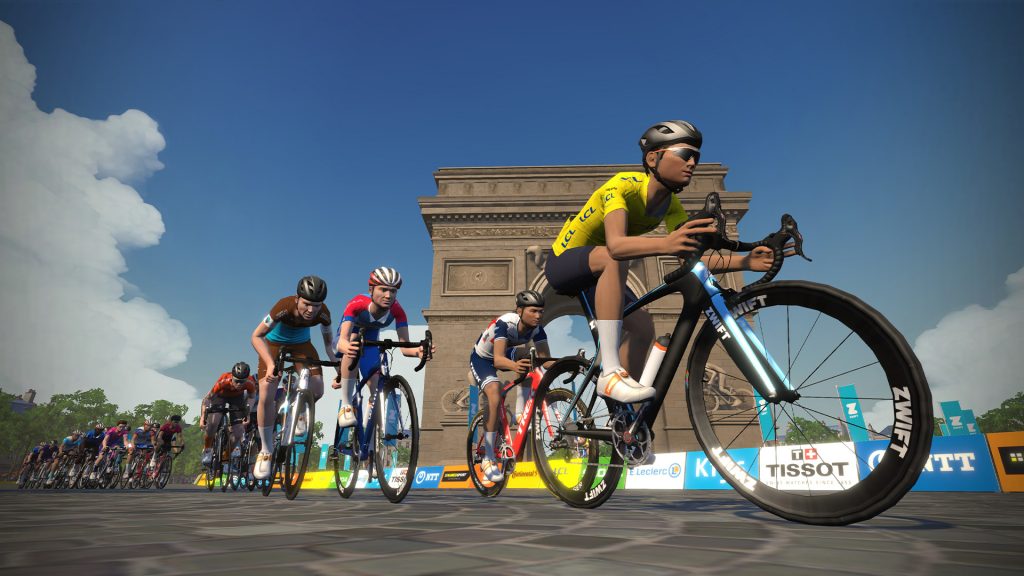 The eRacing Niche
Zwift racing participation continues to increase, with the first-ever Zwift Racing League pulling in a massive 6,000+ registered riders each week. And of course, we can't forget the Virtual Tour de France, which was a huge deal, even though only top pros could participate.
But 2020 has seen Zwift less focused on eRacing than past years. And that's not an accident – it's a purposeful shift in focus toward the needs of the overall Zwift community. While Jon Mayfield was chided by the community early on for saying racing on Zwift was "niche", in a way he was right! The majority of Zwifters aren't racing – not even close. And with tens of thousands of new riders coming online thanks to Covid lockdowns, Zwift made the decision to focus resources on maintaining a stable platform and a steady stream of events for riders of all stripes.
There simply hasn't been much development on the eRacing side of things in the past year. Features like anti-sandbagging are still only seen in a handful of events, and Zwift taking over ZwiftPower has meant no further innovation on that front.
As a regular racer on Zwift, I certainly have a list of improvements I'd like to see. All Zwift racers do! But I also realize that devoting development resources to race-specific features means fewer resources applied to features that could improve the experience for even more people. It's a tough balance.
So Many Rides, So Little Time
There was no in-game event calendar five years ago. The community organized their own events and shared them on a Teamup calendar, and riders had to choose the right course then congregate at the start/finish banner before the event. Racers would jump the gun, make wrong turns, have their clocks set wrong… it was a mess! But we made it work because it had to. You couldn't have hundreds of riders hanging out in one place without some competition!
We also only had two worlds: Watopia and Richmond. (Confession time: I fell in love with Richmond as a race course early on, and still love it. My first Zwift race was on Richmond, so it holds a special place in my heart even though I get dropped on Libby Hill every. single. time.) Happily, this year Richmond got a refresh, making it a much more palatable course for many Zwifters.
Now we have events happening around the clock – a few hundred every day! And ten worlds to choose from.
Support: Here For You
Zwift's documentation and support were pretty sparse back in 2015, which is one reason why this website was built. When I had a question I would research the answer then document it here. Eventually, I started doing the same for other people's questions (usually pulled from the Zwift Riders Facebook group), and before I knew it a sort of Zwift knowledgebase had developed.
Thankfully, Zwift has built a large support team since that time. It grew significantly larger when lockdown began, as thousands flooded to the platform and with them, many questions. This year, Zwift even spun up a program to allow Zwifters to perform a support role on the forums and get paid for their labors. What will that lead to? Only time will tell.
Changing Zwift Staff
Early on I was impressed by Zwift's core team. Eric Min would pop into support chats on Facebook. Jon Mayfield would chime in on Reddit threads. And Lindsay Ruppert or Eric Chon always had some appropriate snark for anyone whining in the Zwift Venting Area.
These staffers were engaged in the community, passionate about what they were building, and cyclists themselves. Eric's enthusiasm was boundless and infectious.
Five years in, I've been able to rub real-world elbows with hundreds of Zwift staffers at various events, and I communicate with many of them on a regular basis. A big re-org happened this year with Zwift's top management, and one big result I've seen from that is Wes Salmon taking a more public-facing role. That's been a good thing. As a longtime and regular Zwifter, Wes has his finger on the pulse of what the community needs. But he's also got the project management experience to make stuff happen.
Zwift staffers have been largely working remotely since Covid began. Has this slowed the pace of development, or perhaps reduced their ability to collaborate effectively? That's unclear. But I think it's fair to say that for Zwift (and most companies around the world) Covid has presented some major challenges and created a need for creative thinking and organizational flexibility.
Virtual + Meatspace
When I joined Zwift five years ago, I never would have guessed that I would fly halfway around the world to hang out with people I only knew through a virtual cycling platform.
And yet, that's what I've done. More than once!
In June 2019 Monica and I celebrated our twentieth anniversary with a trip to Girona, where we hung out with Zwiftcast's Simon Schofield and several other Zwifters for a week of beautiful rides and late-night dinners.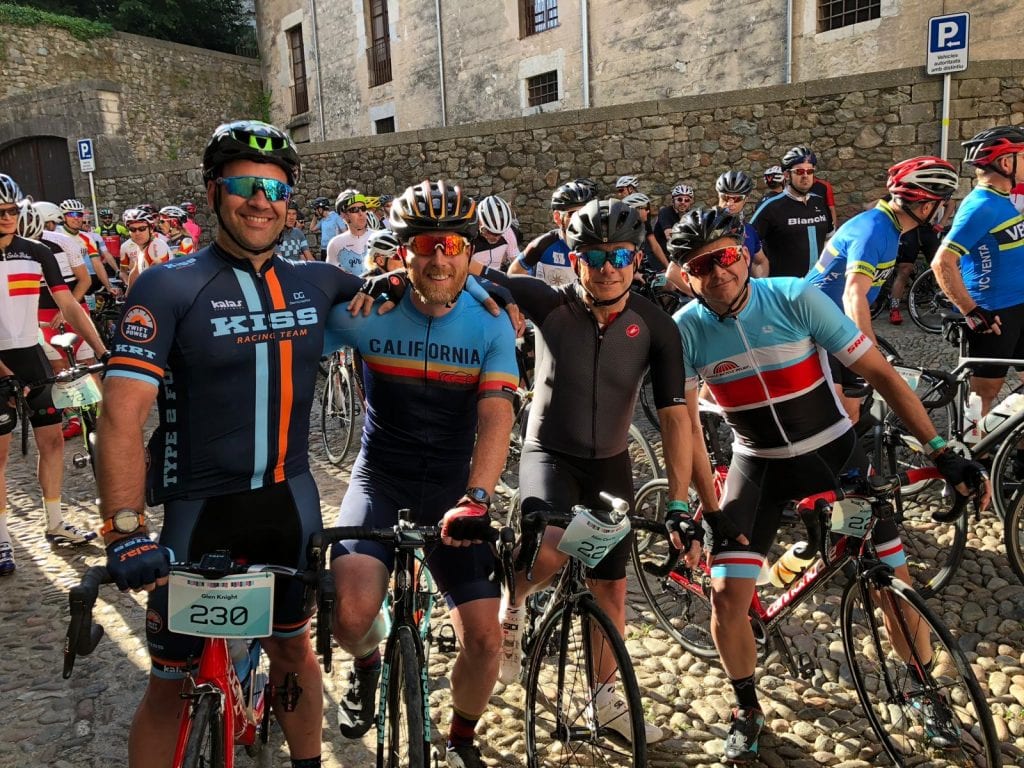 It may have begun with a virtual spin session, but the relationships I've built through Zwift have become real, personal, and valuable. I'm looking forward to doing more "Zwift Travel" in the near future.
The Future Is Bright
It's not hyperbole to say my involvement with the Zwift community has been life-changing. It's changed my fitness, it's changed my work life – it's even changed my vacation plans! And I'm loving every minute of it.
This winter is going to be crazy, with the crush of new riders on the platform. And I firmly believe that our community will keep growing as the Zwift platform develops and Zwift leadership strives toward their goal of more people, more active, more often. I can't wait to see what's next.
Ride on!