The Zwift racing community has been abuzz since last Wednesday (July 15th) when James Hodges, the programmer behind ZwiftPower, posted a message on the ZwiftPower Facebook Group to let people know the service was back up and running… and to wave goodbye.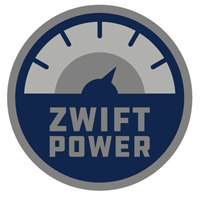 Live is back online*.

*Server may not be up to the task and crash a few times during busy periods. Time will tell (pending a server transfer).

And with that good news, thanks for all the fish.
(For those who don't get the reference… "Thanks for all the fish" comes from The Hitchhiker's Guide To The Galaxy. It's a way of signaling that you're leaving just before something blows up.)
At the same time, he posted that he left his job at ZwiftPower.com as "Sole Developer", and he changed the group's ZwiftPower logo to a grey, "powered off" version.
A ZwiftPower Primer
If you're a Zwift racer, you're familiar with ZwiftPower. It's where the "real results" of Zwift races live, because it allows race organizers to DQ riders who "cheat" in various ways – for example, those who ride above their category's allowed w/kg thresholds. ZwiftPower is much more than just a results tool, though – it includes a powerful event search, rankings for individual riders and teams, a dual-recording analysis tool, rider power profiles, and more.
ZwiftPower is the most important third-party tool in the Zwift universe, and James stepping away from the project with no announcement of a successor is big news. (On a personal note, I should mention that I've interacted with James numerous times over the years – he's a strong Zwift A racer, a programming whiz, and a super-helpful guy when it come to answering my questions or constantly making site upgrades inspired by the community's suggestions.)
Glen Knight is the other principal behind ZwiftPower. It was he and James who collaborated to develop ZwiftPower years ago, when the KISS racing series (which Glen spearheaded) spun up, and better race management tools were needed. Glen has been more of the infrastructure guy (servers, etc) and also helped with setting up events through the site, while James has been the programmer. Both have poured countless hours into the site.
Zwift's Statement
With rumors flying around that Zwift had taken over ZwiftPower in a way that left Glen and James rather nonplussed, I reached out to get Zwift HQ's perspective. Here's what Zwift told me (I've broken their statement up into sections, with my comments in between):
Zwift has been providing financial support to ZwiftPower for some time, as part of our commitment to investing in tools that support community racing on the platform. Created as a not-for-profit tool by James Hodges and Glen Knight, ZwiftPower has helped to empower our community to pioneer new event formats and racing on the platform.
It's worth noting here that Zwift has been a financial supporter of key community projects for years. Zwift Community Live, ZwiftCast, and ZwiftInsider also receive financial support from Zwift, and have done so since early days.
With significant support from Dave Ranson, James and Glen have continued to work on ZwiftPower to this date, helping with the transition over to Zwift. During the last 2 months, we have been preparing to migrate ZwiftPower to our own AWS servers to help provide more product stability, especially for larger events such as the Virtual L'Etape du Tour de France taking place now. We expect to cutover to these new servers during the next month.
Migrating ZwiftPower over to their AWS servers in order to provide more stability for large events makes sense – AWS servers make it easy to scale server resources to keep up with demand.
A fun little bit of Zwift history: Glen Knight was originally running the ZwiftPower servers out of his garage. It consisted of many computers, and the overall monthly cost of hardware, bandwidth, and power was quite significant. I believe it was when these costs got high enough that an agreement was reached for Zwift to fund the infrastructure of the site, which was a good thing!
Crucially, moving ZwiftPower under Zwift's ownership and into Zwift's cloud setup also allows for a much more simplified view of GDPR and related privacy issues, since personal data isn't being shipped out to a third party.
The future vision is to create a more seamless experience between ZwiftPower and Zwift as we continue our focus on becoming the definitive racing experience for cyclists around the world. This includes a focus on the connection of the Zwift and ZwiftPower accounts as well as supporting teams, leagues, and categorization with the framework that James and Glen have worked so hard to build and maintain for the community.
This vision for the future is a welcome one. Zwifters are quite unanimous in stating that the Zwift racing experience should be more seamless. After all, running results through a third-party website wasn't the ideal solution, it was simply the only workable solution when it was created. Essentially, the community stepped up to develop racing tools when Zwift was unwilling/unable to do so.
If Zwift could smoothly fold essential ZwiftPower functionality into its own website and the Companion app, that would be a huge step forward. Along the way, the hassles of creating a separate account and opting into third-party sharing would also go away, making it so every Zwifter has access to ZwiftPower's core features, baked into Zwift's products.
This is the hope, at least. But there are two very clear concerns from the racing community:
Will Zwift be able to manage ZwiftPower moving forward?
This is the immediate question. With James and Glen out of the picture, what happens if the site goes down? What level of support can racers expect?

Stepping back, it's important to acknowledge that managing ZwiftPower is more than just making sure the server doesn't crash. It's supporting event organizers who have questions, riders who need support, fixing site bugs, etc. With over 200k registered users, simply managing the site day-to-day is a significant job.
Will Zwift dedicate the necessary resources to transition ZwiftPower's functionality into Zwift's products?
Assuming Zwift is able to manage ZwiftPower effectively – the next step is making the major changes necessary to transition the site so it's integrated into Zwift's suite of services.

Preserving essential functionality while opening up ZwiftPower's powerful tools to the entire Zwift community is no small thing – it's going to take a clear vision, a dedicated team, and lots of testing. The community is understandably dubious about the prospects of this happening any time soon, given Zwift's self-confessed history of rather slow development on key projects.
Though Zwift has taken ownership of Zwift Power, it will always remain a legacy of James and Glen. For that Zwift and the Zwift community will always be grateful.
Zwift concludes with a clear statement, in case there was any confusion: Zwift has taken ownership of ZwiftPower. They also include a well-deserved note of thanks to James and Glen, and I would echo the same.
Key Assets
While James and Glen are staying quiet about it, reading between the lines it's clear this transition to Zwift hasn't been a smooth one. That said, James and Glen did sign a contract with Zwift in October 2018 which assigned all ZwiftPower-related intellectual property to Zwift. Since that time, they have been paid an undisclosed amount to maintain the site and improve the scalability/security/reliability in keeping with GDPR and other standards.
The contract did not include specifics about transitioning ZwiftPower over to Zwift's servers and team, and this is probably what led to some confusion and perhaps hurt feelings for some parties involved.
My opinion: it seems a shame that James and Glen aren't being kept on the team to continue helping with ZwiftPower in some capacity. At this point in time, I don't know where James and Glen stand when it comes to further involvement with ZwiftPower. But even as very part-time subcontractor consultants, their vast experience with ZwiftPower's architecture and the overall structure of Zwift racing as we know it would seem to be an extremely valuable asset.
Up Next
As Zwift racers, we all want continued access to ZwiftPower's functionality – it provides many core features which make racing on Zwift really "work." And we certainly see the value in integrating those features into Zwift's overall web, game, and Companion products.
I'm in touch with Zwift and we're talking through their plans to support/manage ZwiftPower moving forward, as well as how they're going to be transitioning it into Zwift's overall product. So watch for another post in the next week or two with more on this topic!
I've also reached out to James and Glen to get their perspectives, so we may hear more from them as well.
Questions or Comments?
Share Below!