The latest Zwift update has been announced and will be released in phases over the next few days.
This release's big new feature is the much-anticipated addition of a southern coastal Watopian road. But it also includes refreshed textures and objects throughout Watopia, a new workout startup screen, and other improvements. Let's dive in!
New Watopia Southern Coastline Road + Routes
We already knew this was coming, but that doesn't make it any less exciting! Today's update includes ~19 kilometers of fresh Watopia roads, located along the coastline south of the Epic KOM: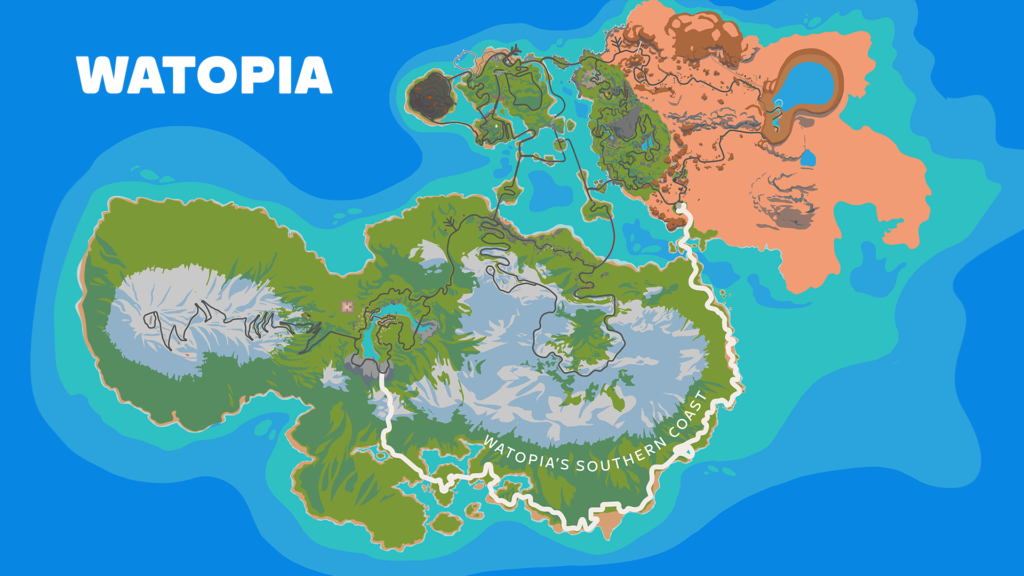 Access the new road from the Fuego Flats side and encounter several distinct areas/towns as you proceed along the coastline. First the maritime fishing village of Googie Springs, including Mr. Crankie's Crab Shack. Then the Evergreen Coast area with its Bigfoot attractions, shipwreck, Misty Pines campground, and two sprint segments (Woodland Sprint and Sasquatch Sprint).
Keep going and you'll ride through a tunnel into Ciudad La Cumbre, a colorful community at the foot of the Epic KOM which is only accessible via tunnels. Wave hello to the lizards!
Lastly, you'll arrive at the Sandy Coast settlement with its colorful stone Mayan architecture. This area has two more sprint segments: Acropolis Sprint and Stoneway Sprint.
Keep going and you'll find yourself on the Jungle Circuit.
Here are some of the key sights on Zwift's new southern coast: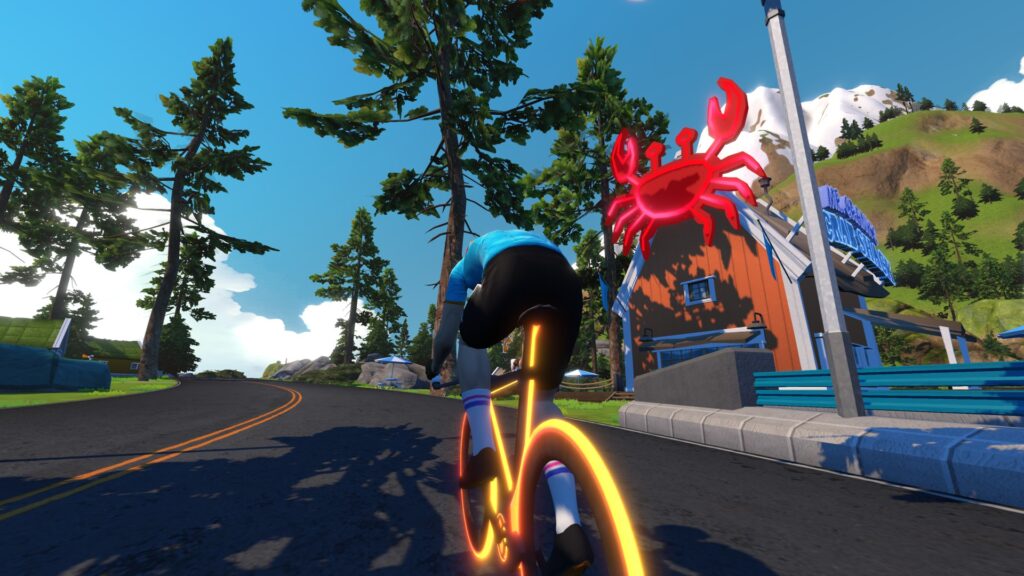 New Routes
This expansion includes eight new routes (and route badges), including four over 40km long. Click a route for more details (figured include lead-in):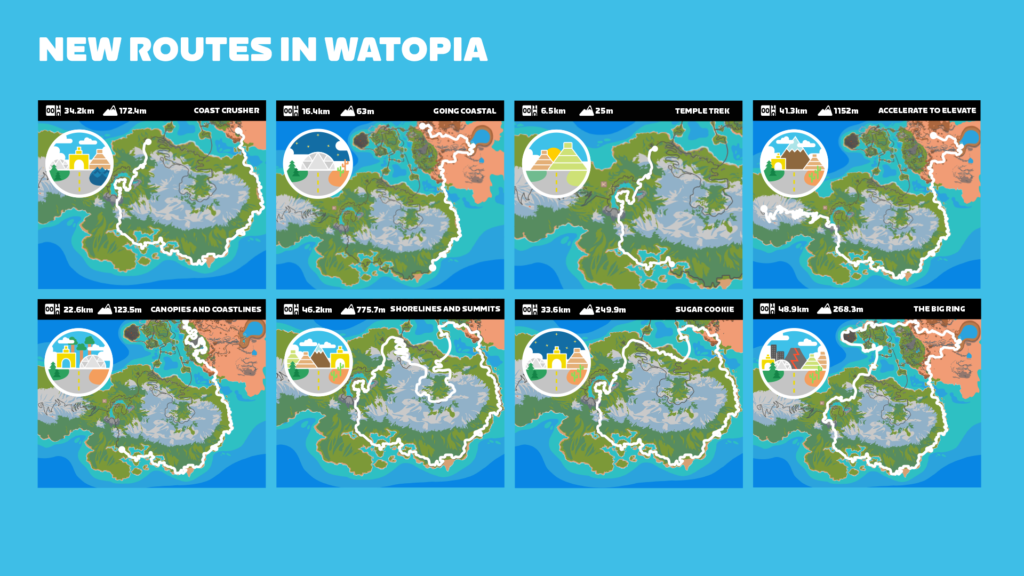 Accessing the New Roads
You can ride these new routes as soon as you install this Zwift update. Beginning October 30 some of the new routes will be featured in the fifth stage of the Tour of Watopia. Once the Tour of Watopia ends, Zwifters must be at level 10+ to ride the new road/routes.
Zwift's notes here say, "While these routes will be available to ride on demand, they will only count towards Stage 5 starting October 27, 2023 @ 15:00 UTC." But we rode "Coast Crusher" on the morning of the 25th and earned double XP and a completion checkbox for stage 5.
More to Come?
Zwift's press release about the new roads includes this tantalizing bit: "In the future, Watopia's construction planners expect to use the new causeway as a backbone for additional new roads, giving Zwifters access to other remote parts of Watopia that are not currently developed for cycling."
Watopia Refresh
Zwift's art team wasn't content to roll out the expansion road. They took this chance to refresh all of Watopia! You'll probably notice brighter, cheerier new textures for terrain, sky, and ocean, as well as new objects, especially in Watopia's downtown. Here are a few changes we've spotted: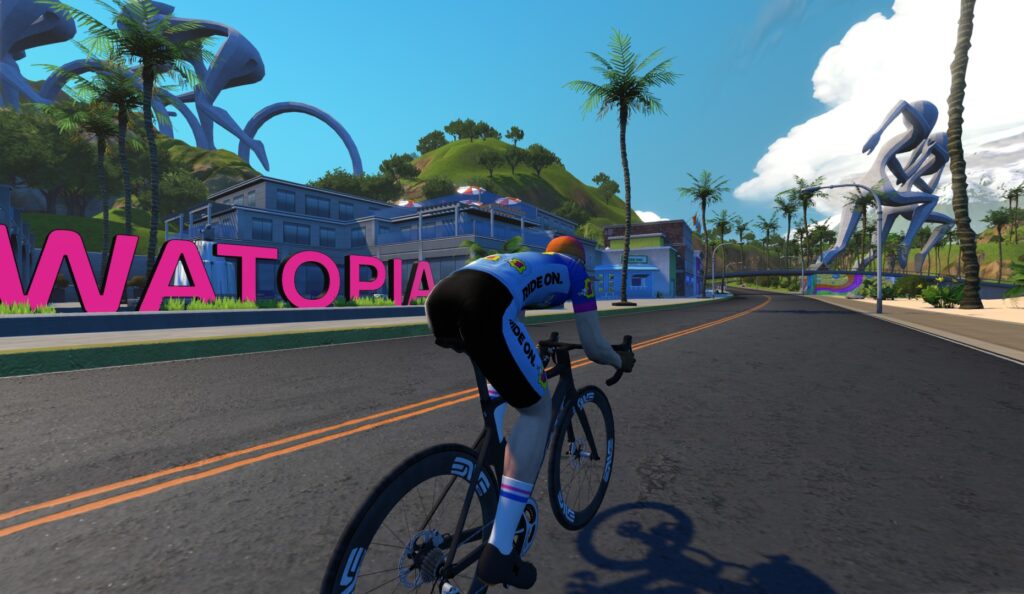 Want to look for more changes? Here's a video of the Hilly Route in "old" Watopia, and another video of the Hilly Route with today's update.
New Workout Startup Screen
Click any workout card on the homescreen or under the Workouts menu and you'll be greeted with a snazzy new workout startup screen: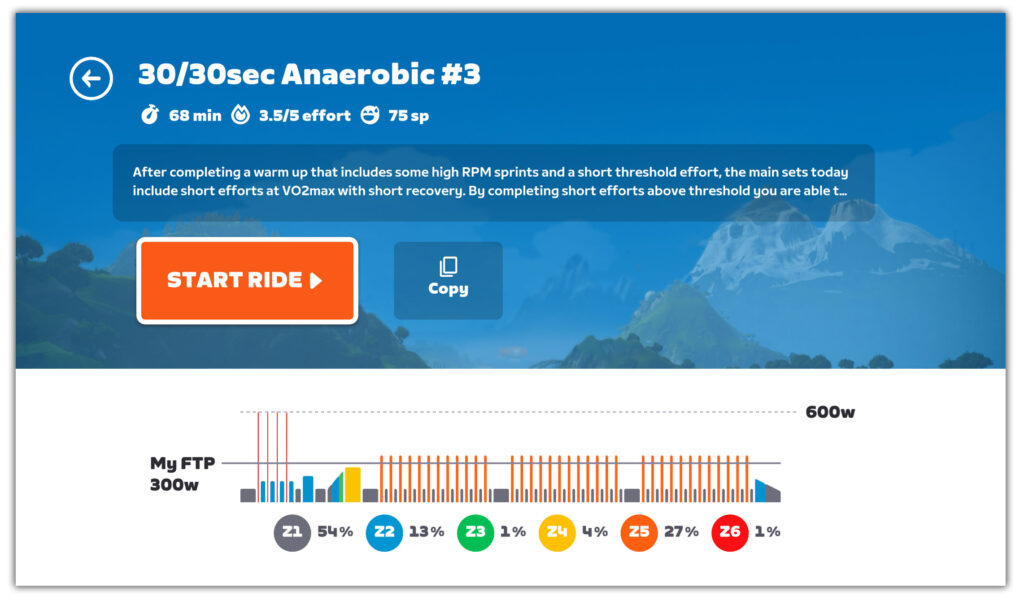 A few notable callouts:
Click "Copy" to make a copy of this workout, which will be saved to your custom workouts folder. In lieu of a (much-requested) workout favoriting system, this is an easy way to "save" favorite workouts. Just make a copy of any workout you like, and it'll be available under your Custom workouts list!
At the bottom-right, see the max power you'll be asked to hit during the workout (600W in the example above).
The bottom of the screen breaks down how much of the workout is devoted to each of the six power zones.
The screen includes an "sp" score (Stress Points, aka TSS).
Tutorial for Riders
Zwift released an updated onboarding tutorial for cyclists four weeks ago with update 1.49 (read more about it). The tutorial helps you explore the various "ride modes" available in Zwift, and completing it unlocks the new "Get Started" kit:

The tutorial is now open to all Zwifters. Access it from the Zwift homescreen by clicking your profile image in the top-right to open the profile menu, then clicking "Tutorial":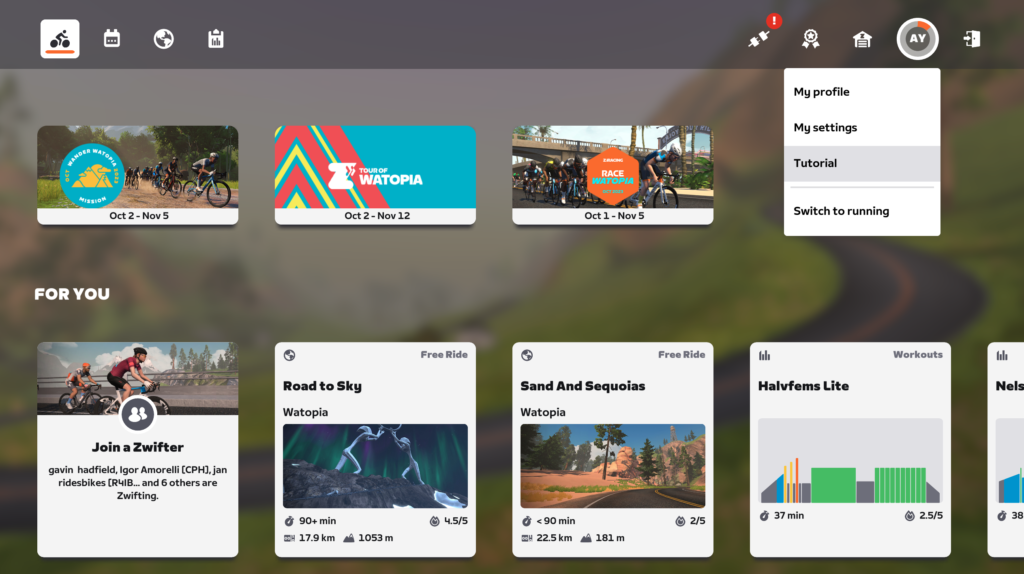 Play Pairing with Third-Party Steering
Some Zwifters prefer using their Elite Sterzos, Wahoo KICKR Bikes, or other steering devices instead of Zwift's Play Controllers. Zwift made a change in this release, allowing Zwift Play to be paired along with other steering devices so you get the benefit of Play's other buttons while being able to steer with your preferred device.
Reduced Gravel Crr

Zwift's release notes say, "Reduced gravel rolling resistance proportionally across road, gravel, and mountain bike wheelsets."
"Gravel" is the newest surface type in Zwift, and only exists on Scotland's Sgurr Summit North KOM, so this change has a very limited effect. That said, if you're racing a route like City and the Sgurr this change is worth noting, as it makes the road bike a more viable choice than it was previously.
Here are the old and new values so you can see how the Crr change affected the bike choice landscape on the Sgurr:
| | | | | |
| --- | --- | --- | --- | --- |
| | Old Crr | New Crr | % Crr Reduced | Watt Reduction* |
| Road | .02 | .012 | 40% | 72W |
| MTB | .015 | .009 | 40% | 64W |
| Gravel | .012 | .009 | 25% | 27W |
* "Watt Reduction" represents how much less power riders will need in order to travel at 40kph with the new Crr values. This assumes a 75kg rider on a 7kg bike.
This change makes all bikes faster on gravel, but speeds up road and MTB more than gravel. How do bikes perform with the new Crr values? Here are the results of bot tests we just ran up the Sgurr Summit North KOM:
| | | |
| --- | --- | --- |
| | 300W (4W/kg) | 450W (6W/kg) |
| Road (Tron bike) | 4:01.2 | 2:59.98 |
| MTB (Scott Spark RC) | 4:05.04 | 3:02.75 |
| Gravel (Crux + CADEX) | 3:55.99 | 2:57.43 |
As expected, the time gaps between the three bikes have shrunk considerably compared to earlier tests.
Note: the ENVE G23 gravel wheelset hasn't been updated to the lower gravel Crr, so we recommend not using those wheels until Zwift fixes them in the next update.
More Release Notes
Zwift provided notes on additional tweaks and bug fixes in this update:
Fixed an issue where elevation markers on Climb Portal routes were truncated.
Fixed an issue that would prevent Leaderboard HoloReplays from spawning if the Segment HoloReplay option was set to off.
Improved navigation of the post-ride survey when using Zwift Play controllers.
Discuss this release on Zwift's forum >
Questions or Comments?
If you spotted any other changes or bugs in the update, please comment below!