"Sugar Cookie" Route Details (Watopia)
One of the eight routes released with Zwift's October 2023 southern coast expansion, this loop is the sweeter, shorter sister to Shorelines and Summits. 
Route Basics
Length: 33.6 km (20.9 miles)
Elevation: 250 m (820')
Lead-In: 5.4 km (3.4 miles)
Map: Watopia
Start & Finish
Begins with a lead-in from the Jungle pens to the route's start/finish line, the Jungle arch.
Achievement Badge: 660 XP
Route Description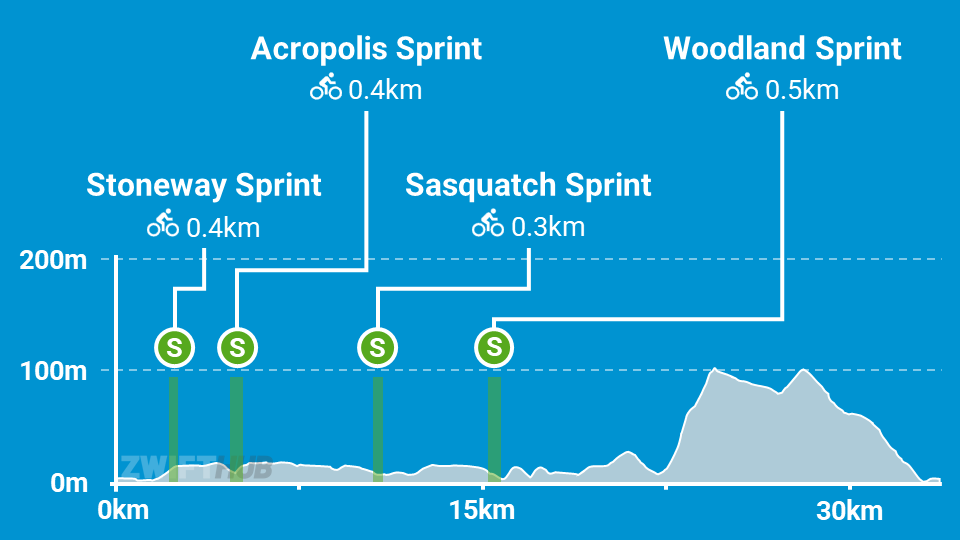 Begin near the Jungle pens and descend down to the Jungle arch, where this route officially begins.
Turn a quick right and you're on the new southern coastal road where you can enjoy the twists, sprints, and scenery of Sandy Coast, Ciudad La Cumbre, the Evergreen Coast, and Googie Springs.
Then it's time to make your way over to the base of the Epic KOM, where you'll climb just a bit, head over the bridge, then turn right onto the Epic KOM Bypass road for a scenic and flat spin across the bottom of the Epic's slopes.
From there you don't have much left! Just head over to the Jungle and hit the dirt for a dusty descent (wave hello to the sloth) to the Jungle arch, where the route ends.
Ridealong Video