"Accelerate to Elevate" Route Details (Watopia)
By far the climbiest of the eight routes released with Zwift's October 2023 southern coast expansion, this point-to-point route is quite flat… until it hits the base of Alpe du Zwift!
Route Basics
Length: 41.3 km (25.7 miles)
Elevation: 1152 m (3,780')
Lead-In: 0 km ( miles)
Map: Watopia
Start & Finish
Events begin at the desert start pens, while the official route begins at desert arch. Ends atop Alpe du Zwift.
Achievement Badge: 825 XP
Route Description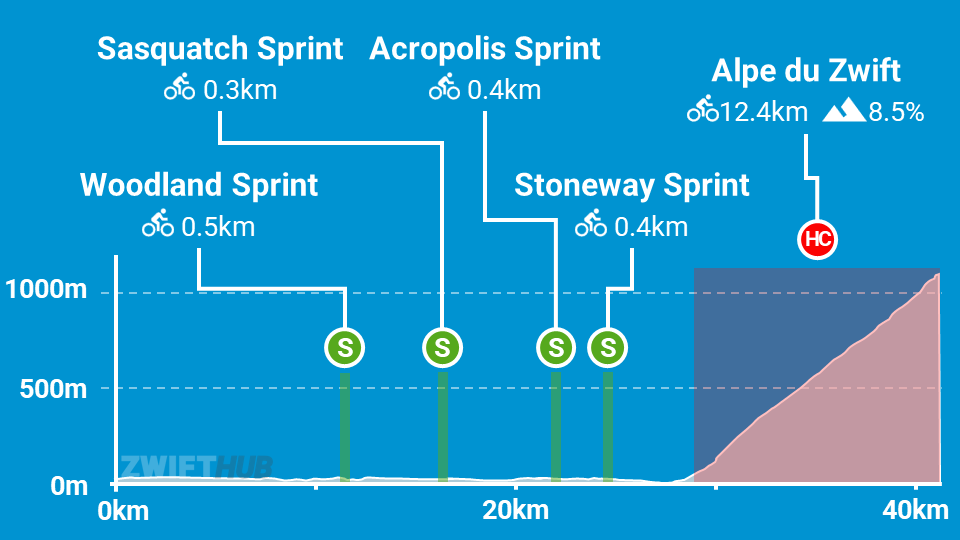 Start in Fuego Flats, zipping through the flat, fast desert before turning at the Saddle Springs roundabout and dropping down to the village of Googie Springs on the new coastal road.
Now it's time for a flat, twisty trip along Watopia's southern coastline. After Googie Springs you'll travel through the Evergreen Coast, Ciudad La Cumbre, and the settlement of Sandy Village while hitting four sprint points.
Then it's up to the dirt road of the Mayan Jungle for a quick trip to the base of Alpe du Zwift, where the real work begins!
Climb up up up, win a prize with the spinner at the top (the route ends at the KOM arch), then enjoy the descent… you've earned it!
Ridealong Video