Zwift's most recent update (August 6) included a new feature which just went live minutes ago on the roads of Watopia. "Pace Partners" are pacer bots which Zwifters can join from the drop-in screen. When you click to join a bot it will be just like joining a friend who is already riding – you will be taken to where that bot is on-course, and you can ride with them as long as you'd like.
Here's what the drop-in screen looks like: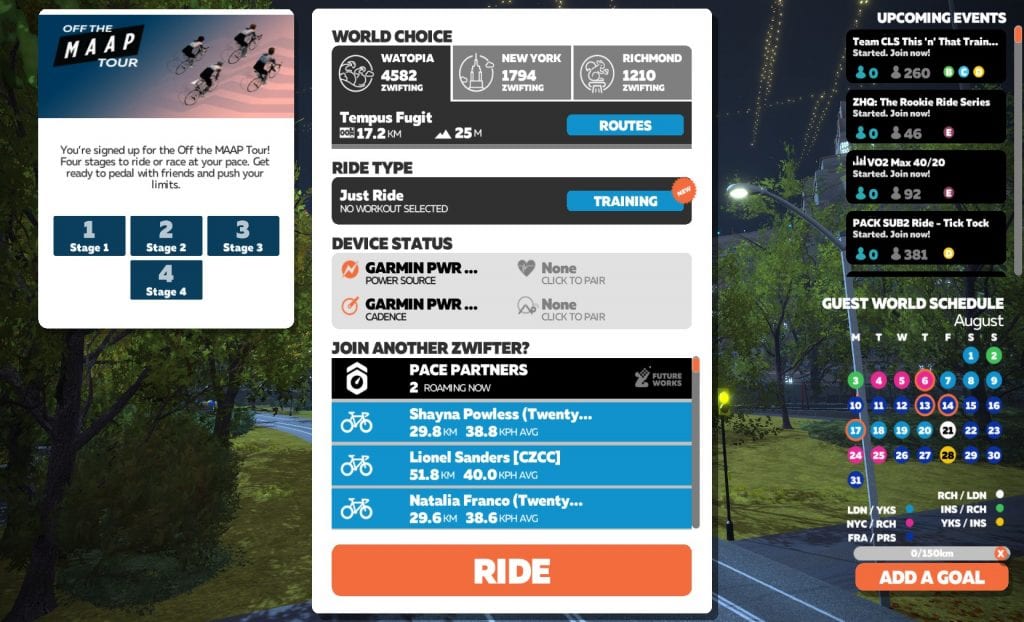 And here's a quick snippet of one Pace Partner in action:
Our guess is each bot will always have a group of riders around it in a sort of ongoing group ride. The Pace Partners are visible to everyone, so even if you don't click to join them from the drop in screen, you can always choose to grab the Pace Partner's wheel if you see them in game.
There are four bots, and last we heard they were scheduled to be available 20 hours per day (the 4 hour window allows for tweaks/maintenance from 8:30-10:30 and 20:30-22:30 Pacific time). Each bot rides at a set wattage on a particular Watopia route:
D. Diesel (1-2.4

w/kg

)": Casual-paced group ride with a few gentle hills
C. Cadence (2.5-3.1 w/kg): Moderately-paced group ride with occasional hills
B. Brevet (3.2-3.9 w/kg): Expert-paced group ride with frequent climbs.
A. Anquetil (4+ w/kg): Elite-paced ride on a challenging route. Many tough climbs!
When we checked, only Anquetil and Cadence were live, riding Road to Ruins and Tempus Fugit respectively: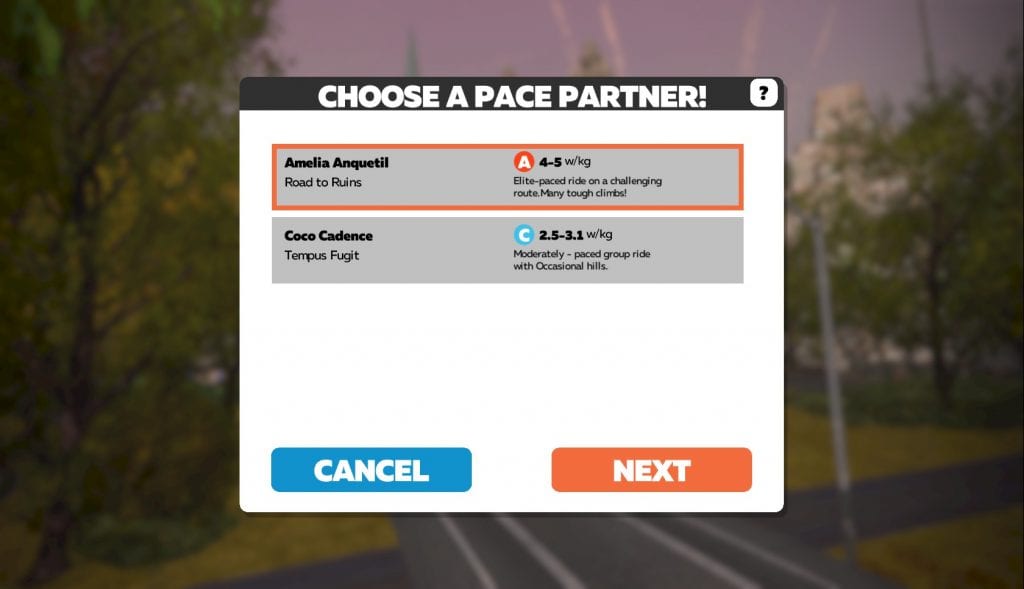 Just the Beginning
This is just the "minimum viable product" (MVP) version of Pace Partners. There are lots of possibilities for this feature to expand in the future, including having bots modulate their power in smart ways (increasing on climbs, decreasing on descents), giving riders rewards for staying near the bot, running pacers, etc. But Zwift wants to test out the feature first to see if people find it useful.
As with all FutureWorks features, Zwift releases them so the community can test and provide feedback via in-game surveys and the FutureWorks forum.
Question or Comments?
Share below!