The latest Zwift update is now available for download on PC, Mac, and Android and will appear for iOS and Apple TV soon.
Not sure if your Zwift install is up-to-date? Here's how to check >
Like the previous update, this release doesn't contain much by way of new features. But it does include welcome improvements to the very popular Pace Partners, and new workouts which are always a plus! Let's dig into the details…
Pace Partner Updates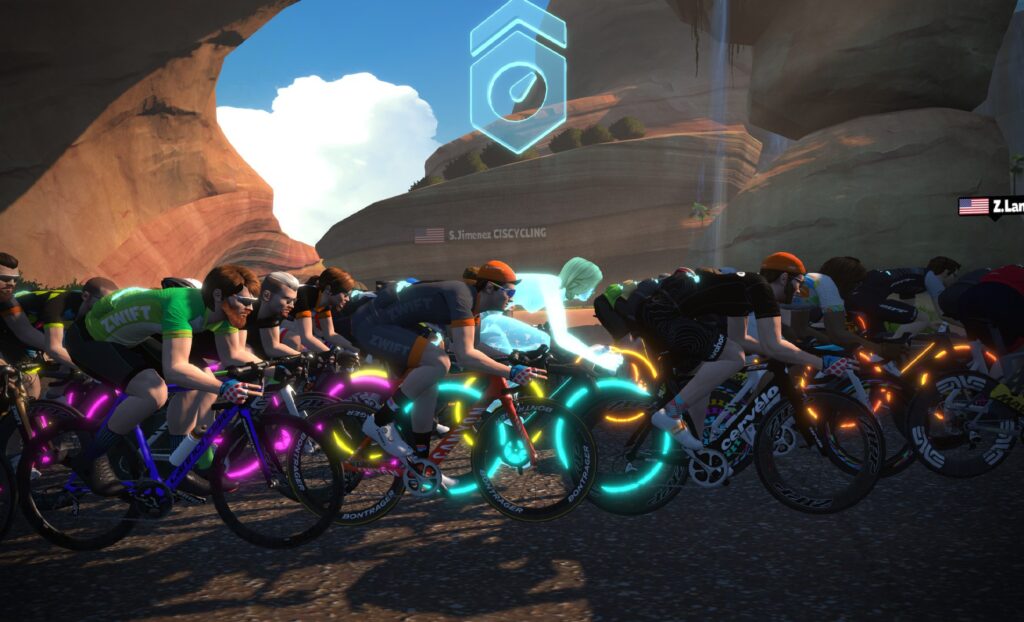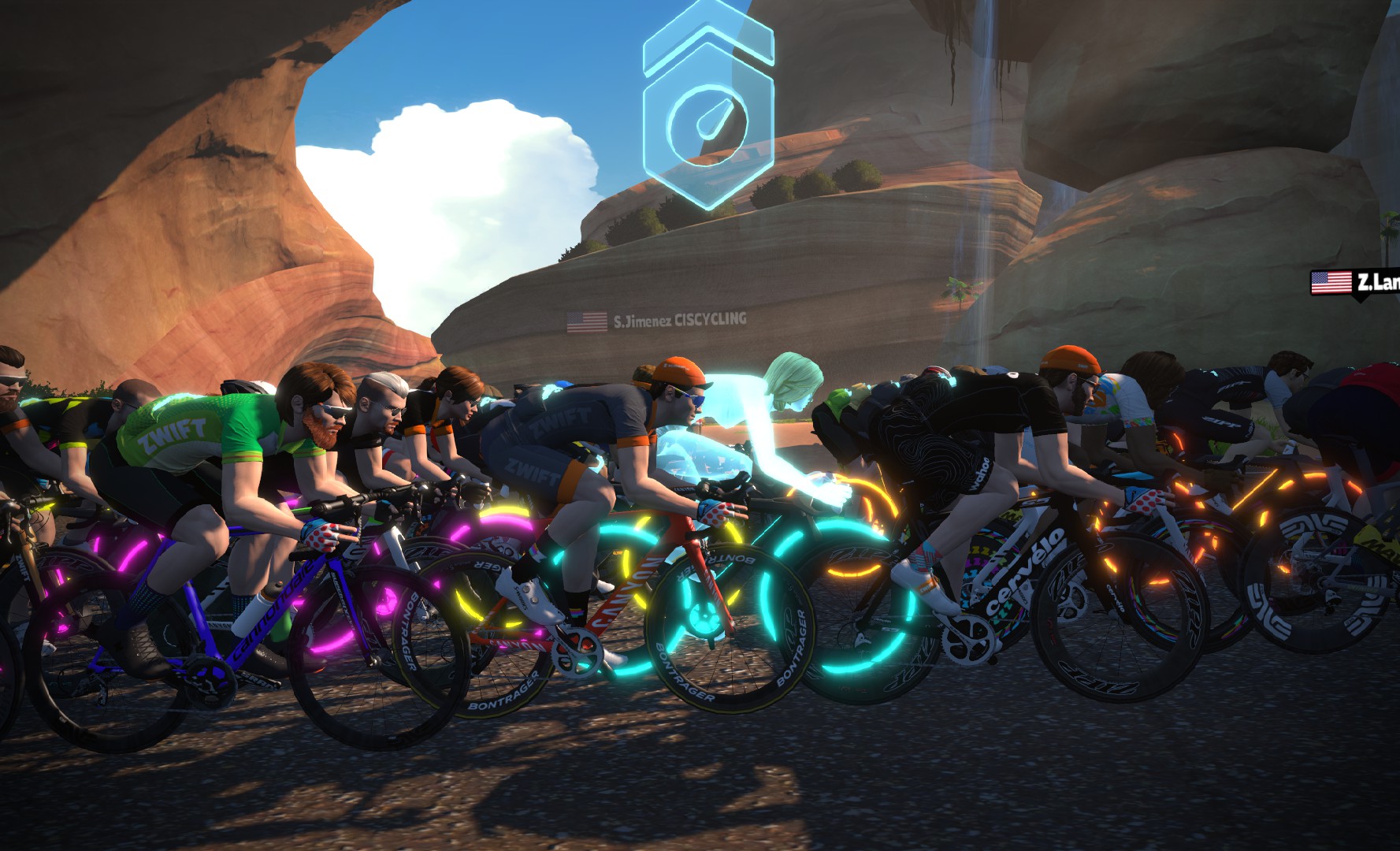 Thanks to the new Drops Multiplier game and their "always on" nature, Pace Partners have become very popular very quickly. This update includes two small improvements to the Pace Partner experience.
First: Pace Partners now have a beacon over their avatar, so they're easier to spot in the bunch. If you're trying to stay close to the Pace Partner in order to earn additional Drops, this is a big help!
Second: if you're following a Pace Partner but on a different route than that Pace Partner, you may come to an intersection and make a different turn than the Pace Partner! That's a bummer. So Zwift has added a warning to help you make the right turn.
Interesting bit of related triva: Zwift stats show that a lot of people riding with Pace Partners are simply joining them randomly from within a free ride. Did you know you can easily find a Pace Partner from the startup screen, then start your ride and be dropped into the Pace Partner's pack? Just click Watopia, then choose the Pace Partners box…
New Training Plan + Workouts
A new Training Plan has been added, called "Back to Fitness". This plan is specifically targetting those at a low level of fitness who want to kick start their return to cycling after a hiatus.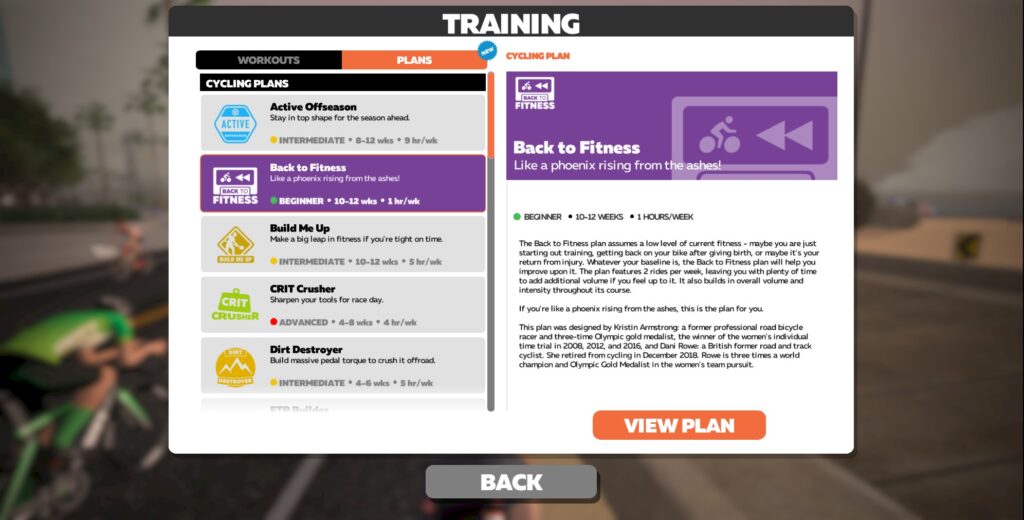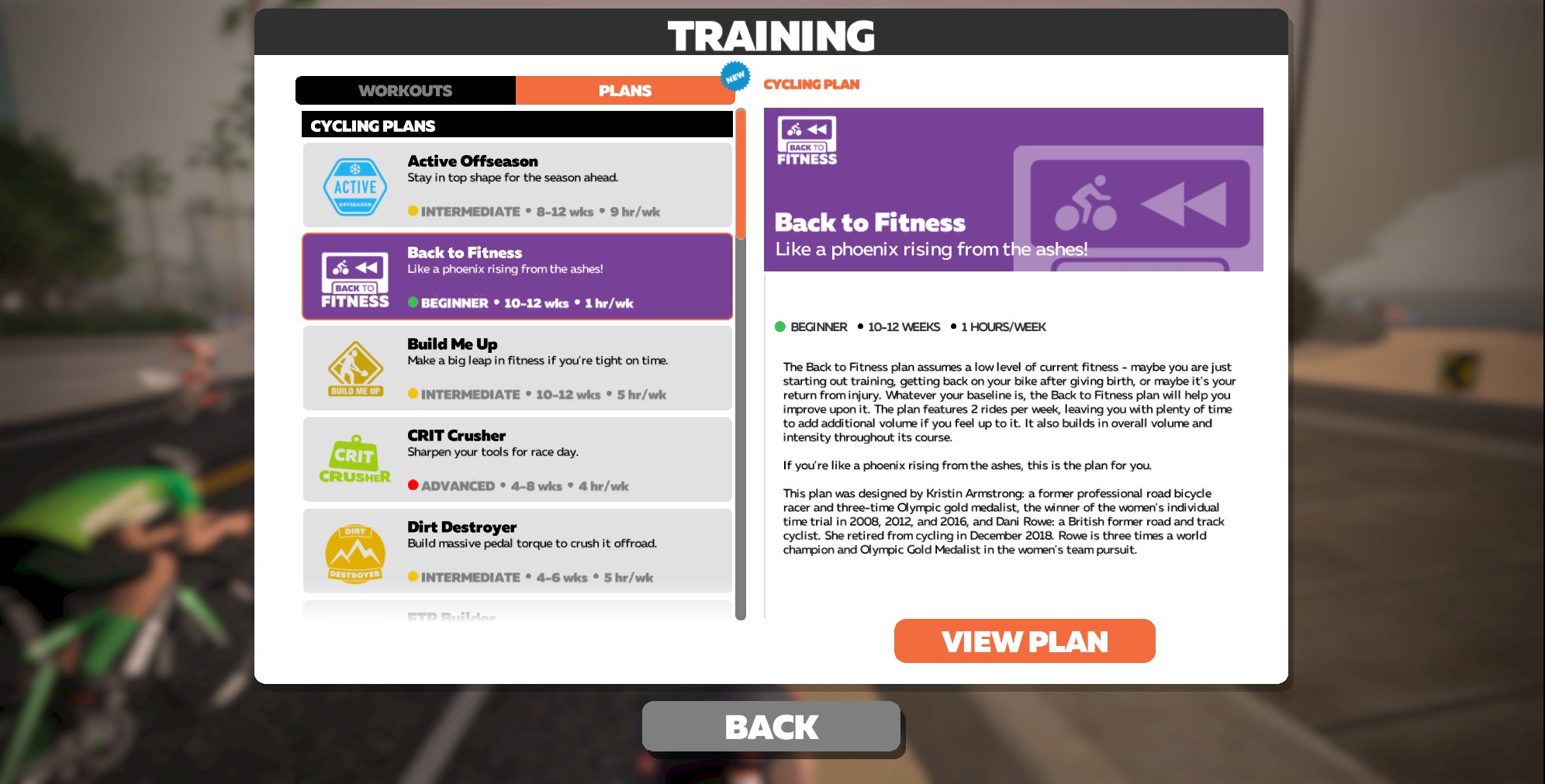 Five workouts have also been added to help Zwifters prepare for the 2020 Rapha Festive 500. This will be the 11th year of this popular challenge (ride a total of 500km between Christmas Eve and New Year's Eve) and while the challenge isn't on Strava yet, we expect it to show up soon.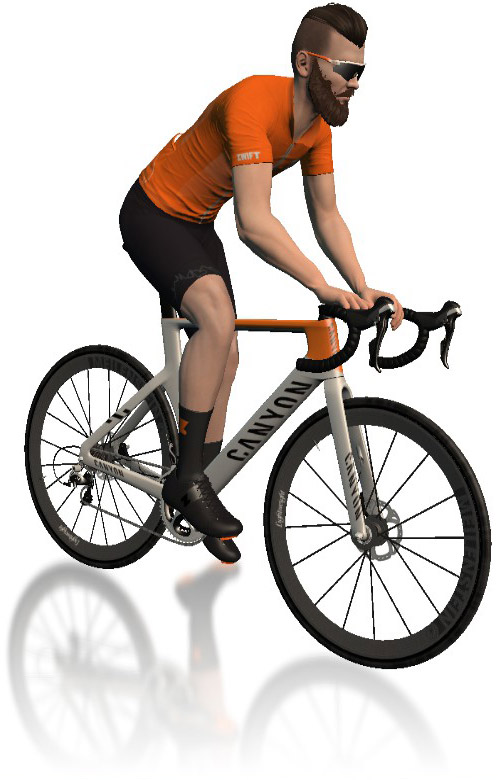 Canyon Aeroad 2021 Tweaks
We received a tip from within ZHQ that this release includes tweaks to the aero + weight settings for the Canyon Aeroad 2021 frame. If you recall, this frame was released in the previous update, and its performance was amazing – making it the best all-around frame in the game as well as the best climber.
Its level lock has been reduced from 23 to 10, price raised from 532,500 to 568,000, and weight rating reduced from 4 stars to 3 (so it's heavier).
We're testing it now, but we expect it won't be the best climber anymore. Stay tuned. #sigh
New Trek Super Caliber MTB
Not mentioned in the update notes: this release includes a new Trek Super Caliber MTB frame in the Drop Shop. We're testing its performance and will share our findings ASAP.
Halloween Fun
Zwift likes to have a little fun on certain holidays – especially Halloween, Christmas, and April Fool's Day. Today's update notes say, "Halloween has arrived in Watopia. Keep a close eye out for some fun surprises."
We earned dino costumes in 2019, rode bone bikes and swapped heads in 2018, and looked like witches and monsters in 2017. What do they have up their sleeve for 2020?
Who knows. Certainly it won't be any scarier than what we've already encountered this year!
Bug Fixes and Improvements
Update notes included these various bug fixes (with our notes in italics):
Updated the minimum allowed time for the Yorkshire sprint to reduce incorrect flagging in race events. If you're lucky enough to have noticed this bug, we salute you!
A steering icon will now appear in the Zwifters Nearby UI to indicate riders who are using a steering device. A welcome change! It will be interesting to take part in ZHQ Steering Races and see who indeed has steering and who doesn't.
Bluetooth devices should now be easier to pair and reconnect for Windows users. More and more Windows users are utilizing native Bluetooth for connections, so Zwift is investing some resources in making it function better on this platform. That's great news.
Numerous new assets (decorations and kits) added to support upcoming events and programs.
Fixed a bug on iOS causing a crash when users tried to restore a purchase. Specifically, this has to do with subscribing to Zwift via the Apple store.
Fixed a bug on iOS which would cause an occasional crash on the pairing screen while an Apple Watch was also connected.
Fixed an issue with event kit and bike overrides not appearing for those outside of the event.
Fixed a bug that would sometimes cause the race results screen to appear blank after a race. We've seen a lot of blank screens at the end of group rides lately. Hopefully this is fixed!
Fixed a bug that would cause frame rates to drop when taking a screenshot.
Minor fixes and improvements to the Dirt Destroyer and Pebble Pounder workouts.
Fixed a bug making it difficult to pair a Sterzo Smart while using the Zwift Companion Bluetooth bridge function.
Fixed a localization error for the French save screen.
See/discuss release notes on Zwift's forum >
Questions or Comments?
Share your thoughts below!