The latest Zwift update is now available on PC, Mac, and Android. It will appear for iOS and AppleTV soon.
Not sure if your Zwift install is up-to-date? Here's how to check >
This update doesn't include any new Drop Shop items or roads, but it's got some feature improvements, a little something for KICKR Bike owners, and… afros! Let's dig into the details…
Large Event Improvements
On the heels of last week's emergency bug patch, Zwift has included additional changes in today's update which should improve our experience in very large events.
Potato owners, rejoice! Zwift says, "These changes will be most noticeable on lower end devices."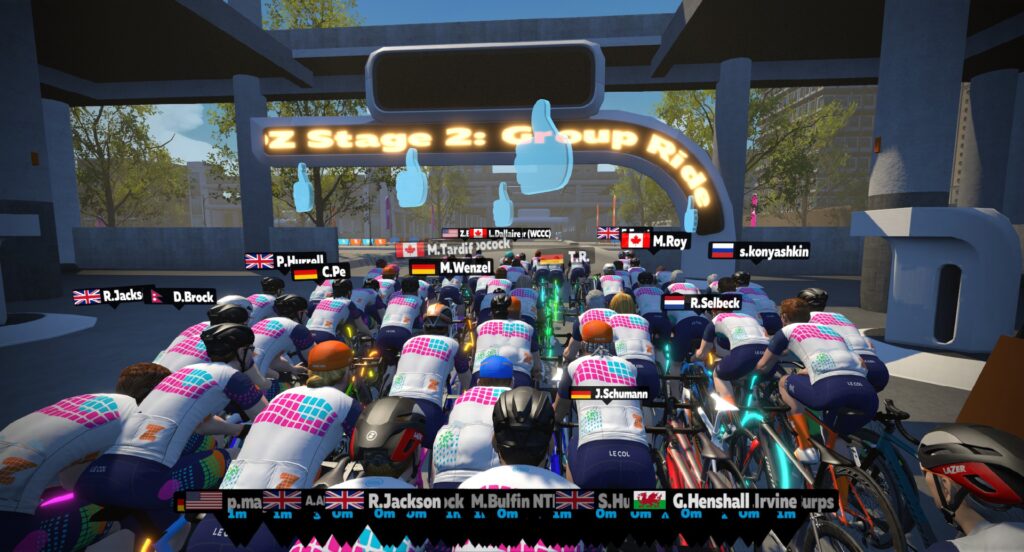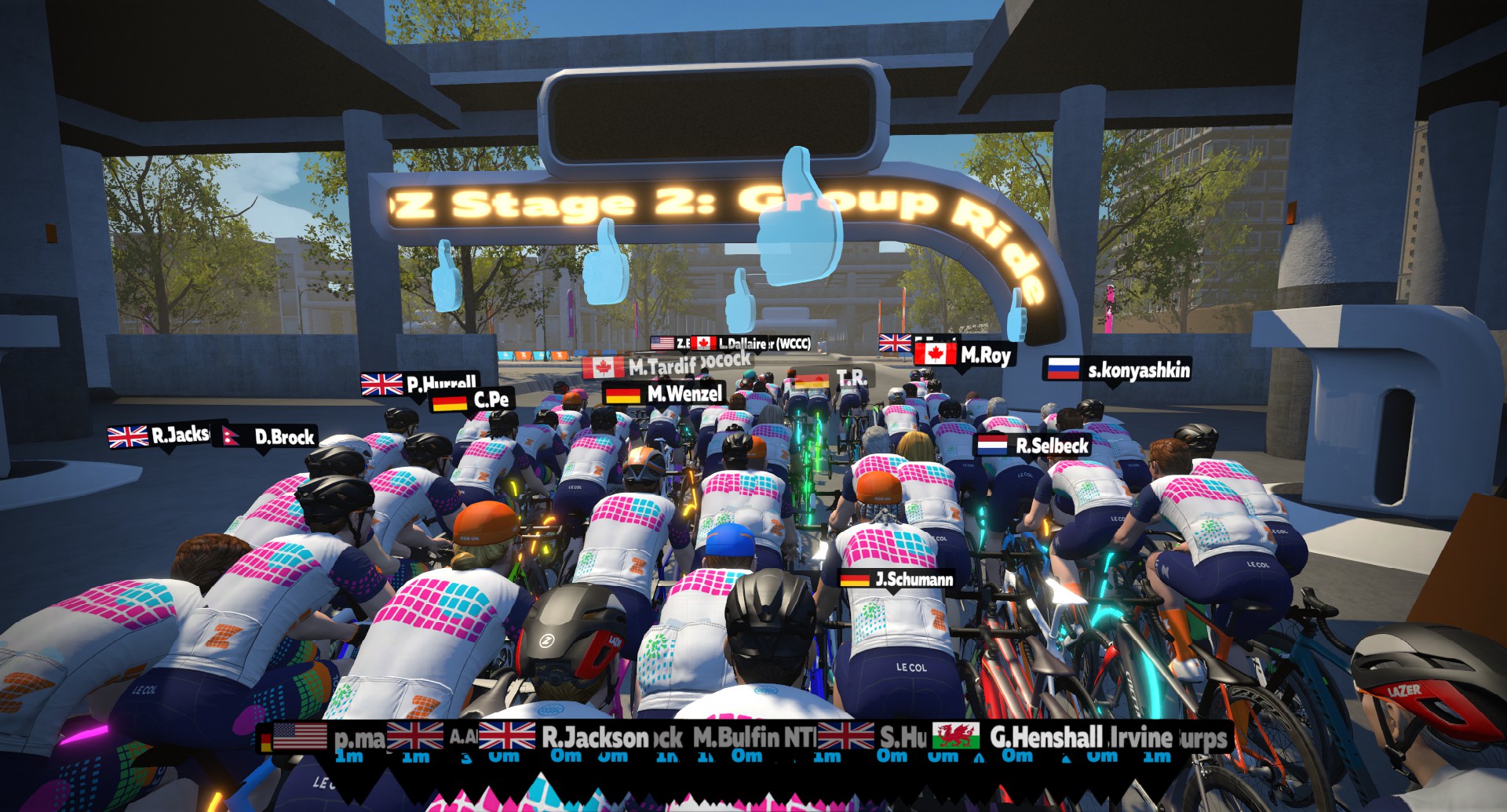 The fixes are centered on how Zwift handles the rendering of nearby riders. In extremely large events (think 2000k + riders) it's not hard to imagine that a fair amount of processing power and data bandwidth is needed in order to compute rider positions, determine which riders to render, and actually render those riders. Zwift's update notes say, "Some users may notice differences in the number of bikes/riders they see around them in large events."
Steering Updates: Wahoo KICKR Bike + More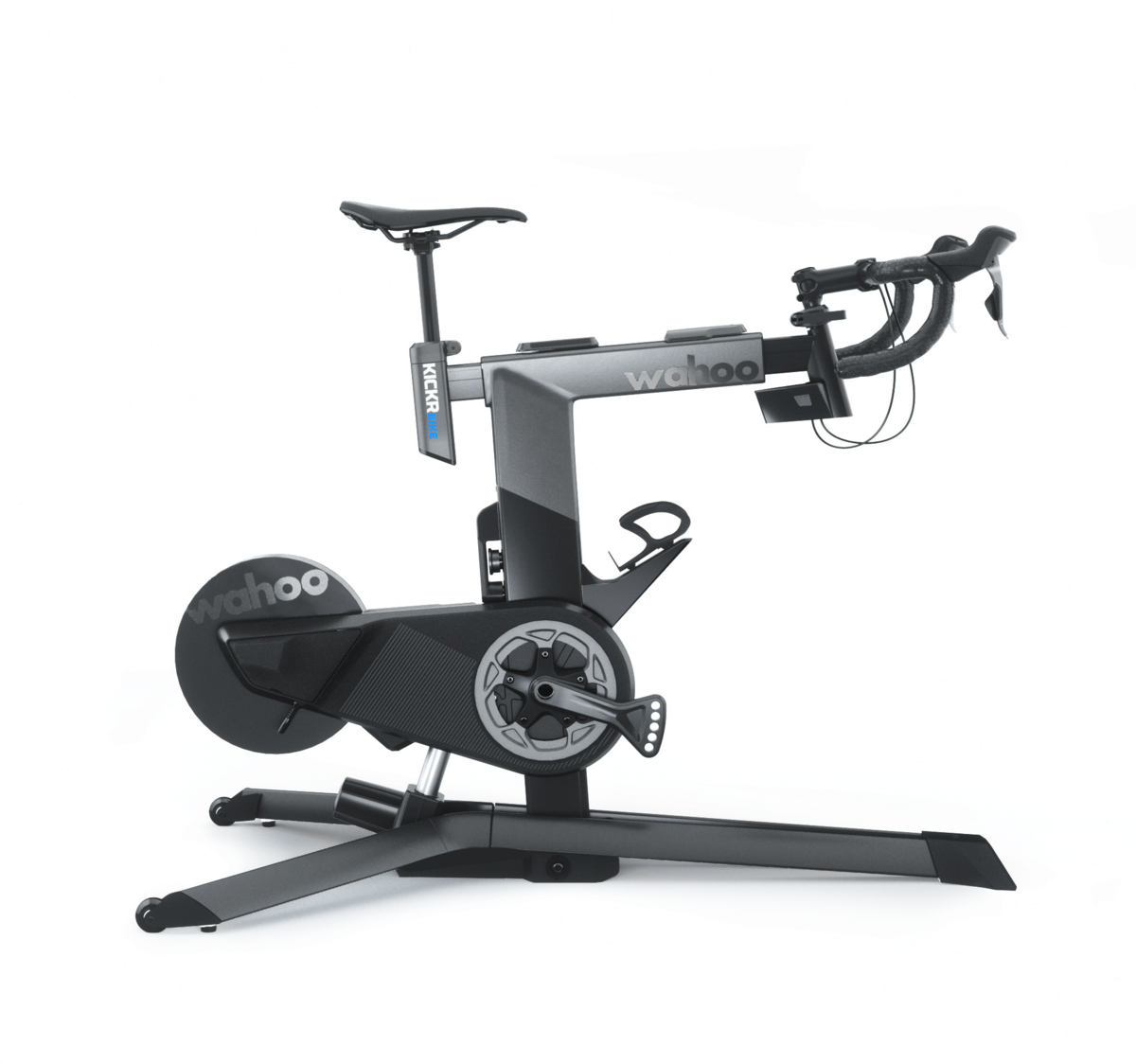 Zwift's FutureWorks Steering is no longer restricted to the Elite Sterzo Smart owners – Wahoo KICKR Bike riders can steer using the bike's steering buttons! This is big news, and hopefully means other smartbikes with steering buttons will be supported soon.
How does steering work with buttons? A single click of a steering button moves you over one "lane", while holding down the button will slide you across multiple lanes. Sort of like SRAM's eTAP shifting!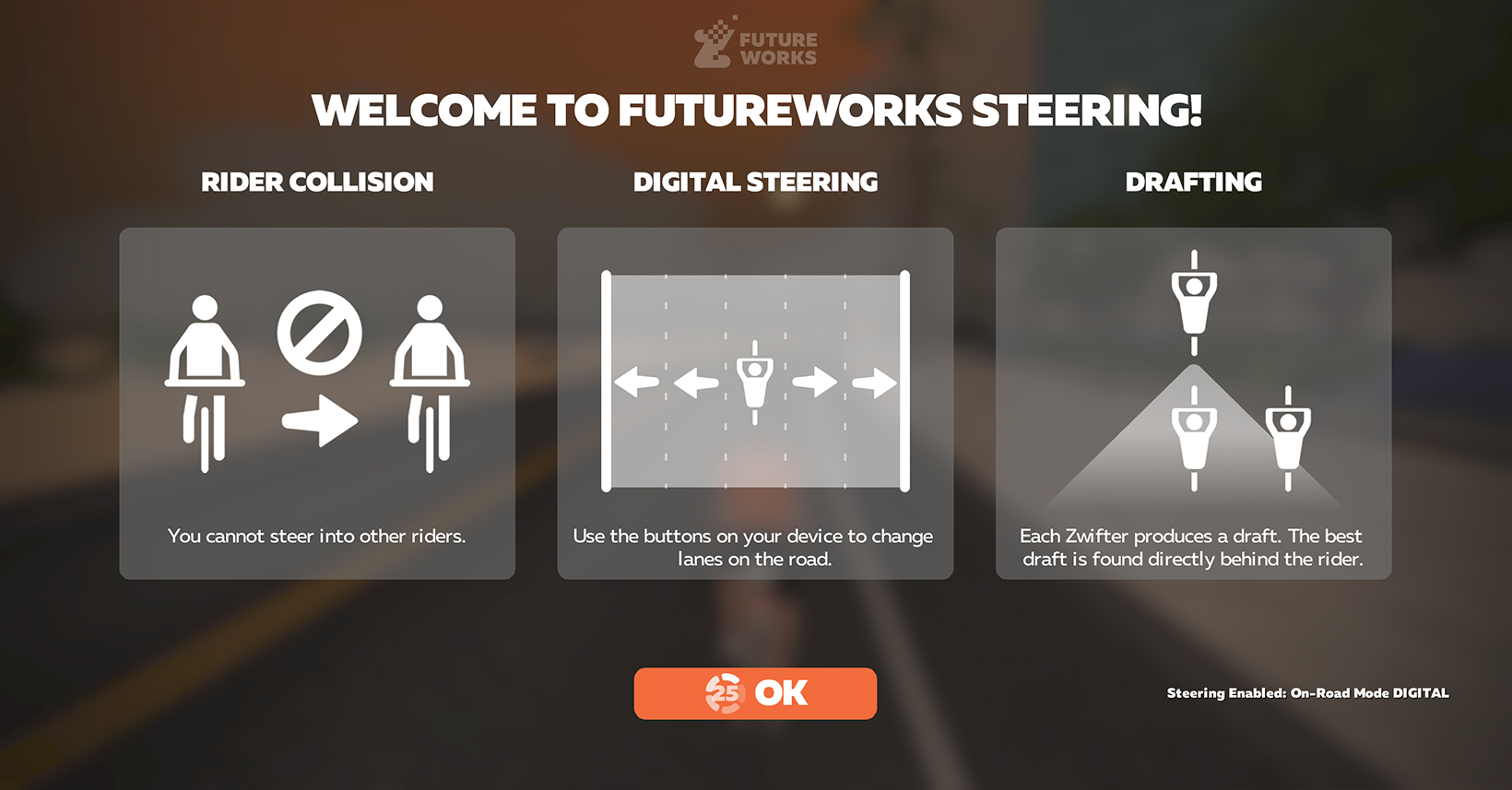 Wahoo KICKR Bikes cannot yet steer on Repack Ridge, but Zwift says that will be available in a future update.
Zwift also made two overall improvements to FutureWorks Steering. First, they've modified the default camera angle (camera 1) while steering, to "minimize camera movement while making significant changes in steering angle." Secondly, they've made steering more responsive at high speeds.
Pace Partner Tweaks
Zwift continues to refine the Pace Partner experience, making changes in this update to help people stay close to the Pace Partner and keep multiplying those Drops.
If you've been riding with the Pace Partner for more than a few seconds, and the Drops multiplier progress bar has started to fill up, the game will now alert you with a new message if you get just out of range of the Pace Partner:
You can ride as long as you'd like with these "Catch Up" messages displaying – but the progress bar won't advance. If you move even further away from the Pace Partner, the message will disappear, and then you have about 30 seconds before your progress bar goes away and you have to start the Drops Multiplier game all over again.
So today's change makes it easier to stay "in" the Drops Multiplier game, since it gives you a little grace before ending your game as you get too far from the Pace Partner.
New Black Hairstyles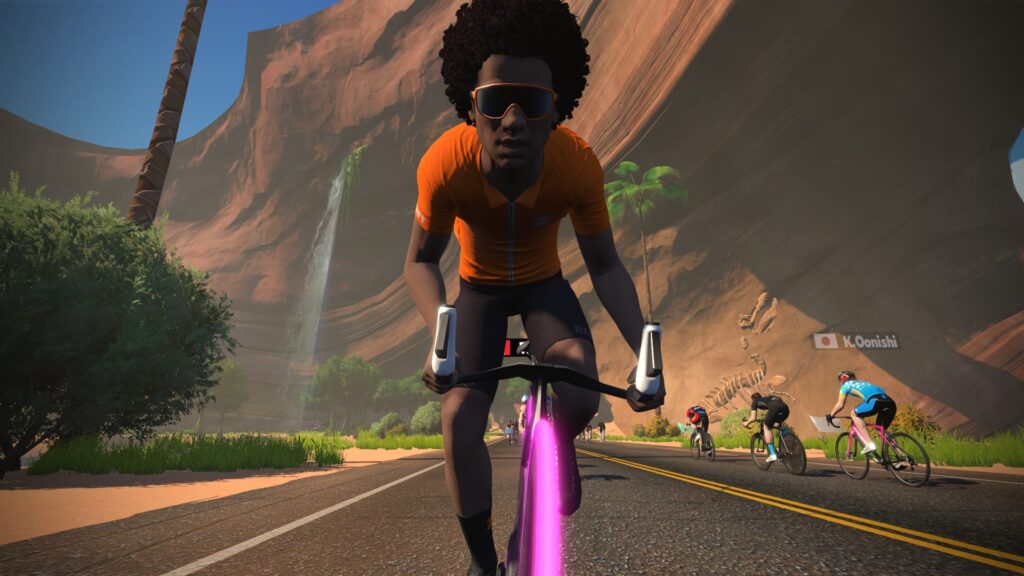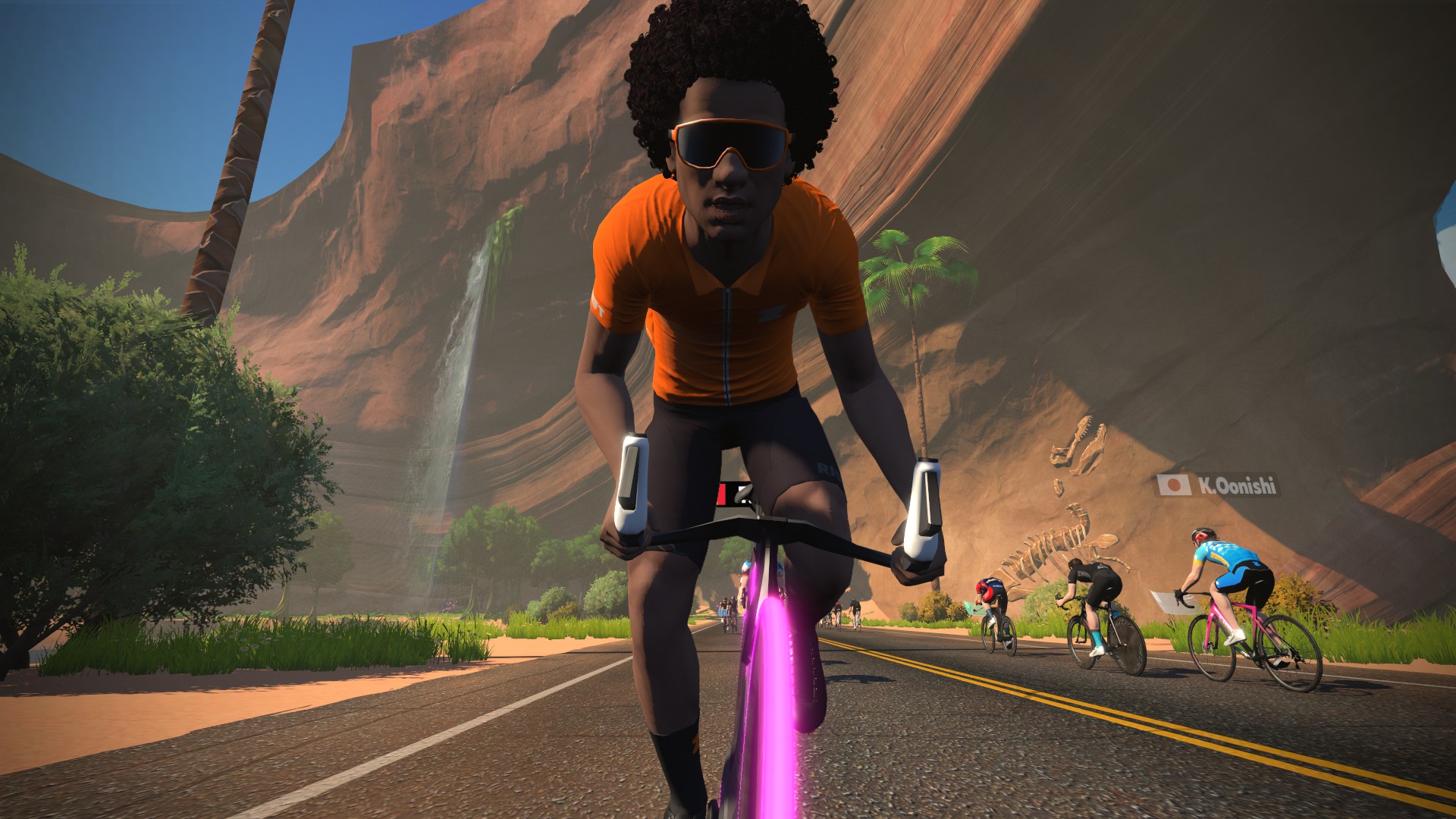 Three new "afro" hair styles have been added – and they even look good with a helmet! We can't wait to see what Shane Miller's avatar looks like now…
Bug Fixes/Improvements
This release also includes a pile of minor fixes… here's the list, with a few comments where appropriate:
Numerous cycling and running assets (kits, shirts) have been added or updated. Word on the street is this includes a new bike frame for an upcoming event. But that's all we can say!
Fixed a bug that would auto-select gender during account creation.
Implemented a 10% grade limit for Computrainer devices to resolve issues with sustained climbs above 10%
Improvements to Bluetooth pairing to reduce the chances of users getting "No Signal" when pairing a device.
Fixed a bug that would cause the Pace Partner survey to overlap other UI when ending a session.
Fixed a bug that caused the Zwift Academy event filter to remain after Zwift Academy ended.
Fixed a bug that would cause mobile users to see a notification icon on the Zwift App after closing the game.
See/discuss release notes on Zwift's forum >
If you spotted any other changes in today's update, please comment below!