The latest Zwift update is now available on PC, Mac, and Android. It will appear for iOS and AppleTV soon.
Not sure if your Zwift install is up-to-date? Here's how to check >
This one is especially exciting because we've got new roads and routes! Let's dig into the details…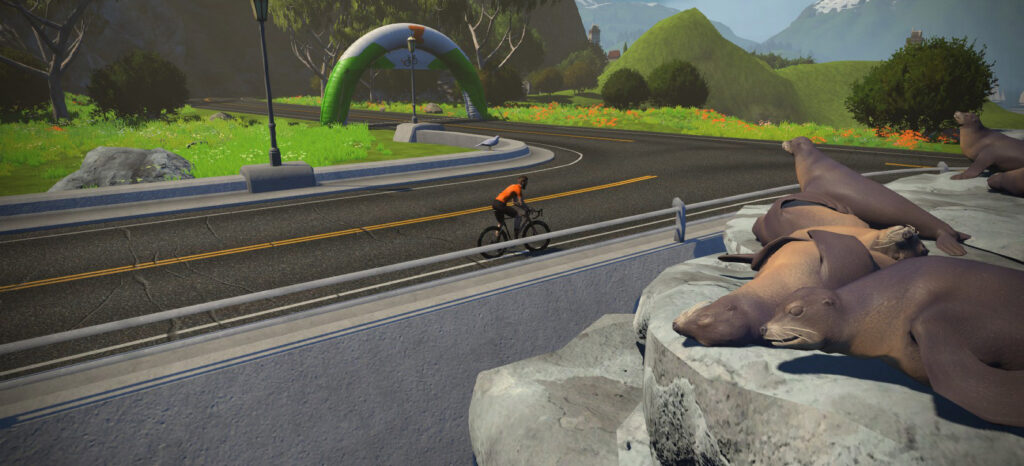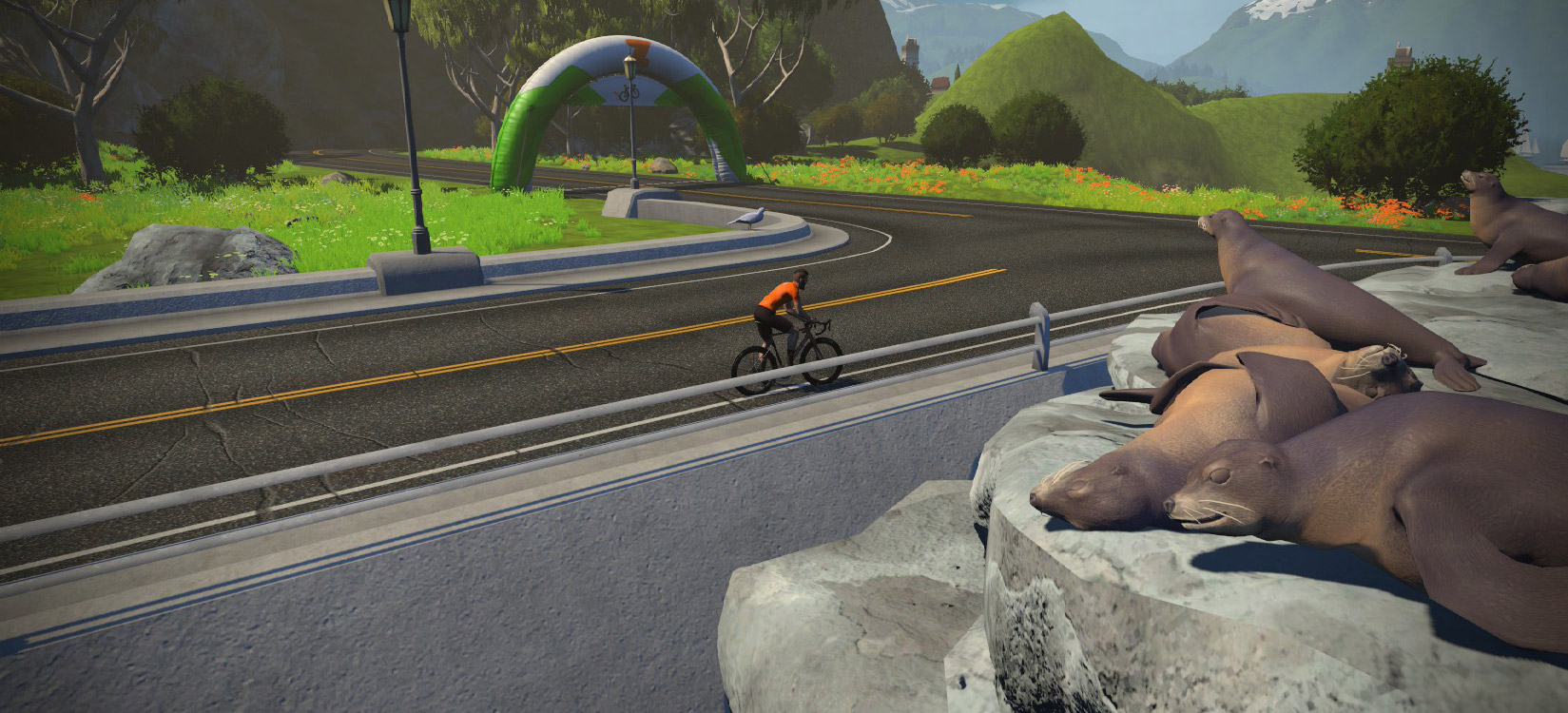 Four New Watopia Routes!
Zwift has added less than 4km of new road to Watopia, but in doing so they've opened up a whole pile of route possibilities! These are the first new Watopia roads since August 2019's Titans Grove expansion, so Watopians will certainly be rejoicing.
Zwift has added (mostly) short connections between existing roads:
Mayan Bridge: crosses the Jungle water, thus bisecting the Jungle loop
Bridge/Islands Bypass: Connecting the JWB and 360 bridges near downtown
KOM Bypass: connects the road near the Hilly KOM reverse statues to the halfway mark of the Hilly KOM forward
Epic KOM Bypass: connects the bottom of the Epic KOM forward to the bottom of the Epic KOM reverse
And yes: each route has a route badge you can earn: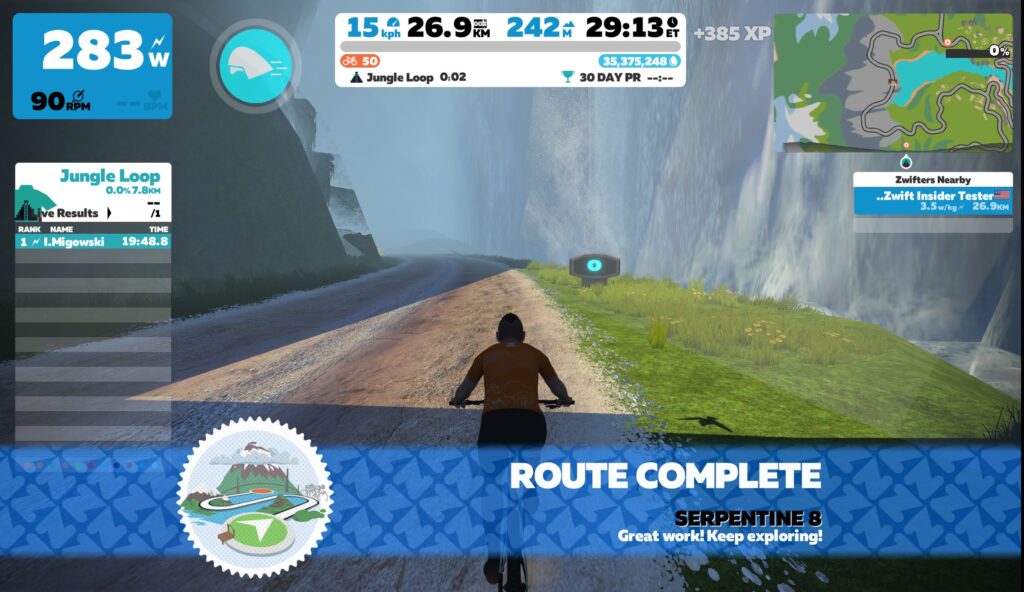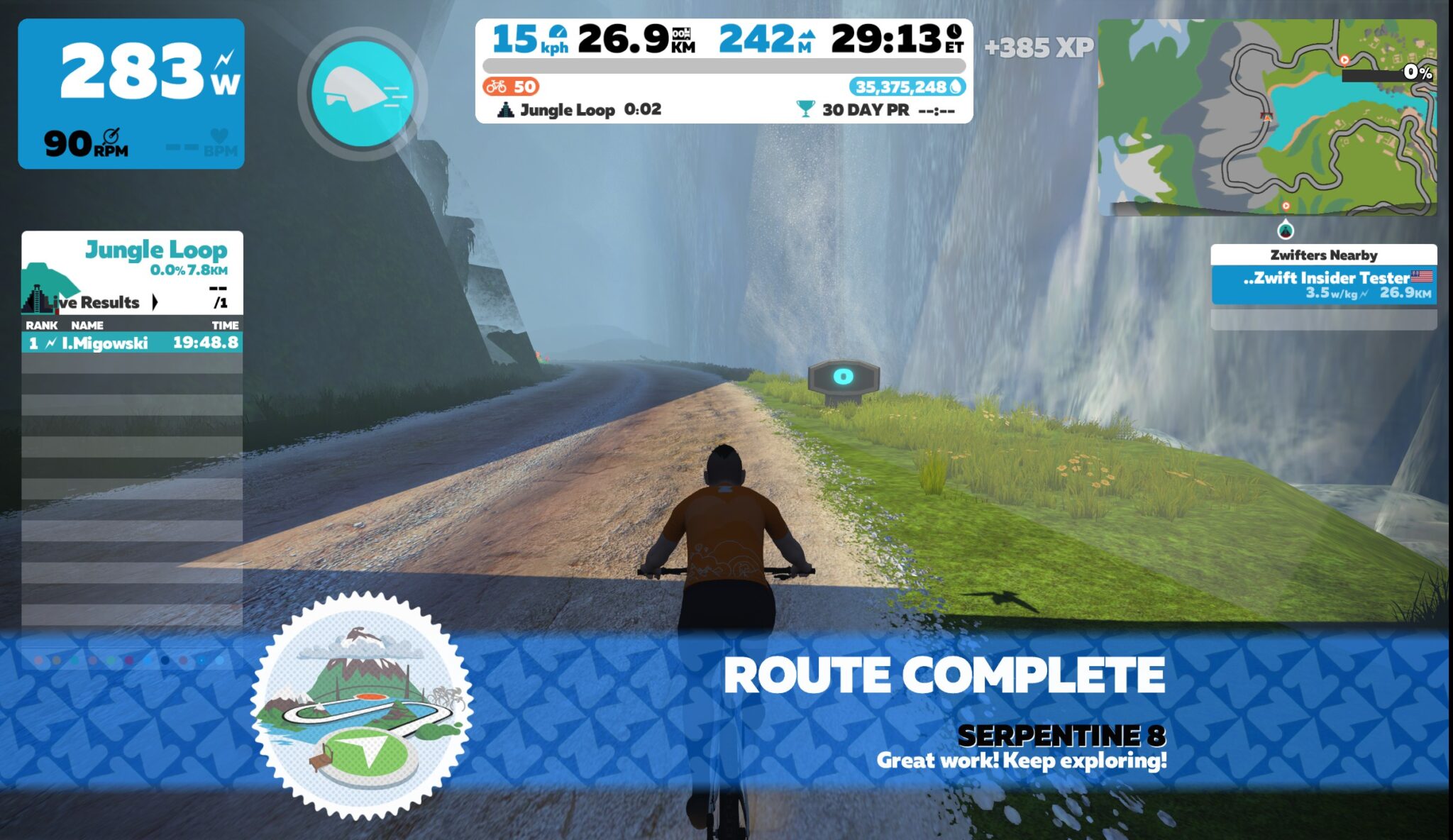 IMPORTANT STRAVA SEGMENT NOTE: spawn points for these new routes aren't quite right, currently. They all begin just in front of a start arch or pen, while they should be starting behind those objects, so the Strava segment can begin and end at the arch or pen exit. For our Strava segments, we used the downtown start/finish banner as the starting line, except for the Serpentine 8, which uses the Jungle Pens as the start. In order to finish the segment, you will need to do a u-turn at the start of your ride to go back to the starting line, until Zwift adjusts these start points.
Beach Island Loop
At 12.8km long with 48m elevation, this is a fairly flat loop is almost identical to the existing Volcano Flat Reverse route. The only difference is we take the Bridge/Islands Bypass which takes us north of the Italian Villas. Seems like a silly route to add with one so similar already in-game, but Volcano Flat Reverse is event-only, so this route should feel somewhat fresh.
Ocean Lava Cliffside Loop
19km long with 156m of climbing, this is the most exciting of the new routes, because it includes the longest stretch of new road! Zwift has the added the "Epic KOM Bypass": ~2.7km of fresh road which connects the bottom of the Epic KOM Reverse (near the Jungle entrance) so the bottom of the Epic KOM Forward (after crossing the suspension bridge).
It's a rolling, twisty road, and even includes a tiny dirt detour.
Serpentine 8
Probably the second-most exciting of the new routes, Serpentine 8 is a Jungle-based figure 8 route which uses the new twisting, rolling "Mayan Bridge" road that bisects the Jungle Circuit. This road is full of eye-popping sites like torches, temples, and tile (which we assume rolls faster than dirt).
Coming in at 19.3km with 206m of climbing, this is the longest of the new routes… especially when you consider it also has a 7.3km lead-in from the Jungle pens!
Two Bridges Loop
The shortest of the new routes, Two Bridges loops keeps you near downtown Watopia thanks to the new "KOM Bypass" road which connects the Hilly KOM Forward with the Hilly KOM Reverse, shortening the climbs. At 6.8km with 80m of elevation it's actually the "climbiest" of the new routes. Visualize this as an abbreviated Hilly Route.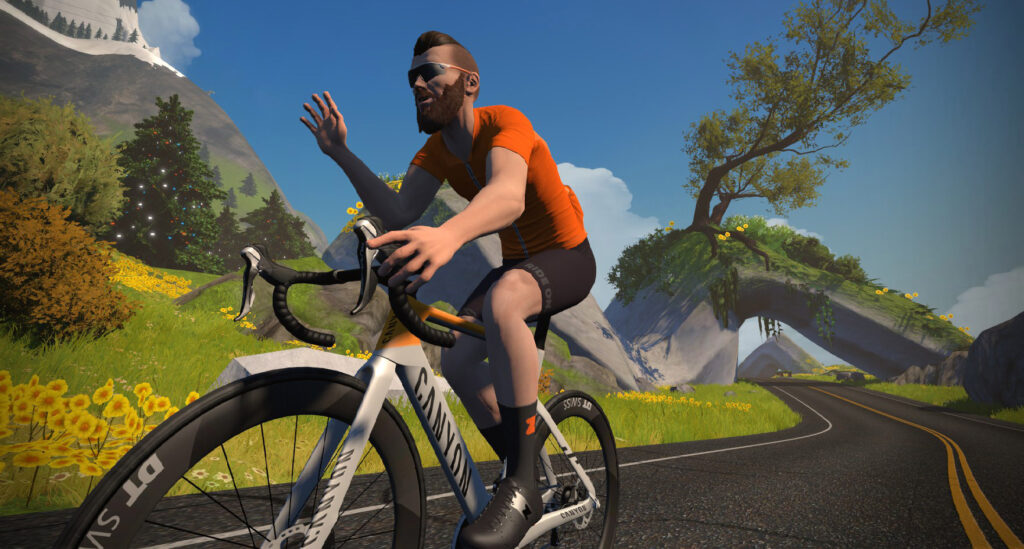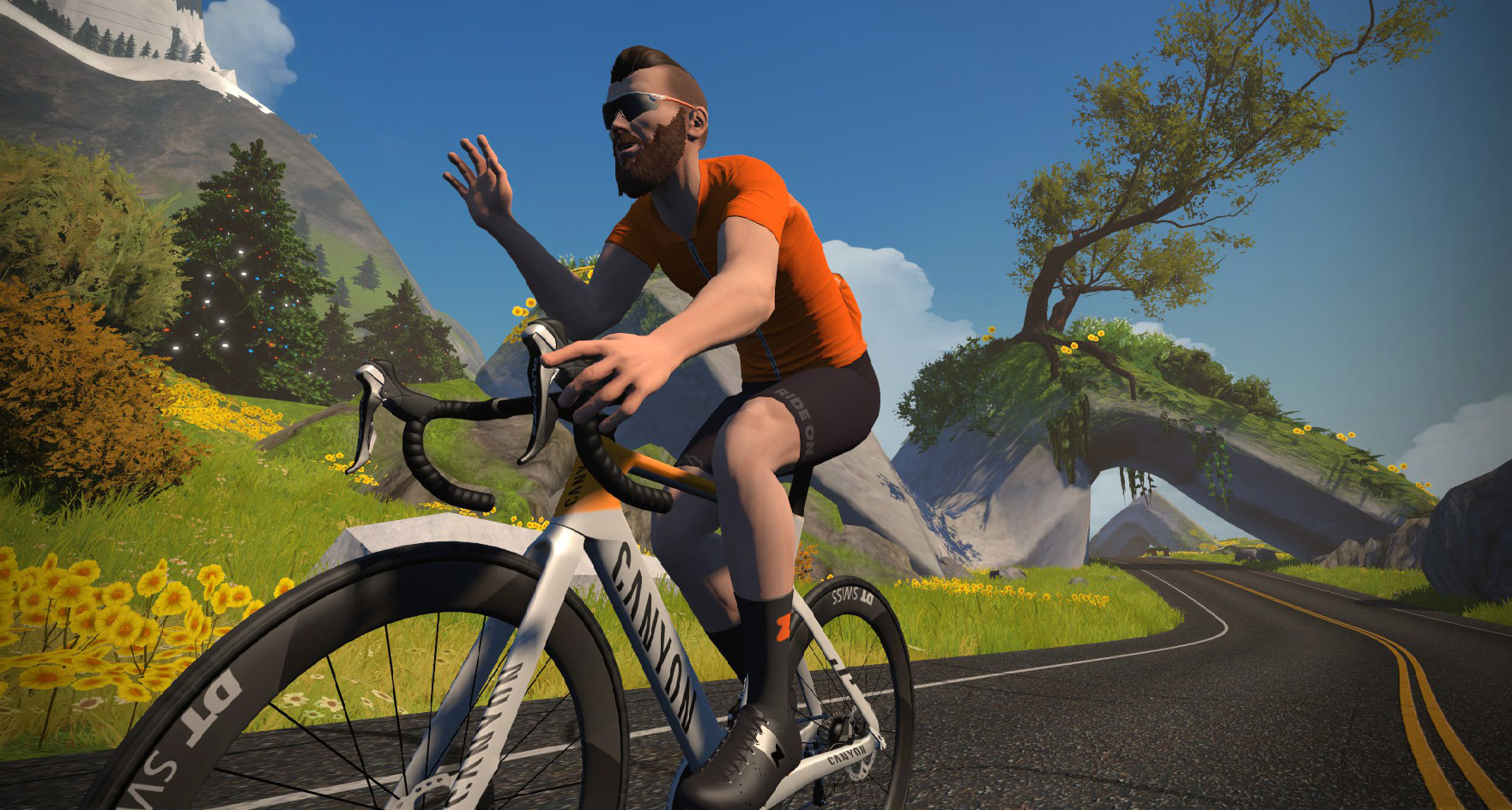 FutureWorks Run Pace Partners
On the heels of the very popular riding Pace Partners, Zwift is going to be releasing four Pace Partners for runners next week! We don't have any screenshots since they're not yet in-game, but here's what the release notes say:
Alton Able is an A category runner who will keep a spirited pace of 14.6kph/9.1mph (4:07/km, 6:36/mi) around the Dust in the Wind route.
Billie Benoit is a B category runner and loves the Big Loop route, targeting a speed of 11.9kph/7.4mph (05:03/km, 08:06/mi).
Cara Cadence is a C category runner holding a speed of 9kph/5.6mph (06:40/km, 10:43/mi) around the Sands & Sequoias route.
Dax Diesel is a D category runner who feels most at home on Jon's Route at a conversational 7.2kph/4.5mph (08:20/km, 13:24/mi).
Bug Fixes/Improvements
This release also includes a pile of minor fixes… here's the list, with a few comments where appropriate:
Numerous cycling and running assets (kits, shirts) have been added or updated.
Made adjustments to how shadows are rendered in game to improve performance for high attendance events: this may fix the framerate issues Zwifters have seen when running the game in windowed mode on PC since the last update. Fingers crossed!
ANT+ library updated to version 3.5 on MacOS.
New telemetry added for MacOS bluetooth disconnect/reconnect events to help track down bugs.
Improved Bluetooth pairing for the Elite Sterzo across all platforms.
The Elite Sterzo Smart will now attempt to reconnect if the signal is lost without the user needing to enter the pairing screen.
Added support for the Tacx Boost trainer.
Fixed a bug that would sometimes cause the rider to appear to be flying when the rider came into view: #sad. This was a fun one!
Fixed a crash caused at the end of a Meetup.
Fixed a bug that would sometimes allow for users to do a u-turn in events.
Fixed a bug that would cause the Elite Sterzo Smart to fail to pair.
Fixed a bug that would cause the app to freeze on MacOS if the user went idle while in the pairing screen.
Fixed a bug on Android which would cause pairing issues on the Wahoo Kickr Smart over ANT+.
Fixed a crash for Apple Watch connected users running iOS 13.


Wrapping It Up
We're stoked to see some new roads and routes added to Watopia, and runners will certainly be happy to have always-on Pace Partners to join.
While it's hard to fault ZHQ for focusing their efforts toward onboarding new Zwifters and getting them plugged into the game, long-time Zwifters are looking for fresh stuff to help us stay engaged. Simple new routes and achievements seem like an easy win for Zwift in this regard. So our humble request is… more carrots, please!
See/discuss release notes on Zwift's forum >
If you spotted any other changes in today's update, please comment below!