Zwift has released its long-awaited Watopia expansion, dubbed "Fuego Flats". The ~9 miles (~15km) of winding tarmac is the flattest set of roads available in-game, making it ideal for time trials or other steady efforts.
Artwork
The expansion's terrain takes some of its inspiration from areas near ZwiftHQ in Long Beach. This includes Death Valley, where Jon Mayfield has ridden double centuries. Fuego Flats is a nod to other American deserts as well, including Moab, the Antelope Canyon in Arizona, Mesa Verde in Colorado, and the annual California Super Bloom.

The terrain is beautiful, and unlike anything we've seen on Zwift. The combination of rocks, sand, and desert flora/fauna is a feast for the eyes.
Are there dinosaurs? Well, sort of. Zwift didn't quite give us our much-requested terrible lizards, but they threw us a bone.
Nature takes center stage in this expansion, but man-made elements are scattered throughout. Key features include two towns, humorous road signs, cliff dwelling ruins, and a train trestle bridge high overhead.
The first town "Desert Flats", an old Wild West sort of place, complete with a steam train rolling through (good luck outpacing it) and Watopia's oldest (and only) saloon. The second town is Saddle Springs, a Palm Springs-style resort featuring Googie-style architecture from the mid-1900's which was inspired by the "space age" of the time.

New Routes
New tarmac means new routes, and Zwift has given us five! Three of the routes are centered in Fuego Flats, while the other two routes (Bigger Loop and Über Pretzel) are enlarged versions of existing routes which are modified to include Fuego Flats.
Why Flat?
Some Zwifters have asked, "Why add more flat roads?" The answer is: because those are the roads most Zwifters prefer! Ride Watopia any day of the week and you'll find much more traffic on the flat routes than the hills.
Here's what Eric Min had to say about it:
As a New Yorker, I personally love to ride the rolling New York (Central Park) course – it brings back great memories for me. However, it's not an easy course unless you really know how and where to make your efforts. Sometimes, we all just like to have some fun on the flats, and I know a lot of Zwifters out there will enjoy the new Fuego Flats–myself included. Not only is it something for the sprinters, but it also opens up whole new possibilities to cater for our Triathlon and Time Trial audiences.
TT and FTP
The new Fuego Flats provides an excellent place for riders to test themselves. Looking for a ~20km TT effort? Ride the new Tempus Fugit route. Prefer the visual of flat roads for your FTP test? Ride "Tick Tock" or "Tempus Fugit".
There are also two long timed sprint sections–a 500m sprint going clockwise, and a 7km sprint beginning in Saddle Springs and going counter-clockwise. Top the leaderboard for either and get the Fuego Flats sprinters jersey.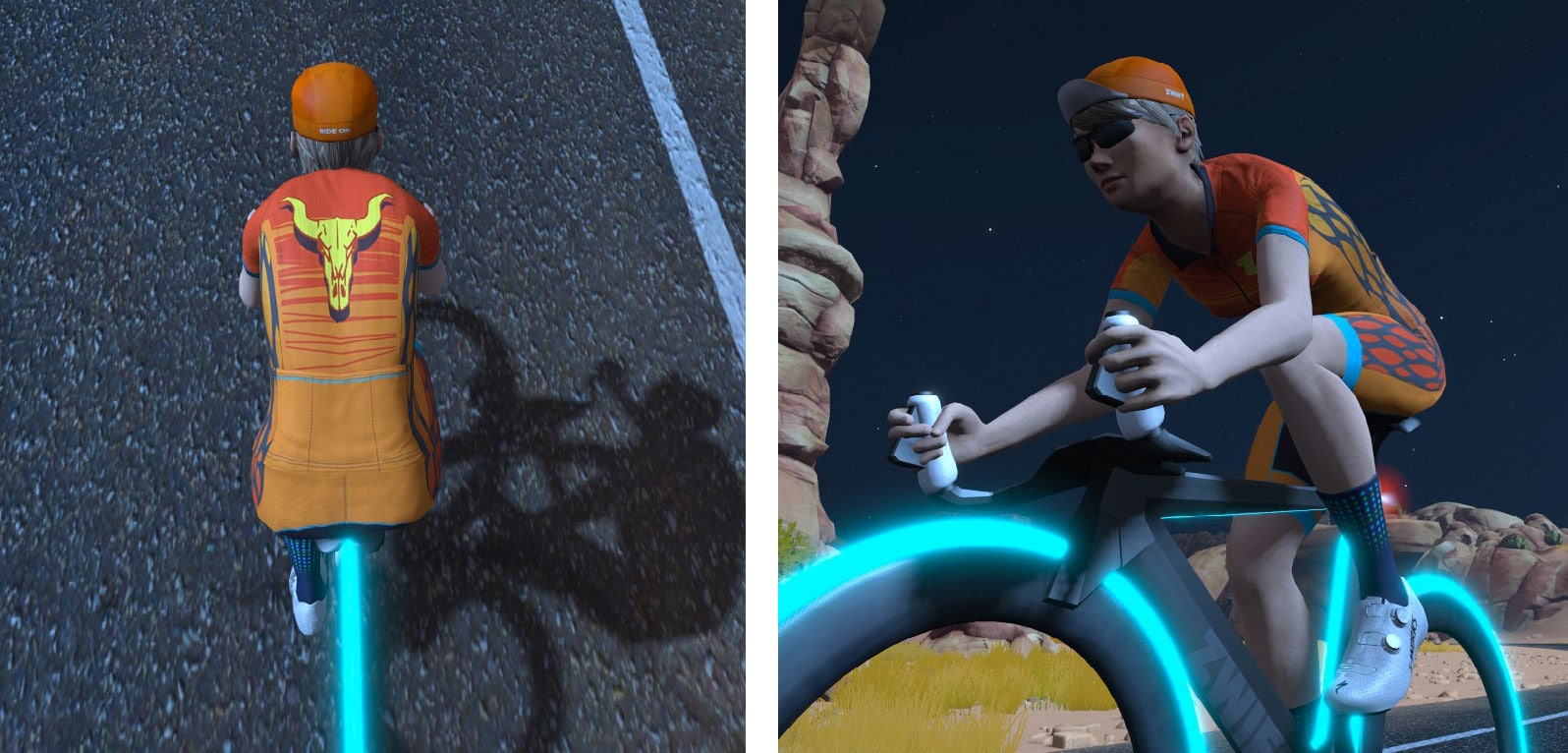 More to Come?
The roads into Fuego Flat include a closed-off section of road through the towering redwood forest. Is this more tarmac which Zwift will be opening soon? I hope so, because the winding road through the redwoods remind me of riding near my house here in Northern California.

Indeed, the map shared on Zwift's "Jet to the Desert" announcement includes this currently-closed stretch of road, indicating that it will be open very soon. Based on what we can see currently in-game this stretch of road includes some climbing, which makes it a welcome addition to this area of Watopia, giving riders the option of a flat route to the far west or a climbing route a little closer.

More Pictures