Editor's note: Monica has undertaken the "Couch to Route Hero" challenge of riding all 67 "free-ridable" Zwift routes (and getting all the badges) in 11 weeks. Each week she shares her story of the previous week's struggles and accomplishments. Follow along on her journey, take the challenge yourself, and be sure to give her a Ride On if you see her on course!
---
This week was a bit of a let down mentally. I don't know if it's the Shelter-in-Place orders getting to me (we're on day 20-something), or the fact that the challenge was already supposed to be done but isn't. Either way, it was a blah sort of week, to be sure.
The Week Lined Up
I rode three routes this week, making my badge total 64. So close! I rode 62.9 miles with 5,413 ft of climb in 5 hours and 6 minutes.
Routes Completed:
How the Week Played Out
After the high of finishing London's PRL Full last week I really had no interest in riding my bike ever again. This is how it's been every time I do some amazing feat on my bike. "Okay, I've done a lot. Now I'm done!" I couldn't stand the thought of not having anything to write to you all though so I forced myself to ride one route on Tuesday and two routes on Saturday.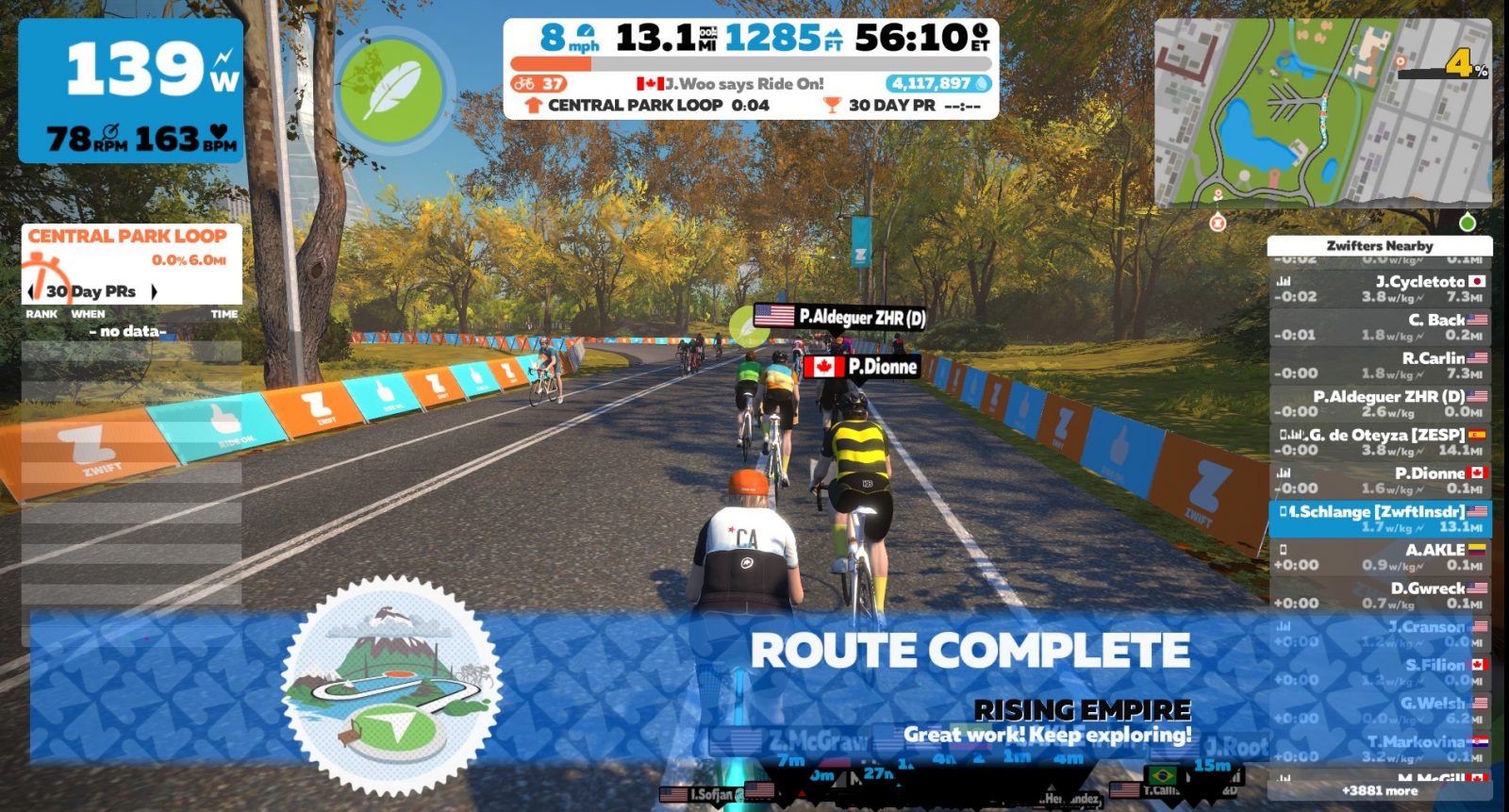 Rising Empire
It felt great to ride this at my full capacity. I pushed myself up the climbs and sailed through the flats. And it's funny, because now that I've done much bigger things it wasn't so daunting to go up both sides of the KOM in New York.
Achterbahn
For the first time in this challenge, I had to do the world hack to get a route done. This was pretty much inevitable, even though I had carefully planned out each day before the real world stopped. There just aren't a lot of days where Innsbruck is available, even now with the choice of 2 guest worlds. 
The downside to a world hack is not having a lot of company out there. At the beginning of my ride there were only 34 of us in Innsbruck. I've realized more and more that these routes go by so much faster when others are riding… even if they're not riding specifically with me! So, if you can do an Innsbruck route while it's on the calendar, do it. It may be far more interesting! 
Figure 8 Reverse
I didn't want too many rides looming over my head on my last week so decided to do a second ride after Achterbahn and some lunch. Someone told me later that it was amazing I did two rides in one day. It didn't seem like some amazing thing at first but then I thought about this journey I've been on. Monica on week 3 would have been hard pressed to do a 4 bidon and a 2 bidon on the same day. But Monica on week 11+1 isn't the same gal! A 4 and a 2 ain't no thang! And gosh, am I proud of that!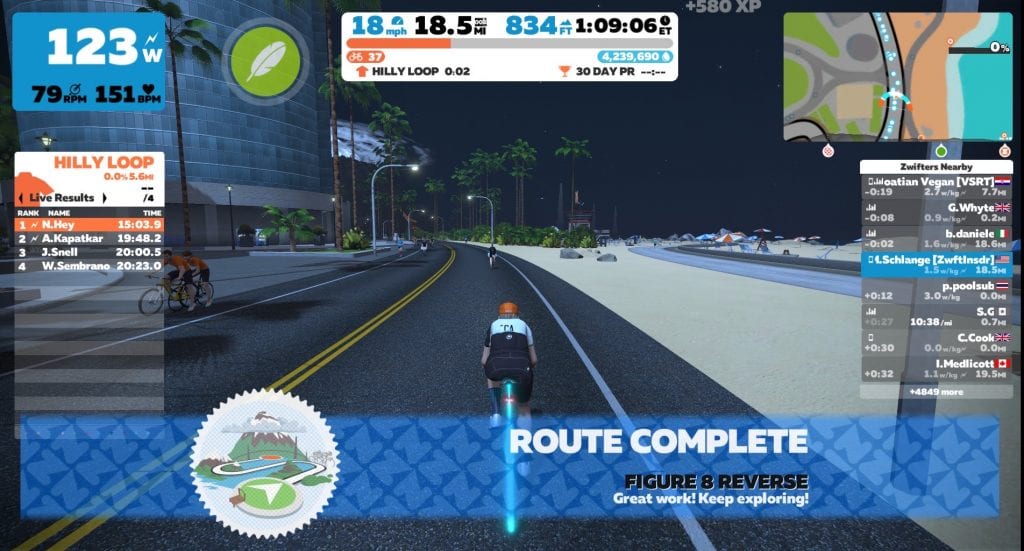 Next week
I have three routes left! Watopia's Out & Back Again, Innsbruck's Lutscher CCW, and Watopia's Road to Ruins. Let's be real: your girl here, the one who did the Uber Pretzel is NOT looking forward to Lutscher CCW and doing that KOM Reverse climb twice. Haha. Silliness. I've done much more difficult things!
Another Open Invitation
I invite you all to join me after this whole Route Badge Quest is done to get another badge: the "On Fire." Check out the April 25th event info here!
How About You?
What routes did you do this week? And if you've ridden Lutscher CCW do you have any tips?