Zwift's March update included the first frame in game from Mosaic Cycles, a bespoke bike builder based in Boulder, CO. Named the RT-1d, this is the disc version of the Mosaic's flagship titanium RT-1 road bike.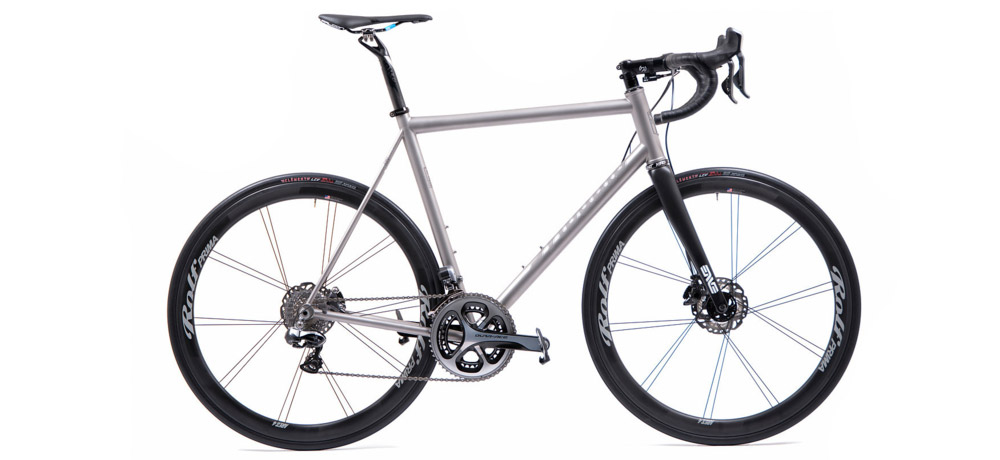 This frame is priced at 852,000 Drops and level-locked at 15. It is rated 2 stars for aero and 2 for weight, which would indicate that it's not going to perform particularly well on either climbs or flats. That said, we still ran it through our normal tests.
Here's everything you need to know about the performance of the new Mosaic RT-1d frame in Zwift.
Aero (Flat/Rolling) Performance


Rated only 2 stars for aero, we didn't expect much speed from the RT-1d. In the end our flat test results matched those of several other frames in game, including the recently-released Moots Vamoots and Van Rysel EDR CF. All of those frames are at the 24th percentile in terms of aero performance.
Its test time of 51:34.5 is just 1.5 seconds faster than the default Zwift Carbon frame given to all Zwifters. By comparison, the current fastest frames in Zwift turn in time of 51:17 on our test course, which is two laps of Tempus Fugit, totaling 34.6km.
Climb Performance


We didn't expect much in terms of climbing performance, since the Mosaic is rated 2 stars for weight. It turned in the same time as the Moots Vamoots, placing in the dismal 6th percentile against the universe of Zwift frames.
The RT-1d turns in an Alpe climb time of 49:35. By comparison, the fastest climber in game (Specialized Aethos) completes the test is 48:50.
Note: all test results above are from a 75kg, 183cm rider holding 300W steady using Zwift's stock 32mm carbon wheelset.
Conclusions
The Mosaic RT-1d is the second titanium frame to be released in Zwift. While Ti is legendary in the cycling world for its blend of lighter weight, quality ride feel, and durability, none of those characteristics transfer well in terms of Zwift performance. So these titanium frames are really here to add some visual variety to the peloton – an aesthetic twist – and there's nothing wrong with that.
Pick up the Mosaic if you want to ride a virtual frame that few in Zwift have seen. It even has a color slider so you can dial in whatever look you'd like.
The Mosaic RT-1d's numbers will be added to the following posts, and it can also be found on our Master Zwift Frames List:
Questions or Comments?
Share below!
Important note: this post contains speed test results for Zwift frames or wheels. These results may change over time, and a bike's performance relative to others may also change. We don't always revise posts when performance rankings change, but we do keep current, master versions of our speed test results which are always available. See the frame charts, wheel charts, and Tron vs Top Performers for current performance data.