Your choice of bike frame influences your Zwift speed significantly. And Zwift's Drop Shop gives us access to a pile of frames: 55+ including the Tron and TT bikes!
The big question for racers is: which frameset is best?
We've been hard at work in our lab testing wheels and frames, and this is the third in a series of posts giving you some solid, data-driven answers. Read more speed tests here >
*First, a Disclaimer
The "which bike frame or wheelset is fastest" question isn't as easy to answer as you might think. Each piece of equipment has unique weight and aerodynamic (CdA) values, making them perform in ways that mirror outdoor physics. Lighter items perform better on climbs, while more aerodynamic items perform better on the flats. Differences between options will also be magnified or minimized by your own power levels, drafting abilities, and more.
Your best Zwift setup, more than ever, depends on your specific situation.
About the Results
Below you will find the fastest draftable frames for flat and rolling courses. This does not include TT bikes, which cannot draft and are in a list by themselves. "Flat and rolling" covers most routes on Zwift, with the exception of anything including major climbs like Alpe du Zwift, the Epic KOM, or Innsbruck's KOM. This isn't an exact science, but we're pretty confident in our findings thus far.
This list is based on our recent speed tests using the Tempus Fugit route.
Your Winners
#1: Cervelo S5 2020
852,000 Drops to purchase, must be Level 27+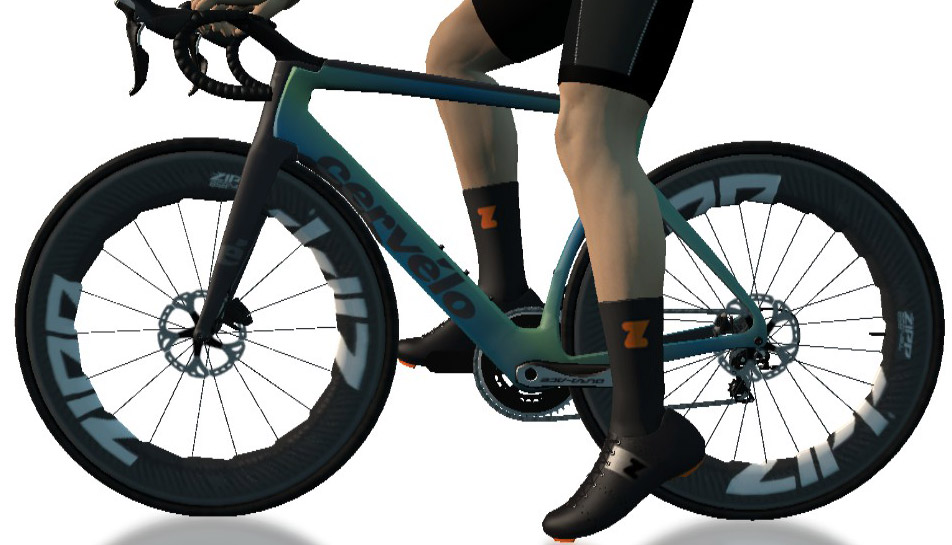 Released in August 2021, the new Cervelo S5 is the fastest in game, by just 1 second. Read more about this frame >
#2: Specialized Venge S-Works
798,800 Drops to purchase, must be Level 33+

The S-Works Venge has just a slight aero edge on the Felt AR and Cervelo S5, consistently turning in times 1/2 second faster on our test flat course. Its climbing test time matches the Felt AR too, so we've ranked it higher here, even though the differences are as small as can be.
#3: Felt AR
Felt AR: 639,000 Drops to purchase, must be Level 34+

The Felt AR matches the Cervelo S5's flat test time, but outclimbs it by a few seconds, so we give it the edge here.
#4: Cervelo S5
Cervelo S5: 603,500 Drops to purchase, must be Level 25+

The Cervelo S5 matches the Trek Madone's flat test time, but outclimbs it by a few seconds, so we give it the edge here.
#5: Trek Madone
887,500 Drops to purchase, must be Level 20+

The Madone is a solid race machine and the easiest to attain of the top frames, being level-locked at only 20. It turns in a performance on par with our top 3 picks on the flat test, but is a few seconds back on the Alpe.
#6: Canyon Aeroad 2021
568,000 Drops to purchase, must be Level 10+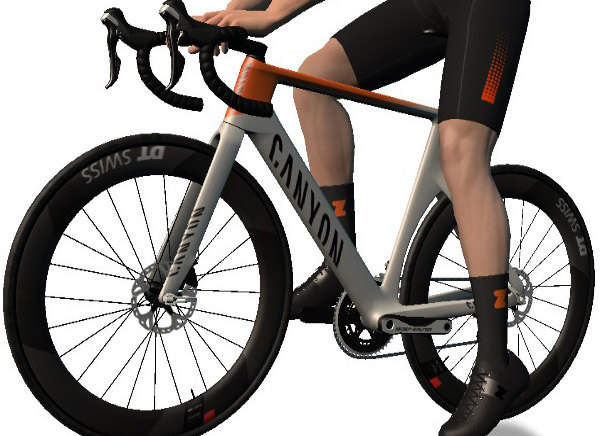 The new Aeroad is one of the most aero frames in game, and it's a strong climber as well. Just 1-2.5 seconds behind the top aero frames in a ~50 minute test, this frame beats every bike on this list when the road gets steep. You can't go wrong with this frame as your all-arounder, and you probably won't notice the slight hit if you use this for your flat races as well! Read more about it >
#7: Specialized Venge
Venge: 461,500 Drops to purchase, must be Level 18+

The Specialized Venge (which appears to be the original Venge ViAS) is a very slippery frame, and outclimbs the Cannondale SystemSix (just barely), so we give it the edge here.
#8: Cannondale SystemSix
SystemSix: 497,000 Drops to purchase, must be Level 27+

Cannondale's aero offering doesn't disappoint, turning in solid fast lap times on flat/rolling routes. x
#9: Zwift Concept 1 (Tron)
Cannot be purchased, must be unlocked

The Tron bike may not be at the top of these rankings, but keep in mind, if you don't have a disc wheelset to couple with one of the fast frames above, the Tron is faster on flat/rolling routes.
What's the Time Gap?
The frames above are separated by just 2.5 seconds on a ~50-minute test on the Tempus Fugit route at 300 watts with a 75kg rider. That's a slim margin, and one you're not likely to notice in the craziness of the Zwift peloton.
There are other frames not far behind those you see above. See our speed test charts for a complete list.
A Note About Wheelsets
It bears mentioning again that the frames listed above only beat the Tron bike if they are paired with one of the disc wheelsets.
See complete wheelset data here >
Since those wheelsets are level-locked at 35+, many Zwifters will not have access to them. The fastest non-disc wheelset (Zipp 858) puts you at least 3.5 seconds behind the Tron bike in our flat test, assuming you're on the fastest frame (Cervelo S5 2020).
What About Climbing?
Time to climb? You'll want a different frame than those listed above because as cyclists know, weight (not aero) is what matters on longer, steeper climbs! Here's the list of top climbing frames on Zwift >
Share Your Thoughts
We hope all you riders/racers found this post useful. Got questions or comments? Post below!
---
Changelog
Sep 14, 2021: a big reshuffle thanks to updated test data. No new additions to the list, but removed some and moved Tron to the bottom.
Sep 2, 2021: added the Cervelo S5 2020 in the #1 slot. Changed Felt AR and Cervelo S5 to be tied for 3rd/4th based on current tests.
Jul 26, 2021: added the Pinarello Dogma F in the #4 slot.
Oct 1, 2020: removed the old Canyon Aeroad (which was ranked #8) and listed the new Canyon Aeroad 2021 in the #5 slot.
Nov 13, 2019: removed #6 Giant Propel Advanced SL 1 and #7 Specialized Allez Sprint. Reshuffled the deck based on our latest speed tests.
Jun 6, 2019: added the new Felt AR as #4. Kept all other frames already on the list, for a total of 10 frames listed.