The latest Zwift update is now available on all platforms: Mac, PC, Android, iOS, and AppleTV.
Not sure if your Zwift install is up-to-date? Here's how to check >
This update includes more flexible Training Plans, new frames and wheels, homescreen UI updates, and of course a pile of bug fixes. Here are the details…
Flexible Training Plans – Now More Flexible!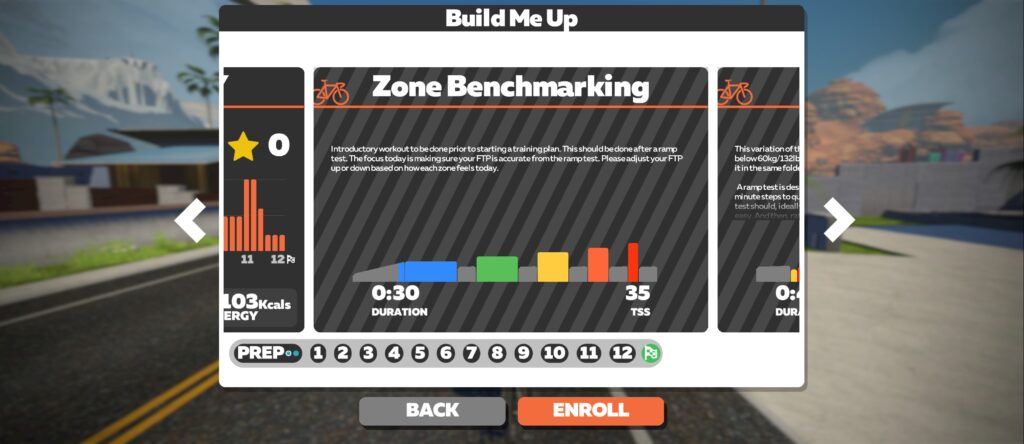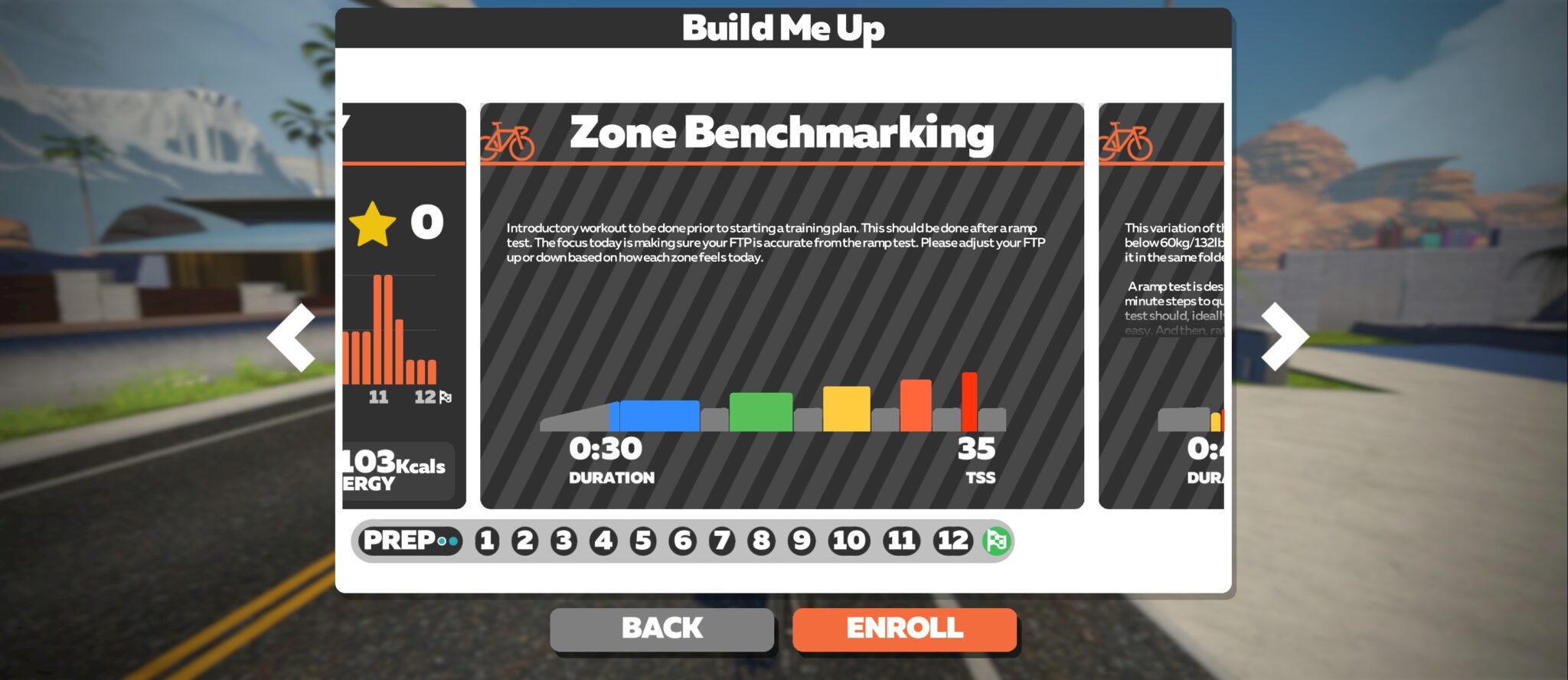 Zwifters have long asked for more flexibility in Zwift's "flexible" training plans, and this update offers the first real flexibility upgrades since Training Plans were first released. Here's what has changed in today's release:
Once unlocked, workouts will remain unlocked in a training plan. Previously, once a new week began, the previous week's workouts were no longer available.
Workouts will continue to become available on a weekly basis. So you can't work ahead more than whatever workouts are scheduled for the current week.
2 additional weeks to complete the training plan. This gives you an additional 2 weeks to complete the plan, so if you get sick, go on vacation, etc in the middle of your plan you can still get it all done.
Removal of the 8-hour rest period after completing a workout. We would say if you're able to do two workouts within 8 hours you may need to update your FTP, but regardless… this makes Training Plans for flexible.
Added the ramp test and zone benchmarking workouts as pre-plan workouts. Training Plans still begin on the Monday after you sign up, so until Monday rolls around, it may be best to update your FTP by taking a ramp test and validating it with the zone benchmarking workout. Zwift says, "The ramp test should be done first to establish an FTP estimate, then validated by the zone benchmarking workout. If you are confident with your FTP, or have tested within the last 21 days, feel free to skip the ramp test and just do the zone benchmarking for fine tuning."
Flexible Training Plan progress is now based on the number of workouts completed in the plan.
Improvements have been made to the Flexible Training Plan enrollment UI flow.
See the Zwift forum topic for details and discussion >
Workout Mode Updates
Zwift has made three changes/improvements to workout mode:
Receive full-star credit for recovery intervals. As long as you're pedaling, regardless of your power being too high or low, you'll get full credit. It's important to note that you'll always get your star for recovering intervals, but you still need to hit the power targets if you want the full XP for these intervals. See "How Zwift Calculates XP For Cycling Workouts" for details.
Fixing arches to ensure they match the color of the next interval.
Fixing arch positioning near intersections. Sometimes arches would appear on the wrong road when you're nearing an intersection, then swap to the correct road. This bug should fix that.
New Frames and Wheels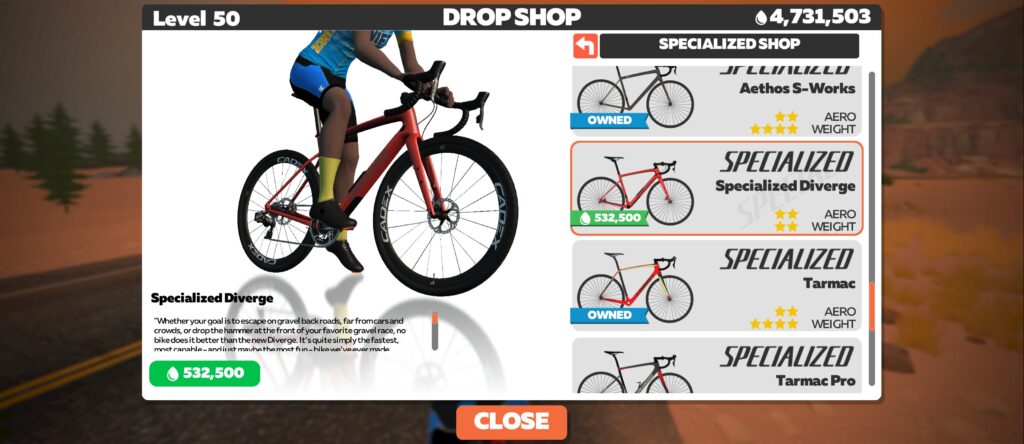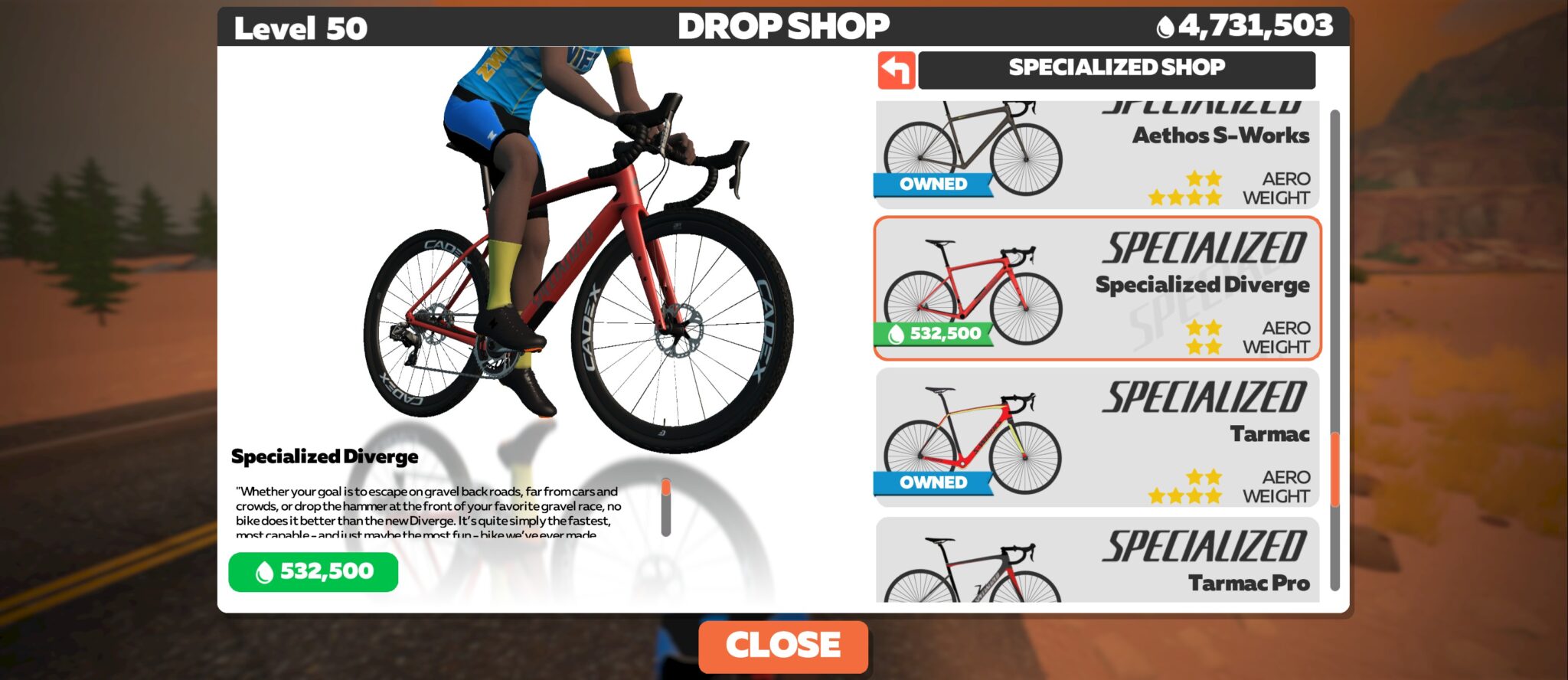 Three new bike frames have been added to the Drop Shop:
Specialized Diverge (gravel, Level 12+, 532,500 Drops): 2 stars for aero, 2 for weight
Mosaic RT-1d (Level 15+, 852,000): 2 stars for aero, 2 for weight
BMC TeamMachine (Level 26+, 832,900): slider 3 stars for aero, 3 for weight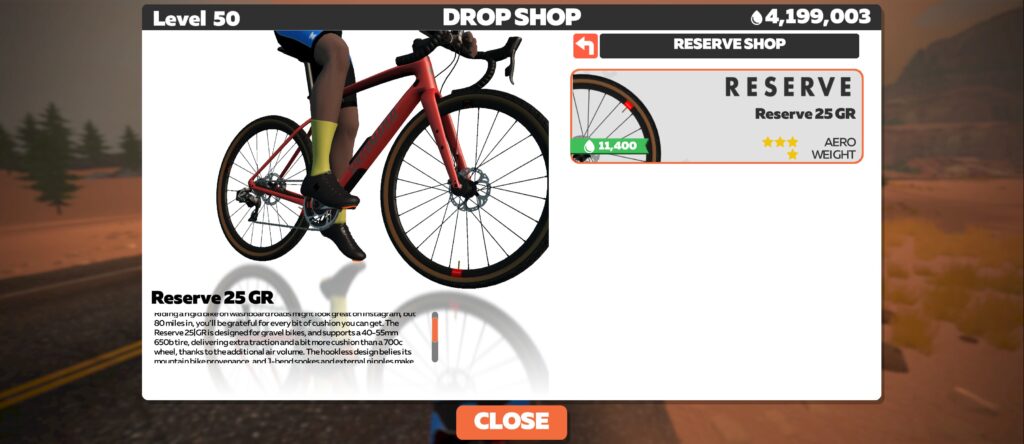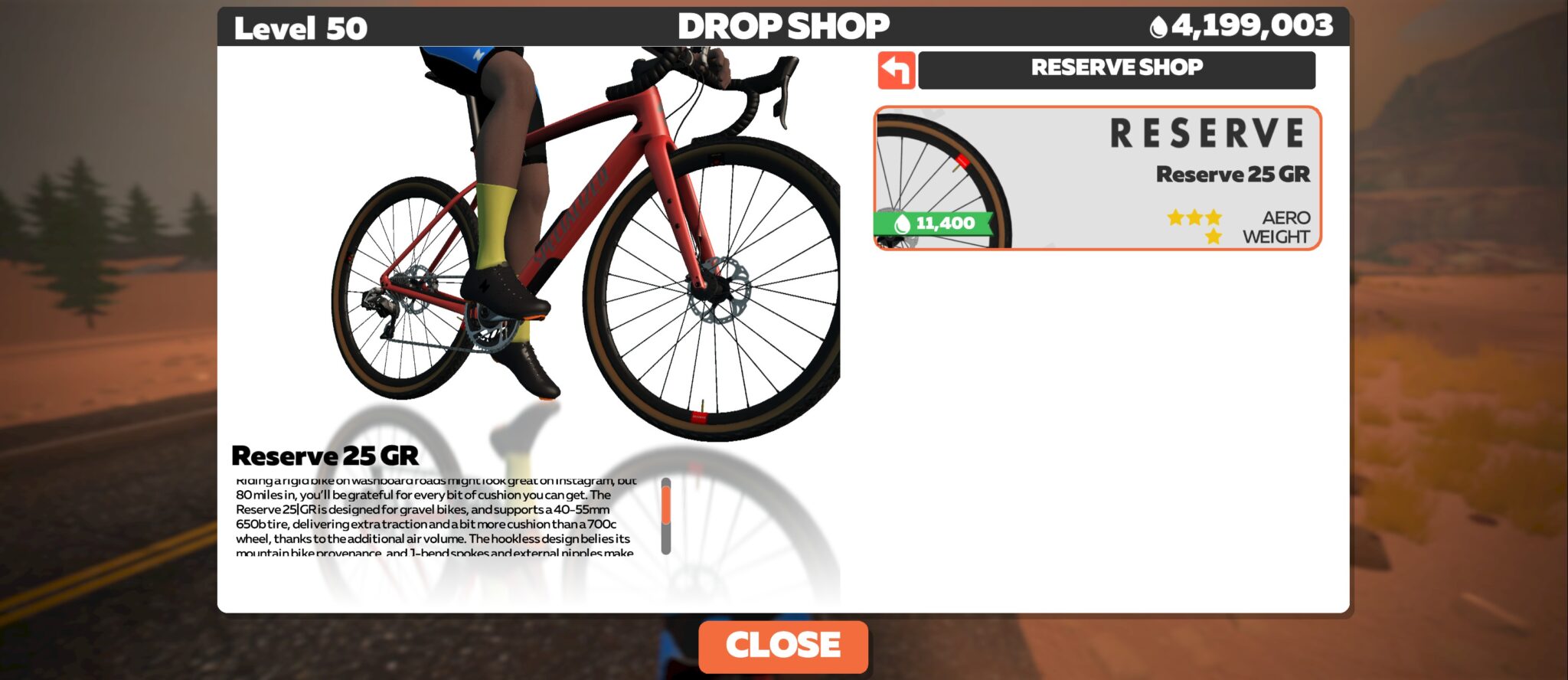 Two new gravel wheelsets have been added as well:
Reserve 25 GR (no level requirement, 11,400 Drops): 3 stars for aero, 1 for weight
CADEX AR 35 (no level requirement, 21,300 Drops): 3 stars for aero, 1 for weight
We're running tests on all five Drop Shop additions to determine their performance in game.
New Home Screen UI Update, Rollout Notes
This release includes updates to Zwift's new home screen UI which has been slowly rolling out to PC users since January. Today's update includes a new Settings menu option to change your home screen scaling: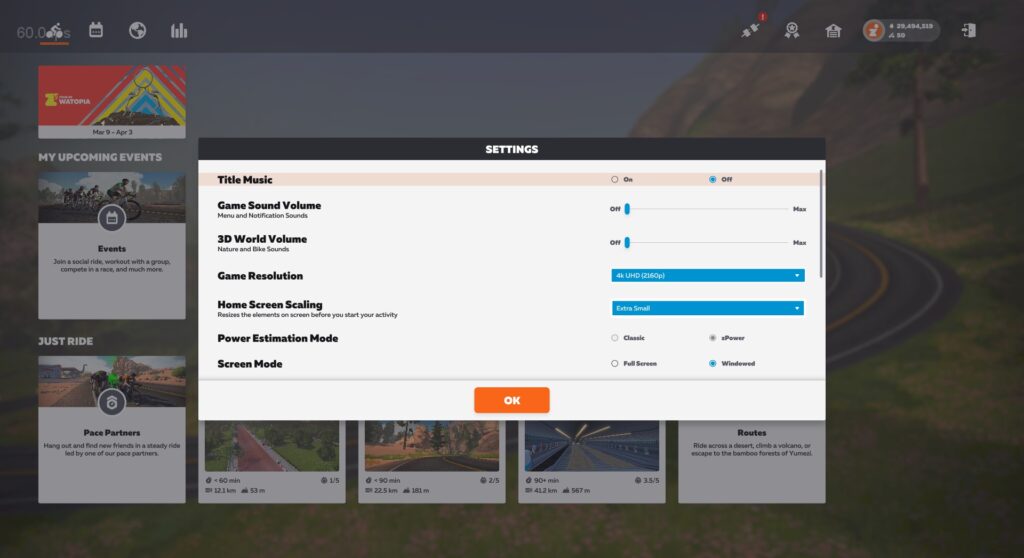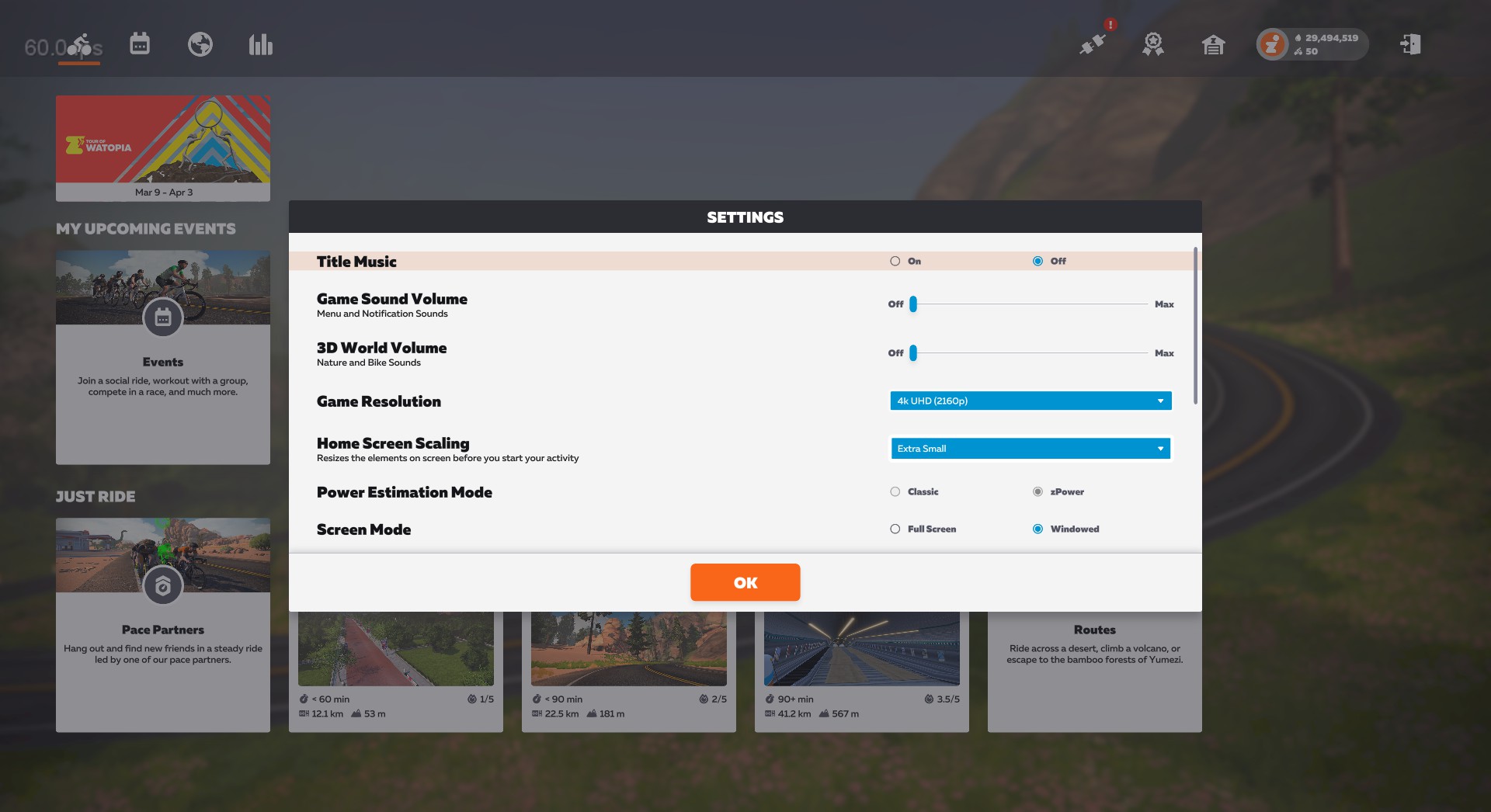 The new home screen will be rolling out to many more Windows users in the coming days, with rollouts to macOS users beginning this week. Zwift has not yet announced an ETA for iOS, Apple TV, and Android rollouts.
See Zwift forum topic for details and discussion >
New Workouts of the Week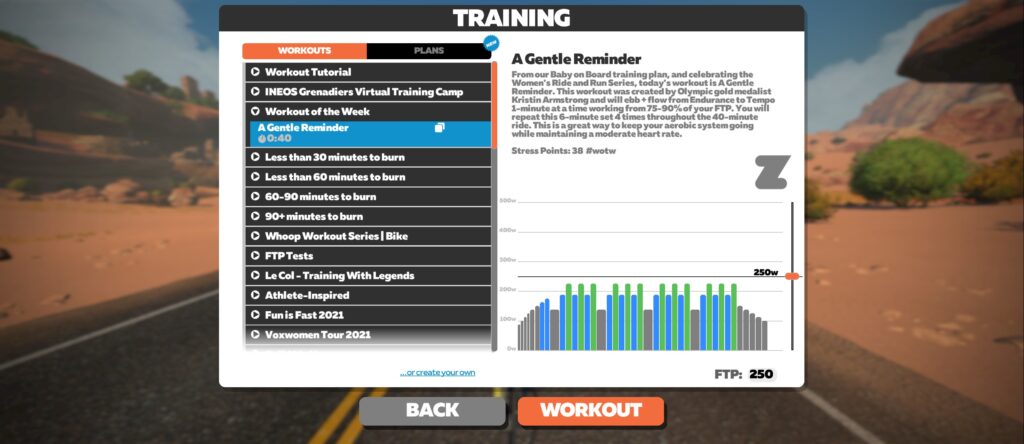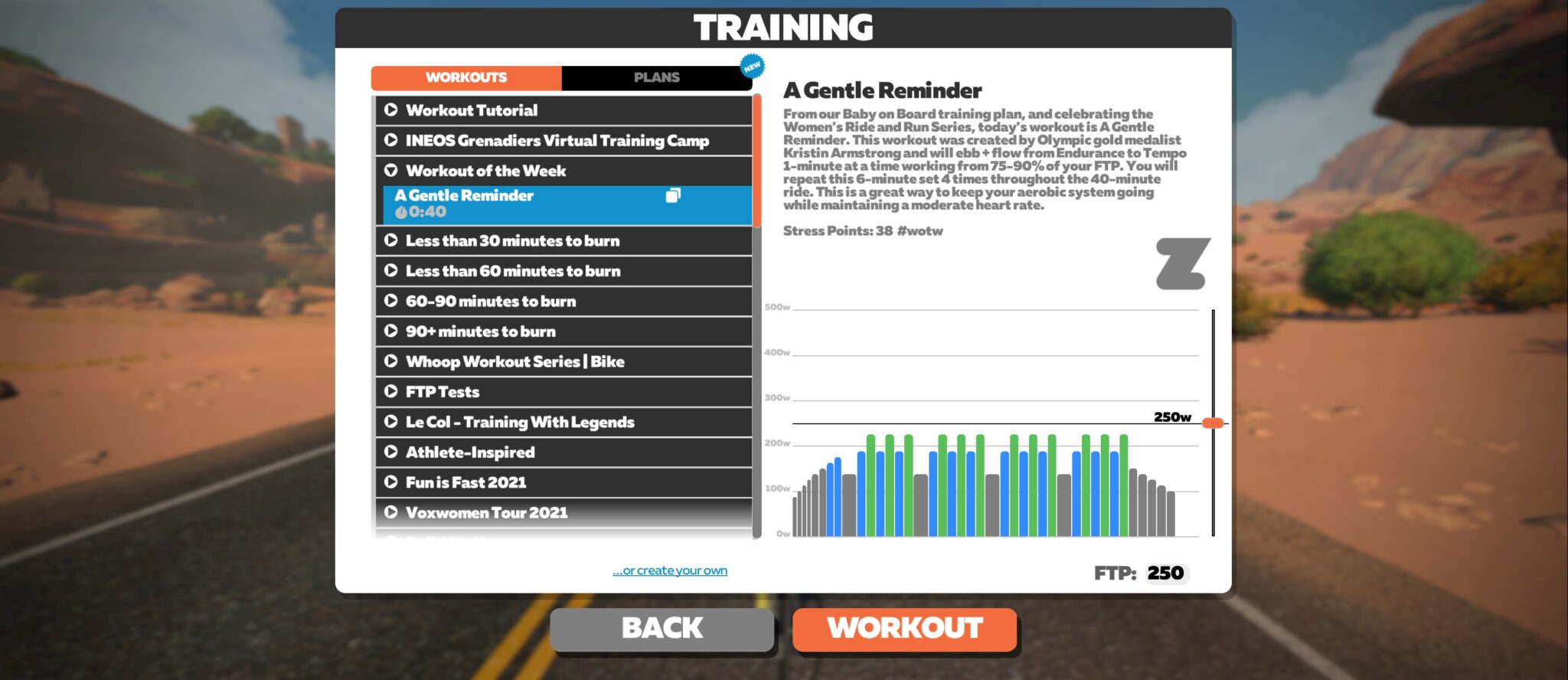 Workouts have been added to the on-demand list for March and April. You can also see the current week's workout, which you can do on your own or in a Wednesday Group Workout.
Coming Up
Between today's various forum posts, Zwift has indicated they are working on a few features to be released in the not-too-distant future:
Extending Workout Block Duration: Zwift says, "We're enabling Zwifters to extend the duration of their workout blocks. This allows you to add more time to warm-ups and cool downs, or increase recovery time between hard intervals. For Type 2 fun, you can extend the duration of your hard efforts as well."
New Homescreen UI Route Selection for Workouts: Zwift says "we have taken your feedback into account and are currently working on the next iteration of workout route selection. This will provide flexibility to select any route, and show route badge completion status and distance/elevation data. Currently scheduled for the 1.24 release in April."
Additionally, we've received word just today from Australia-based JetBlack that their steering unit is now supported in Zwift as of this update. The unit isn't shipping quite yet, but should be soon, and we've got a review unit in the mail as well. Watch this space!
Bug Fixes and Misc Improvements
Here's Zwift's list of fixes and improvements included in this update, with notes in italic from us:
Device and Internet connectivity alerts can now be dismissed. A clickable X now appears to the right of these alerts, so you can get them off your screen quickly if desired.
Added an event filter for Tour of Watopia 2022 events on the new Home Screen.
Made improvements to the prioritization of sounds based on proximity of the Zwifter.

Made improvements in the pedal-assist Zwifters receive when joining other Zwifters,

events in progress, or a Pace Partner.
Time-based events leaderboards and on-road positioning is now calculated from the starting line for all participants (regardless of when they cross the starting line.) This opens up the possibility of time-based events in the future, since rider times will be accurately based on crossing the same start line. Time for a Zwift Hour Record competition?
Fixed an issue causing some event filters to appear incorrectly in the new Home Screen.
Fixed an issue where XP would be awarded when a workout block was completed outside of the target power.
Fixed an issue with the Gravel Grinder workout where cadence suggestions did not appear in the warm-up.
Fixed an issue causing the critical power curve graph to ignore some data from subsequent rides within the same session.
Fixed an issue where lap progress would show an extra lap after finishing an event.
Fixed an issue where Challenges text did not display when the German language was selected.
Fixed an issue causing login text to be difficult to read on iOS when using dark mode.
Fixed an issue where users who answered onboarding questions on the web would be asked those same questions again in-game.
Fixed an issue causing black boxes to appear in Innsbruck on MacOS.
Fixed an issue causing some rocks on the Mega Pretzel route to be lighter than air.
Fixed an issue causing trees to grow inside of the mountain on the Ocean Blvd route.
Support for Intel HD Graphics 3000/2000 has been discontinued. See this post for details.
Minimum MacOS requirement is 10.12 Sierra or later. See this post for details.
See Wes Salmon's notes on this update release in the Zwift forum >
Questions or Comments?
If you spotted any other changes or bugs in the update, please comment below!