It's been 133 days since the last ZRL points race at the end of season 3, and riders have been itching to get back on the horse. The day has finally arrived: the first points race of Zwift Racing League 2021/22 Season 1 happens Tuesday, October 5th!
Held on what is historically a very popular race route on Zwift (Watopia's Figure 8 Reverse), each race promises to be full of fireworks with two different sprints, two different KOMs, and lots of twists and turns in between.
Let's dig into the course, including tips for bike choice and strategic options.
Looking at the Route: Watopia's Figure 8 Reverse
All categories will be covering 1 lap of the course, which totals 29.7km (18.5 miles) with 254m (833′) of climbing:
Figure 8 Reverse covers all the roads of Watopia's Hilly and Flat routes, in both directions. It begins with a short climb into the Esses, so you'll be pushing watts extra hard from the start. Then we wind through the Esses, hit a short kicker, and descend to the first sprint of the race, Watopia's Sprint Reverse.
This is a short sprint (10 seconds or so), but the pack will be strung out heading into the sprint and continue to string out over the cobbles of the Italian Villas and the rollers which follow. There may be a bit of recovery available after climbing the rollers, before the KOM reverse begins. Catch your breath. You'll need it.
The KOM Reverse is where the biggest splits of the race will happen, dividing those who will remain in contention for the win from those who will chase the leftovers. The first part of the KOM Reverse is the steepest, so be prepared to go extra hard until the road levels out for a bit. After the road levels out, this is a very draftable climb – sit in the wheels and work to maintain a good position.
Then you get another powerup and the recovery section begins. You get a descent down towards downtown before a right turn onto Ocean Boulevard. This is a good place to grab some rest, as the road is mostly flat and other riders probably won't push the pace, either.
The effort will pick back up as you climb up and out of the ocean tunnel and hit the dirt patches. Maintain your position or attack if you're feeling cheeky, but you've still got the winding slack climb up from the Fishing Village before hitting the long forward sprint. Don't sap your legs before this sprint, because immediately following it you've got a kicker climb into the Esses, and riders may push hard here to create gaps.
Through the Esses and descend to the start/finish banner in downtown. It's time for the final timed segment – the KOM Forward! This is a shorter climb – under 2 minutes for many A and B riders. It's also steeper on average than the reverse KOM. Another major selection will happen here, and it's possible that a small group of punchy climbers will get away for good on this climb. (It's also possible that such a group will be pulled back on the descent and flat to follow.)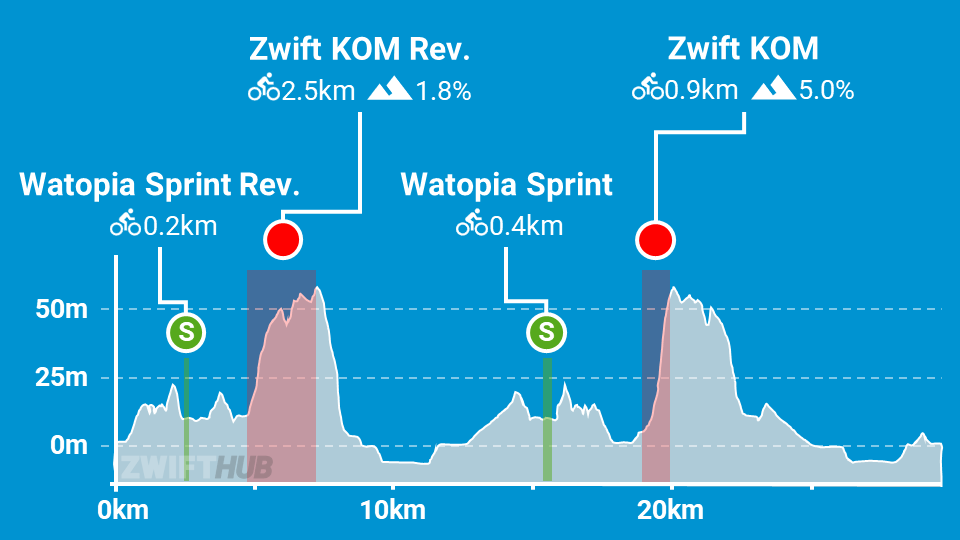 The descent and flat offer a final chance at a bit of recovery, if you're not tasked with chasing riders ahead. But even in the front group, the pack will be nervous. This is a tricky finish.
The finish really begins at the 28.1km mark as the road ramps up and out of Ocean Boulevard. You've got around 1500 meters to go, but don't expect the effort level to drop much from here on out. Riders will attack on the climb and attempt to go long – a strategy which rarely works, but inevitably does string out the pack and force a chase.
Typically the winner comes from the pack of riders who chases the long attackers, bunches up a bit, then goes hard in the final ~200 meters. An aero powerup is a huge help here.
Read more about the Figure 8 Reverse route >
PowerUp Notes
Riders will be awarded powerups through the start/finish banner as well as the sprint and KOM banners, meaning we'll get 6 total powerups during the race. Three powerups will be given out at each banner: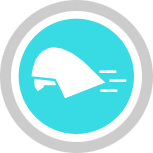 Aero Boost (helmet): makes you more aerodynamic (reduces your CdA by 25%) for 15 seconds. Use this to grab segment points on the sprints, to help you get away when attacking hard off the front, and to help you finish fast in the final meters.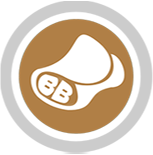 Burrito: turns off draft effect for riders within a 2.5m radius for 10 seconds. Use when attacking off the front so opponents have to work harder to follow you, or use do what most people do and use it on flatter ground when the group is really pushing, to make those around you work harder for a bit. Just don't commit suicide by burrito.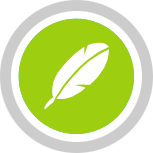 Lightweight (feather): reduces your weight by 10% for 15 seconds. Use on climbs, when weight matters the most. Definitely most useful on the two KOMs of this route (hint: use it early on both, where it's steepest). Also useful on the short climb into the Esses after the forward sprint, or the little kicker climb out of the ocean tunnel heading into the finish, especially if you're doing a long attack.
Bike Frame + Wheel Choice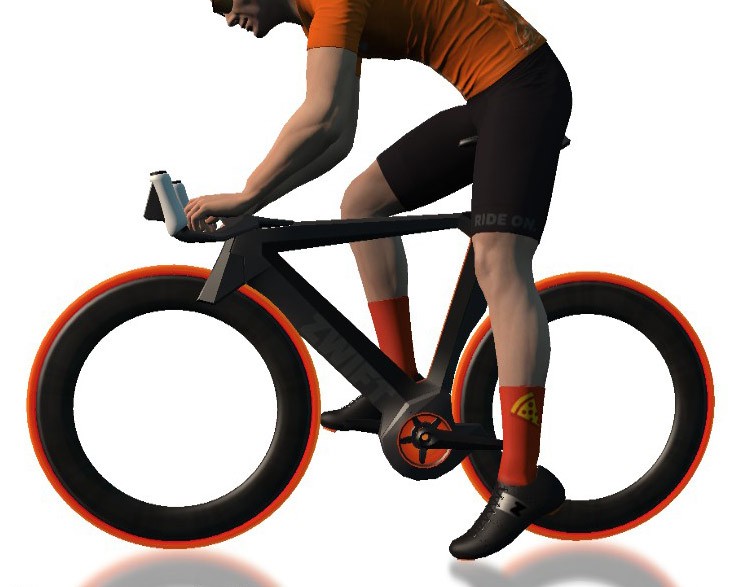 This route isn't flat, but it doesn't contain major climbs, either. It hurts the pure climbers because they can't gain enough time on the peloton to stay away during the flat sections, and it hurts the sprinters because they get dropped on the climbs. Puncheurs with high 2-minute power and a solid sprint often win the day.
So what's the best bike for this course? Not an easy question to answer. What are your strengths and weaknesses? We advise you to pick a bike that will save watts when you're working the hardest. For many riders, that means you want a climbing-friendly bike for the climbs.
Here are current in-game timings of a couple of frame+wheel combinations:
| | | |
| --- | --- | --- |
| | KOM Forward | KOM Reverse |
| Tron | 2:37.14 | 4:39.5 |
| Cervelo S5 2020 + DT Swiss Disc | 2:38 | 4:40.2 |
| Specialized Aethos S-Works + Lightweight Meilensteins | 2:36.92 | 4:41.8 |
| Scott Addict RC + ENVE 7.8 | 2:37.74 | 4:40.5 |
| Specialized Aethos S-Works + ENVE 7.8 | 2:37.45 | 4:40.11 |
| Pinarello Dogma F + ENVE 7.8* | 2:37.94 | 4:40.56 |
| Canyon Aeroad 2021 + ENVE 7.8* | 2:38.08 | 4:40.62 |
If you just look at timings for the overall route, the Cervelo S5 2020 + DT Swiss Disc will win the day. But this isn't a TT. It may be smarter to go with something like the Tron or Specialized Aethos S-Works + ENVE 7.8 combination which won't be quite as fast on flats and descents, but will save you valuable watts on the climbs.
See Tron vs Top Performers for some ideas on the best frame + wheels for this route
*Overweight All-Arounders
The Pinarello Dogma F, Specialized Tarmac SL7, and Canyon Aeroad 2021 all received an upgrade to the new in-game Dura-Ace 9200 groupset with Zwift's last update. Great, right? Well… sort of. Here's the problem: the upgrade is buggy, and it added weight to these frames, making them 19s slower on our ~50 minute Alpe du Zwift climbing tests.
Because of this bug, we're hesitant to recommend any of these frames for this race at this time. But their timings above aren't too far off, either, so if you're a lower-level Zwifter who only has access to, say, the Canyon Aeroad 2021, it may be worth considering.
More Route Recon Videos
Zwift's vibrant race community continues to up their game when it comes to course knowledge and recon videos. Here are our two favorites for this week's race:
Strategic Options
This is a team points race, and Figure 8 Reverse offers a range of strategic opportunities for smart racers. Here are a few predictions about what we'll see in this race:
Attacking hard on the first KOM: if you've got the power to do it, pushing the pace up the KOM Reverse will inevitably shell riders off the back. This is the most predictable strategy implemented on this route, and it may have the added bonus of earning you KOM points this week.
Focusing on intermediates: with 4 separate intermediates in this race, a rider could certainly earn more points via intermediates than via finish position (see WTRL's scoring scheme). 1st place in the race earns you 30 points. 3rd place earns you 30 points. But setting the FAL and FTS on one single intermediate earns you 30 points as well! Some riders will go all-in for points on the two sprints (or perhaps the two KOMs) then limp it home for the best finish position they can muster.
Attacking on the first sprint, then continuing to push: especially useful if you've got a strong sprinter who thinks they won't survive the KOM Reverse. Send them hard on the first sprint to grab points, then let them keep pushing the pace to put the hurt on climbers heading into the KOM.
Attacking hard on the second KOM: again, a predictable choice. This strategy is tailor-made for those with high 1-2 minute w/kg, as the steeper forward KOM suits them. Go hard, grab the points, then see if you can stay away from the strung out pack behind for a thrilling finish!
Finish Long, Finish Short: some riders will try to attack from way out on the finish, as the road ramps out of the ocean tunnel. Others will try to conserve and chance it in the short sprint. Both valid approaches, but the long approach works best with a team leadout train featuring one strong sprinter.
Your Thoughts
Any insights or further thoughts on the big race? Share below!