The Breakaway Burrito, more than any other powerup in Zwift, has a rather sordid past.
Still learning about Powerups? Read our "Guide to Powerups in Zwift" >
It was around in Zwift's early beta days, but was removed before Zwift came out of beta in October 2015. Then in June 2019, it came back. Zwift was embracing esports, and the Burrito seemed like an interesting offensive weapon. (Importantly, it was and still is an event-only powerup, meaning it only shows up if an event is configured to use it.)
More than a year later, the Burrito was modified. Now, instead of "making you undraftable for 10 seconds", as Zwift originally described it, it would turn off the draft effect for all riders within a 2.5-meter radius. This seemed like a sensible change since deploying the Burrito in a pack was pointless when it only made you undraftable, since riders were benefiting from the draft of others in the pack.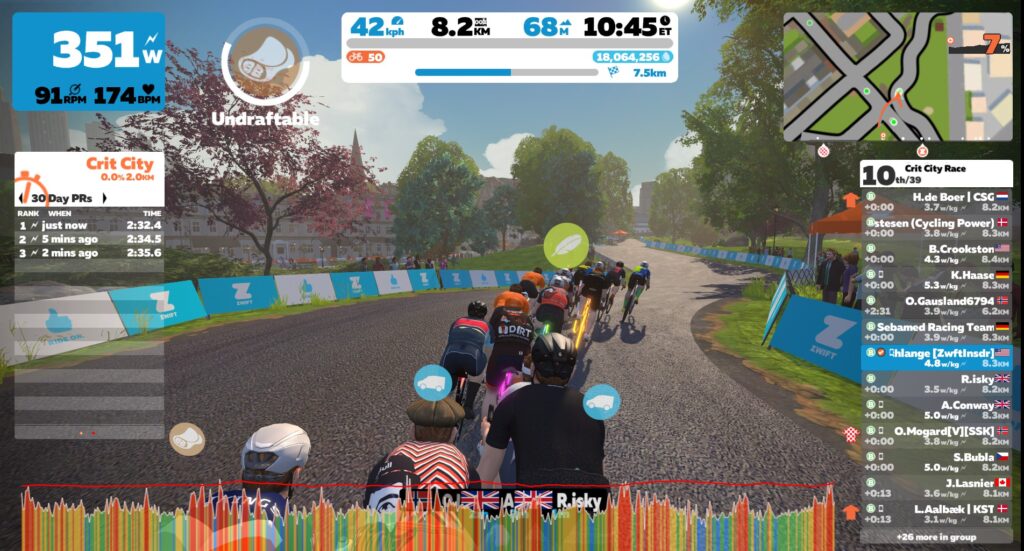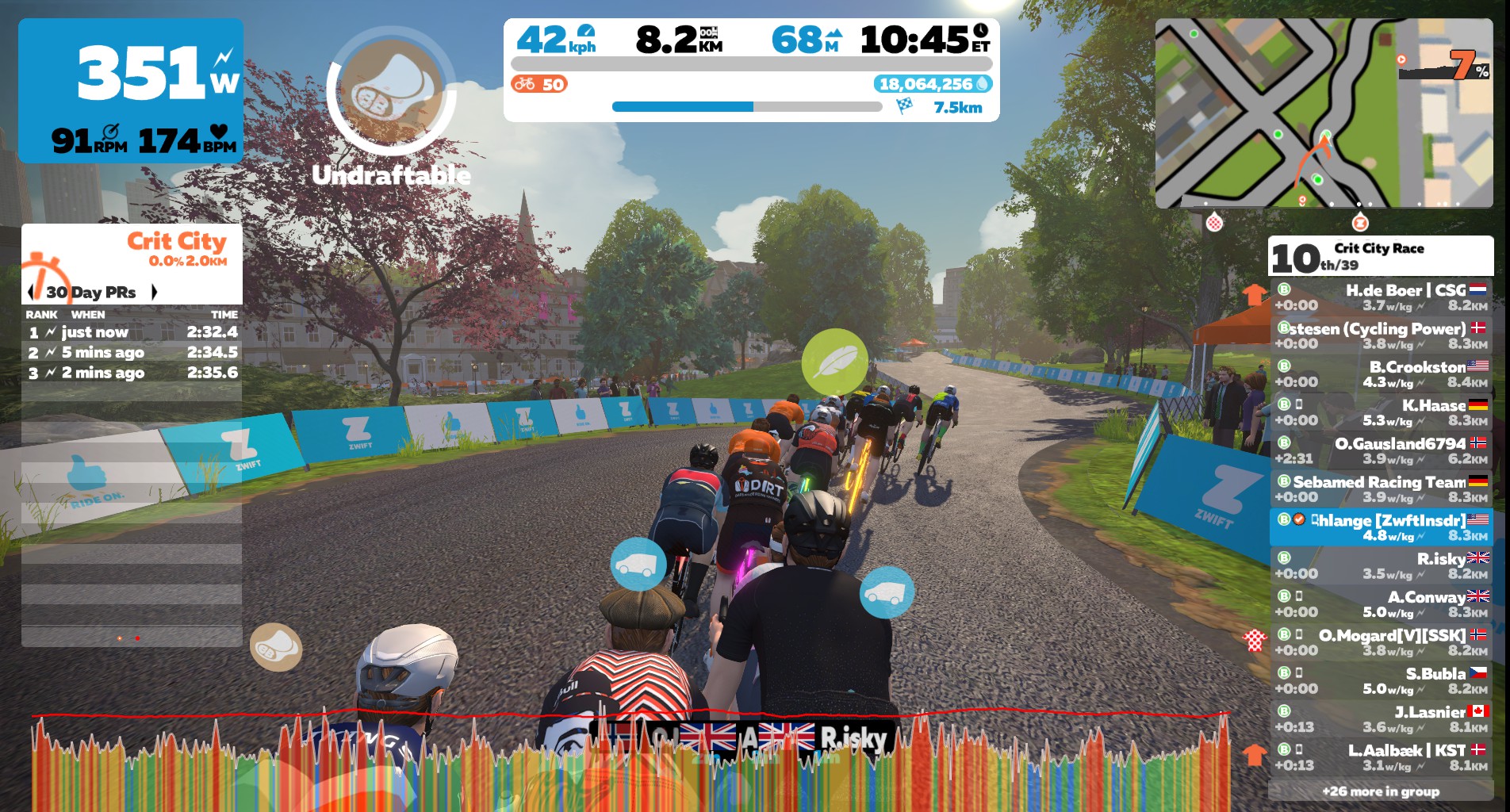 But what many Zwifters didn't realize was that the Burrito also turned off the draft for the rider who deployed it! For 2.5 years Zwifters blissfully deployed the Burritto in races, not realizing it was making them work harder, as well as nearby riders. Eventually it came out that the Burrito was a truly suicidal powerup, and we published an updated version of this post in February 2023 to help get the word out.
Then in May 2023, Zwift "rebalanced" some powerups, including the Burrito. No longer would it turn off the draft you were receiving, and now it would turn off the draft benefit for riders behind you in a cone shape. This was sensible change which, in my opinion, makes the Burrito work how it always should have worked. (Zwift also extended the Burrito, doubling its length from 10 to 20 seconds.)
The Breakaway Burrito: How It Works

As the name lightly suggests, the Breakaway Burrito is the only powerup that affects those around you. All the other powerups directly affect your speed by making you more aero, lighter, etc… but when you deploy the Burrito, it slows nearby riders.
When the Burrito powerup is activated, it turns off the draft benefit for riders in a cone shape behind you. This powerup lasts for 20 seconds.
Here's a graphic showing how the old Burrito functioned vs the current (new) Burrito. (Note that this is for illustrative purposes only – the Burrito's "effectiveness window" is not precisely sized.)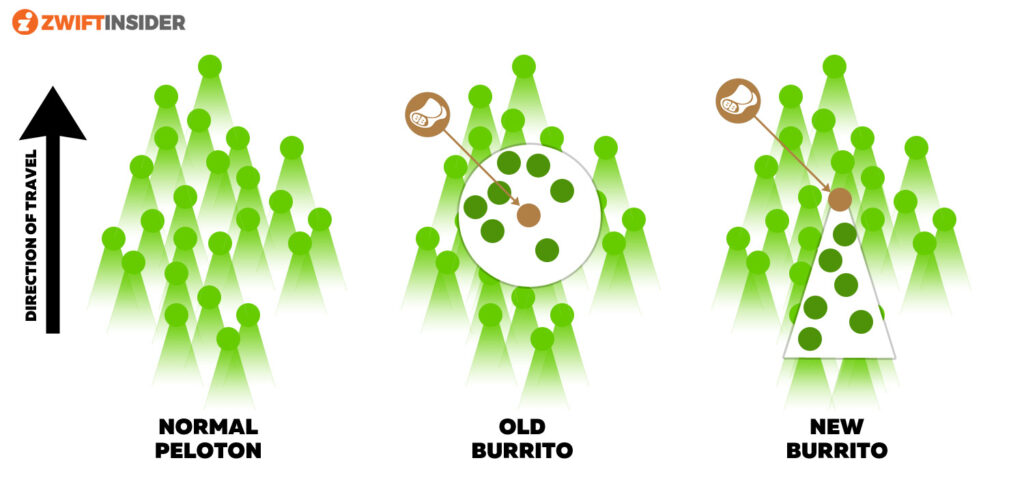 Where should it be used? In three places:
When you're attacking off the front, and want to make it hard for others to follow. This is where the "Breakaway" Burrito got its name. It was designed to facilitate solo breakaways.
When you're in a pack and want to make it harder for riders behind. Deploying the Burrito in this scenario forces riders behind to increase their power to maintain their position.
When you're contesting a sprint. A deployed Burrito in a sprint gives you the best of both worlds: you still benefit from the draft of riders ahead, but riders just behind receive zero draft. This is ideal if you're contesting a finishing sprint or mid-race sprint points.
How It's Misused
The most obvious misuse of the Burrito is if you're riding solo or have no riders just behind you. Using it in this scenario is the same as throwing it away, since there is no one nearby whose draft will be disabled by your Burrito.
But there are other ways the Burrito can be used poorly – ways which can mess up your race much more than a solo deployment would!
Killing the Breakaway
The Burrito is used to hurt nearby riders. If you're in a small pack (perhaps a breakaway off the front of the main peloton) deploying the Burrito will make any breakaway teammates behind you work harder.
Unless you want to reduce the size of the breakaway, this is a bad idea. If you still have some distance to go, deploying a Burrito may cause riders in your Breakaway to get dropped, which would mean you have to work harder to stay away from the chasers behind.
That said, the Burrito can be a potent tool in the final meters of a race if you're looking to keep riders from following your wheel. Just realize that deploying it in a small group says, "We are no longer working together."
Friendly Fire
It's important to remember that the Burrito hurts everyone behind you – and that may include teammates. Don't be "that guy" who activates a Burrito just ahead of a struggling team member!
Communication helps in these situations. I've had team members warn the team over Discord that they were deploying a Burrito. "Make sure you're ahead of me, I'm deploying it in about 10 seconds…"
If you're in a Chase (Cat & Mouse/Handicap) race and still riding with just your category, deploying the Burrito is seen as bad form, since it hurts the team you're working with.
Climbing Burritos
Deploying the Burrito while everyone is moving slower up a steep climb is less effective than deploying it on flat ground, because the draft benefit is higher at higher speeds. If you want to maximize the Burrito's effect, use it when the pack is charging hard on a flat or even descending stretch of road.
Advanced Burrito Usage: the Leadout Draft Killer
Using the Burrito makes sense when attacking solo off the front, and that's where most sensible Burrito usage happens.
But there's a related, more advanced use case perfectly suited to team racing. Here's the 3-step process, which really requires Discord comms:
Heading into a finishing (or even intermediate) sprint, the Burrito holder moves to the front of the pack, possibly even pushing a little extra so they're a bike length or two ahead.
The Burrito holder's teammate then jumps from within the pack, slingshotting around the Burrito holder as the Burrito holder activates their powerup.
Now the teammate is off the front, and everyone behind is gapped and receiving zero draft. The Burrito holder's job now is to keep pushing, removing the draft from the chasers while staying behind his sprinter.
This was executed perfectly in a ZRL race by my team captain Antoine, who gleefully exclaimed, "I burritoed them!" as teammate and eventual race winner Arjen sprinted away. Watch it below:
Will You Be Eating That?
If you're riding with others and don't want to make them work harder, throwing away the Burrito so you can get a better powerup at the next arch may be your best choice.
Questions or Comments?
Share below!