The latest Zwift update is now available on all platforms: Mac, PC, Android, iOS, and AppleTV.
Not sure if your Zwift install is up-to-date? Here's how to check >
This update includes a sizeable list of fun features and additions, and some of what's included we can't even talk about yet! Kudos to Zwift for putting together a strong update. While it doesn't include new roads (those will come in November), it includes more new stuff than we've seen in the past several months, and that's great news.
Zwift Handcycle

Back in March Zwift announced that they were partnering with the Challenged Athletes Foundation (CAF) to conduct research into disabled athlete accessibility, inclusion, and representation. Along with hand cyclists, the research focused on other disabilities (such as visual impairment) to determine how all adaptive athletes would use the platform.
This week's Zwift released the "Zwift Handcycle" as the first tangible fruits of that research.
The handcycle has some unique attributes when it comes to drafting in Zwift:
An upright bike cannot draft a handcycle
A handcycle can draft another handcycle
A handcycle will get half the drafting effect when drafting an upright bike
Our speed tests so far show that it behaves how you would expect a handcycle to behave outside: it's decently aero, but quite heavy. It only has one wheelset, and with those wheels it completes our flat test in 50:16.5, which essentially matches the fastest road bike frame paired with the fastest wheels.
(Keep in mind the handcycle only gets a half draft off of an upright bike, so using it in a race would be a huge disadvantage compared to a standard road bike which can draft fully.)
The handcycle completes our Alpe du Zwift test in 56:07, making it the slowest climber in Zwift. But it descends like a dream!
Handcycling Events
The Zwift handcycle is accessible to all Zwifters, whether they pedal with their arms or not. To celebrate this moment, Challenged Athletes Foundation will be hosting rides from September 16-23 that include a Pace Partner on a handcycle. These events may also be joined by Challenged Athlete Foundation athletes, and event unlocks include Challenged Athletes Foundation kit and sunglasses.
Wanting to regularly ride with other riders who use a handcycle setup? Join "The Handcycling Club" which is a community-run club of handcyclists. Find them in the Companion app!
More Garage and Drop Shop Additions
The Cadex TT bike frame has been added to the Drop Shop. Watch this space for the results of our standard speed tests on this bike.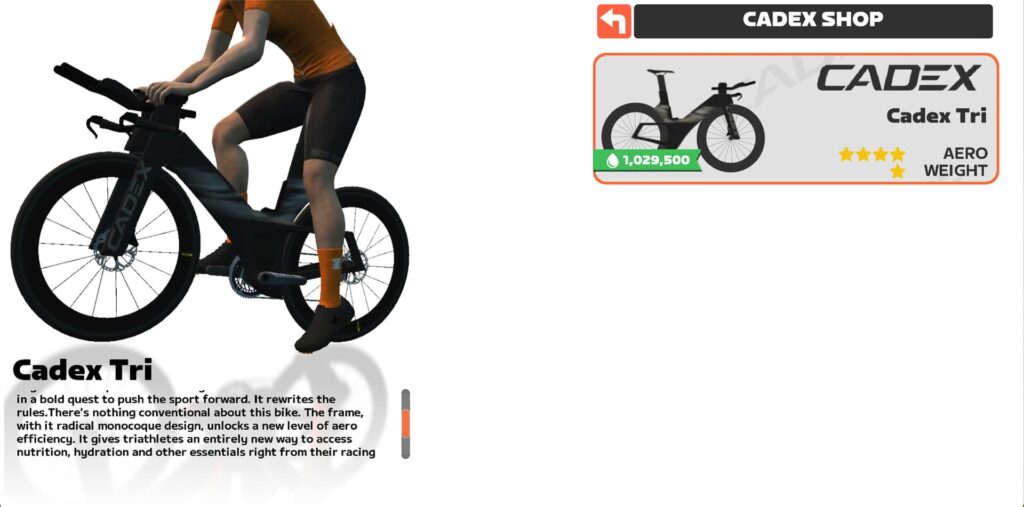 Zwift says they've also added the Zwift Lederhosen kit to garage. Wunderbar! (We arent seeing it in the garage, so we think this may be an event unlock for something in the future.)
Levels 51-60
We wrote about Zwift adding levels 51-60 last week. Visit that post for details on unlocks for levels 50-60, plus details on how accelerated leveling works!
Level 50 riders should unlock fresh "fire socks" when they sign in. Word is these socks are hot hot hot!
Workout Menu UI Improvements
We wrote about this recently, and you can view that post here. Zwift says these improvements are rolling out starting now to Mac, PC, and iPad users, with AppleTV following "very shortly after".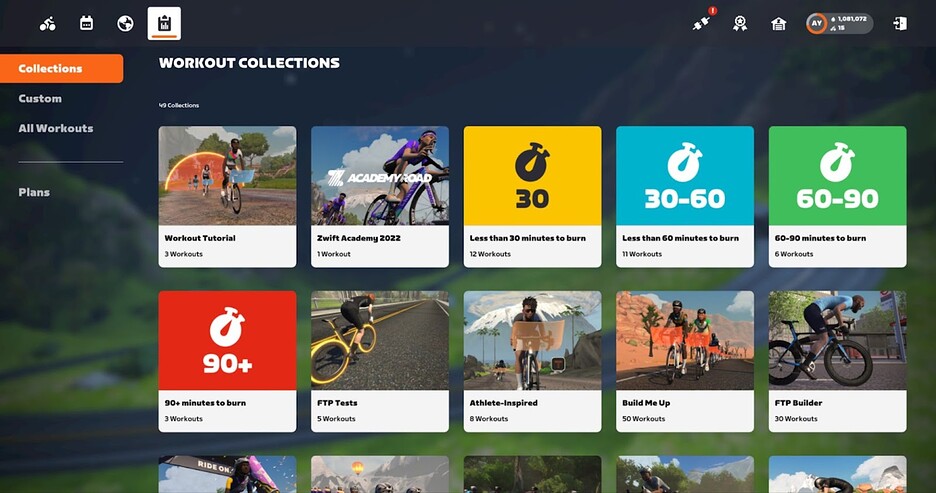 Homescreen UI Improvements: Recommendations
With this update, Zwift is rolling out the first of what will eventually be much more intelligent activity recommendations on the new Homescreen UI. Zwift is learning that what they put front and center on the Homescreen drives the activities of Zwifters in a big way, so they have a big, multi-month project underway to serve up very smart activity recommendations.
Until then, they're taking a "quick and dirty" approach to offering simple but smart recommendations. Here's how these will work:
Events: this will show upcoming (or late join) events you're already signed up for, plus additional upcoming events
Pace Partners: the first two Pace Partner cards in the list will be the most recent Pace Partners you joined
Routes: the first two route cards in the list will be based on your recent activity length
Workouts: the first two workout cards in the list will be based on your recent activity length
Note: you'll need to do a few activities after Zwift updates before the recommendations begin kicking in.
Ride On Bombs Return to Events
Hurray! We can now tap in the Companion app to give Ride Ons to the nearest 5 Zwifters when we're in events!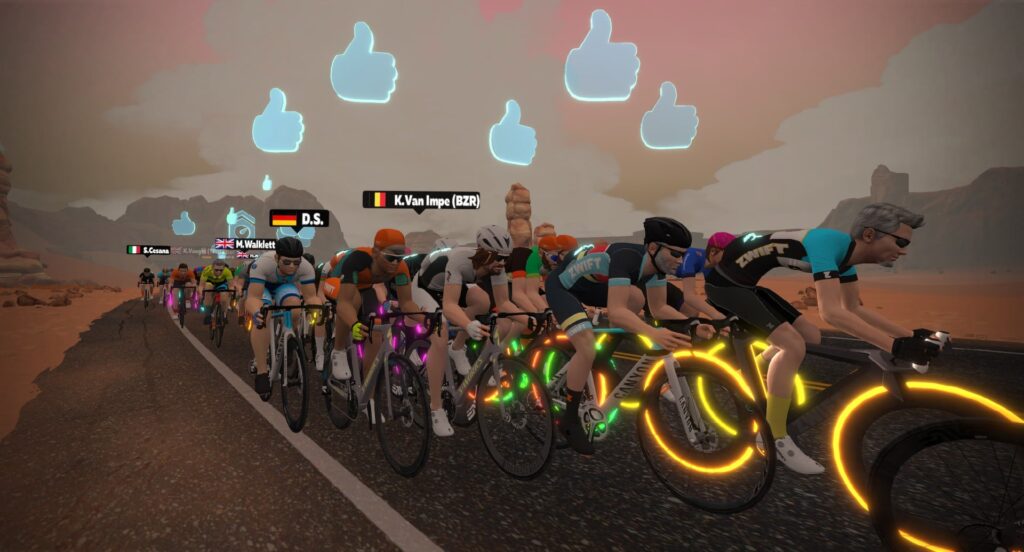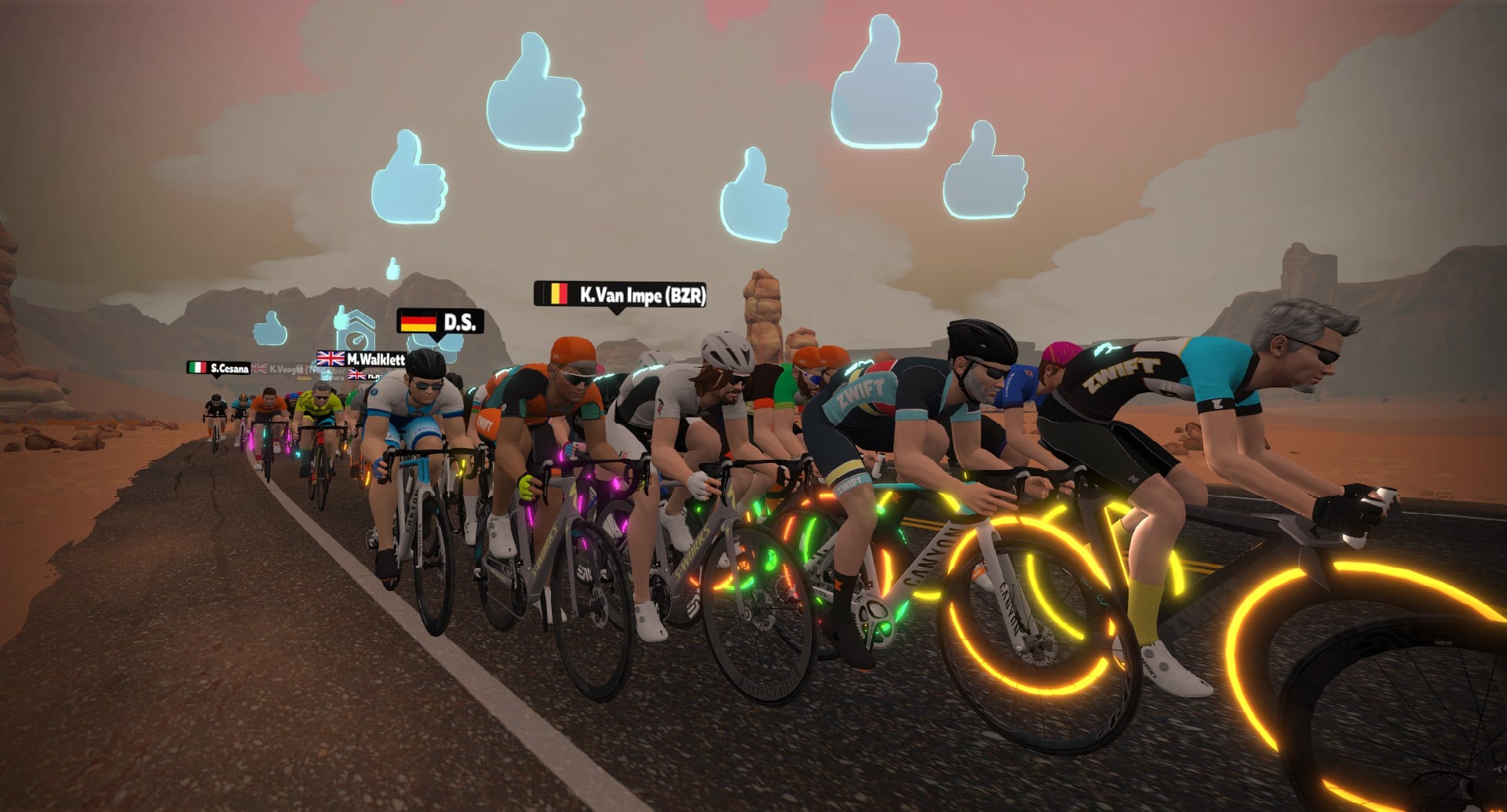 This is something we requested back in January, and Zwift says Pace Partners have effectively tested their system's ability to handle lots of concurrent Rides Ons. Nice work, Pace Partners. Ride on!
Smart Anvils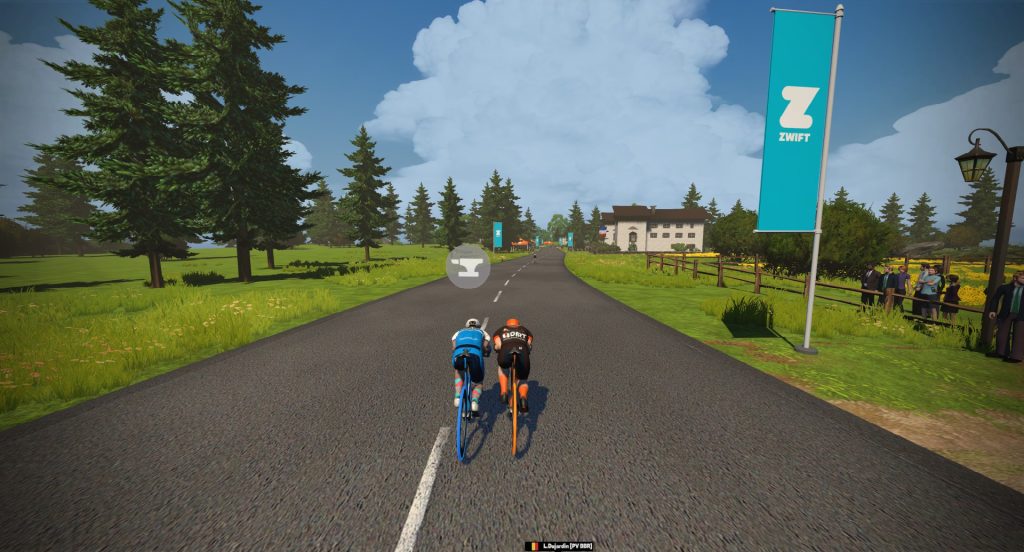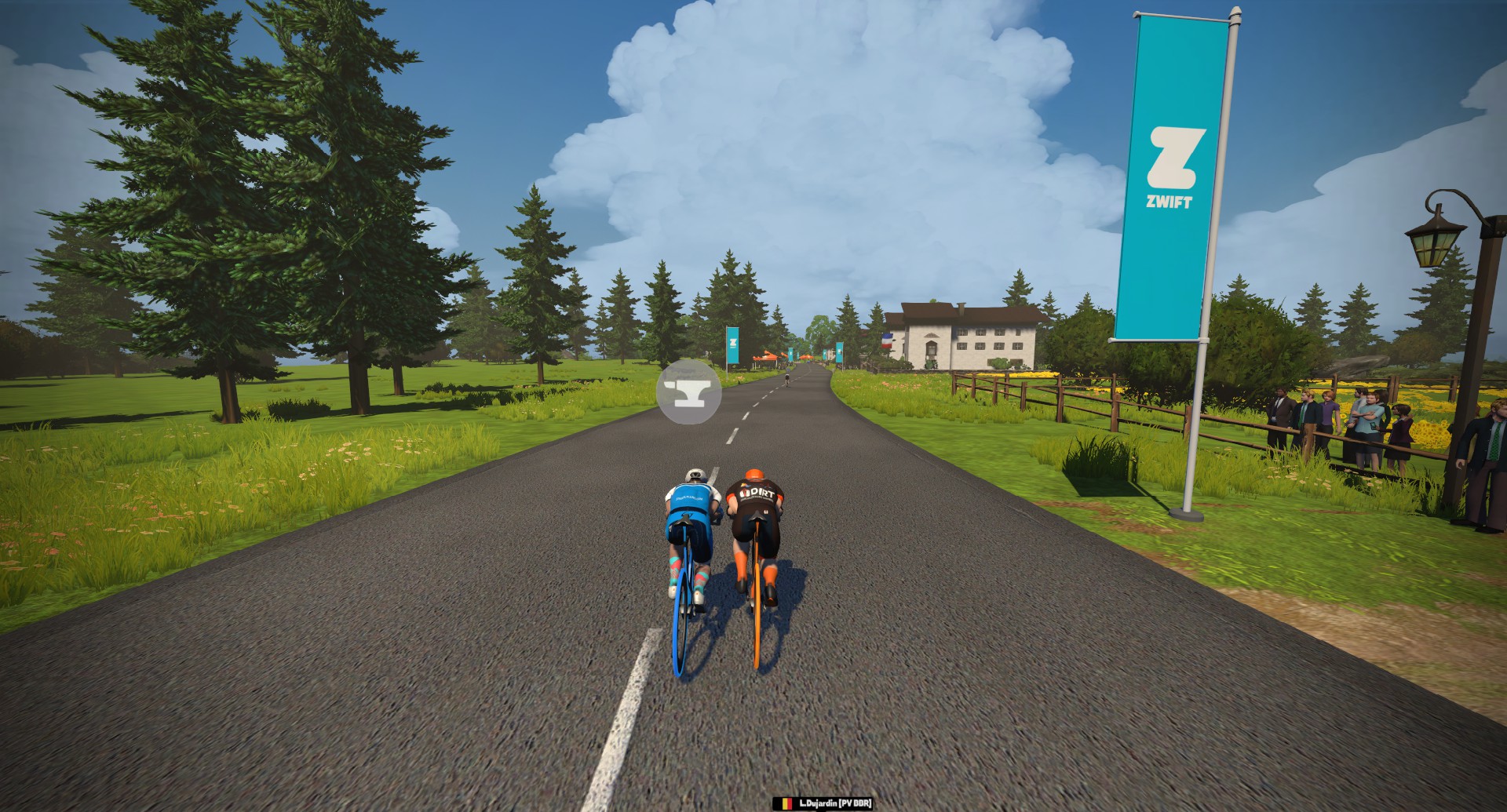 The anvil powerup adds 50kg to your body weight, for 30 seconds. It has been famously misused since its arrival in game by users activating it on flats or (worse) climbs. And at 30 seconds long, sometimes Zwifters would activate the anvil on a short descent, but carry it into the next gradient change, which wasn't always helpful.
Today's release updates the anvil so it only adds 50kg while the gradient is -1.5% or greater, effectively making it a "smart anvil". You can activate it whenever you'd like, and rest assured that it's not going to hurt you, only help. A helpful, smart anvil. What will they think of next?
AppleTV Remote Improvements
AppleTV users should notice some improvements in how they interact with Zwift's UI using the AppleTV remote. You can now slowly slide across the remote to "pan" the entire homescreen (if you're on the new homescreen UI). Various menus have been improved for use with the remote as well.
Increased Club Membership Limit
Zwift is increasing the Club membership limit from 10,000 to 25,000 this week as well. And that's just in time, since Zwift Insider's Club (the largest club on Zwift) has been hitting that limit!
We thought we were well under the limit, then found out the hard way that invited members count toward your club membership total, even if they haven't joined the club. So we've been manually deleting scads of stale member invites to allow more people to join.
Haven't joined the Zwift Insider Club yet? Do so here >
More On the Way
Some features in this update are "feature flagged", meaning they will roll out in the coming weeks to batches of users until everyone has access. This includes AppleTV improvements which should please a lot of ATV users, plus the workout library UI upgrades we wrote about recently.
Bug Fixes and Misc Improvements
Here's Zwift's list of fixes and improvements included in this update, with our notes in italics:
Fixed a few issues with automatic screenshots: auto-screenshots arrived in last month's update, but some were being timed incorrectly, resulting in dark screens or blank results screens. We assume this is the fix.
Fixed bug where critical power curve graph was often scaled incorrectly: this is a long-standing bug, and as power curve nerds we're happy to see it fixed. Now you'll be able to tell at a glance whether you improved your power curve at the end of a ride!
Runners' footsteps have been made quieter
Various other fixes and improvements
See notes on this update release in the Zwift forum >
Questions or Comments?
If you spotted any other changes or bugs in the update, please comment below!