Zwift's DNA is social. Sure, some people prefer to ride alone, and that's perfectly fine. But Zwift's special sauce is the way it brings people together, forging relationships in the heat of workouts, group rides, and races.
Nearly every Zwift activity I do these days is either with a Pace Partner group or in an organized event. Because I find that riding with others is much more engaging and motivating than riding by myself!
But there's one feature I find myself wishing for on nearly every group ride I do, and that's the ability to easily give a Ride On to those around me. Let's talk about this…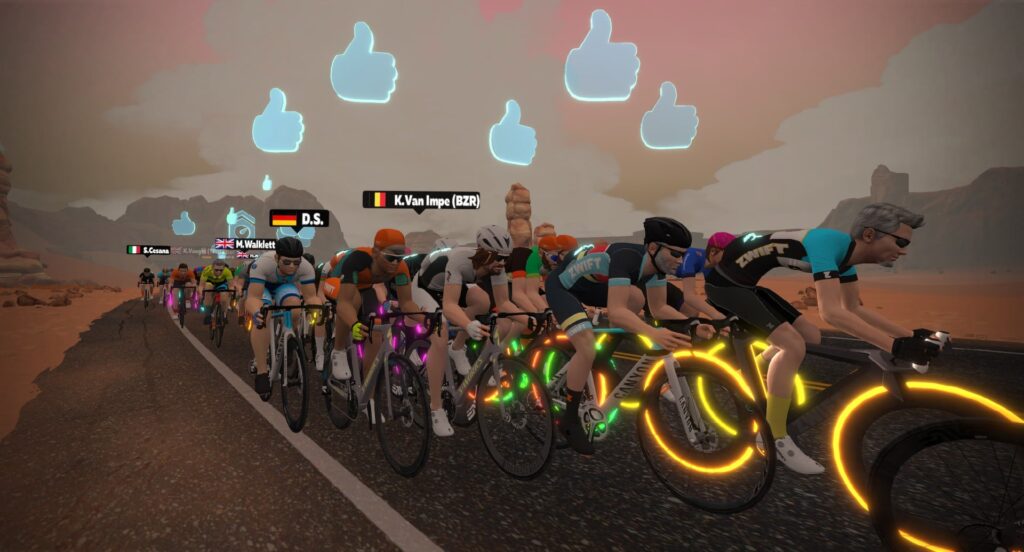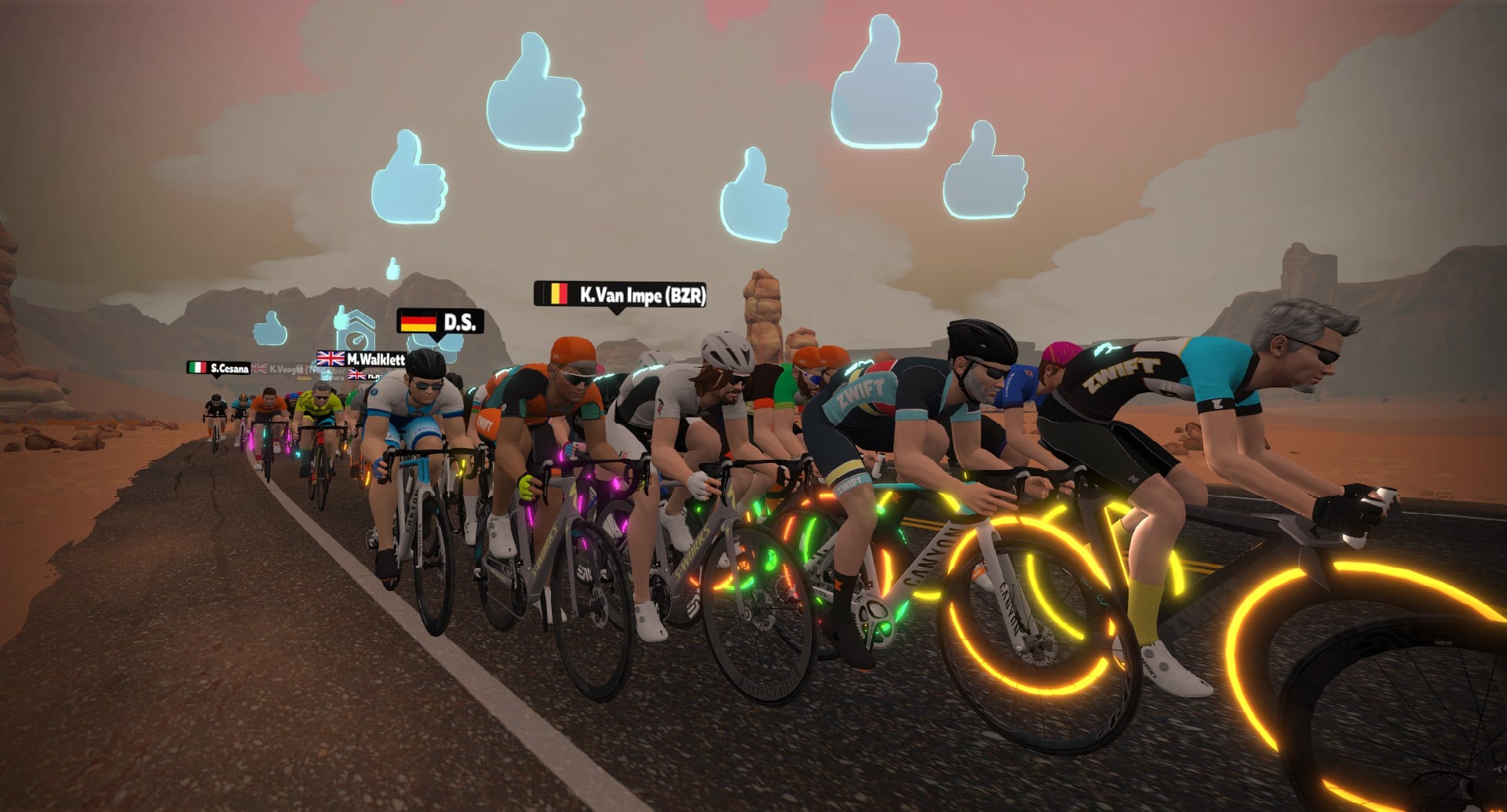 Missing Where It's Needed Most
In April 2018, Zwift rolled out the ability to tap your location arrow in Companion and give Ride Ons to 5 nearby riders. This worked in free rides as well as events… until it didn't.
Around December 2018, Zwift disabled the feature in events, so only ride leaders (those with a beacon) could give out group Ride Ons during events. I don't know why it was disabled – I can only assume it was because of some server issue where too many Ride Ons were being given and it was messing something up.
Whatever the reason for the change, I think there were unintended consequences. Because now we're left with an odd situation where we're able to give group Ride Ons when free riding (a place where Ride Ons aren't much needed, since we don't really get to know the riders around us very well), but we aren't able to do that in group rides (where we do get to know other riders, and would want to give them a Ride On).
The Group Ride On feature functions today, but not where it's needed most.
A Convoluted Process
Today, if I want to give someone a Ride On during an event, here's what I have to do:
Via the game (on my PC): click their name in the rider list on the right. (This changes the point of view from mine to theirs.) Click the thumbs up icon next to their name. Then click the "Back to me" button at the bottom-left to go back to my view. Note: this returns me to camera view 1. If I was using a different camera view before, I have to switch to it again.
Via Companion app: click "Zwifters" then tap the rider's name in the ever-refreshing list of nearby riders. Click the "Ride On" icon under their profile, then click to exit back to a Companion screen that is useful.
Neither of these processes is terribly complex, but often when I'm in the heat of a hard ride and/or wanting to give a thumbs up to multiple people, it feels like too much hassle. So my group Ride Ons typically don't happen, and instead I do my best to click the little icon to reciprocate a Ride On someone else nearby gives.
Case Study: Pace Partners


If you're wondering, "Do people who ride together really want to give out Ride Ons?" just look to Pace Partners as a case in point. Hop into the C. Cadence group for a few minutes and you'll be hard pressed to find a time when there aren't at least a few blue thumbs floating over the group's heads.
People love to give out Ride Ons to those they ride with. And that's easy to do in a Pace Partner group, since it's not an event. Just tap your arrow in Companion. Boom! Five Ride Ons given.
Two Solutions
I see two simple solutions to the group Ride On conundrum:
Bring back the ability to tap my location in Companion and give 5 Ride Ons to nearby riders during an event and/or
Add a Ride On button to the list of nearby Zwifters in Companion (and maybe don't refresh that list quite so often, so I can be sure to give a Ride On to the riders I choose).


Your Thoughts
Would you like to be able to give group Ride Ons in events? Share your thoughts below, and upvote this Feature Request if it's something you support!