Zwift's November 1st update included a note about some updates made to the lead-in setup:
Reworked 'lead-in' system for events. This should improve the lead-in countdown before lap based events, as well as resolve some of the other discrepancies we saw in the user interface during those events.
The new system had some initial bugs (showing different distances on the top bar and sidebar and counting down inaccurately at the end of events). But those bugs appear to be ironed out with Zwift's latest minor update.
Lead-In Changes
Along with those distance indicator changes, Zwift updated their animated in-game route maps to show the lead-in portion of routes in blue. Here's an example: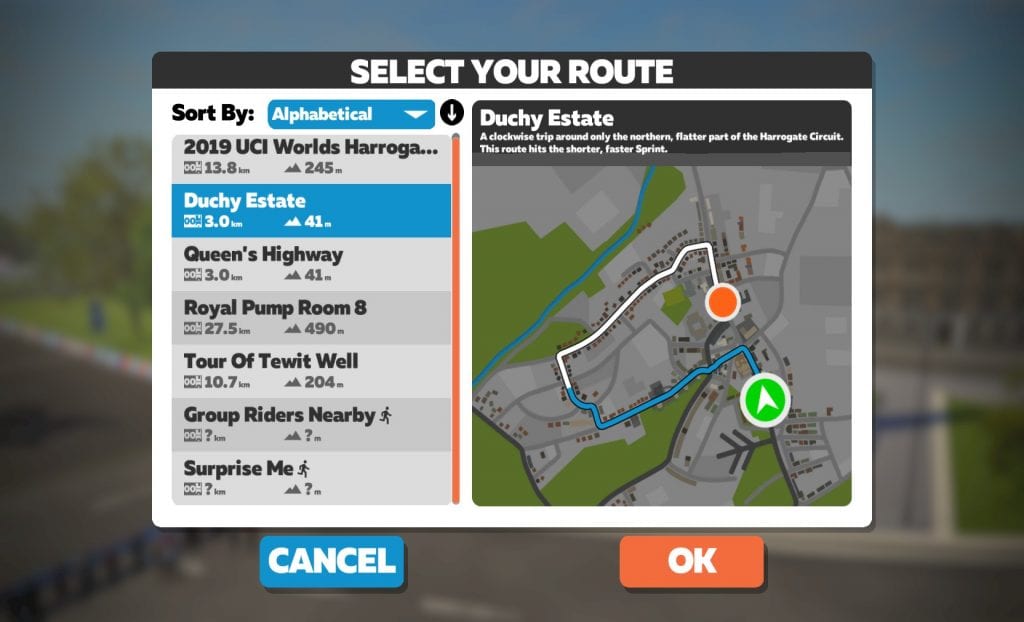 This should help alleviate some of the confusion around the lead-in portion of routes. (The confusion became especially apparent when Zwift introduced route achievement badges and Zwifters began to track their completion of certain routes in earnest.)
Many routes have a lead-in segment not included in the route's stated length, and Zwifters were understandably frustrated after riding for the stated length but not earning a badge. Surrey Hills is a common example of such a route: the lead-in takes you all the way from downtown London to the top of Fox Hill before the route actually begins!
If you're going for a route badge, here's our simple advice: the route will begin and end at an arch of some kind. So if you've already ridden the proper distance but haven't seen the achievement pop up, keep riding to the next arch.
New Spawn Points
*sigh* Sometimes we wonder if Zwift just likes assigning us Strava homework. 😊
Spawn points were also moved for several routes in the recent updates:
Updated Segments and Veloviewer Leaderboard
We have updated our Strava segments to reflect the new spawn points (see full list of Zwift Insider verified segments). We may also be updating some of the segments used on our Veloviewer Leaderboards.
Progress + Little Bugs
The improved lead-in maps and distance metrics are a good improvement, but there are still some small bugs to be worked out. Two examples:
Queen's Highway: this route's spawn point should have logically been moved with the other Yorkshire routes to before the start banner, but it was not.
Tour of Fire and Ice: the route animation shows this beginning with a lead-in from the downtown Watopia start/finish banner, but it actually begins at the Volcano Circuit banner.
Your Feedback
If you've spotted any other recent lead-in or spawn point changes, let us know below!