Zwift released a minor update two nights ago, mostly to support upcoming special events like Movember and Giro de Rigo. But it also includes a new bike frame (always fun) and some interesting notes from the Game Master himself, Jon Mayfield.
Reworked "Lead-In" System for Events
Events have long had issues with displaying accurate distances, due to how Zwift was computing lap distances. They may also display confusing or inaccurate information about the "lead-in" portion of the event. Notes for this update included this blurb:
Reworked 'lead-in' system for events. This should improve the lead-in countdown before lap based events, as well as resolve some of the other discrepancies we saw in the user interface during those events.
We haven't been able to test these updates much, but hopefully some or all of these issues have been resolved. (That said, we've already seen some Zwifters complaining about strange distances on their Strava rides vs Zwift rides, so it looks like Zwift may have fixed some bugs but unearthed some others.)
Tweaked Meetup Speeds
Zwift released the "Keep Everyone Together" option earlier this month, and while feedback has generally been very positive, word has quickly spread that speeds in these meetups are higher than they should be. This has resulted in some riders hosting meetups on their own, just to get a boosted speed. (It may seem silly, but most are probably doing it to prove a point.)
Zwift has adjusted these speeds down in this update. Here are some of the speeds we saw in today's test:
37kph when both riders held ~200 watts (before the change this was 45kph)
45kph when both riders held ~400 watts (before the change this was 55kph)
39kph with one rider at ~200 watts and the other at ~400 watts (before the change this was 50kph)
Compare these speeds to a simple test we ran outside of the meetup:
40kph when both riders held ~200 watts
47kph when both riders held ~400 watts
So we're now moving a bit slower in the Meetups than we would be in a free ride. We're closer to the free ride speed than we were previously, but some riders are already complaining that it feels a bit slow.
New Cannondale SuperSix EVO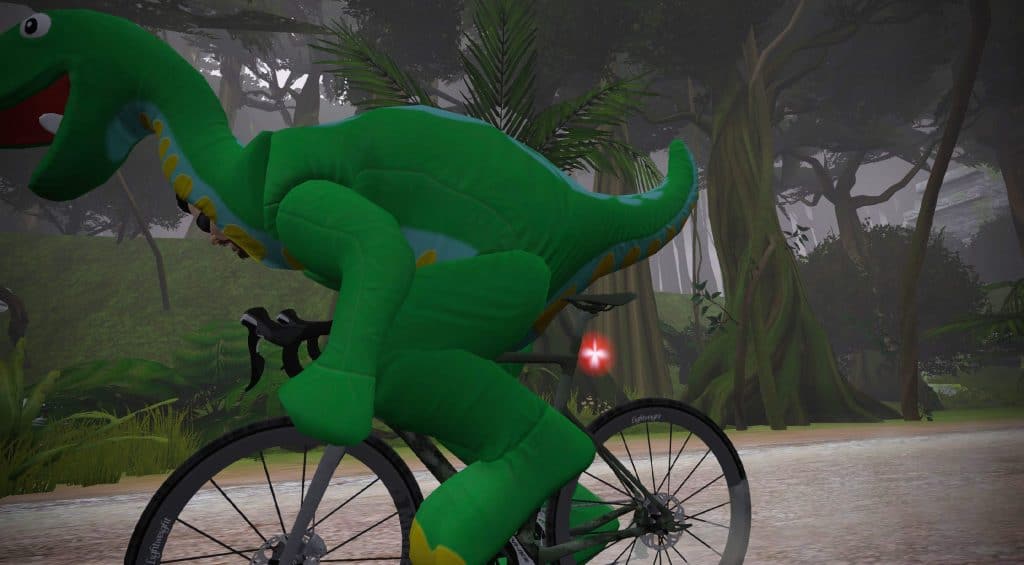 New bike day! This frame has been released to support Sunday's Giro de Rigo event, where riders can unlock the Education First Pro Cycling Team paint scheme for this new bike.
Of course, you've got to buy the bike first! It requires you to be at level 36+, and costs 816,500 Drops.
How quick is it in-game? We'll post about this soon, but for now we'll say that it looks like decent performer on the flats, but it really does best on the climbs.
Other Changes
This update included several other changes/fixes as well:
Fixed screen-size issue due to an Apple change in tvOS 13 on certain Apple TV's, when used with 720p televisions
Fixed WatchOS 6 support
Fixed crash on iOS 13.1 + iPhones (this was bugging a lot of folks!)
Added additional variant of new user tutorial (making it easier for the newbies is always good)
Comments from Jon
Jon included some interesting comments on two topics. First, regarding recent rolling resistance changes:
I also wanted to touch on the rolling resistance changes that we made earlier in the month. Up until recently road and TT bikes went unrealistically fast on rough surfaces. As we start to think about adding other bike types such as gravel, cx, mountain bikes, fat bikes, etc in the future it made sense to start taking into consideration surface roughness vs tire/bike type. We don't allow drafting on TT bikes. Some bikes are kilograms heavier than others and are bad for climbing. And now, road bikes can't pretend dirt is tarmac. Dirt now acts more like dirt.

Now, with that out of the way, much of the negative feedback from some of our most outspoken Zwifters really stemmed from the fact the transition wasn't handled very gracefully. We did a poor job of ensuring everybody got that specific update at the same time causing group rides to get blown apart as well as races being won unfairly. We'll now be building some simple restrictions to events to ensure a more level playing field for the future (ie, requirements on equipment, up-to-date software, etc). We regret that some of the competitiveness of some group rides and races was ruined. As we continue to deprecate the older clients this issue should become mostly resolved. Additionally we'll soon try and ensure everybody riding on events specifically on the jungle circuit will be doing so on the same class of bike (ie, MTB).
And secondly, regarding the Repack Ridge FutureWorks steering test:
Finally, I want to thank the community for all the feedback on the steering test we launched earlier in the month. While the early skeptics were certainly vocal about it in the "Whats new" post previous to this one, in the end we've had almost 20,000 test rides fully completed start to finish and overwhelmingly positive feedback. While it was meant to be a low volume test, I think it could end up as a permanent addition to Watopia in the future. Who knows – maybe a whole network of single track trails can spread through the wilderness of Watopia one day.