Editor's note: Monica is undertaking the "Couch to Route Hero" challenge of riding all 67 "free-ridable" Zwift routes (and getting all the badges) in 11 weeks. Each week she shares her story of the previous week's struggles and accomplishments. Follow along on her journey, take the challenge yourself, and be sure to give her a Ride On if you see her on course!
---
We're finally at week 11 of the 11-week challenge and it's not ending in any way I could have imagined. It seems we can blame Eric as he created the challenge without factoring in a global pandemic. I will have words with him about this, don't you worry!
The Week Lined Up
I added 2 new route badges for a total of 61. Only 6 left, and none of them are in the 5+ category. Sweet relief! I rode 127.4 miles with 8,336 feet of elevation gain in 10 hours, 35 minutes.
Routes Completed:
The PRL Full
I started the week with the usual preparation most experienced riders would do: come down with a mild case of the flu.
It's important to note here that I do NOT have the Coronavirus. Apparently other illnesses are also flying around out there and in all our efforts to stay Sheltered-in-Place I still found one of these bugs and succumbed to it.
Step two of the preparation included a week of supplements, sunshine, water, and fruits and veggies. I also added in some discouragement and frustration as I considered the fact that the world might be riding the PRL Full without me.
On Saturday I woke up somewhere around 900 times in the night wondering if it was morning and was I any better. It was not, and I was not. When the alarm went off at 6am I'd had the 21 minutes of sleep recommended before the longest ride of one's life. So I popped out of bed and suited up. Carbs, water, and caffeinated gum were on the breakfast menu after which I hopped onto my trusty steed! 
The plan was to stay in Zone 1 or 2 for a few laps of the London Loop, which we'd do 11 times for the PRL Full. I wanted to see if I could ride with the bug or maybe just kick sickness to the curb with a low effort. I was clearly in prime condition for this ride as just hopping onto my bike brought my heart rate almost all the way up to Zone 2! Seeing others with "PRL Full" in their in-game names added several beats per minute so I settled into a perfect Zone 3 and was off! I've always been an overachiever.
The first 3 laps were a breeze. Mainly because I have no recollection of even riding. With so many people sending messages it was all I could do to write back or join in the conversation. Pedaling was forgotten! Glorious!
Those around me must have gotten into a rhythm by my lap 4 as the chatter calmed down somewhat. It was then I decided I really needed to pay more attention to my heart rate. My immunity means more now than it ever has before so I needed to be a bit smarter. I slowed down (which is what all cyclists want to do) and settled in for another 2 laps. The plan was to stop for a long break after lap 6.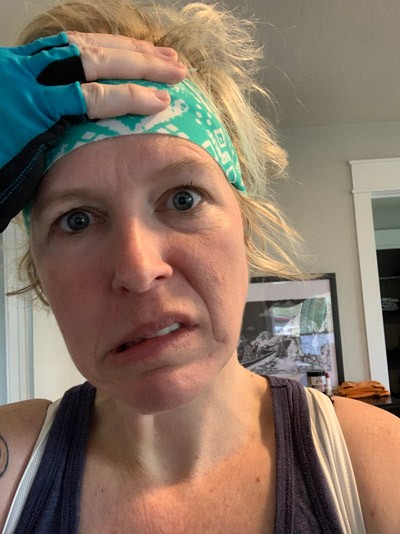 During lap 5 I realized I was feeling worse than anticipated. I'd ridden about 40 miles and was quite fatigued, feeling somewhat nauseous. I let those I'd been riding with know that I'd be taking a break and hopped off once I hit the top of the Box Hill. I laid down on some towels on the floor and suddenly my entire head felt like it would explode. This was the worst headache I'd had in a long long time. The teen daughter brought me some medication and I added more carbs, more caffeine, and a freshly washed face. I was ready to ride again.
I rode most of lap 6 with a bit more cheer and decided to stop on the downhill again for a real break. I changed into my best bib shorts and ate what I referred to as "real food." Really, it was just a brownie, some Kombucha, and a banana. I was antsy to get back on my bike and finish what I started before my legs revolted and before Eric (who was quickly riding the PRL Full beside me) was long gone from his bike.
At lap 7 I was glad I had taken the long break as it was a slow trudge up Box Hill. When I reached the end of the descent I decided I'd likely take a long break at every descent. Why not? Everyone else was doing the route at their own pace, this would be mine. But when I got to the bottom a dear friend I only know through Zwift had hopped on. Daffyd Williams, a cat A racer with KRT jumped in and said hello. That gave me the pep I needed! He instinctively jumped in front of me and I clumsily hung on to his wheel. As we neared Box Hill I warned him it would be the slowest climb of his life. He didn't mind as he was saving his legs for a race the next day. We both meandered up and I wondered how long he could handle this pace, picturing him at his home in the UK probably out of the saddle doing one-legged, no-hands drills. Daffyd pulled me along the flats again and around to another ascent, adding in some hilarity over messaging. I decided he was my new best friend and immediately texted all my current best friends to let them know.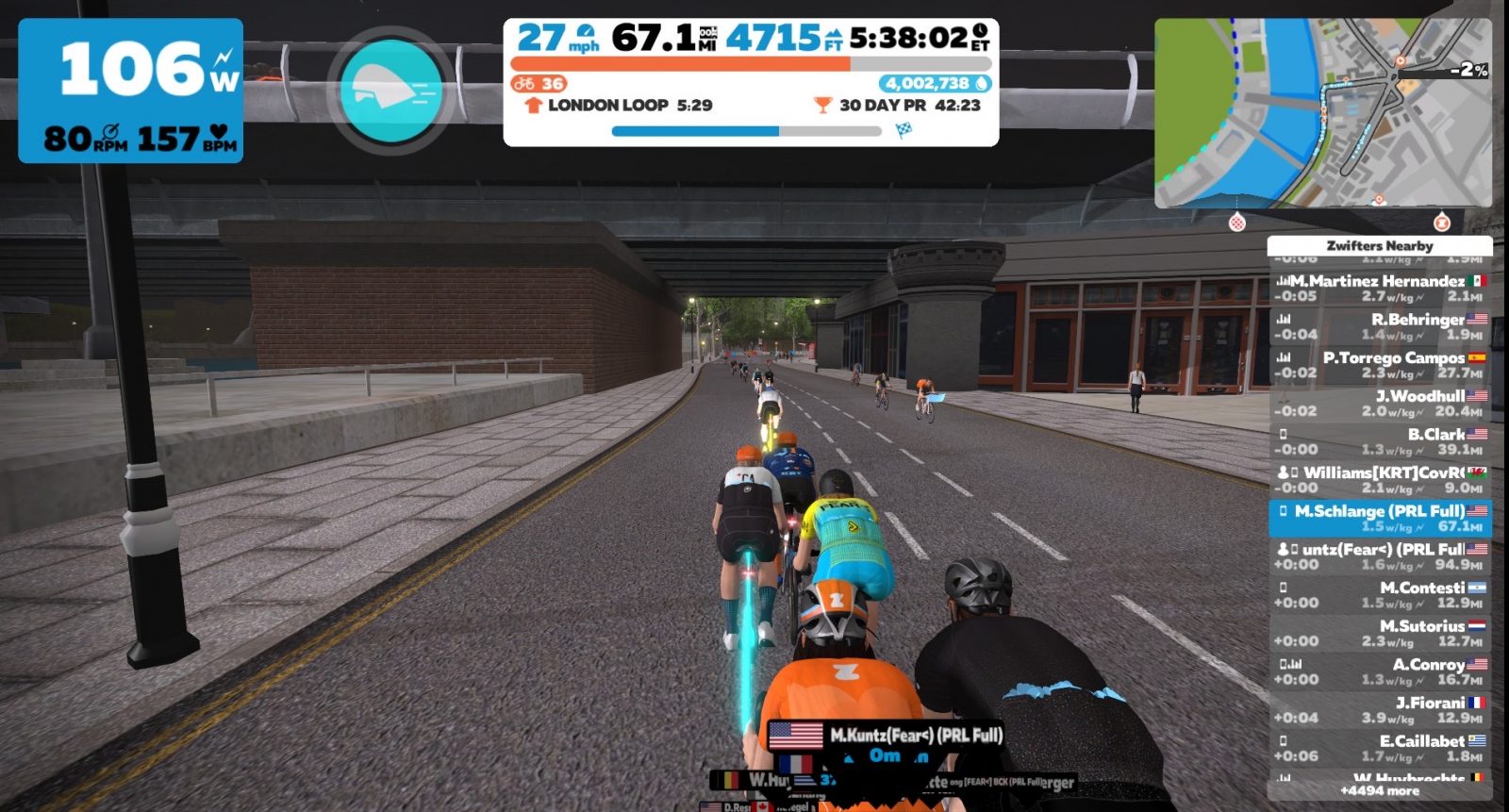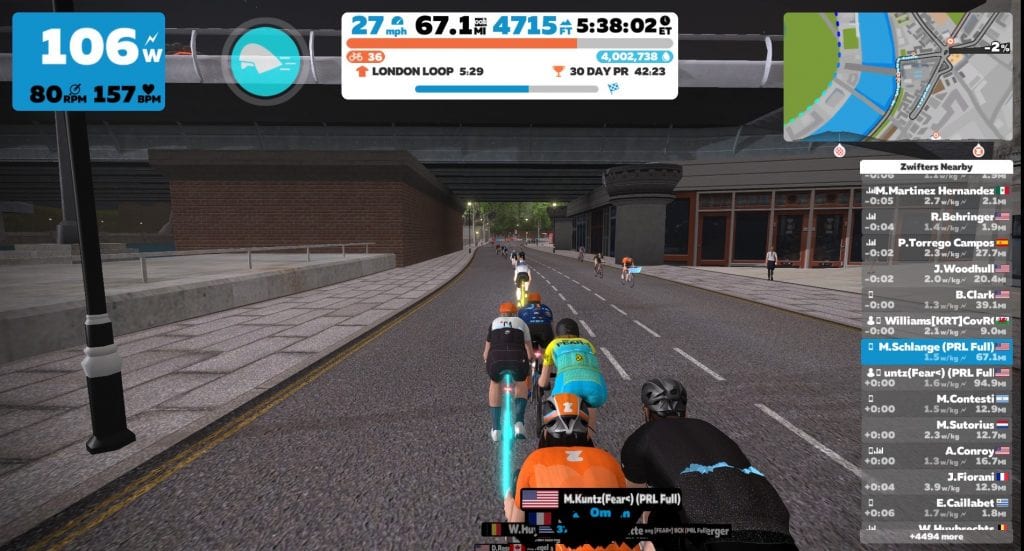 I was feeling the nausea and fatigue as we made our way up the climb, this being my 9th time. Only two left but I needed a break. Daffyd and I parted ways at the descent and I hopped off my bike, this time adding a second pair of bibs to my poor sit bones.
Once my feet quit hurting I hopped back on, planning to stop at the end of each lap. Halfway up my 10th ascent I had to immediately dismount and lay on the floor. The nausea of the flu-bug was back and had decided it was here to stay. A long rest and more water gave me the edge I needed to finish climb 10 without heaving on Eric's empty bike next to me. One. Lap. Left.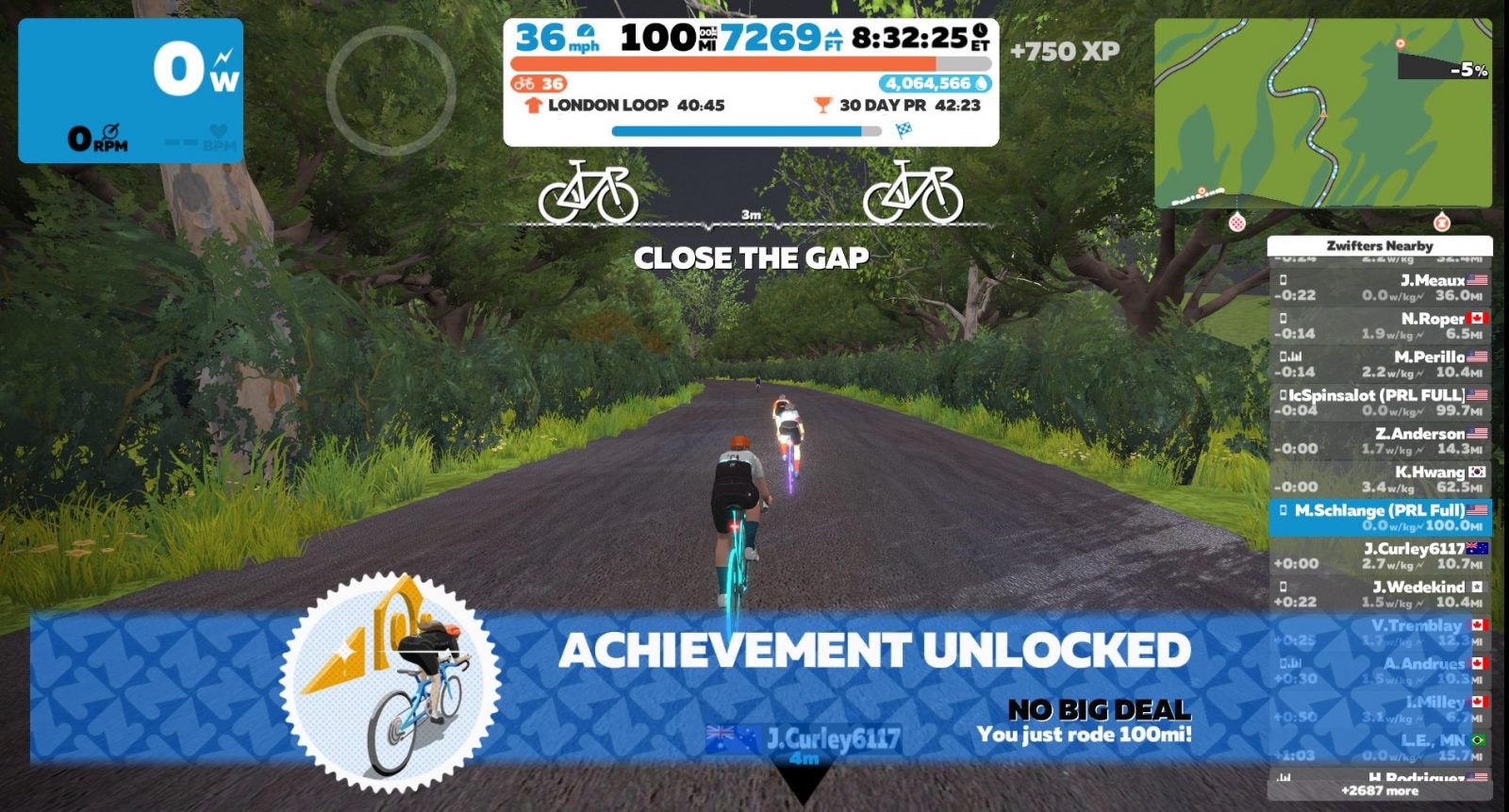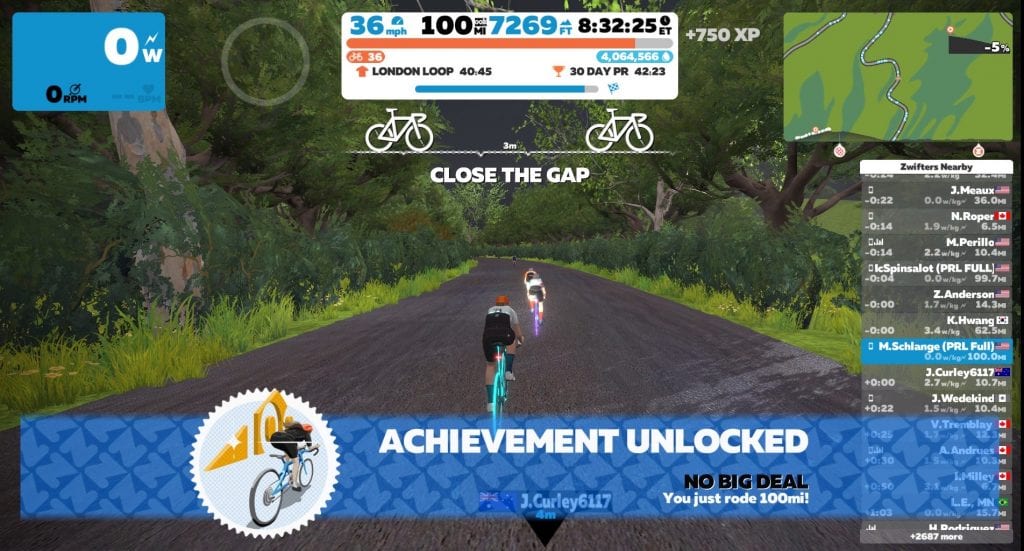 Lap 11 brought me to my first great achievement of the ride: the 100-mile mark! It's called the "No Big Deal" Achievement Badge and came with 750 XP Points. I yelled out "I just hit 100 miles!!!" to my family in various places in the house. They all cheered! My first century of my entire life! It also meant the sweet relief of knowing I only had ~7 miles left of this route.
Because the end of the PRL Full is at the Classique banner on the Mall I was leaving the circuit other Zwifters were still on. That pained me as I wanted to encourage everyone along the way. I let them know I was leaving as I passed my virtual baton off to them to finish together. I limped in to victory, soaring under the banner as I pushed out 90 watts of raw power!
9 hours and 6 minutes of riding got me the most coveted of Route Badges on Zwift! Sweet relief!!!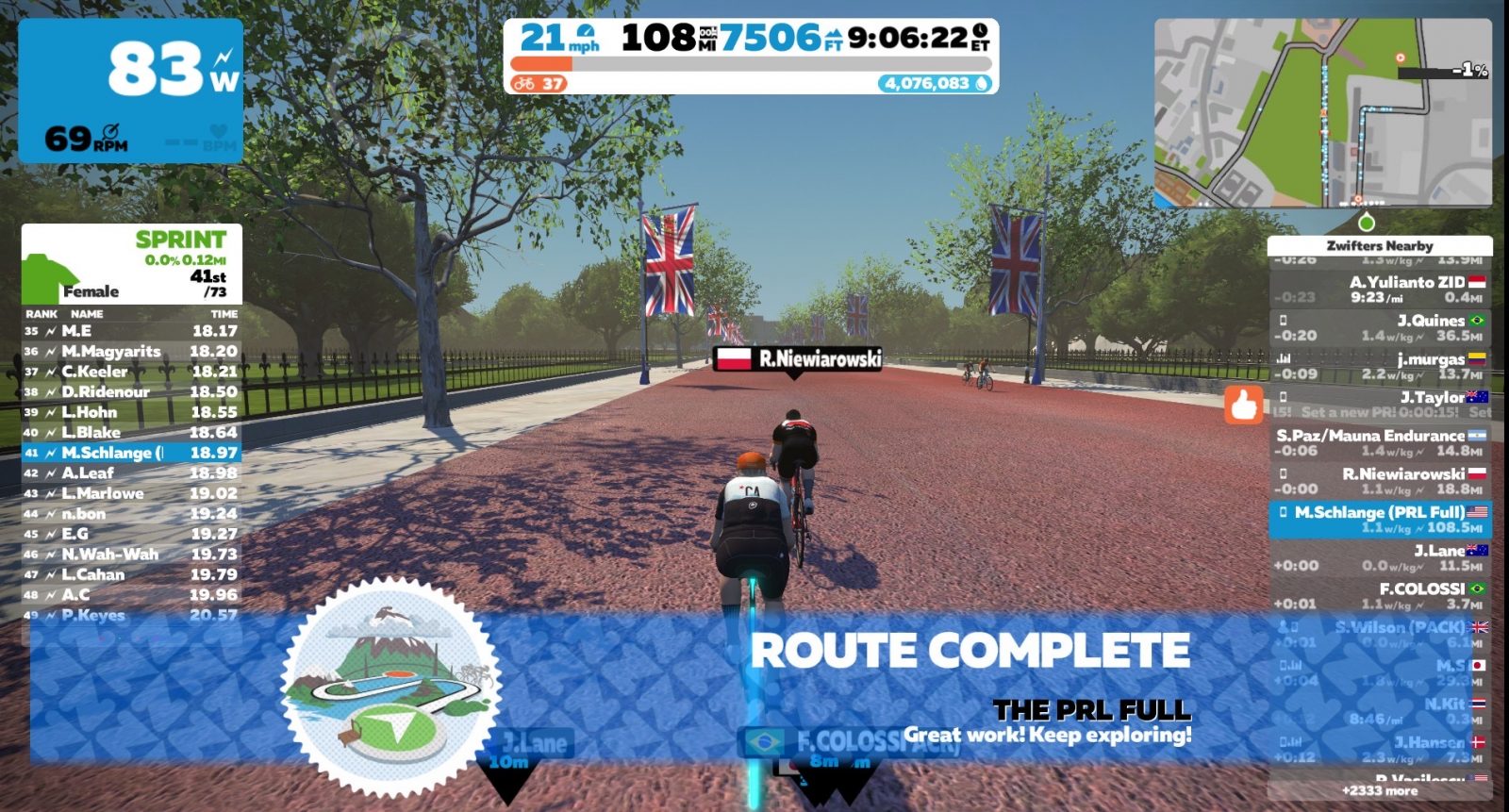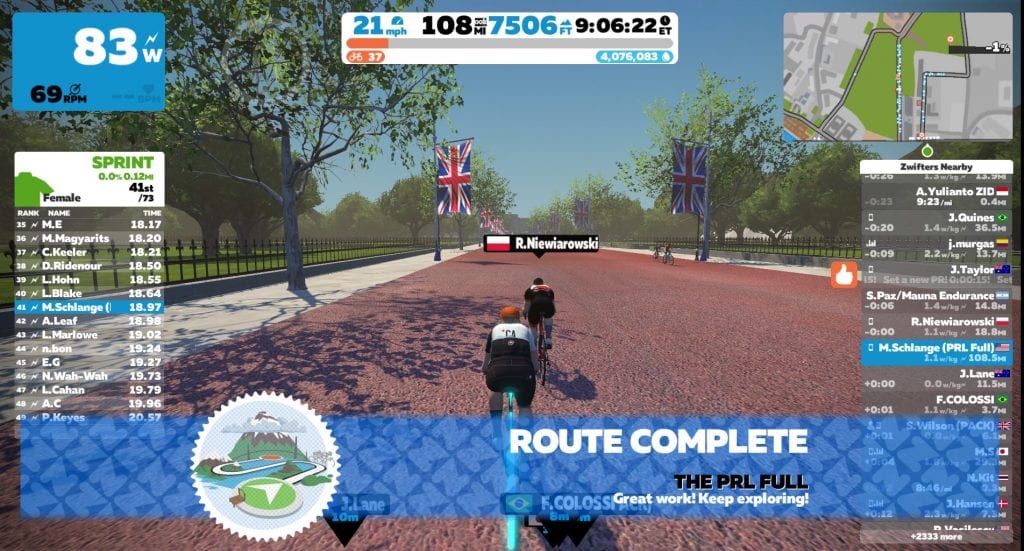 After Hours
It was so fun to see I got exactly 1200 Ride Ons while completing the PRL Full! On the same notification screen, I also found that I rode mostly in a high zone 3. Oops.
Eric placed a to-go order for Indian food where I figured I'd eat my weight in naan. I burned 2800 calories! Clearly I'd forgotten about the nausea while I was ordering which meant I had plenty of leftovers for Sunday!
The Following Days
The night of the PRL Full I assumed I'd sleep well. My 21 minutes of sleep the night before, coupled with an entire day of riding seemed like a good sleep remedy. I slept solidly for 2 hours after which the 8,433 mg of caffeine I had earlier in the day must have kicked back in. I got out of bed around 11pm and didn't feel mentally tired again until 4:30 in the morning. I slept until 9 when Eric woke me up to remind me I wanted in on a Zoom version of a church Sunday School class that was happening. I was groggy but happy and feeling proud of myself. The whole rest of Sunday was spent in my pajamas lying around the house feeling nauseous but content.
As I finish writing this piece 2 ½ days after the ride my body has completely recovered and I'm finally feeling better from the flu. I can now say with complete certainty I am glad I did the ride!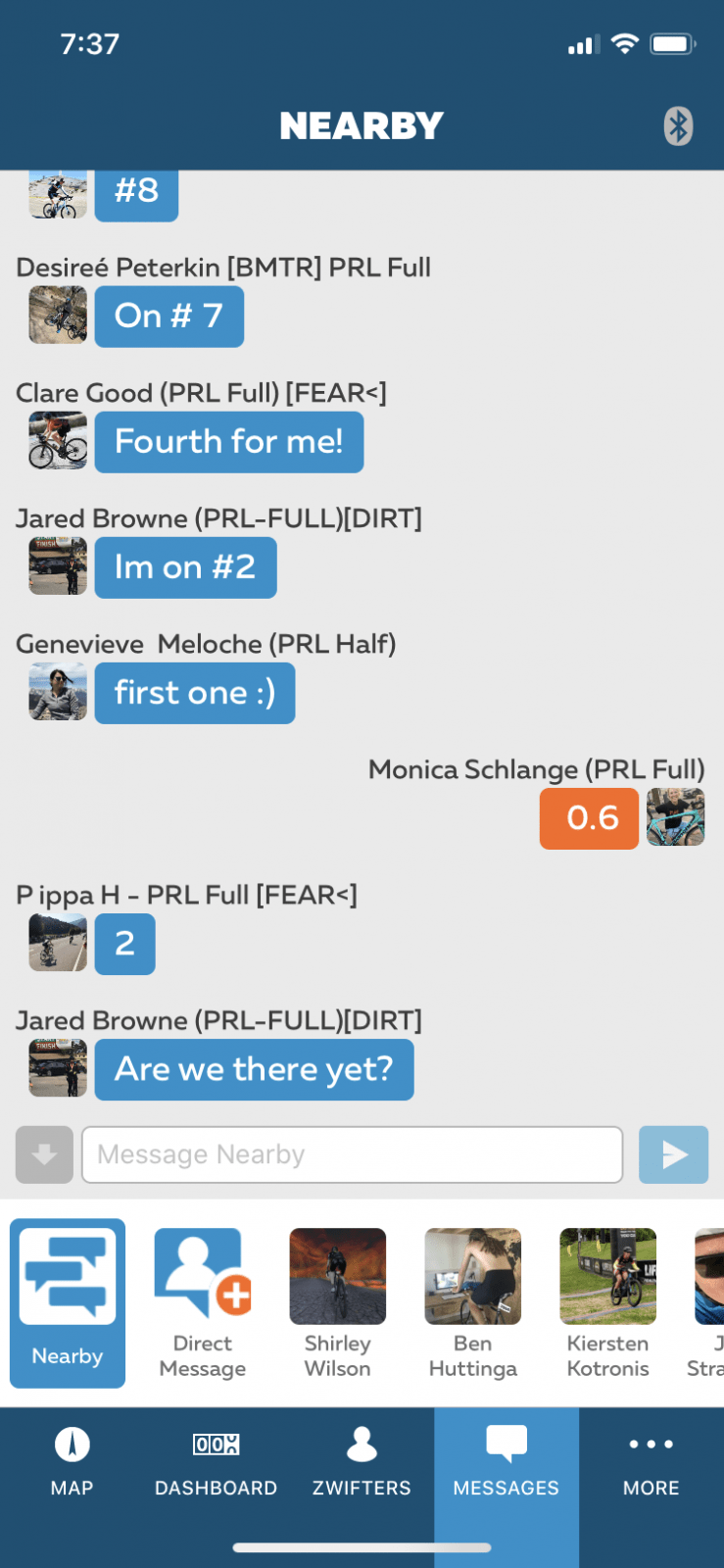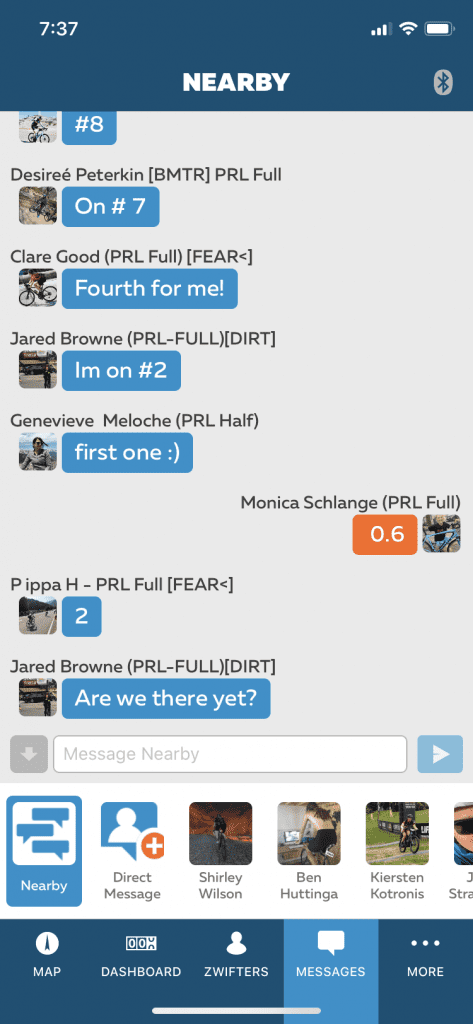 My New Friends
I have a bajillion new friends I rode with, and that was the very best part of this whole thing. We spent almost the entire time talking. Topics included what we were going to eat after the ride was over… most popular answer was "beer." What lap we were on… 7/11, 2/11, 11th lap. Whether we were doing the PRL Full, or the Half. Explaining to non-PRL riders what "PRL" was, and so on. I think everyone was cheered on no matter what lap they'd hit.
Various Zwifters would joke that the pain they were feeling was all my fault. I found myself responding "Blame me today, thank me tomorrow?" and hoped that would be the case as I too was really regretting my own decision to do this ride.
As I neared the end I found a few people who'd finished the ride earlier came back to cheer me on to the finish line. They logged back in very late in their timezones and kept encouraging as I rode. I felt the love!
Once this Shelter-In-Place craziness is over I plan to travel the world and meet each of you!
Next Week
The original Route Badge Quest didn't have a "Global Pandemic" contingency plan factored in and I'm still feeling a little sickly so I'll see how the week plays out. I have the following routes that still need to be done: Watopia's Figure 8 Reverse, Road to Ruins, and Out and Back Again, New York's Rising Empire, and Innsbruck's Lutscher CCW and Achterbahn. I'll just ride them as I feel like it. It may take one week. More likely two. I'll continue to write about the journey each week.
How About You?
Did you ride the PRL Full or the PRL Half? Let us know! We don't have an actual count (I know it was more than 40) and would love to know just how many people got a PRL Badge this week! Also, was that your last ride for all your route badges? Are you officially a Route Hero?