As I opened the Companion app 1.5 years ago and scrolled through the list of events, I realized it would make an interesting article to explore how these events were created. It was through this process that I connected in March 2021 with Mark Cote, then Zwift's Director of Content Programming, but now VP of Content.
Mark offered me the opportunity to host my own event, so that I would have the end-to-end process to report on. And on 29th March 2021, I hosted my first-ever event, called "Monday's Mountain Massif TT." I wrote a post about the process.
This is how the "Mountain Massif" racing series on Zwift was born.
18 months later, "Mountain Massif" now hosts different mountain races on Zwift each day. If you like climbing, these are the events for you!
Newest Event – The Mountain Massif
To coincide with what people consider to be the start of the indoor cycling season, I have just launched the latest event, simply called "The Mountain Massif." This is a weekly Sunday race that alternates between a 60.1km version of the "Four Horsemen" route (finishing atop Alpe du Zwift) and the "Quatch Quest" route, which also finishes on top of the Alpe.
The race is scheduled for multiple times on Sunday, to cater for the global audience: 9:30am CEST/8:30am BST/4:30am EST and 4pm CEST/3PM BST/11am EDT/8am PDT.
This is the longest race offered by "Mountain Massif."
Micro Mountain Massif
The new Sunday race follows closely on the heels of the "Micro Mountain Massif". The "Micro Mountain Massif TT" was first launched in April 2022 and sees riders time trialing their way to the summit of the 3.1km "Sea to Tree" route. This event has now evolved into a doubleheader, with a second race scheduled 30 minutes after the start of the first. Don't be fooled by the short distance, because you will find yourself pushing to your maximum!
This second race is hosted on Watopia's "Hilly Route" and sees riders tackle the Zwift KOM, finishing 100 meters past the KOM banner, another short ride at only 2.1km.
These two races are designed to be tackled consecutively and target not only your 5-minute and 2-minute power range but also your ability to recover. These short efforts are seriously intense.
Monday's Mountain Massif TT
These two new events are built on the success of the "Monday's Mountain Massif TT". This is a tough, no draft time trial up the reverse route of the Epic KOM. Hosted on Mondays, this was the very first offering of "Mountain Massif."
Its first running in March 2021 had 460 riders sign up and the inaugural race was won by former British Hill Climb champion, Ed Laverack.
The feedback from the community was extremely positive and due to the high attendance, I was offered the opportunity of hosting the event on a weekly basis. It is from this unique and special event that the entire series of races has developed.
As attendance remained strong over the proceeding months, it became clear that I needed to address the issue of time zones. The feedback I received was that the time of the event was not suitable for people in the southern hemisphere. When I approached Zwift about this, they were more than happy to accommodate and an extra timeslot for "Monday's Mountain Massif TT" was granted.
Mountain Massif TT – Powered by Muc-Off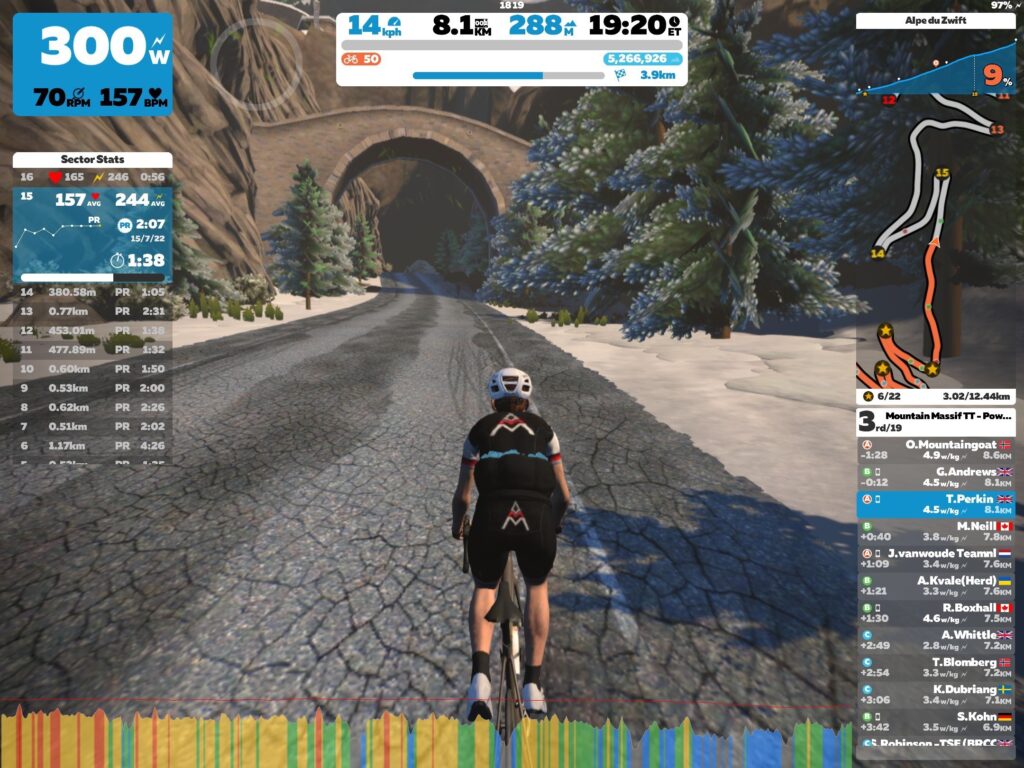 Strong rider participation in "Monday's Mountain Massif TT" gave me the confidence to introduce something new and give Zwifters an extra event to tackle on Fridays. I timed the release of my second event (which replicated the race format from "Monday's Mountain Massif TT" and applied it to the Alpe du Zwift, including the distance of 12.1km) for September 2021, the date that many consider to be the start of the indoor cycling season.
So, in September 2021, I launched my second event, simply called "Mountain Massif TT." I had linked up with Muc-Off and appropriately included their slogan of "Powered by Muc-Off" in the event title. Soon this new Friday event matched the popularity of my Monday offering.
New Relationships and the Midweek Mountain Massif TT – Sponsored by Elite's RIZER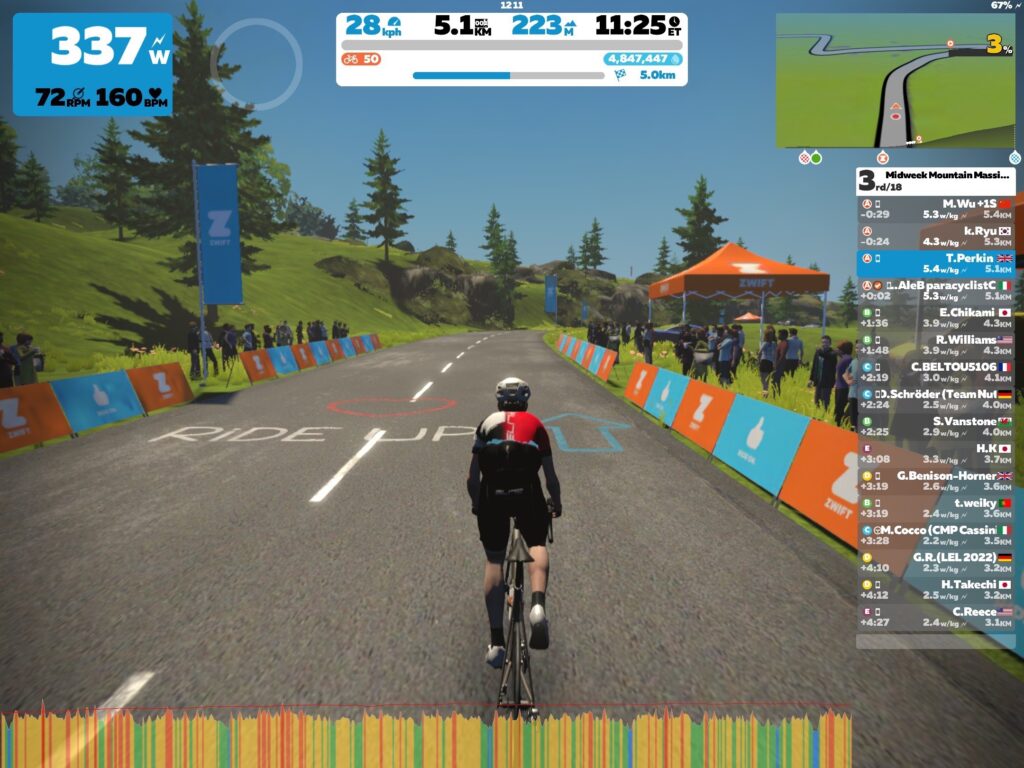 In November 2021, I connected with Elite to review their new offering of the RIZER, a combined steering and gradient control device for your indoor trainer. We teamed up to celebrate its launch by creating a new event to showcase the device.
This event, hosted on Wednesdays, is a 10.1km time trial on the Ven-Top route. Due to its difficulty, I had to shorten the race compared to my other offerings by 2km because it would be simply too hard to complete.
The launch of this race was headlined by pro cyclist Wout Poels.
Following the success of this event (which saw 500 people attend), Elite and I teamed up to launch the Elite Pro Series, a unique concept that saw pro cyclists race Zwifters in a series of monthly races.
The Mini Mountain Massif
Realising that my events were bordering on the high end of difficulty, and after a very successful period where I had worked with Matt Rowe from "Rowe and King Training," we worked together to launch an event that was more accessible to the wider community. Taking the same format of my previous races, we applied it to the Bologna course, and a new style of TT race was introduced in January 2022. Being a shorter race distance, this was appropriately named the "Mini Mountain Massif."
Mountain Massif – The Race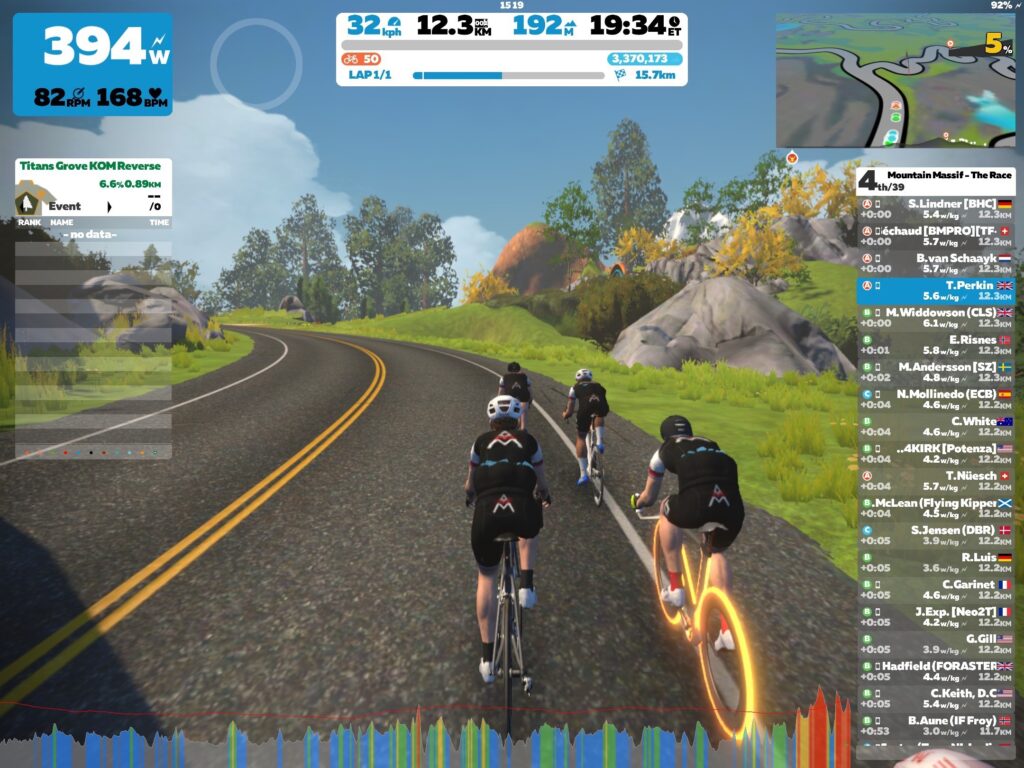 Two months later, I launched my first non-time trial event, a race on the "Climbers Gambit" course. This is hosted on Saturdays and provides variety to the events that are offered. It has resulted in some hotly contested races!
Mantra of the Events – Multiple Races in One
A feature that I have tried to include in all my events is that there is more than one race in the event. For example, the longer time trial events on the big mountains not only give you chance to race for the category win, but also target specific power ranges. The longer climbs are ideal for riding if you are looking at improving your 20-minute power.
In contrast, the shorter races are best suited for targeting your 5-minute and 1-minute power. If you include looking to set new personal best times in the events, there are many races in one event!
In summary, these events are ideal as they can be raced or simply ridden for training and they are fully inclusive with category racing to encourage all abilities and ensure racing is fair. Furthermore, the events start at the same time so you can go shoulder to shoulder with your fellow competitors, pushing yourself to new levels.
Extras – Clubs and New Jersey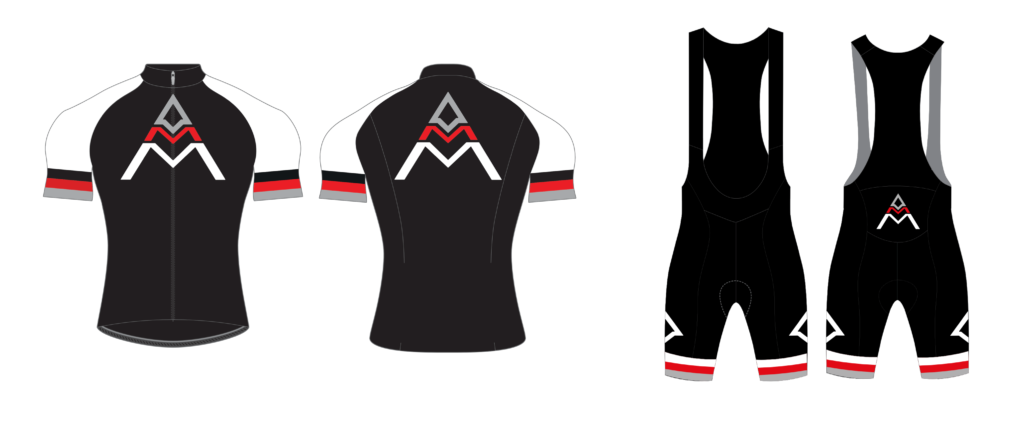 Given the fact that now my races were operating in multiple time zones, including an extra timeslot to cover North America, and after waiting patiently for 18 months, I was finally able to get a jersey designed which could be worn in game and is unlocked by completing one of the events.
The jersey complements the "Mountain Massif" club that I have set up using Zwift's Club feature. I plan to utilise this in the future, so if climbing is what you are interested in, then consider joining the club.
What's next?
Tomorrow, Saturday 10th September at 3pm CEST/2PM BST/10am EDT/7am PDT I am going to be hosting a special event called "Mountain Massif All Star Ride" and you can sign up here. I will be hosting these sporadically and the purpose of this ride is to enthuse people about cycling indoors again.
This is not a race, but a social ride. We will be riding the "Legends and Lava" route with Ed Clancy. For those not familiar with Ed, he is a legend himself. He is the most successful Team Pursuit cyclist in history, and won gold with Team GB at three successive Olympics!
We are just going to be cycling the route and chatting, so come and join us. I'm not going to be leading the event like traditionally led rides, but will simply let people exercise self-control and enjoy the ride.
As I am a firm believer in structured training, I am currently exploring options in that department, so look out for structured training events in the near future.
Summing Up
As you can see, it has been a busy 18 months, but it has been an enjoyable process. It goes without saying that I am grateful for the help provided by Mark Cote, who was gracious enough to help me with my article that led to the creation of this event series. I'm also grateful to Zwift's events team who have supported the expansion of the "Mountain Massif," in particular Emily Ormond and James Baily.
If you are interested in taking part in any of the events, the schedule is as follows:
Monday: Monday's Mountain Massif TT
Time: 12:00PM BST & 6:00PM BST & 11:00PM BST
Tuesday: Mini Mountain Massif TT – In association with Rowe & King
Time: 12:00PM BST & 6:15PM BST & 11:00PM BST
Wednesday: Midweek Mountain Massif TT – Sponsored by Elite's RIZER
Time: 12:00PM BST & 6:15PM BST & 11:00PM BST
Thursday: Micro Mountain Massif TT – Race 1
Time: 12:00PM BST & 6:15PM BST & 11:00PM BST
Micro Mountain Massif TT – Race 2
Time: 12:30PM BST & 6:45PM BST & 11:30PM BST
Friday: Mountain Massif TT – Powered by Muc-Off 
Time: 12:00PM BST & 6:00PM BST & 11:00PM BST
Saturday: Mountain Massif – The Race
Time: 8:30AM BST & 3:00PM
Sunday: The Mountain Massif
Time: 8:30AM BST & 3:00PM
See all upcoming Mountain Massif events at zwift.com/events/tag/mountainmassif >