Launched in Zwift's August 2021 update, this route was created to host Zwift Academy Road 2021's "standard" Baseline and Finish Line rides. It went from event-only to free ridable in Zwift's December 2021 update.
Route Basics
Length: 24.5 km (15.2 miles)
Elevation: 321 m (1,053')
Lead-In: 0 km ( miles)
Map: Watopia
Start & Finish
Begins at Fuego Flats start pen, ends atop the Volcano KOM.
Achievement Badge: 490 XP
Route Description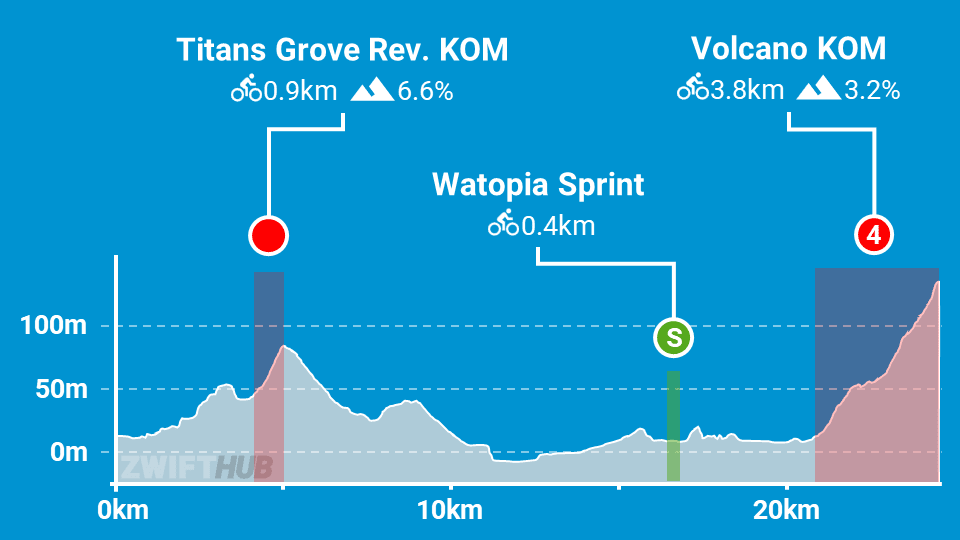 Route profile by ZwiftHub – the place to plan and track your route achievements!
This route was designed to hit three different segments which test your sprint, VO2, and threshold power:
Beginning at the Fuego Flats start pens, we travel south and turn left into Titans Grove for a twisty, rollercoaster warmup before beginning the first timed segment of the ride: the Titans Grove Reverse KOM!
Catch your breath as you descend down to the misty valley of the dinosaurs, then climb out of Titans Grove and take the Ocean Boulevard tube over to the Fishing Village. As you hit the Italian Villas you'll want to ramp up your wattage, because the sprint segment is just up the road! This is a longer sprint, and it begins just before you enter the short tunnel. Give it all you've got, then recover over The Esses and through the glass bridge to the Volcano.
Your final challenge is the Volcano KOM – a corkscrewing climb to the top of the steaming mass of rock. Go go go! The route officially ends atop the KOM, but you've earned the right to get a few extra kilometers in by spinning those legs out while you descend afterward.
Ridealong Video