Route Basics
Length: 89.3 km (55.5 miles)
Elevation: 2112 m (6,929')
Lead-In: 0.6 km (0.4 miles)
Map: Watopia
Achievement Badge: 1780 XP
Strava Segments
Route Description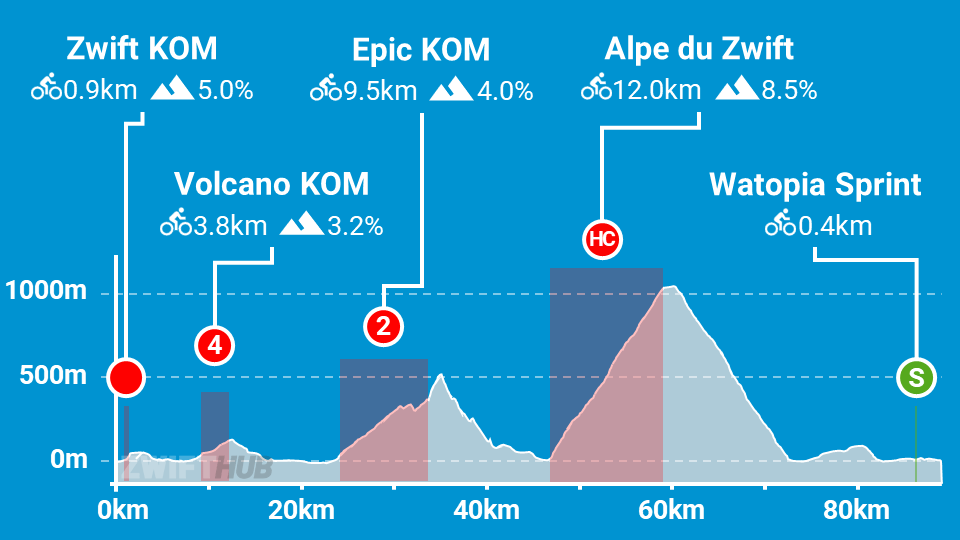 Route profile by ZwiftHub – the place to plan and track your route achievements!

When it was released in March 2018, the "Four Horsemen" covered all of Watopia's timed climbs: the original Hilly KOM, Volcano KOM, Epic KOM, and Alpe du Zwift. Along the way it also covered (nearly) every bit of Watopian road.
The Fuego Flats and Titans Grove extensions were released after this route launched, so Four Horsemen is no longer a nearly complete tour of Watopia.
Want to hit both sides of every KOM in one ride? Check out our KOMonster Rebel Route!
This is no leisure tour: be ready to work as you climb over 2000 meters in just under 90 kilometers! And be warned: hitting the Alpe after working your way over the previous climbs proves to be both a mental and physical challenge. Prepare yourself!