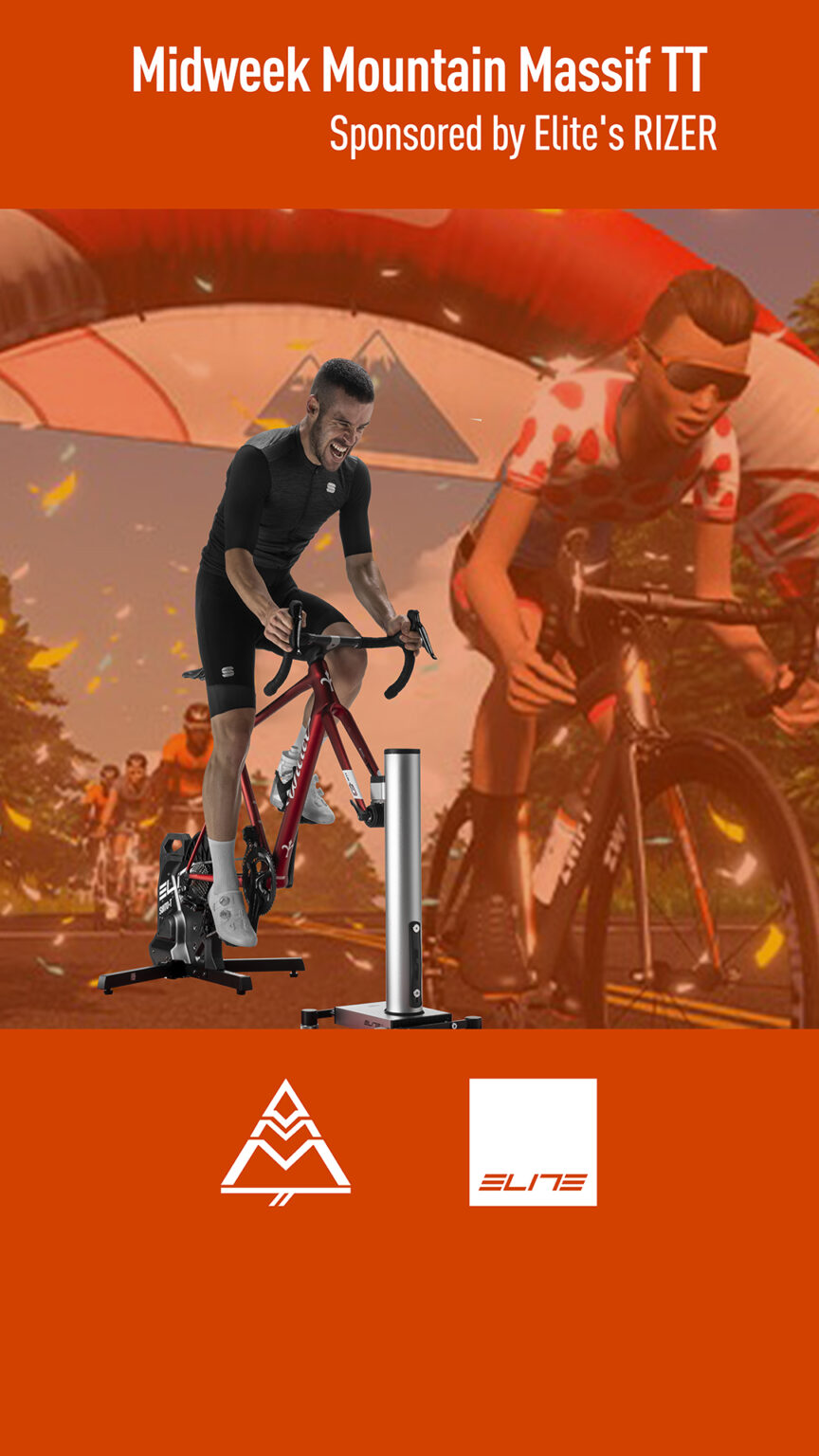 Race with pro rider Wout Poels in my new Midweek Mountain Massif TT, sponsored by Elite's RIZER on Wednesday, 24th November at 19:15 CET/18:15GMT/13:15EST/10:15PST!
This is the third Mountain Time Trial event series I've launched, and this time around we're doing it to celebrate the release of Elite's RIZER, an innovative, integrated climbing and steering device (read my review). The other two events are Monday's Mountain Massif TT (an intense effort up the Epic KOM reverse, finishing at the Radio Tower) and Friday's Mountain Massif TT (up the Alpe Du Zwift to turn 8).
This new Midweek Mountain TT is going to take riders 10.1km up the daunting Ven-Top. Applying the same tried and tested format from my other events, this event will feature a mass start for categories from the pens, with no time delays, we are going to race full gas part-way up the mountain.
Heart Rate monitors will be required and Zwift Power will be used for official results. There will be a winner for each category, including a Women's Category. There is no draft, no powerups, and bike changes are allowed. So it's your choice on how you race this event.
With Liege-Bastogne-Liege winner Wout Poels headlining the event, you can be sure it's going to be a strong field, maybe Wout will even invite some of his team along for the challenge!
The description of the event from the Companion app is as follows:
"What do you get if you cross a mountain race and a time trial? An absolutely intense, but highly unique event that will test the ability of any rider.

This is the chance to push yourself beyond your perceived limits. This event is designed so you can go "full throttle" on a mountain climb for a shortened period of time, with the finish line being situated partway up the daunting Ven-Top.

To time trial up the mountain on this shortened course will be hard and to achieve the best results may require you to employ tactics. Do you opt for a TT bike to the base of the climb before changing to a lightweight climbing setup? Do you opt for a lightweight setup from the start? Only you can decide and the decision you make will impact your results.

If you are not interested in racing for the victory, treat this event as a 20-minute FTP test. Generate a consistently high power for 20 minutes and boost your ratings in Zwift Power."
My Thoughts on the Event
It's an honour to have Wout racing with us and I think this is the toughest Mountain Massif TT I have created so far. The Ven-Top is unforgiving. You will notice that this course is exactly 2 kilometres shorter than my other offerings, but in terms of time, it will take roughly the same amount to complete.
The slopes of the Ven Top are long and straight, offering a different challenge to the shorter switch-backs of the Alpe Du Zwift. You may be an accomplished climber on the Alpe, but this is a different challenge entirely.
If you are up for the challenge, you can join the event by clicking the following links: