Launched in Zwift's August 2021 update, this route was created to host Zwift Academy Road 2021's "advanced" Baseline and Finish Line rides. It went from event-only to free ridable in Zwift's December 2021 update.
Route Basics
Length: 27.9 km (17.3 miles)
Elevation: 670 m (2,198')
Lead-In: 0 km ( miles)
Map: Watopia
Start & Finish
Begins at Downtown Watopia start pen, ends atop the Epic KOM.
Achievement Badge: 600 XP
Route Description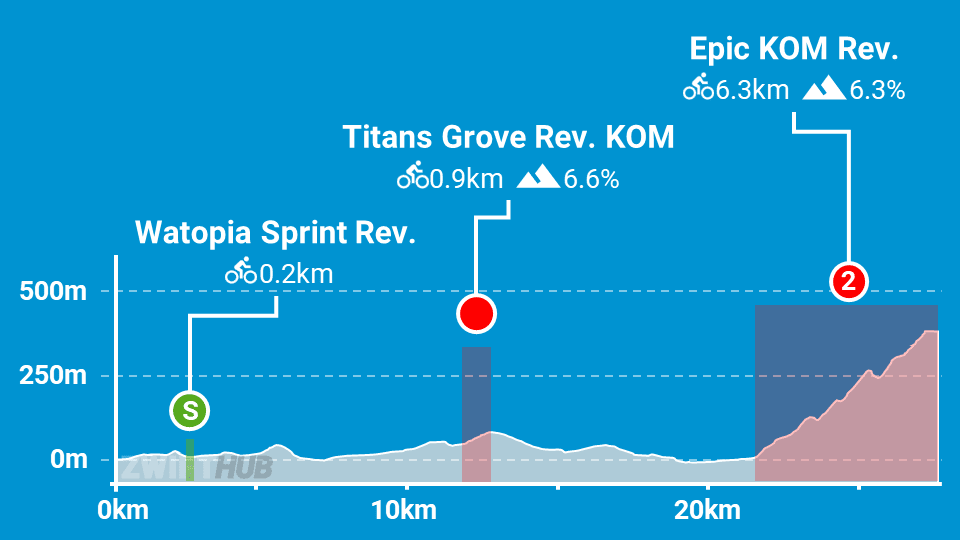 Route profile by ZwiftHub – the place to plan and track your route achievements!
This route was designed to hit three different segments which test your sprint, VO2, and threshold power:
This was the "advanced" route for Zwift Academy Baseline and Finish Line rides, designed with a longer threshold segment than the Legends and Lava route (which uses the Volcano KOM) so more experienced riders would have a longer segment to use for their efforts.
Beginning at the Downtown Watopia start pens, we head to The Esses and hit the Sprint Reverse just a couple of minutes out of the gate. This is a short sprint (around 10 seconds long) so it shouldn't sap the legs much. Then we go through the Italian Villas and up the start of the Hilly KOM Reverse before cutting across and descending to Ocean Boulevard, where we turn left for an easy climb to Titans Grove. Then you're in for a twisty, rollercoaster ride that takes you to the beginning of your next timed segment: the Titans Grove Reverse KOM!
Catch your breath as you descend down to the misty valley of the dinosaurs, then climb out of Titans Grove and take the Ocean Boulevard tube toward the Fishing Village. We'll hang a left at the wind turbines and head across the docks to our final challenge: the Epic KOM Reverse.
Give this climb all you've got, and once you cross the banner at the top, the route is officially complete. But why not spin those legs out for a cooldown as you descend back to sea level? You've earned it.
Ridealong Video