They might get called "dumb," but classic trainers are a great option for Zwifters on a budget. While they won't give you the full Zwift experience or be as accurate as smart trainers, they often cost much less and can be used with a wider variety of bikes.
Want to start riding on Zwift, but aren't sure where to start? Here's a guide with all the basics for anyone looking to get up and riding on Zwift with a classic or dumb trainer.
Choosing a Classic Trainer
Already have a classic trainer? (Sometimes people call them dumb trainers, because they don't broadcast power like smart trainers do!) The good news is that nearly any trainer will work with Zwift if you can mount a bike with a speed sensor on it. Standalone exercise bikes may not be compatible.
Need help choosing a classic trainer? Make sure that it's on Zwift's list of supported trainers. Supported trainers will work best with Zwift, making it more likely that your estimated power numbers will be accurate.
Read how Zwift estimates power on a classic trainer >
Are you using rollers? Most of the time they should be set up like a classic trainer. Some newer "smart" rollers will transmit power to Zwift and even change resistance, though. If you have rollers that transmit ANT+ and/or Bluetooth signals, those should be set up like a smart trainer.
What Else Do I Need?
In addition to your classic trainer, there are three things you must have in order to ride on Zwift:
A bike (obviously)
A device to run Zwift (with Internet connection)
A wheel speed sensor
Note: You do not need a speed sensor when using Zwift with a power meter! Zwift will use your power to calculate your speed.
Choosing a Bike
If you're new to cycling and don't have a bike, we recommend visiting your local bike shop and making friends with the good people there. They can advise you on the best bike to fit your needs, repair/adjust things as needed, and generally support you in your cycling journey. That's what they do!
If you're more of a do-it-yourselfer, you can always find new bikes online, or used bikes on eBay, CraigsList, or elsewhere. But if you're new to cycling we highly recommend forming a good relationship with your local shop.
Devices Which Run Zwift
Zwift is software, and you must install it on a compatible device in order to use it. Here is a summary of devices which can run Zwift. We've also included a note indicating the type(s) of wireless connections they allow:
Smartphones/Tablets: Bluetooth only

iPhone
iPad/iPod
AppleTV
Android

Computers

Windows 7 64bit or higher: ANT+ supported if you plug in an ANT+ dongle, Bluetooth supported on Windows 10 with Bluetooth 4. We recommend using ANT+ on Windows.
macOS 10.9 or higher: ANT+ supported if you plug in an ANT+ dongle, Bluetooth also supported.
Note: if your device was made in the last few years, it should be able to run Zwift. But you may want to double-check by looking at Zwift's current device requirements.
As you can see, Zwift supports just two ways of communicating wirelessly: Bluetooth or ANT+. Speed and cadence sensors may broadcast one or both of these signals.
Which Device is Best?
This is a common question, and there is no single answer. For some, the best device for running Zwift is the one they already own, because they can't afford anything else! For others, the best device is whatever offers the most immersive experience, regardless of cost.
If you're looking for the simplest experience, AppleTV is probably it. Of course, you'll need a TV screen as well, but Zwift on AppleTV is dead simple, affordable, and looks pretty smooth and sharp if you're using the latest AppleTV (4k).
Looking for the best gameplay experience (fast framerate, highest resolution)? Go with a Windows PC with a quality gaming graphics card. This will provide the most immersive and visually stunning experience when coupled with a large display.
Many Zwifters begin by using a basic device they already own (perhaps their iPhone, or a laptop PC) then upgrade to a higher-end setup once they've experienced how cool Zwift really is.
Creating a Zwift Account
Every Zwifter has their own account which tracks mileage and other achievements. Signing up easy–just visit zwift.com/create_account.
You will be given free trial access to Zwift so you can test it out before choosing to subscribe. Subscription cost in the US is currently $14.99/month.
Choosing a Speed Sensor
Speed sensors measure the speed of your rear wheel. Some speed sensors also include a cadence sensor, or are sold with a cadence sensor. (Cadence while cadence sensors measure how fast you turn the pedals.) While a cadence sensor isn't required for Zwifting, they are highly recommended and affordable.
These sensors may communicate with Zwift via ANT+ or Bluetooth signals or both. Check to make sure that your sensors transmit a signal that is supported on your Zwift device.
Wahoo's speed sensor is highly recommended as it is affordable, reliable, and transmits both ANT+ and Bluetooth. If you want cadence as well, get the bundle.

Garmin also sells a speed/cadence bundle which transmits on ANT+ and Bluetooth.
Connecting Your Speed (and Cadence) Sensors to Zwift
So you've got your bike mounted on a classic trainer, plus a device to run Zwift and the sensor(s) to connect to it. What next?
When you don't have a smart trainer or power meter, Zwift's software communicates wirelessly with your speed and cadence sensors. It takes your rear wheel speed, compares it to a known power curve for your trainer, and uses that to estimate how much power you are putting out. This allows your in-game avatar to ride in a way that reflects your effort. Estimated power also can be called "virtual power" or "zPower." Read more about virtual power here.
Note: if you're running Zwift on a computer and want to use ANT+ for your wireless connection, you'll need an ANT+ USB dongle plugged into that computer so it can talk to your smart trainer. See Recommended ANT+ Sticks (Dongles) for Zwift >
For Zwift and your sensors to "talk" to each other, you must pair them from within the Zwift software. Connecting your speed and cadence sensors to Zwift is quite easy once you've installed Zwift on your device:
Make sure your speed sensor and cadence sensor are installed and have fresh batteries.
Inflate your rear tire as you would on the road, then tighten the tension on the rear wheel according to the instructions for your trainer.
Open up Zwift on your device and log in.
At the pairing screen, click "Search" under "Speed Sensor." If your sensor doesn't appear, try pedaling a few times to get the wheel spinning.
Select your correct tire size and your sensor, then hit "OK."
Scroll through the list of classic trainers and select your brand and model.
Some magnetic ("mag") trainers have multiple resistance settings. Zwift will show you which setting to use when you select it. Keep your trainer on this setting whenever you use Zwift, and shift gears on your bike to make it easier or harder to pedal.
If you can't find your trainer, scroll to the bottom of the list and click "Not Listed" or – if using rollers – "Unlisted Rollers." Note: Your power estimates probably won't be as close to reality as they would be on a supported trainer. Do NOT select a listed trainer if yours is not listed, because the stored power curve won't match.
Pair your cadence sensor if you have one, turning the cranks to wake it up if it doesn't appear on the list.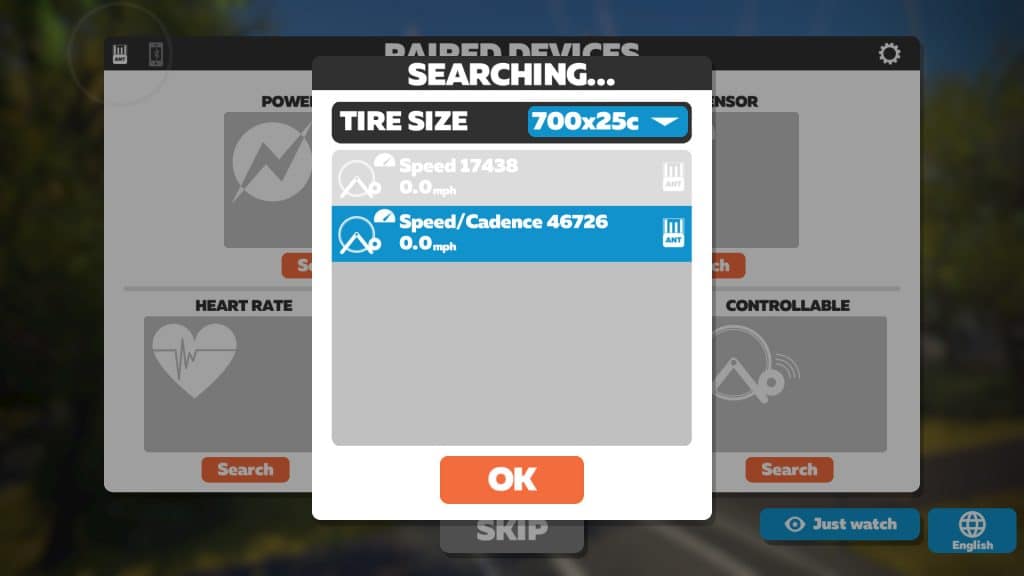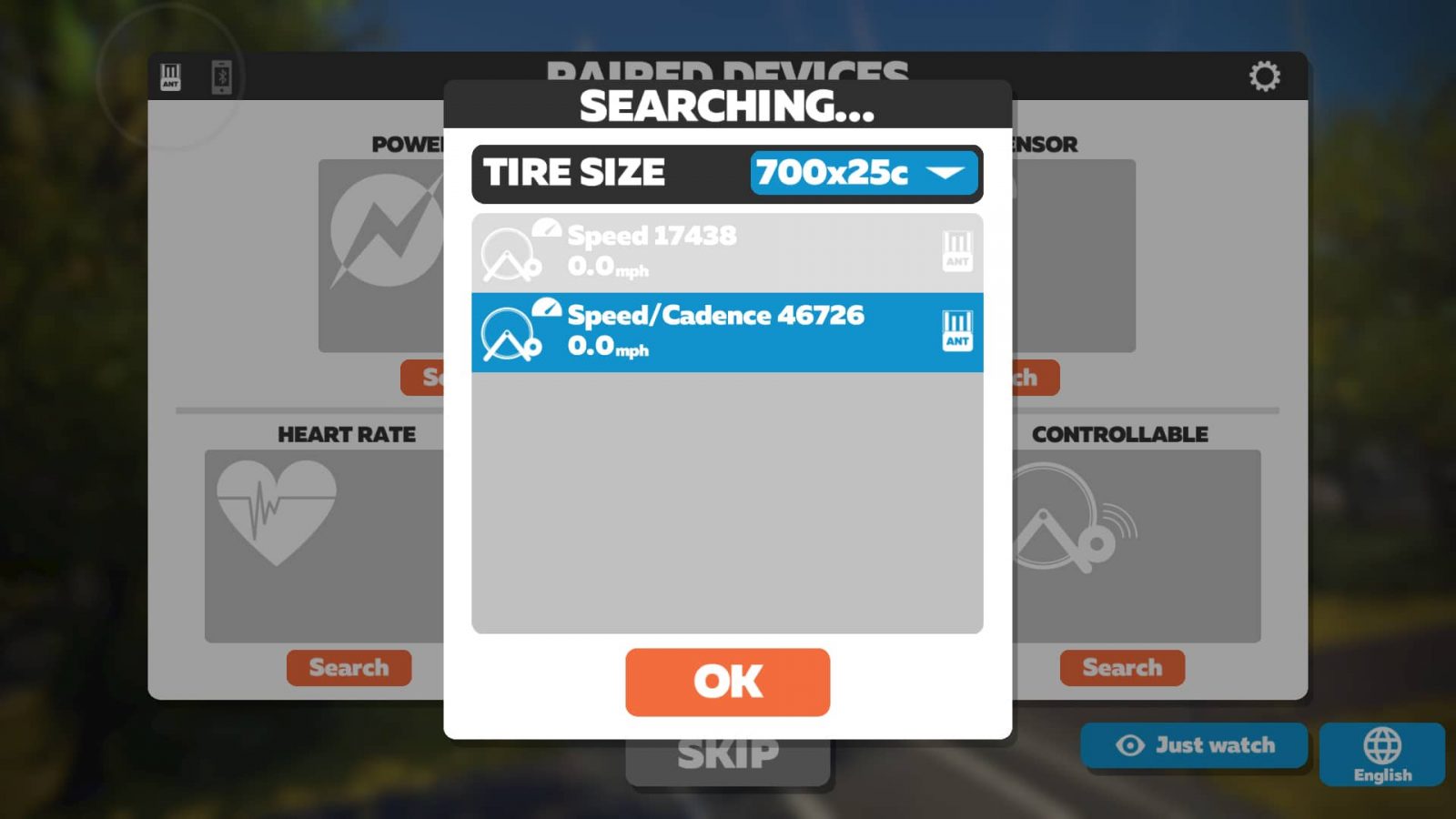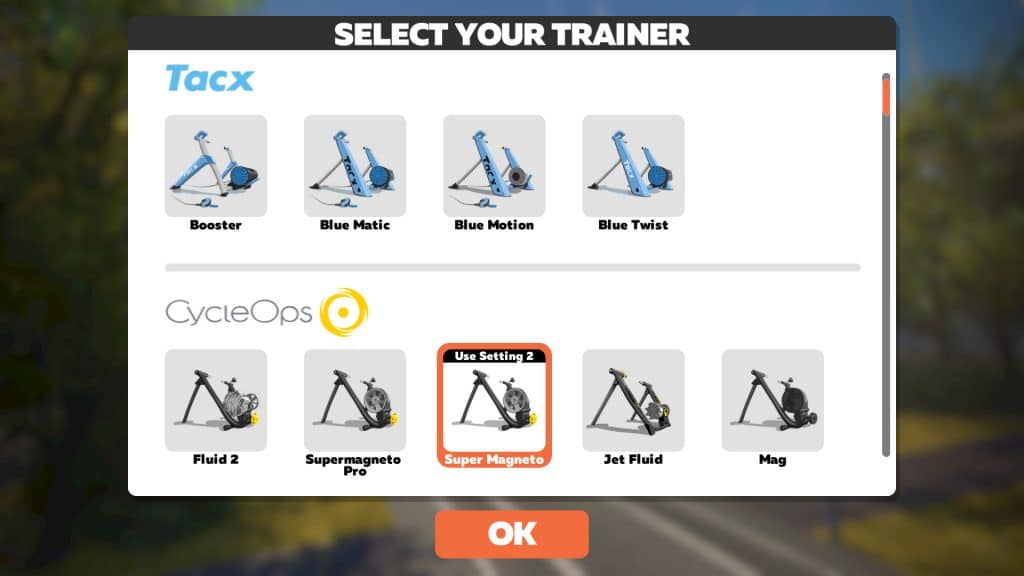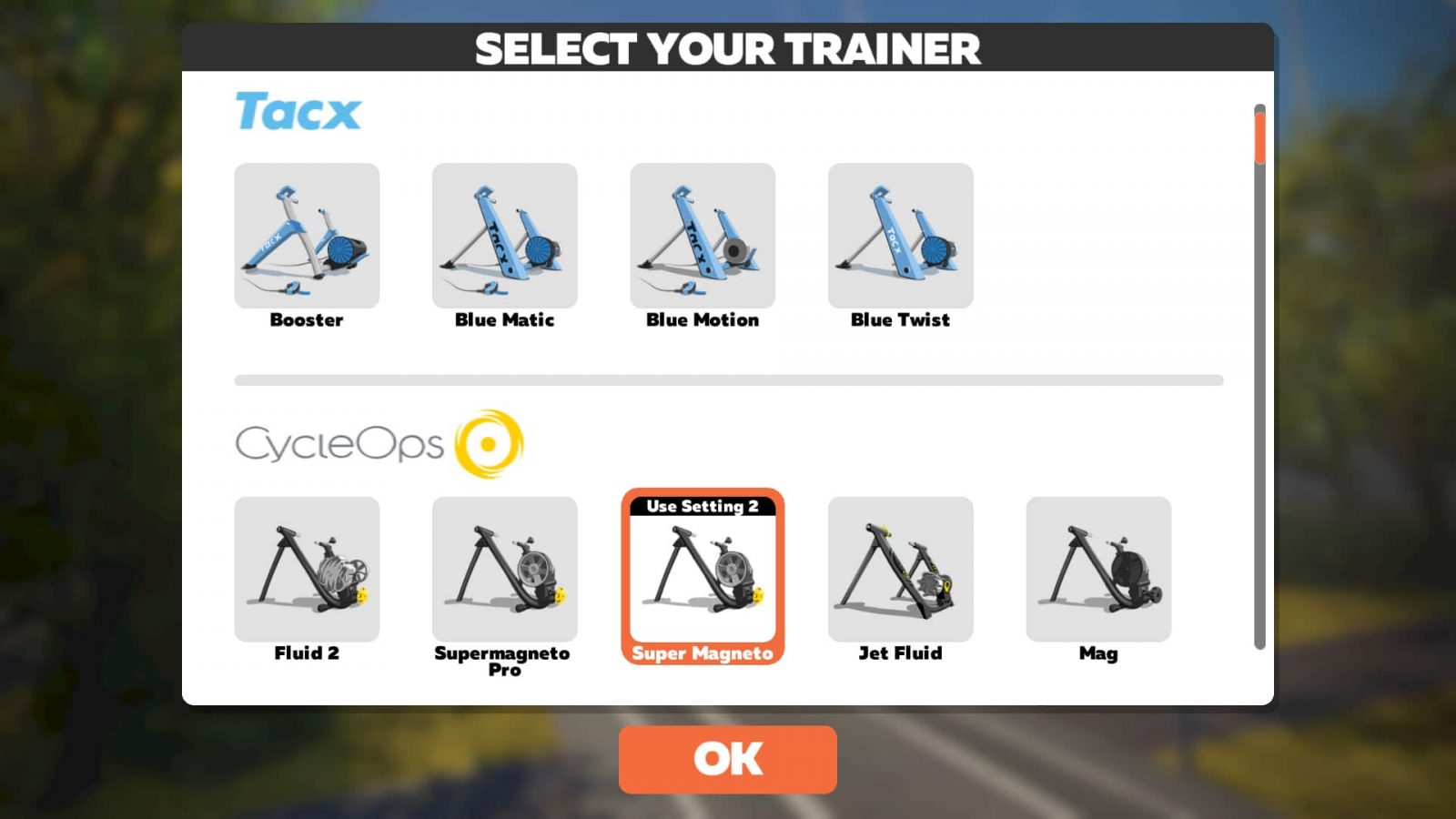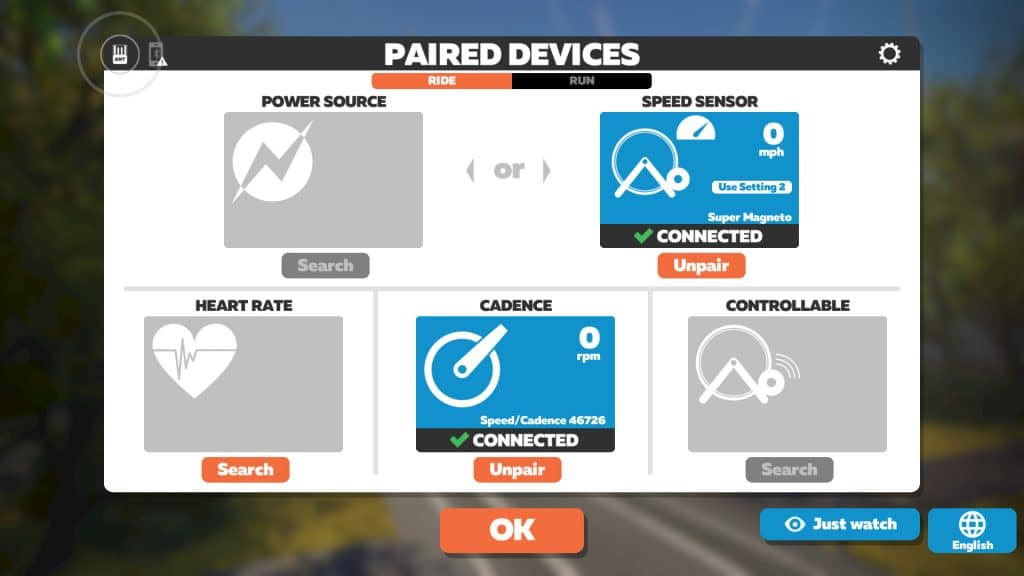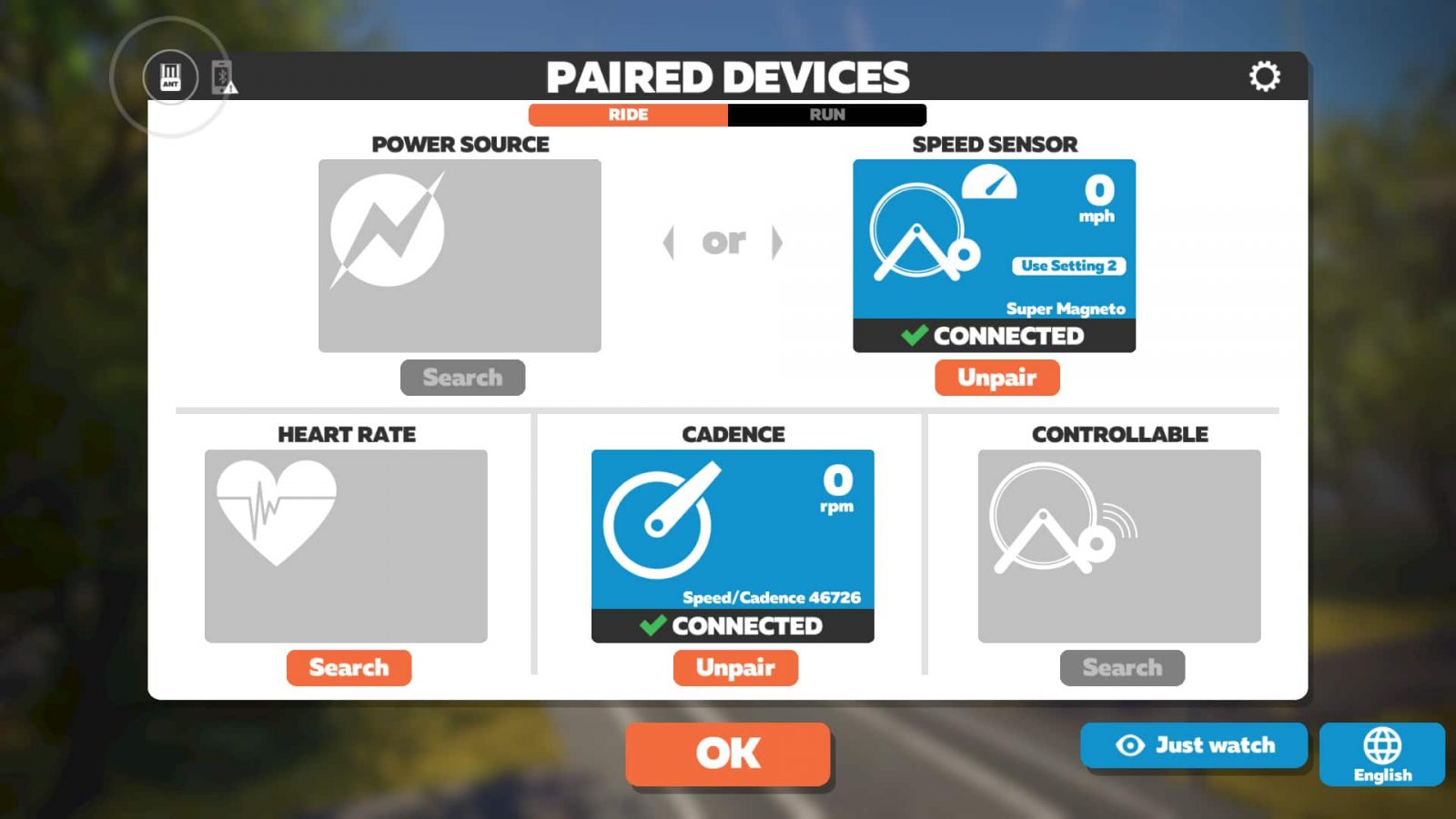 Get Moving!
Once you click "OK" on the pairing screen, you'll be greeted with the "Startup Screen" which lets you choose which route to ride, as well as a workout if you're so inclined.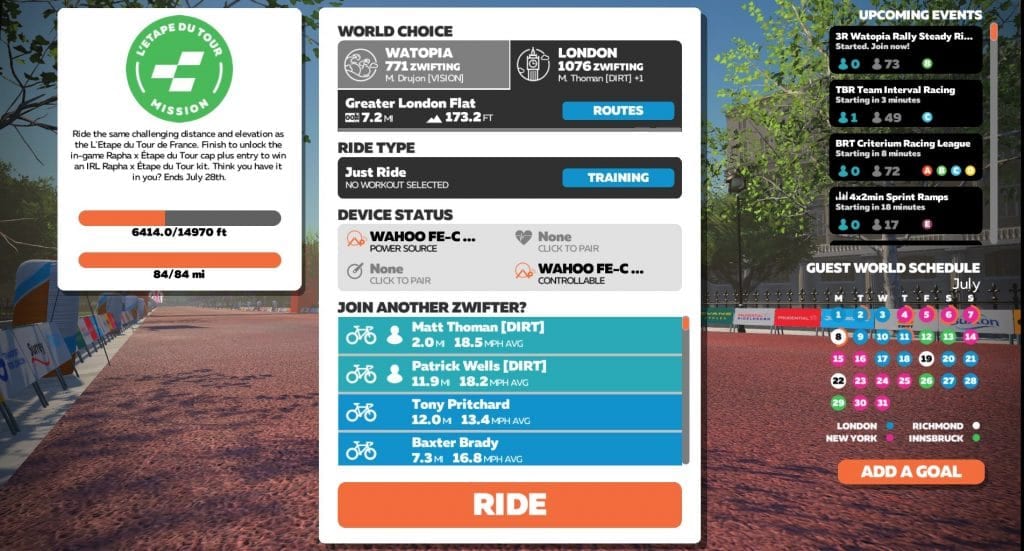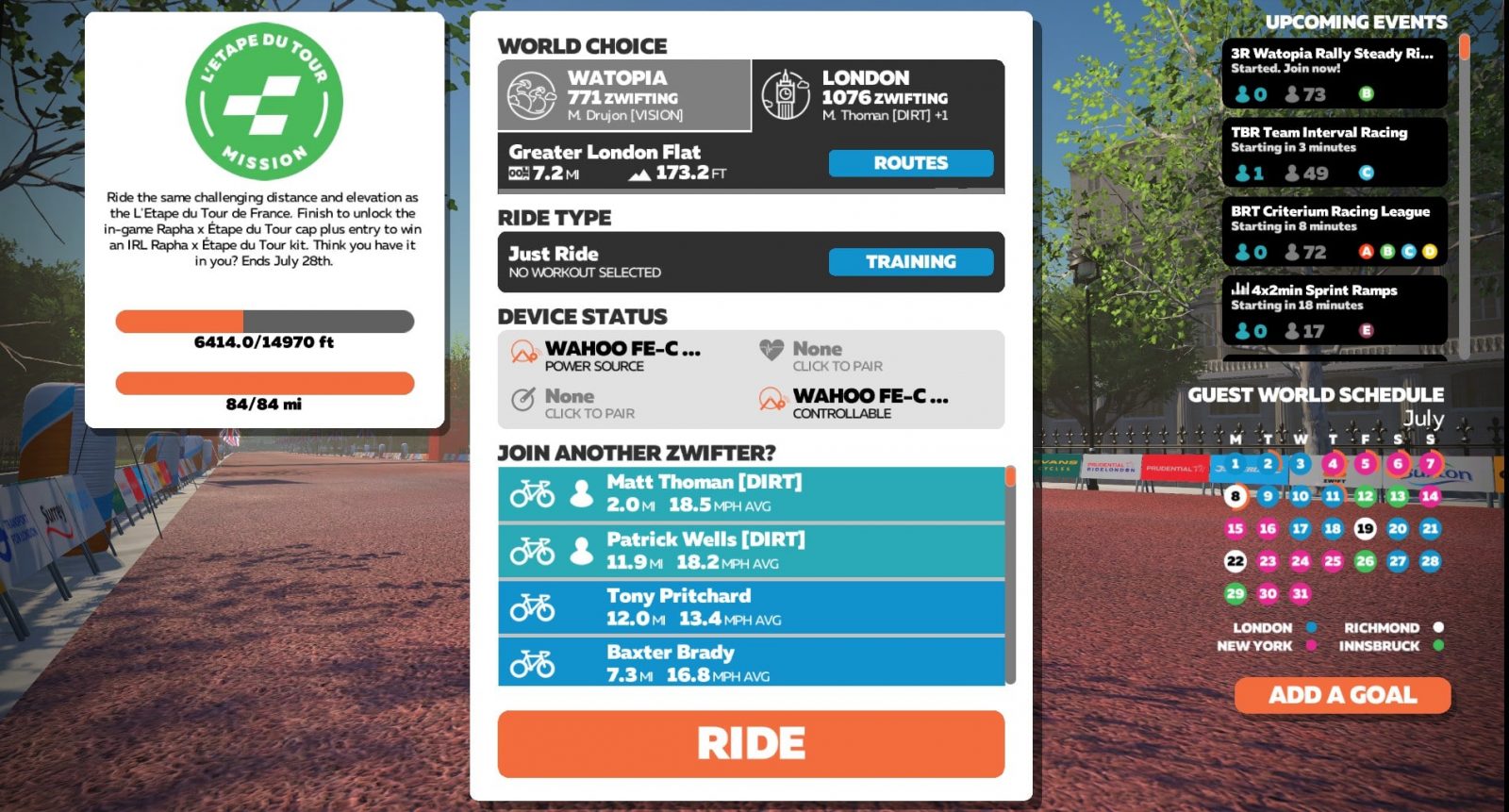 Just click the big orange "Ride" button to get going right away, or click "Routes" to browse the available routes. Keep in mind there are always two worlds available on a given day: Watopia and a "guest world". Each world has its own unique set of routes, and the guest world rotates based on a monthly schedule.
Upgrade Your Experience
While you only need a few things to start Zwifting, there are some additional purchases you can make to greatly improve your Zwifting experience: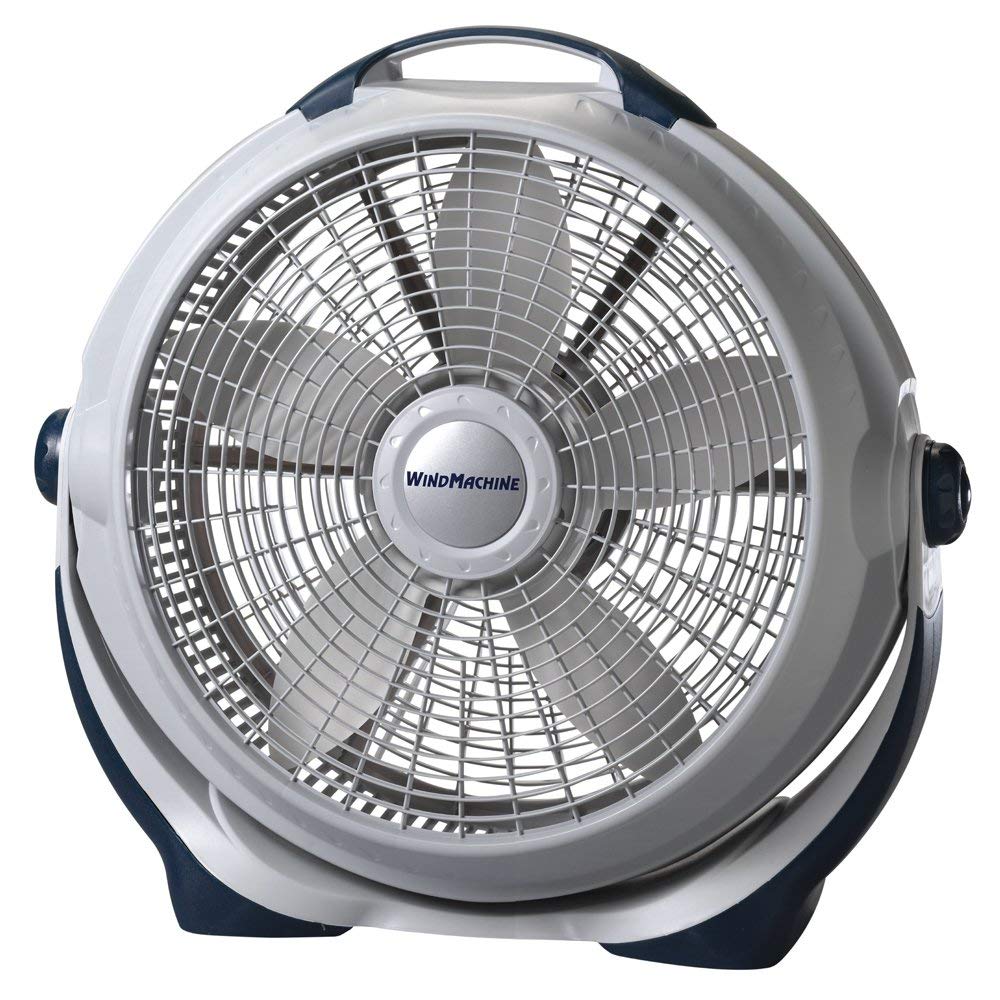 A fan (or two): read How Much Fan Do You Need When Riding Indoors? to learn why fans are important and get a list of recommended fans.
A table/tray: you'll need a place to store towels, remotes, food/drink, and more. A music stand is a good start or something like the Conquer Desk is a solid upgrade.
A larger screen: try to get a screen that lets you see game details clearly and fills most of your field of view.
Quality wireless earbuds: soon enough you'll want to listen to music, podcasts, or interact on Discord as you ride. Read Top 3 Wireless Headphones for Zwift+Discord if you need recommendations.
A heart rate monitor: it's nice to see your heart rate on screen, and most Zwift races require heart rate data if you reach the podium. We're partial to the Wahoo Tickr.
A smart trainer. Many Zwifters begin with a classic trainer (often one they already own) then upgrade to a smart trainer for the full experience. Read the 2018 Smart Trainer Recommendations Guide which includes recommendations for various budget levels.
And don't forget a sweat towel!
Next Steps
We recommend joining a group ride once you've done a few "free rides" on Zwift. The Zwift community rocks!
Additionally, Zwift Companion allows you to see upcoming events, control the game, and interact with other Zwifters from your smartphone. Install it on your iOS or Android device and see how it works.
We'll see you out there. Ride on!