Zwift's August update includes a fresh wheelset from DT Swiss: the "ARC 1100 DICUT DISC". This is DT Swiss' second wheelset in game, with the first being the popular ARC 1100 DICUT 62 all-arounders.
Released in August 2021, the IRL version of the wheel is disc brake-only and made to complete DT Swiss' aero lineup. On the virtual side, the wheelset is the most expensive one in Zwift: 1,579,800 Drops, for level 42+ Zwifters. Rated at 4 stars for aero and 1 star for weight, here's how it's described in the Drop Shop:
"The new ARC 1100 DICUT DISC is made to aerodynamically maximize your performance on flat to undulating courses with cutting-edge technologies. Developed together with aero experts from Swiss Side, the full carbon rear disc wheel is made for disc brake bikes only and with its 20 mm rim inner width optimized for wider tires to reduce rolling resistance and increase comfort. At its center is the 180 DICUT hub with Ratchet EXP System and SINC ceramic bearings, the jewel in its crown. The ARC 1100 DICUT DISC inspires every time trialist and triathlete to pedal even harder."
According to DT Swiss' own website, this wheelset saves around 2 watts compared to Zipp's 808/Super 9 disc. This is intriguing, since any Zwift racer worth their sweat towel knows that the Zipp disc wheelsets are the fastest in game (with the 808 wheelset perhaps 1 second slower over our 50-minute flat test than the 858 disc wheels.)
Will the new DT Swiss disc outpace the reigning kings of Zwift racing wheels? That's what we wanted to find out, so we ran the new wheels through a battery of tests to learn just how well they perform on Zwift's virtual tarmac. Here's what we learned…
But First: What's On the Front?
This wheelset is called the "ARC 1100 DICUT DISC" on Zwift, but really should be called "ARC 1100 DICUT 80/DISC" in keeping with Zwift naming conventions and to provide clarity to what's actually on the front of the wheelset.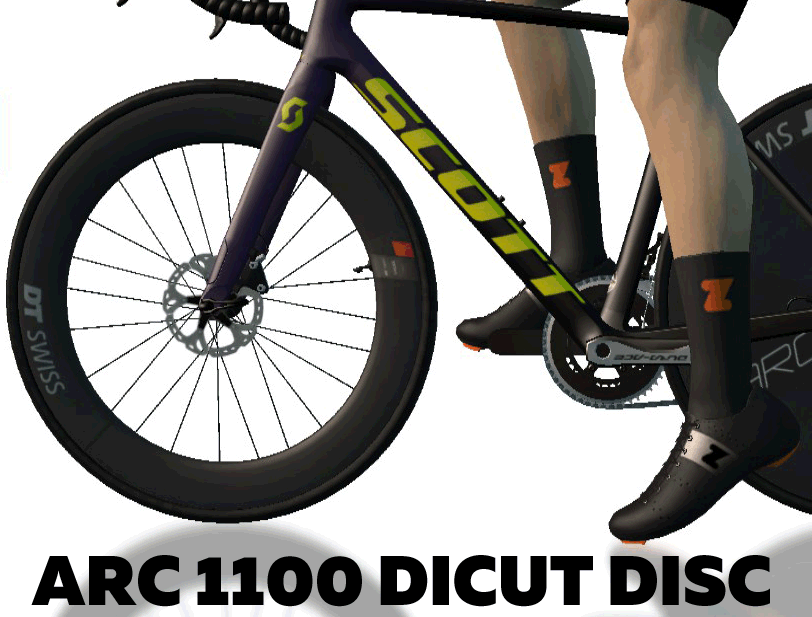 As you can see in this animation, the front wheel which comes with the new disc wheelset is deeper than the ARC 62 wheelset. It's the ARC 80 wheel, the deepest wheel DT Swiss offers, and the one paired with the disc in their own tests.
Aero Performance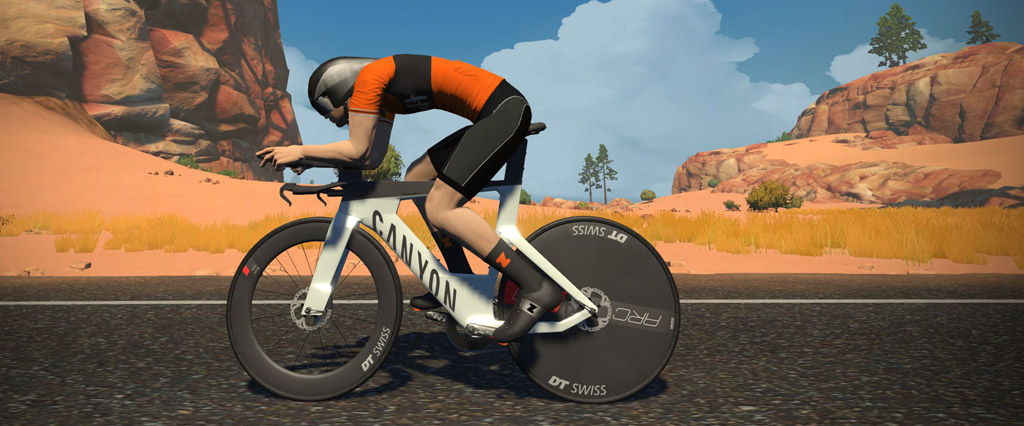 This is the big news: the DT Swiss ARC 1100 DICUT DISC wheelset turns in a flat test time that is 6.5 seconds faster than the Zipp 858/Super9 in our 50-minute test on a flat 34.6km route (Tempus Fugit).
The ARC 100 DICUT DISC wheels turned in a time of 50:25.5 in our test. By comparison, the former fastest wheels in game (Zipp 858/Super9) turned in a time of 50:32, and the ol' racing standby (Zipp 808) turn in a time of 50:43. (All of these test times were done with the Zwift Aero frame.)
Climb Performance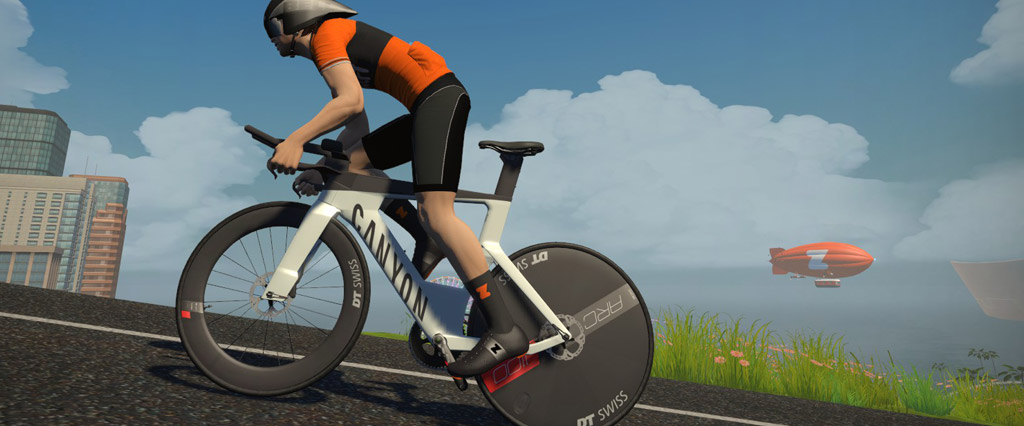 The ARC 1100 DICUT DISC is rated at just 1 star for weight, so we figured its time up the Alpe wouldn't be anything impressive compared to other climbing wheelsets. But how would it compare to the fast aero wheels?
These new wheels turned in an Alpe du Zwift time 1 second faster than the Zipp 858/Super9, meaning the DT Swiss disc outperforms the Zipp both in climbs and on the flats.
By comparison, the ARC 1100 DICUT DISC turns in a time of 49:39. The fastest climbers currently in game (Roval Alpinist CLX) turn in a time of 49:12.5.
Conclusions
A 6.5 second gap over 50 minutes is massive in Zwift racing, and corresponds to ~2 additional watts of power, matching DT Swiss' test results vs the Zipp 808/Super9 shown here. Because of this, the new disc wheel from DT Swiss is going to be purchased by Zwift racers everywhere – assuming they've got 1.5 million Drops to spare and are at level 42+!
With TTT races often decided by just a few seconds, this wheelset is a must-buy for time trialists especially.
Given the standout performance of the DT Swiss ARC 1100 DICUT DISC wheels, we'll be updating the following posts soon:
Goodbye, Tron?
The Tron bike is 3 seconds slower in our flat test than the 858/Super9 discs on the fastest frame available (Specialized S-Works Venge). But this new wheelset will beat the Tron bike by 9.5 seconds.
Unless rules are changed, we predict you'll be seeing far fewer Tron bikes in community races. All those blingy light bikes will be replaced by fast frames running the new DT Swiss disc.
Opinion: Race Rules Revamp
Zwift's Esports Rules prohibit the use of disc wheels in top-tier "pro-level" Zwift races. They are allowed in time trials, of course, but not in draft-enabled road races. Perhaps it's time for community race organizers to do the same.
Why disallow discs in Zwift road races? Two reasons:
Riding a road race on a disc wheel isn't a good look. It never happens outdoors, so why should it happen on Zwift?
The time gap between the DT Swiss disc wheelset and the fastest non-disc wheels (Zipp 858) is 13.5 seconds over ~50 minutes. That's a crazy big gap, which means racers will be driven to use the DT Swiss discs in all races not involving significant climbs. In our opinion, variety is the spice of life – and cycling! If Zwift wants to see somewhat equal representation across wheel brands on the platform, they'll have to make some changes.
Questions or Comments?
Share below!
Important note: this post contains speed test results for Zwift frames or wheels. These results may change over time, and a bike's performance relative to others may also change. We don't always revise posts when performance rankings change, but we do keep current, master versions of our speed test results which are always available. See the frame charts, wheel charts, and Tron vs Top Performers for current performance data.