Last week's Zwift update included a new wheelset: the first DT Swiss hoops in game! Called the "DT Swiss ARC 1100 DiCut 62", these virtual wheels are based on the newly-released DT Swiss ARC 1100 DiCut 62 DB. DT Swiss describes these IRL wheels as "all-round aero", and that summarizes their in-game performance quite nicely.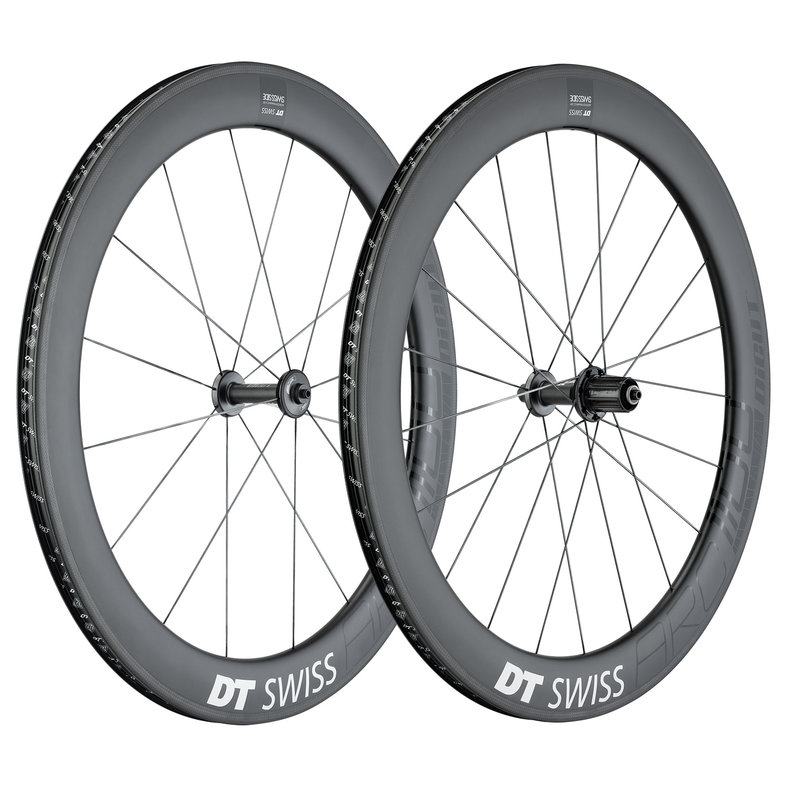 These new hoops cost 184,600 Drops and require level 6. Here's how Zwift's Drop Shop describes the wheelset:
"Built around the iconic 240 hubset with its ratchet system for rapid engagement and DT Swiss's own aero comp spokes and hidden nipples, the ARC 1100 62 is a mid-depth wheelset that offers a windtunnel-proven aero advantage at a weight that won't slow you down when heading uphill. The ARC 62 is a do-everything wheelset that features the latest in-house technology from this historical and history-making company."
Stargazing
There are only two wheelsets in Zwift which have a 4-star aero rating coupled with a 3-star weight rating: these new hoops from DT Swiss, and the Zipp 454's. Presumably, both sets would deliver strong performance at high speeds while climbing well.
But experienced Zwifters know that the star ratings don't provide a precise view of wheel performance. So we've run our standard flat and climbing tests to learn precisely how the DT Swiss ARC 62's stack up against the other wheelsets in our garage. Here are the results!

Flat (Aero) Performance
These wheels turn in solid performance on flat and rolling courses, but they just aren't quite slippery enough to make our list of Zwift's most aero wheelsets. Overall they are ranked in the 75th percentile on our wheel charts, meaning they performed better in our flat test than 75% of the available wheelsets.
On our ~50-minute flat test, the DT Swiss ARC 62's are 18 seconds behind the very fastest wheels available (Zipp 858/Super9), and 8 seconds behind the Zipp 808's which are commonly used by Zwift racers.
Climb (Lightweight) Performance

These wheels perform surprisingly well in our climbing tests. "Surprisingly" because they are deep-dish carbon wheels (62mm deep), and those don't traditionally perform well on climbs outdoors due to their increased weight.
The DT Swiss ARC 62's, though, perform well enough to tie for 4th place in our ~50-minute Alpe climb test. And that's just 1 second behind tying for 3rd place! Given their strong performance in our flat tests, we've ranked them as the third best overall climbing wheelset.
Conclusions
The new DT Swiss ARC 1100 DiCut 62 wheelset on Zwift in an excellent performer if you're looking for a wheel that climbs well without slowing you down too much on the flats. In fact, in our stacked percentile rankings, this wheelset comes in at the top, just edging out the Zipp 454s which are only available at a much higher level!

Don't read too much into this wheelset being ranked above the 454's – the two wheelsets are basically tied in terms of overall performance, with the DT Swiss climbing the Alpe 1 second faster, and the Zipps finishing our flat route 1 second faster. With GPS rounding errors of 1 second being commonplace, it's safe to say both wheelsets perform in nearly identical fashion. They have the same star ratings, after all, so this makes good sense.
In fact, any of the wheelsets listed above will turn is solid all-around performance on flats and climbs. It's just a question of where you want the advantage – want some help on the flats? Go with the 858's. Want help on the climbs? Consider the ENVE 3.4's. Want a balance? The DT Swiss or Zipp 454's are a good choice.
Your Thoughts
Will you be rolling these new hoops on Zwift? Why or why not? Share below!
Important note: this post contains speed test results for Zwift frames or wheels. These results may change over time, and a bike's performance relative to others may also change. We don't always revise posts when performance rankings change, but we do keep current, master versions of our speed test results which are always available. See the frame charts, wheel charts, and Tron vs Top Performers for current performance data.