The latest Zwift update is now available on all platforms: Mac, PC, Android, iOS, and AppleTV.
Not sure if your Zwift install is up-to-date? Here's how to check >
This update delivers a much-requested feature, plus a pile of additions to the Drop Shop and a couple of new Makuri Islands routes. Read on for details!
Route Progress Bar
This has been one of those "crowd favorite" requests for years, so we're super stoked to finally see it showing up in-game. Now, for every route, you'll see a progress bar showing the lead-in (if applicable) plus the actual route.
No more confusion about whether you've completed (or even begun) the route. And if you ride multiple laps of the route, the lead-in section will go away, and the progress bar will just show your progress on the current lap. Smart!
Note that this progress bar UI disappears temporarily when other HUD elements take precedence, such as the Alpe spinner or a sprint or KOM timer.
New Bikes & Wheels
Eight new items have been added to the Drop Shop. This may be the biggest single Drop Shop update since it was originally launched!
BMC Roadmachine frame: 2 stars for aero, 3 for weight // Level 21+ required // 780,900 Drops
Canyon Ultimate CFR frame: 2 stars for aero, 3 for weight // Level 19+ required // 639,000 Drops
Cervelo S5 2020 frame: 2 stars for aero, 3 for weight // Level 27+ required // 852,000 Drops
Scott Addict RC frame: 2 stars for aero, 4 for weight // Level 33+ required // 852,000 Drops
Van Rysel EDR CF frame: 2 stars for aero, 3 for weight // Level 12+ required // 326,600 Drops
CADEX 42 wheels

: 3 stars for aero, 3 for weight // Level 8+ required // 227,200 Drops

CADEX 65 wheels: 3 stars for aero, 3 for weight // Level 21+ required // 241,400 Drops
DT Swiss ARC 1100 Dicut Disc wheels

: 4 stars for aero, 1 for weight // Level 42+ required // 1,579,800 Drops
Our testing apparatus is in full swing, putting each of these new items through its paces on flat and climbing tests. We're particularly excited about the DT Swiss disc wheels – the most expensive wheelset in game! Will the performance match the price?
Watch for posts dedicated to each new frame and wheelset in the coming days.
Added Yumezi Routes
Two routes have been added to the Makuri Islands. This isn't new tarmac (or dirt), just new routes on the roads which were released back in May.
Farmland Loop (7.8km, 57m): one of the flattest and shortest routes in Yumezi, with just a bit of climbing each time around
Valley to Mountaintop (5km, 130m): sort of the sister route to Sea to Tree, this one just takes you up the other side of the Temple KOM


We'll be fleshing out the route detail pages for these new routes, as well as adding them to our list of Zwift Routes by Difficulty soon.
Zwift Academy Updates
This release includes lots of Zwift Academy-related content, but there's also more to come. For now, cyclists who are new to structured training and/or Zwift Academy can jump into the new "Orientation Workout" available in your on-demand workouts folder. This workout is also available as a group workout if you want to ride it with others -just look for "Orientation Rides" in the Zwift events calendar.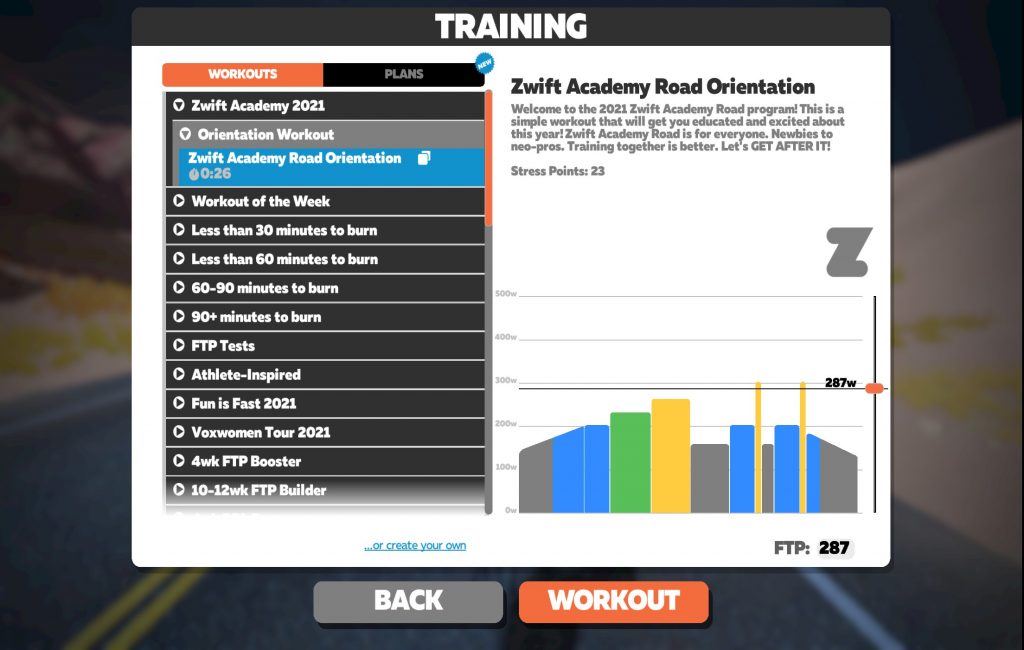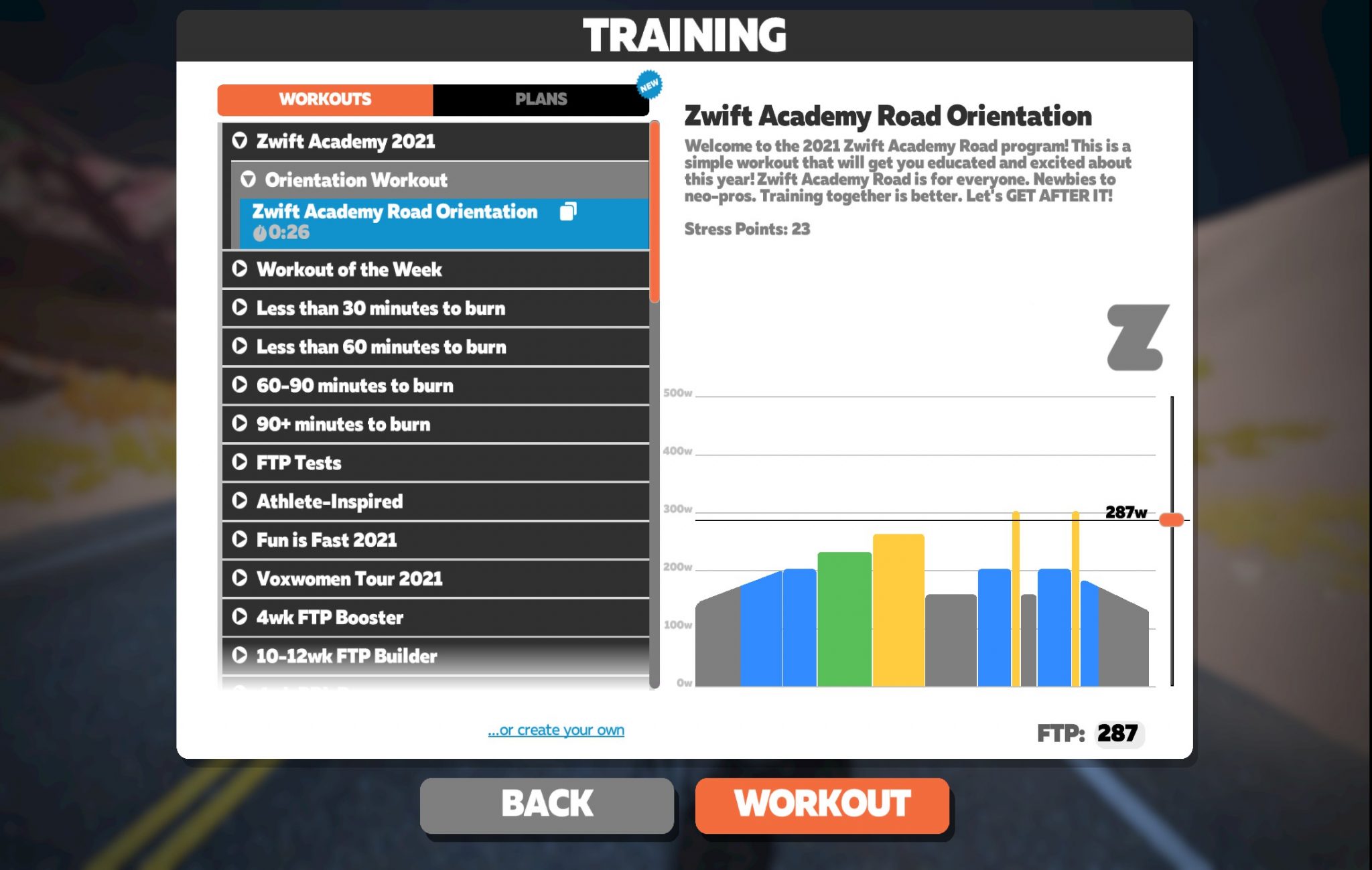 (All of the Zwift Academy Road workouts will eventually be in this folder.)
Read all about Zwift Academy Road 2021 >
Pack Dynamics 3.0
Not included in the update notes is Zwift's "release" of what they're calling "Pack Dynamics 3.0". We say "release" because while the new code is now in-game, it's only going to be enabled for particular events or maps until testing is complete and Zwift decides they want to roll it out to all Zwifters.
What's different in this version? Less of the unrealistic side-to-side movements of riders within the pack, and because of this, more reliable prediction of everyone's location by each Zwifter's game client. What this means is that rider locations will be more consistent between different Zwifter's views, and the pack should feel more realistic, moving along like a school of fish.
We've seen a few preview videos, and the new packs look really good. Kudos to Zwift's developers for their work on this feature.
The plan is to enable the new pack dynamics for specific events, then eventually enable them for all rides in London and Makuri Islands (the two worlds where pack dynamics are toughest to roll out). If that testing goes well, then pack dynamics 3.0 will be rolled out game-wide.
New "Return to Running" Workouts
This new set of workouts is designed for new runners, or runners returning from injury, a period of inactivity, or pregnancy. It's an 8-week long series, and it's available in your on-demand workouts list.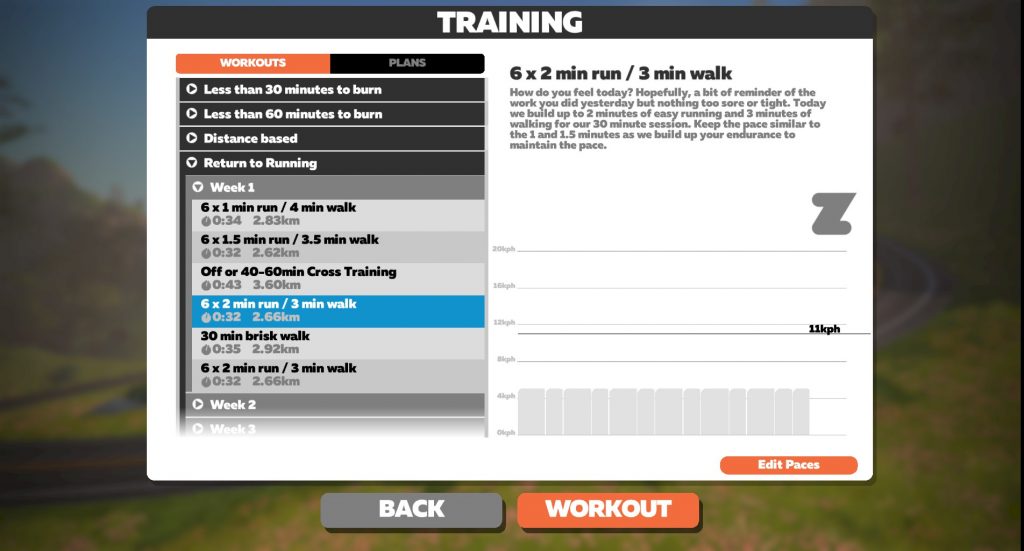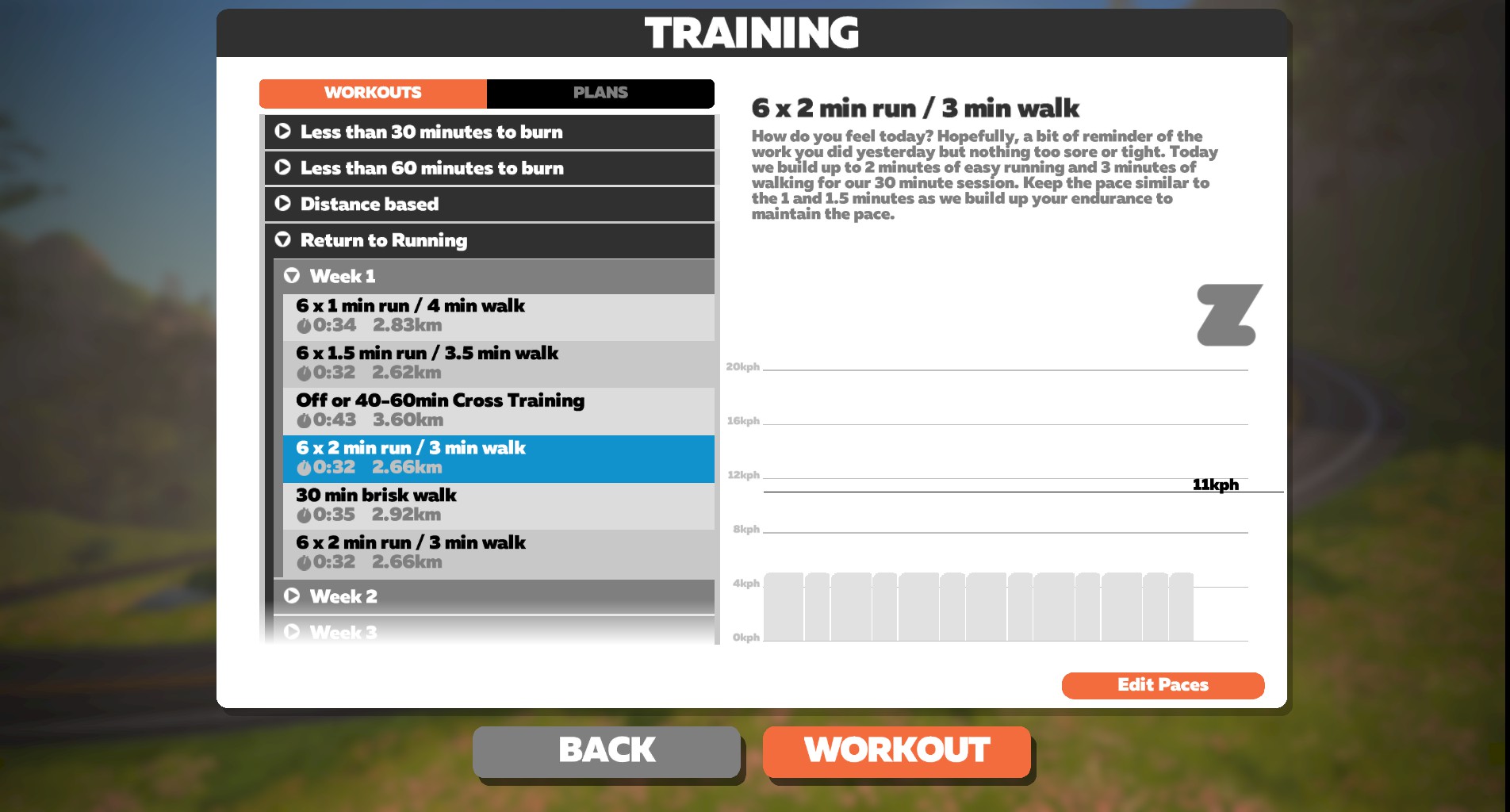 New Equipment Support
We like to see Zwift releasing support for newly-released hardware and developing technologies, and this update includes a few:
Support for the Elite Rizer for both in-game steering and terrain simulation
Support for the Wahoo Element Rival watch
Support for sending user weight to FTMS compatible trainers (so your smart trainer will deliver greater resistance on a climb for a 100kg rider than it would for a 50kg rider).
Bug Fixes and Misc Improvements
Here's the list of fixes and improvements, with some notes in italics from us where warranted.
Zwifters will no longer see the Steering tutorial in-game if you select OK or the tutorial screen times out.
Fixed an issue where players were unable to toggle the Hide Display mode during a free ride.
Fixed an issue where Pace Partners would occasionally flicker when colliding with another Zwifter.
Fixed an issue causing some Zwifters to see assert errors when trying to log in.
Fixed an issue where the jersey reward for the 2017 Trek-Segafredo Pro Jersey Mission had been removed from the garage of Zwifters who had completed the Mission.
Fixed an issue with bike shadows being incorrect in one specific place in Watopia. I know Watopia is not haunted, I mean I'm pretty sure … right? Wrong, Wes. Titans Grove is a very spooky place at night.
Fixed an issue that would not award the Elite kit to Zwifters who paired their Elite Suito trainer via BLE.
Made minor modifications to in-game messaging in a number of workouts.
See Wes Salmon's notes on this update release in the Zwift forum >
Questions or Comments?
If you spotted any other changes in yesterday's update, please comment below!