If you're racing on Zwift, upgrading your frame and wheels can cut some significant time off your efforts. But figuring out where to spend your hard-earned Drops can be confusing! So we've put together this table which lists the fastest frame and wheelset available at every Zwift level.
(Keep in mind this list applies only to flat and rolling routes. The list below is essentially a simplified, flat-race-focused version of our complete Zwift Shopping Guide. If the climbs in your race last more than a few minutes, you may want to consider a more climbing-friendly setup.)
(Also, this list does not include TT frames, since those aren't allowed in typical Zwift road races. TT frames are covered in this post.)
Want to keep it simple? Just purchase each frame or wheelset on the list as soon as you level up. Don't have enough Drops? Keep riding – you'll get them soon enough! (And you might want to ride near a Pace Partner so your Drops add up more quickly!)
Fastest Frames
Level
Fastest Frame
Time
Savings
1
Zwift Carbon (Free)
0s
5
Specialized Tarmac SL7 (674,500)*
6s
6
Zwift Aero (319,500)
11s
8
Focus Izalco Max 2020 (426,000)
13.5s
10
Canyon Aeroad 2021 (568,000)
17s
19
Uranium Nuclear (184,500)*
19s
* The Cervelo S5 2020, Specialized Venge S-Works, Felt AR, and Uranium Nuclear all turn in matching times in our flat tests.
Fastest Wheelsets
Level
Fastest Wheelset
Time
Savings
1
Zwift 32mm Carbon (Free)
0s
4
ENVE SES 3.4 (191,700)
26s
5
Roval CLX64 (170,400)
30s
6
DT Swiss ARC 62 (184,600)
34s
13
Zipp 808 (177,600)
42s
31
ENVE SES 8.9 (205,900)
43.5s
35
Zipp 808/Super9 (1,075,700)
51s
37
Zipp 858 (312,400) fastest non-disc*
46s
42
DT Swiss ARC 1100 DICUT DISC (1,579,800) fastest disc
59.5s
Total time savings of fastest frame and wheelset over stock Zwift setup (Zwift Carbon frame and 32mm wheels): 19+59.5=78.5 seconds
Times above based on our flat speed tests, done with a solo 75kg rider at 300 watts over two laps of Watopia's very flat Tempus Fugit route. Our test rider completes the route in approximately 50 minutes.
*Table Notes:
Level 5: while the Specialized Tarmac SL7 is the fastest frame at this level, chances are you won't have enough Drops to buy it yet! Don't worry – you can buy the cheaper and faster Zwift Aero at level 6.
The Tron bike isn't listed above because it is not unlocked on any particular level. It is, however, attainable before reaching level 20, if you start working on it first thing. See below for more…
We included the Zipp 858 wheels since they're the fastest non-disc aero wheelset, making them the fastest legal wheelset for top-end Zwift ESports racing.
What About the Tron Bike?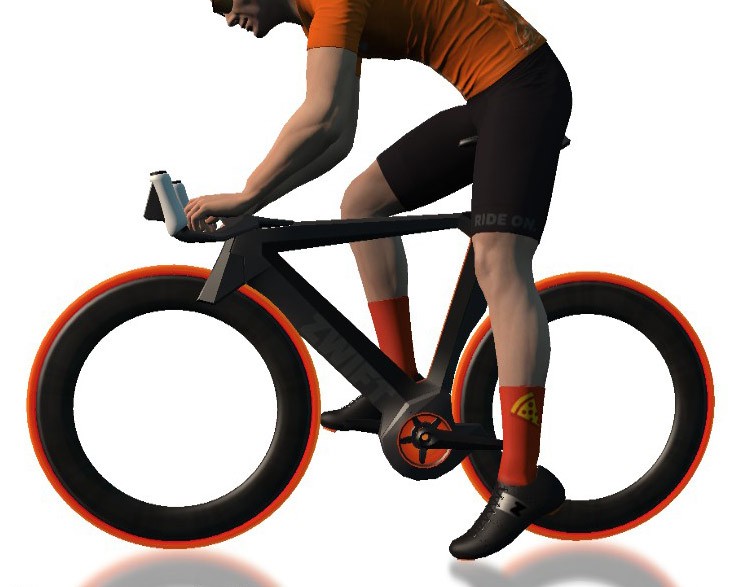 The Zwift Concept Z1 (Tron) bike is 68 seconds faster than the stock Zwift Carbon+32mm Carbon setup. The fastest setup available turns in a time ~9 seconds faster than the Tron bike over our ~50-minute flat test course.
That's a decent gap, but you can also look at it like this: until you have a disc wheelset (level 35+) or one of the faster non-disc wheelsets (level 37+), the Tron bike is your fastest option on flat/rolling routes!
We didn't include the Tron in the chart above since you can't separate the Tron's frame from its wheels. But it's certainly a bike worth unlocking. Here's how to do that >
Want to dig deeper? See "Speed Tests: Tron Bike vs Top Performers (Scatter Plot)" >
Improvement by Level
The biggest performance gains come early in a Zwifter's level progression. Here's how much time you would be saving at each level if you upgraded to the recommended setups above (chart may be outdated due to speed test updates):
You can see that by level 13, 74% of the overall possible improvement has already been achieved. And once you've hit level 42, the only way you'll get faster is by racing smarter and training stronger!
Digging Deeper
Want to dig deeper into the speeds of various frames and wheels? Check out our Frame Ranking Charts and Wheel Ranking Charts.
Your Thoughts
Hopefully this helps you select a bike for your next race, no matter your Zwift level. Got questions or comments? Post below!
Important note: this post contains speed test results for Zwift frames or wheels. These results may change over time, and a bike's performance relative to others may also change. We don't always revise posts when performance rankings change, but we do keep current, master versions of our speed test results which are always available. See the frame charts, wheel charts, and Tron vs Top Performers for current performance data.