One Easter egg included in Zwift's most recent update is a new bike frame: the Canyon Aeroad 2021. No mention of the new frame was made in the release notes, but Zwifters quickly noticed the frame's availability in the Drop Shop: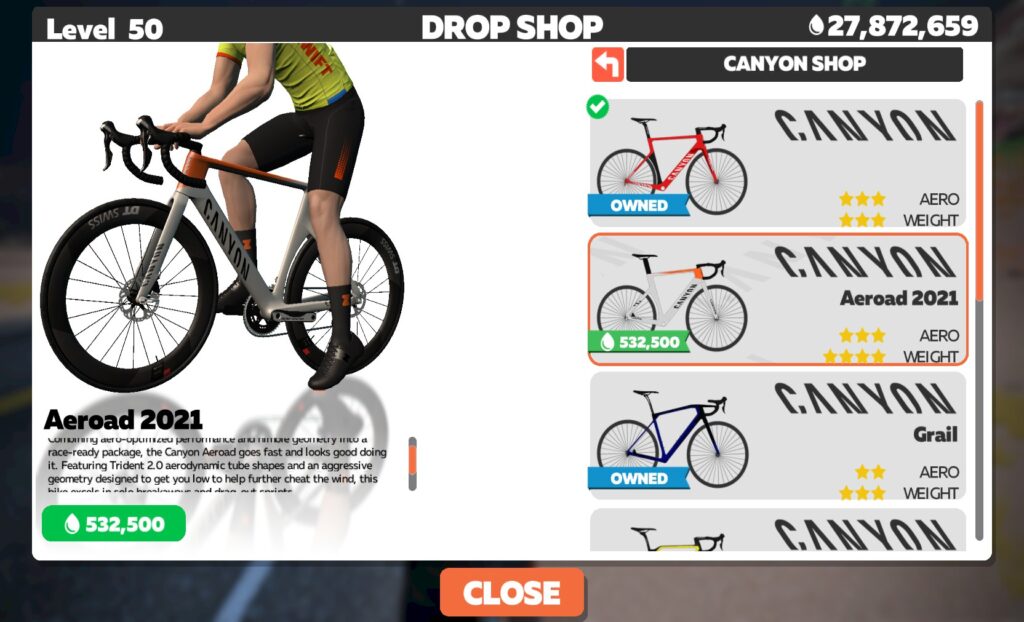 Canyon's 2021 Aeroad has been seen IRL at various pro races, including stage 3 of the Tour de France with Team Movistar. It's not yet listed on Canyon's website for sale, but our guess is we'll be seeing it there soon. It probably showed up in-game yesterday because it's related to the final unlock for 2020 Zwift Academy Road (we're not sure if you unlock the frame or just a custom paint scheme like years past).
The original Aeroad was rated 3 stars for aero, and 3 for weight. It made our list of fastest Zwift bikes (ranking in the 88th percentile), but its climbing performance was quite weak (31st percentile).
Note: the original Canyon Aeroad is no longer listed for sale in the Drop Shop, although it will still show up in your garage if you purchased it previously.
Let's get to the big question: how does the new Aeroad perform?
A Slippery Climber
The 2021 Aeroad is rated 3 stars for aero, but 4 for weight, meaning it is lighter than the previous Aeroad. Our initial tests have shown that the new Aeroad maintains the same speedy performance of the original Aeroad on flat/rolling roads, but turns in an amazingly fast climb time. In fact, it's now the best climbing frame in our tests up Alpe du Zwift!
Yes, you read that right. Canyon's 2021 Aeroad in Zwift is the new best climber and all-arounder, turning in a flat course performance just 3-4 seconds slower than the fastest rigs over ~50 minutes, while it turns in an Alpe climb performance 13 seconds faster than those zippy aero frames over ~50 minutes. Losing 3-4 seconds on the flats to gain 13 seconds is a trade many riders will happily make.
Since it only requires level 23+ and is priced at 532,500 Drops (same as the old Aeroad), this bike is a steal.
Comparing it to the Tron bike (because that's what racers love to do), we see that the 2021 Aeroad with the new DT Swiss wheels (a nice all-around choice) is 18 seconds slower over a ~50 minute flat, but 12 seconds faster up a ~50 minute Alpe du Zwift climb.
Conclusion: if you're looking for a non-Tron frame that will serve you well on climbs while sacrificing very little on the flats, the Canyon Aeroad 2021 is your best choice. It's not quite the most aero, and not quite the lightest – but it's very close to the best in both of these categories, making it the best all-arounder currently available.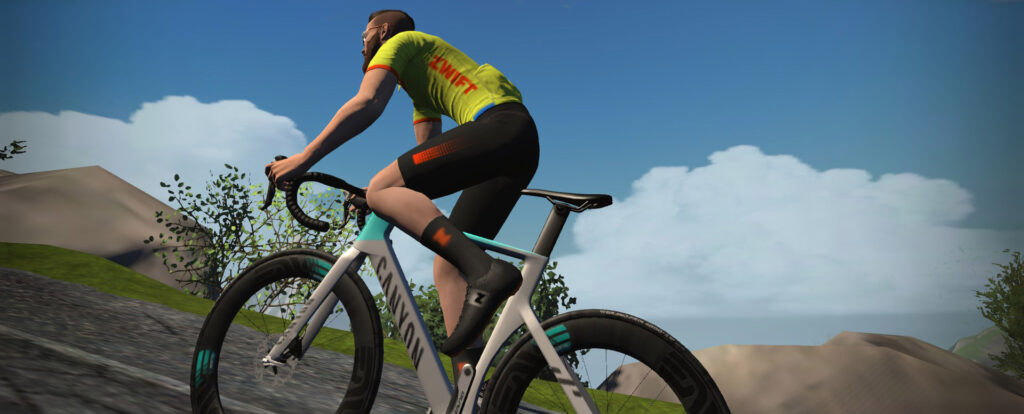 Route Choice
While pan-flat routes are still better suited to the most aero bikes (S-Works Venge, Felt AR, etc), the new Aeroad is the perfect choice for routes with decisive climbs including:
London's Box/Fox and Leith/Keith hills
Innsbruck's KOM
Watopia's Epic KOM, Alpe du Zwift, NYC's KOMs
France's Ven-Top
The frame should also prove useful on courses with punchy decisive climbs such as Yorkshire, Richmond UCI, and Innsbruckring with its Leg Snapper. (In fact, I used the new Aeroad in a race today on Yorkshire's Royal Pump Room 8 and turned in my best performance yet on that challenging route!)
Coming Up
Once we've finished our test runs we'll update various posts on this site to reflect the new Aeroad's status. Those posts include our Zwift Shopping Guide, the lists of fastest climbing and aero frames, and charts such as our frame performance charts and Tron-comparison scatter plot.
Questions or Comments?
Share below!
Important note: this post contains speed test results for Zwift frames or wheels. These results may change over time, and a bike's performance relative to others may also change. We don't always revise posts when performance rankings change, but we do keep current, master versions of our speed test results which are always available. See the frame charts, wheel charts, and Tron vs Top Performers for current performance data.