We know your speed in Zwift is affected by the frame and wheelset you use. In fact, we've done a lot of testing to figure out just which combinations are fastest.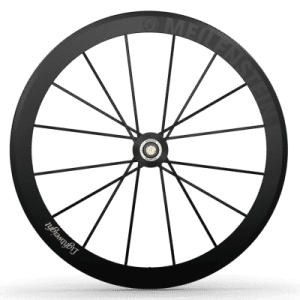 But what about climbing? Any cyclist worth their chamois knows the fastest bike on the flats isn't the fastest bike on the climbs. It's just physics: when the road is flat, most of your resistance comes from wind, so aero is everything. But when the road turns up, gravity kicks in and weight matters.
The massive Alpe du Zwift provides a perfect testing ground for us, and the prize spinner at the top even gives you a set of Lightweight Meilenstein wheels if you're lucky.
Zwift's Drop Shop now gives us access to 26 different wheelsets and 50 different bike frames. So we had to run some tests to find out: what is the fastest bike+wheelset combination up Alpe du Zwift?
Wheels: Lightweight Meilensteins Still King

The Lightweight Meilenstein set is still the fastest up the Alpe, beating the closest competition by 5 seconds with (75kg rider at 300 watts). These wheels can be tough to obtain: you only get them when the spinner at the top of the Alpe lands on the wheels, and that can take a while! (It took me 13 trips up the Alpe, which seems about average.)
Frame: A Tie for the Top
The fastest framesets up the Alpe are the Specialized Tarmac Pro and Cannondale EVO:

These framesets coupled with the Meilenstein Lightweight wheels beats all other combinations, whether you ride up the Alpe at 1 w/kg or 5 w/kg.
Browse our test data spreadsheet for more results >
Other Wheel Options
If you don't yet have the Lightweight wheels, the ENVE SES 3.4's are the next best. You'll lose around 5 seconds compared to the Meilensteins, but maybe you'll finally unlock your own set of Lightweights when you get to the top!
See Fastest* Wheels for Climbing for a list of the best climbing wheels.
Other Frame Options
If you don't yet have the Tarmac Pro or EVO, here are your next best options:
Trek Emonda (2 seconds behind)
Specialized Amira S-Works or Specialized Tarmac SL7 (4 seconds behind)
Cannondale SuperSix EVO or Canyon Ultimate (5 seconds behind)
See Fastest* Frames for Climbing for a list of the best climbing frames.
---
I hope this information helps you earn a PR next time you hit the Alpe. Of course, equipment changes help a bit, but it's our fitness and willingness to suffer that really make the difference. So climb on!