Zwift has announced a new set of one-day races dubbed the "Zwift Classics". One race held each month women, and one for men, for July, August, and September. The first race is for the ladies and kicks of July 3rd at 7pm BST.
These are simple one-day races, with no series or team points awarded. Whoever crosses the line first wins, and that's going to make for some full-gas efforts!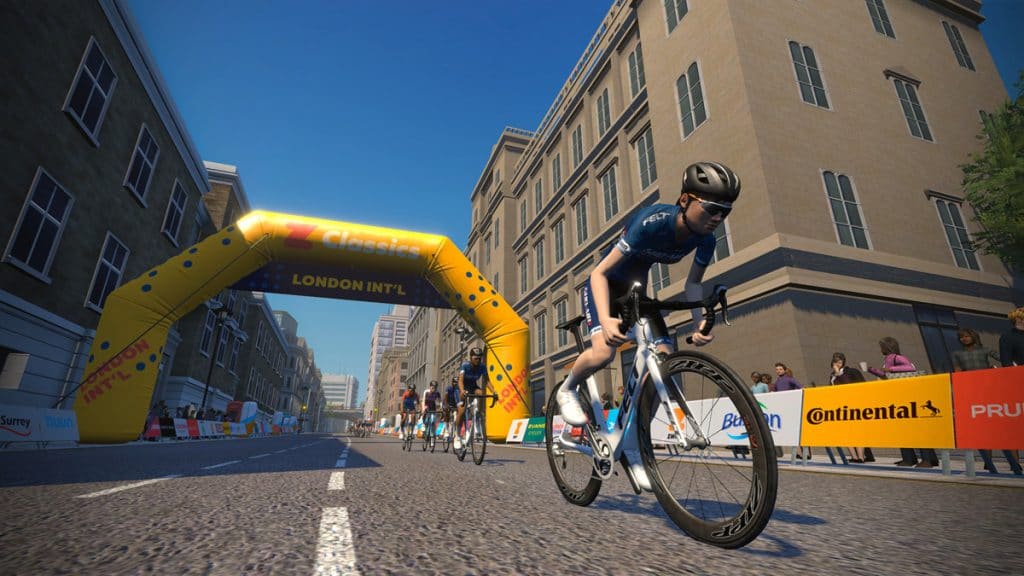 Who Is Racing?
Like the KISS Super League, the Zwift Classics races are not open to all Zwifters. Only invited pro and community teams will take part. From the looks of it, most of the teams will be community-based, probably because pro teams are quite busy this time of year with a full outdoor racing schedule.
Teams are limited to five riders, and teams will vary between races (remember, this is not a series).
Confirmed teams for the Women's London International race on July 3rd:
Race Schedule
Six races have been scheduled–three for women, three for men. One each month for July, August, and September. Zwift's press release says there are "more likely to be announced in the coming months."
London International (Women's)
Wednesday, 3 July, 7pm BST
World: London
Route: Classique
Distance: 5.4km // 3.3mi
Elevation: 19m // 62ft
Laps: 6
The Apple Lap (Men's)
Wednesday, 10 July, 6pm BST
World: New York
Route: Park Perimeter
Distance: 9.7km // 6.1mi
Elevation: 120m // 393ft
Lap: 4
Richmond Challenge (Women's)
Wednesday, 7 August, 7pm BST
World: Richmond
Route: UCI Worlds
Distance: 16.3km // 10.1mi
Elevation: 142m // 467ft
Laps: 2
Trofeo Bologna (Men's)
Wednesday, 14 August, 7pm BST
World: Italy
Route: Bologna TT
Distance: 8.2km // 5.1mi
Elevation: 233m // 764km
Laps: 3
Rund um Innsbruck (Women's)
Wednesday, 4 September, 7pm BST
World: Innsbruck
Route: Innsbruckring
Distance: 8.8km // 5.5mi
Elevation: 72m // 237ft
Laps: 4
Watopia Cup (Men's)
Thursday, 5 September, 7pm BST
World: Watopia
Route: Watopia Flat
Distance: 10.3km // 6.4km
Elevation: 54m // 177km
Laps: 3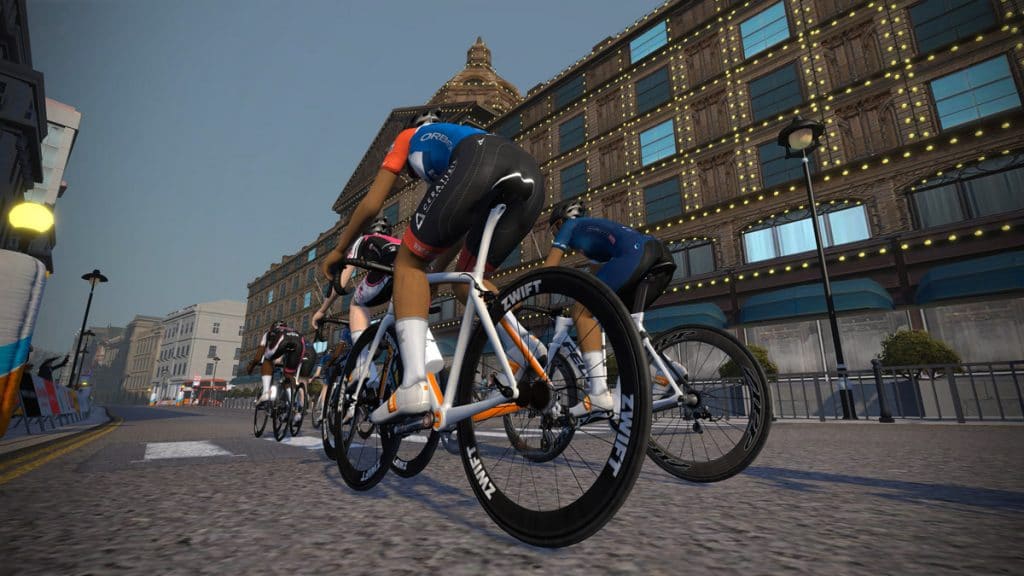 Focus on Streaming
Craig Edmondson, CEO of Zwift Esports, says, "The focus for the Zwift Classics will be on streaming; we want to deliver the best experience for the viewer at home."
Hopefully, this means we'll see some big improvements in race streams. As we wrote back in February, there are so many possibilities when it comes to improving the experience of watching Zwift races.
Nicola Cranmer, General Manager Sho-Air TWENTY20 pro team that rode so well in the KISS Super League series, clearly sees the potential eRacing holds in terms of attracting eyeballs (and thus sponsors) for pro teams:
"It's still early days, but I feel strongly that a robust eRacing program can be pivotal for Women's cycling, helping attract in new partnerships. The entertainment value is high, the media impressions are tangible, and there is a new fan base to be cultivated."
All races will be streamed live at www.facebook.com/gozwiftlive and (presumably) Zwift's YouTube channel.