Yesterday I jumped into the first scheduled Zwift Academy Road Baseline Ride, scheduled for 11am PDT. Completing a Baseline Ride is a requirement for ZA graduation, so I wanted to get this out of the way quickly. But I was also super curious about the ride itself.
Intro to Baseline/Finish Line Rides
This year's ZA program includes a required Baseline and Finish Line ride. The idea here is to test your fitness over three different intervals:
Riders will do that by hitting particular timed segments during the ride at maximum effort. Then you should ease up between the segments to recover as fully as possible so you can hit the next segment hard.
Baseline Rides are only available as group rides, and they are scheduled every other hour through September 27th. That's over 320 time slots as of the publish date of this post, so you have plenty of chances to get your Baseline Ride in – or even do it more than once if you'd like.
Standard or Advanced?
Riders have two options for these rides: a "standard" route, or the "advanced" one. I chose the "standard" Baseline Ride option (category C), which uses the new Legends and Lava route. The big difference between the standard and advanced option is the threshold effort: standard uses the Volcano KOM, while the advanced version is held on the "Climber's Gambit" route which uses the longer Epic KOM.
For me, the Volcano KOM takes around 8 minutes at max effort, while the Epic KOM is more like 22 minutes. With a Zwift Classics race the next day, I opted for the shorter effort, hoping it wouldn't burn up my legs too much.
I knew the route details, but there was a lot I didn't know going into this ride:
Would the UI be different from a typical group ride? Would we see messages with instructions, or custom leader/results boards, etc?
Would we all be on the same bike/wheels?
Would drafting be enabled?
What would the results screens in Zwift Companion look like?
Poking around on ZwiftHacks and popping into the start pens early answered a few of my questions:
Drafting is disabled
Bike selection: you can pick whatever bike you'd like, including a TT bike if you're so inclined
A Word About Bike Choice
I selected the Specialized Venge S-Works frame and Zipp 858 wheels as my virtual rig for this ride. I've done a lot of riding with these, and figured all that matters is I use the same frame and wheels for my Baseline and Finish Line rides.
That's something riders should be clear on: use the same frame and wheels for both rides, otherwise your times for the rides won't be an apples-to-apples comparison.
It would get especially bad if you chose a TT rig for one ride, and a standard road race setup for another. That would really throw the numbers off.
Segment 1: Titans Grove KOM
Soon enough the timer hit zero, and we were off, with over 550 riders in my group! A good number jumped off the front early, for reasons I can't explain. But I just spun my legs in zone 2, chatting with friendly Zwifters and making my way through Titans Grove toward the first segment.
This first segment is one I've actually enjoyed attacking a few times in the past. It's one of the rare KOMs whose leader's jersey I've actually worn!
I knew that an all-out effort would see me finishing in under 2 minutes, so that's what I paced myself for. It was a real adrenaline rush to be hammering out watts and passing a lot of the riders who had jumped off the front. As the road flattened a bit near the top and the KOM banner came into sight I shifted, got out of the saddle, and went all-in for the final seconds. The leaderboard popped up as I crossed the line, showing me in 4th place with a 1:44.6 time. I'll take that!
It was nice to just spin the legs out after that first effort. I'm so used to Zwift races where you have to hammer on the climbs, then keep the effort up afterward. The change of pace and unhurried feel of things was very welcome.
1:45, 466W average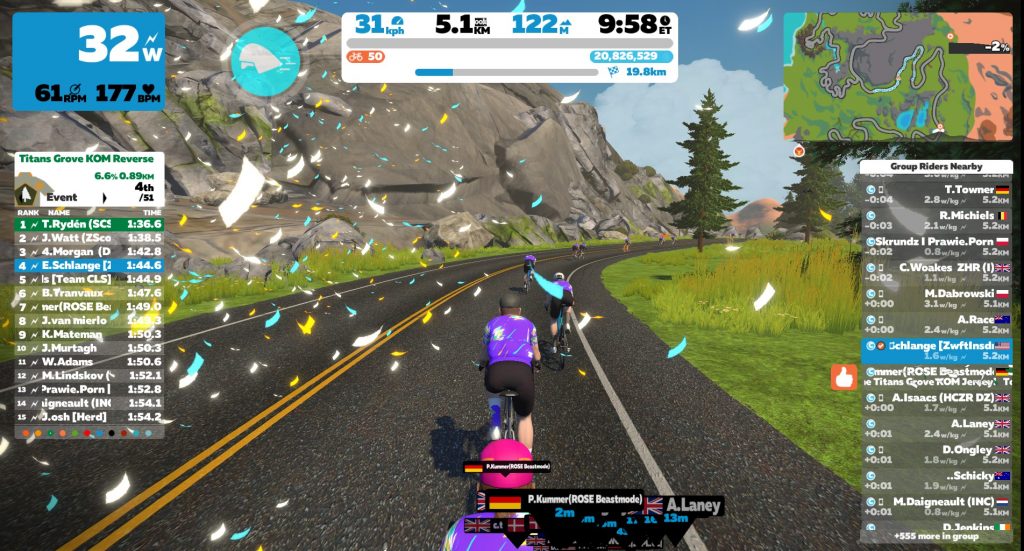 Segment 2: Watopia Sprint Forward
Next up was the sprint segment. Honestly, I wish Zwift had picked a shorter segment to test peak sprint power, as the Watopia Forward sprint is one of the longer ones in the game – so long that I can't actually push peak power for the duration, because I'll blow up before the line.
According to Strava, I've completed this segment over 530 times. Wow! One thing I've learned after all that practice is that getting a fast time on this segment requires ramping up your watts while you're still on the cobbles of the Italian Villas, so you enter the sprint at a high speed. That means you end up with a 10-15 second ramp up, plus a 20-25 second sprint. That's a long "sprint" effort!
Anyway, I gave it all I had. I stayed seated, trying to keep my watts pretty even.
23 seconds, 692W average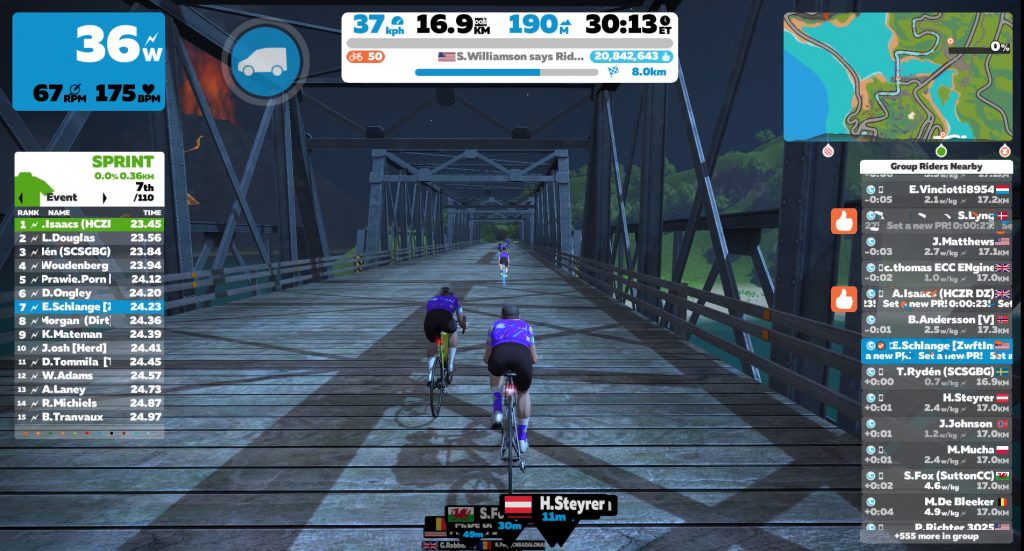 PowerUps Enabled?
One fix Zwift probably needs to make to these rides is to disable PowerUps. They were enabled for my ride, and the problem I see with that is riders were using the PowerUps on the test segments.
This will artificially shorten a rider's time, then when you do the Finish Line ride to test yourself on the same segment and don't use the same PowerUp on the same section you won't get that boost, and your time will be affected.
So here's my simple advice: if PowerUps are enabled for your Baseline Ride, just ignore them and don't activate them. Alternatively, you could "burn" them by using them outside of the timed segment, or using the option in Companion or in the action bar on screen to trash the PowerUp without using it.
Segment 3: Volcano KOM
The third and final segment was the one I was dreading the most. The Volcano KOM and I have never gotten along well, because it always feels a bit too long. Regardless, I wanted to give it my best shot. So as the start line approached I ramped up my speed, then tried to hold around 340W for the duration, making sure to bump the watts up a bit more on the steeper sections and ease off a bit on the flatter parts.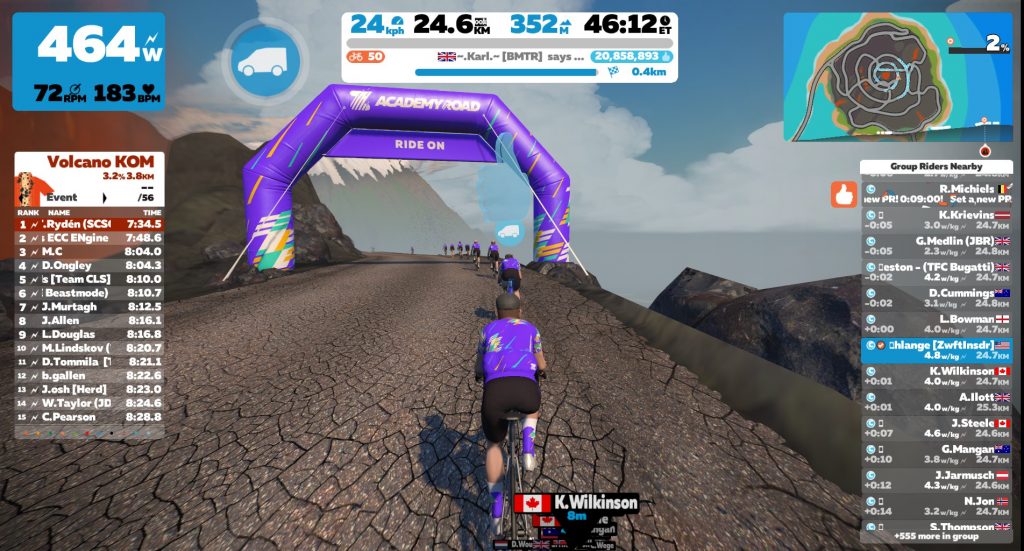 I felt I was able to keep my pacing fairly steady, and had just enough in the tank for a standing max effort on the final steepest pitch. I was the 59th rider over the line, and ranked #5 on the leaderboard.
8:07, 333W average
Oddly, the ride didn't actually end at the KOM banner – it was a virtual finish line five hundred meters down the road. I'm not sure why Zwift set it up this way, but it's no big deal, either. I just soft-pedaled my way to the finish, then kept soft-pedaling for another 15 minutes or so to make it an hour-long ride.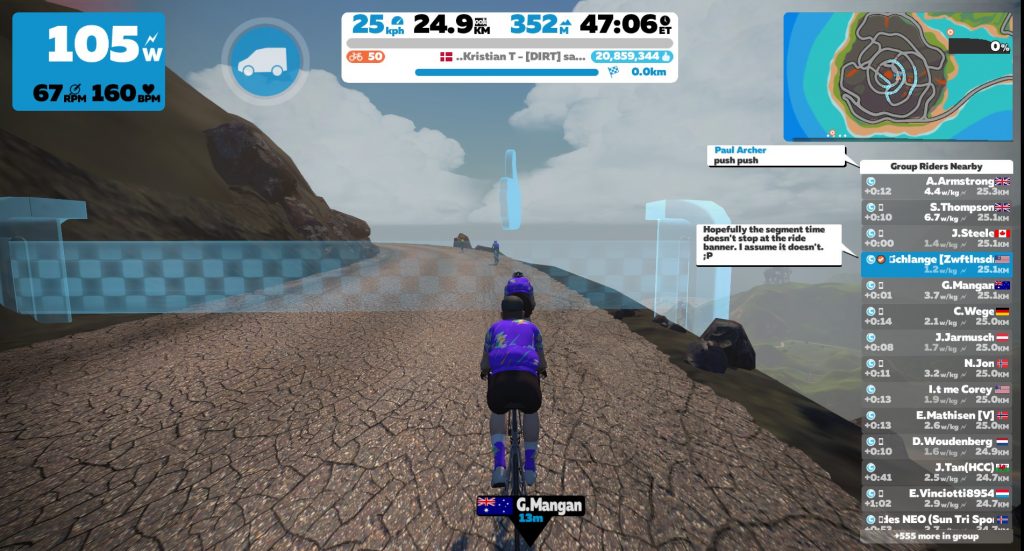 Watch the Ride Recording
I kept this recording silent, but if you want to see how the ride unfolded, including group banter, it's all here!
Companion Results
New for this year, the results of the Baseline and Finish Line rides show in Zwift Companion. And our friends at ZwiftHQ tell me if you do multiple attempts, those different results will show as well. Here's what the screens look like: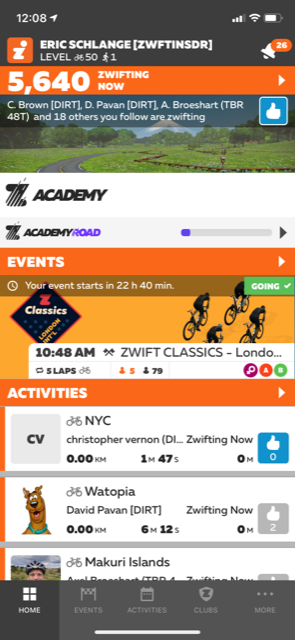 Tracking my times in Companion is a nice new feature, but data-loving zNerds like myself will immediately want more. The biggest thing I'm missing? Average power over the segment. I don't really care about my segment time, in fact – power over a particular interval is a much more accurate gauge of fitness.
So why doesn't Zwift show power?
I'm not sure. But my guess is the tracking of segment times is already built into the game/database, while the tracking of segment power is not. So this was a much easier solution to implement.
How'd I Do?
Some riders may find that they finish the Baseline Ride with more questions than answers. Me, for example: I finished the "Long" segment (Volcano KOM) in 8:07. What does that mean? Am I destined to be a star Time Trialist, or should I stick to sprinting?
Zwift's text for each of the three segments in Companion ends with, "If you are strongest here, relative to the other segments, you fit the [ ] phenotype."
But how do I know which segment I'm strongest in? The answer is: I don't. And even if I take extra steps and look at my power numbers on Strava for the segments, that still doesn't tell me my strengths or weaknesses.
Of course, I know there are other apps out there that will show me this info – like the Breakaway app I recently reviewed (which just received a Zwift integration update). Or XERT, which I have yet to review but whose metrics and methodology I find fascinating. ZwiftPower also profiles your power to help you understand your strengths and weaknesses.
But many Zwifters (especially n00bs) won't have access to those tools or understand how to use them. My opinion: if Zwift could do a little more hand-holding by giving more guidance, especially to less-experienced riders, everyone wins.
Conclusions
Last year's ZA introduced "Segment Rides", where riders put in max efforts on two segments during the ride. This year's Baseline and Finish Line rides are the next generation of that idea, with the segments more targeted at specific power systems and Companion integration tracking your efforts.
I just wish Zwift had developed the idea a bit more.
There's so much Zwift could add to these segment rides to make them more engaging on the front end – like instructions for new users who don't know when segments begin (there were plenty in the ride I joined), or progress bars on the segments so you know how much you've got left to do, or custom leaderboards that show how your efforts rank against other riders. And there's so much that could be done after the ride to better educate riders and help them easily track training progress.
With all that said, I must add that I really enjoyed my Baseline Ride experience. It was a pleasant, chatty group of riders, and the hard efforts were difficult by not murderous. It was a fitness test that didn't feel like a test, and that's a good thing.
I'm curious to see what the Companion results look like after I complete the Finish Line ride at the end of ZA, and I'm hopeful that Zwift will keep developing and refining this idea for future events and training programs.
Your Comments
Have you tried a Baseline Ride yet? How'd it go? Share below!