Registration is now live for Zwift Academy Road 2021 (sign up here)! We asked Zwift Senior Content Manager Kate Veronneau (an avid cyclist and senior member of Zwift's team) to give us her take on what makes Zwift Academy (ZA) special. In particular, we wanted to get her perspective on ZA's evolution and what's most exciting about this year's program.
Here's what Kate had to say, along with complete details on ZA Road 2021.
Intro to Zwift Academy Road
For those unfamiliar, Zwift Academy is an annual event that serves two purposes. First, it's a global training program for cyclists of all levels. Secondly, it's a worldwide talent ID competition which has placed multiple riders onto WorldTour teams.
A Bit of ZA History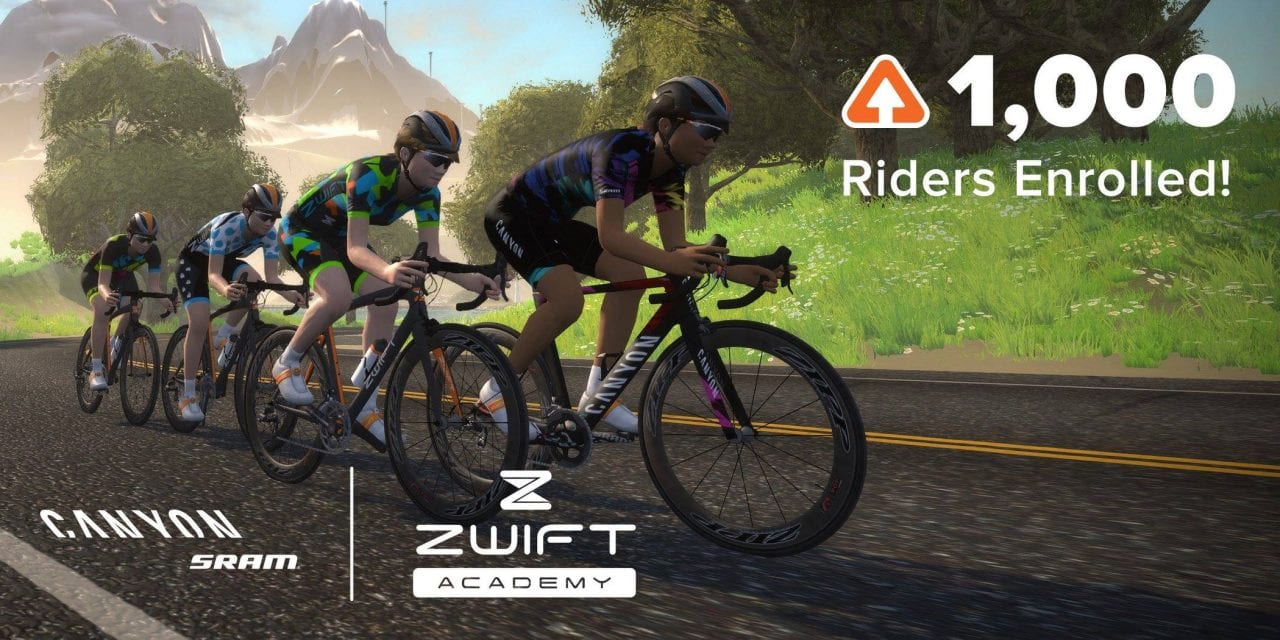 When it all began in 2016, the community that developed from the program (which was for women only) was an unexpected surprise. Kate says, "I love thinking back to that first year, in 2016, when we set out with CANYON//SRAM to host a worldwide talent ID competition to find the next pro. We inadvertently did something bigger… we formed the first real global women's training community! So many friends were made in that first group of 1100 riders. It's the foundation for the incredible community of women on Zwift."
Zwift leaned into the community aspect of ZA after that first year, launching an Academy for the men as well in 2017 and making the program more accessible to all comers. Additionally, Zwift launched academies for tri and run, giving all Zwift athletes an academy they could embrace.
Participation has increased each year, and Kate told us, "We expect over 400,000 participants this year." Wow!
While ZA itself has become more and more inclusive over the years, the talent ID side of things has only become more competitive as the pool of pro contenders grows. Who would have guessed 20 years ago that WorldTour pros would get their start by being discovered via an indoor training platform? "Can you imagine being invited to an NBA talent ID camp?" Kate says, "Last year's ZA Road participants were all training with 2 future WorldTour riders, one that is currently racing the Vuelta (Jay Vine). This program is so unique and exciting in the world of sport."
New for 2021
Each year ZA evolves to improve on its dual goals of building an inclusive training community and spotting talented pro contenders. Here's what's new for ZA Road in 2021:
Combined Road Programs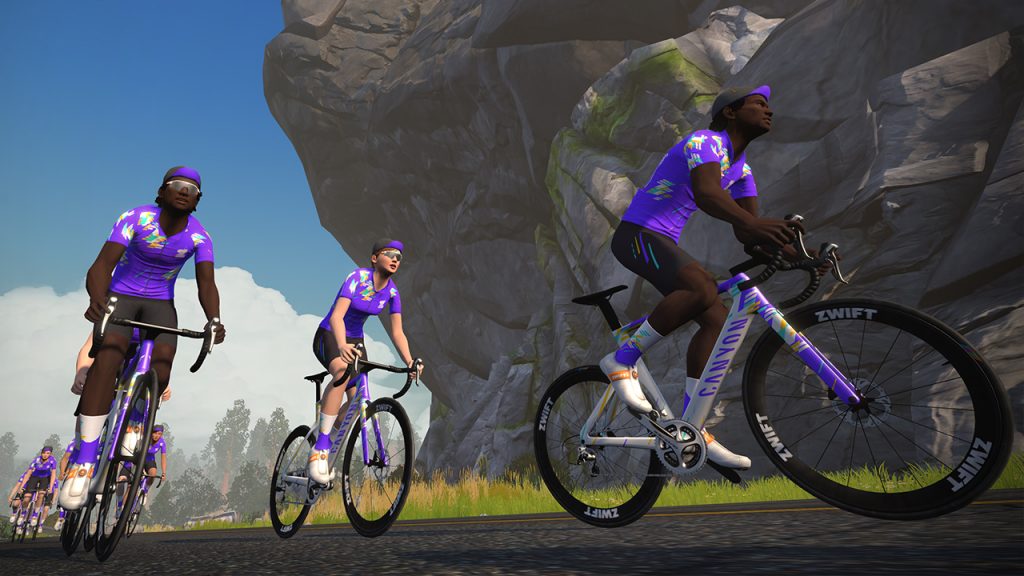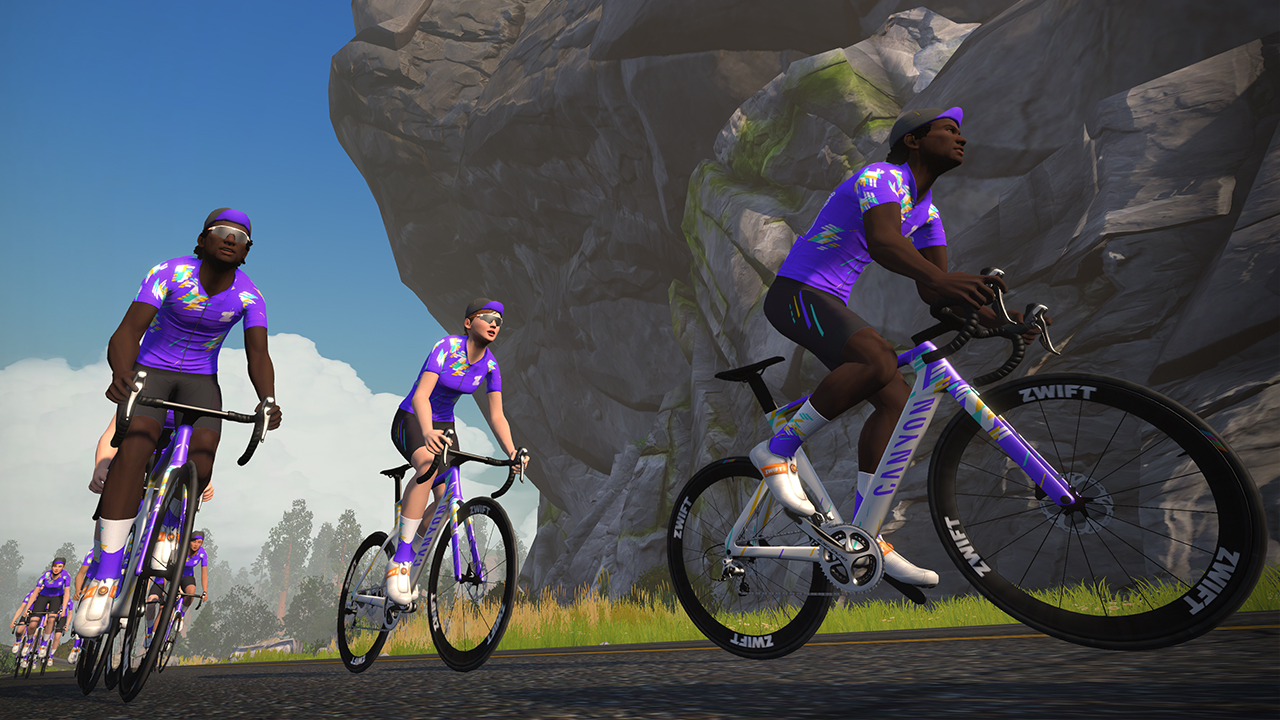 In past years, the men's and women's ZA Road programs have been separate. This year they are combined, although there will still be one woman and one man chosen as the overall winners.
For those women who prefer to hang with the ladies rather than with a mixed group, Road events will still offer a women's only category.
Orientation Workouts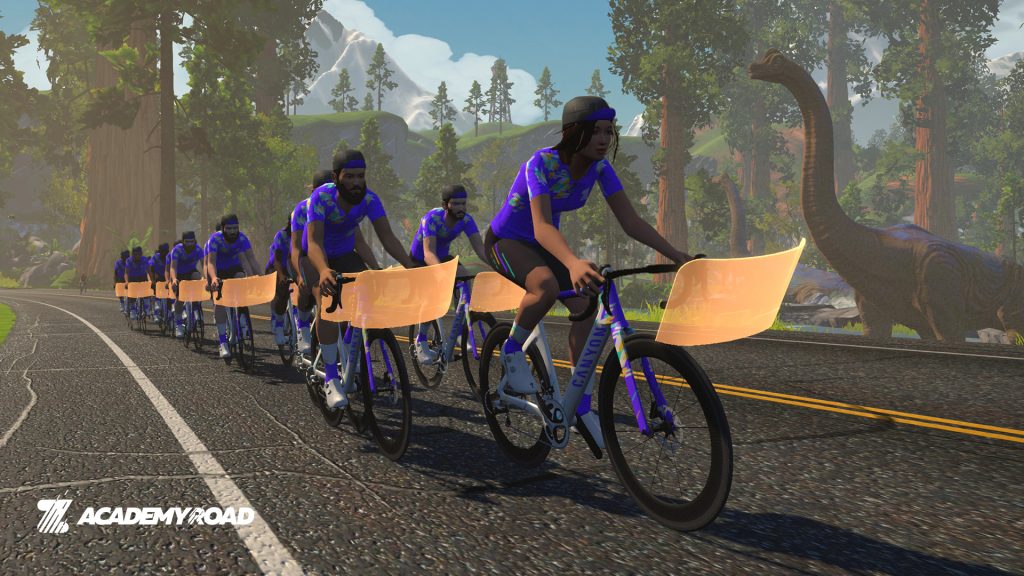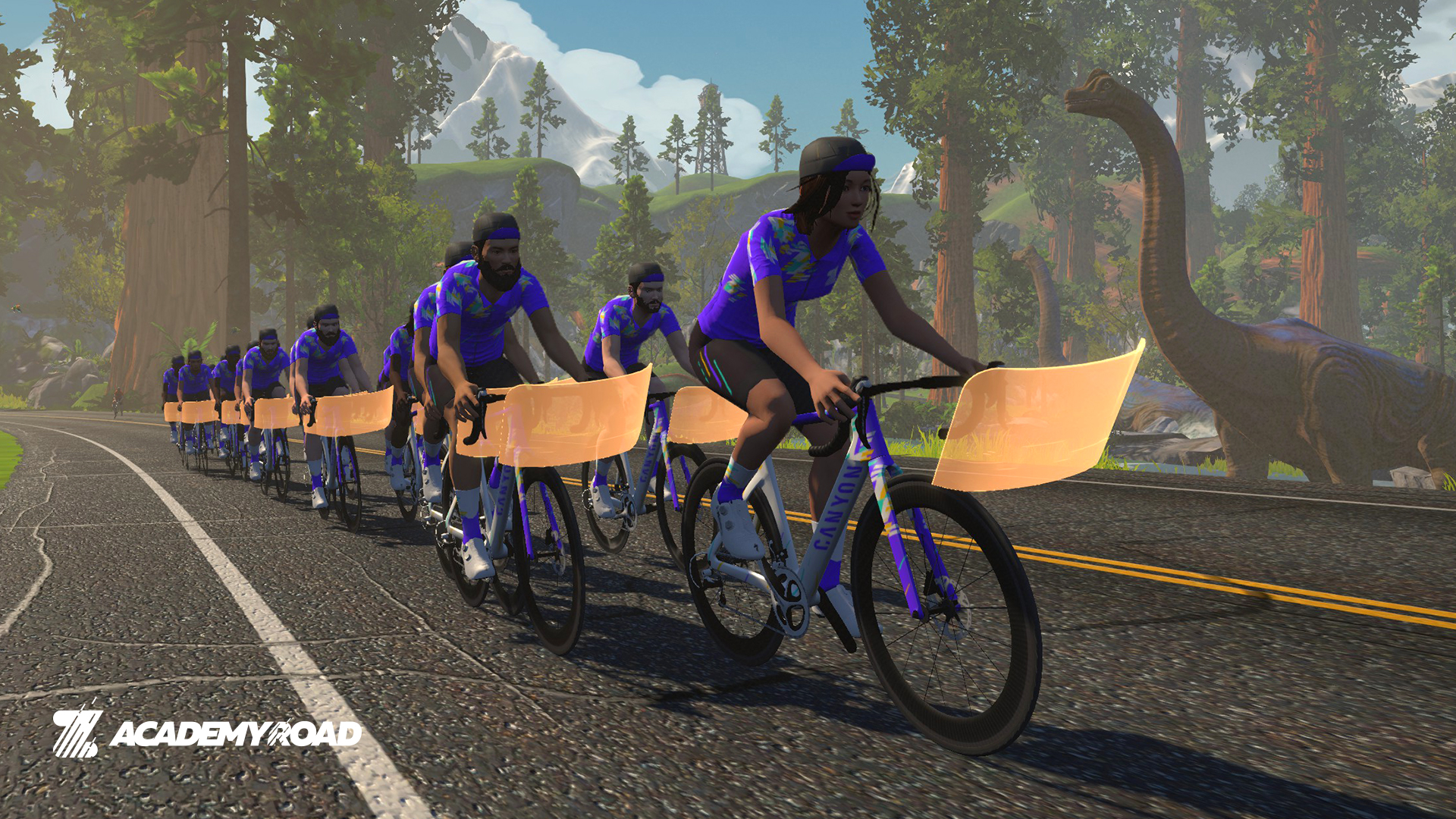 These nonrequired events are designed especially for new Zwifters and/or first-time Academy participants. Kate describes them as, "A light, 26 min workout that walks you through the details of this year's program." Orientation workouts will be on the schedule starting August 18th as a group workout, but also available (along with all Zwift Academy workouts) in the 2021 Zwift Academy Road folder in the workout menu to be done on-demand.
Baseline + Finish Line "Progress Rides" – on New Routes!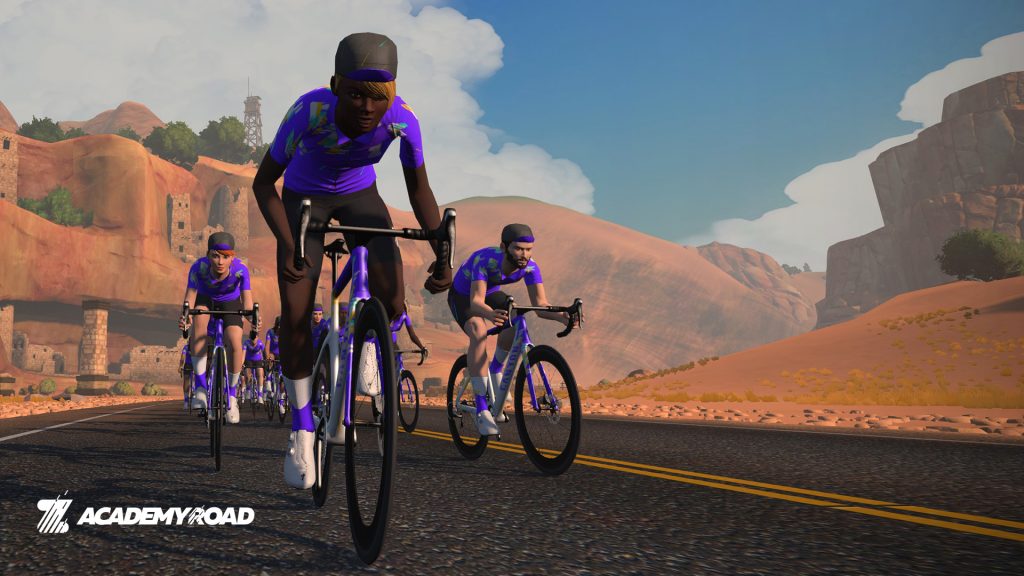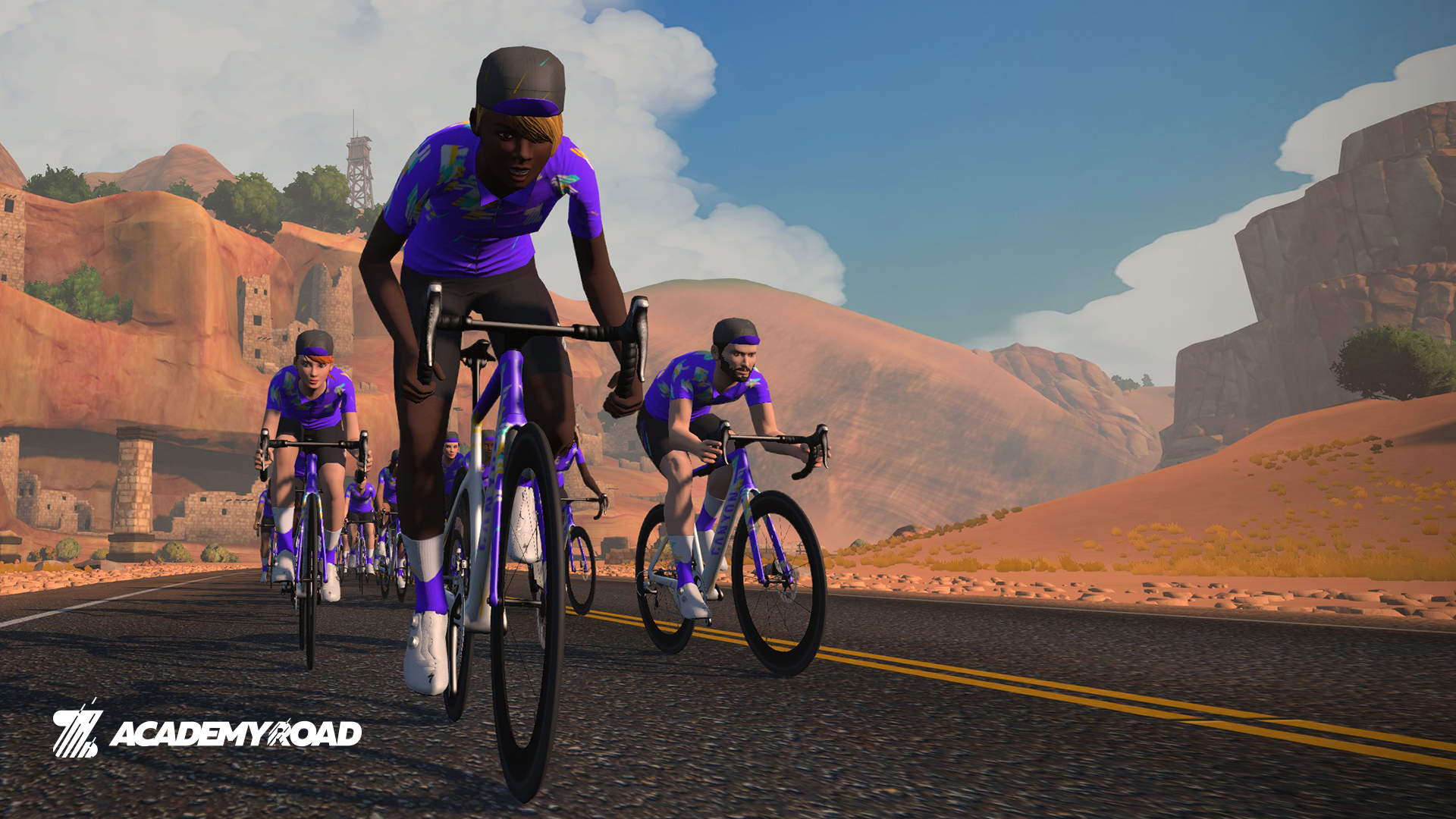 Understanding your progress over time is a key aspect of training effectively. It also inspires us to greater fitness!
The ZA Road program will begin and end with special benchmarking events which test your power over three different in-game segments (short, medium, and long duration) so you can set your baseline numbers at the start, then see progress after completing the Academy.
Kate explains, "Instead of starting with a workout, you'll start with a group ride on a new route with 3 known Zwift segments. In this Baseline group ride, you'll ride easy, then blast the segments to set your base fitness: a sprint, medium climb, and climb (Volcano or Epic KOM). I think we all go faster when we have riders to chase!"
Baseline and Finish Line rides will take place on brand-new event-only Watopia routes, called "Climber's Gambit" and "Legends and Lava". These events will have four categories to choose from:
A: advanced course ("Climber's Gambit") – open to all
B: advanced course ("Climber's Gambit") – women only
C: standard course ("Legends and Lava") – open to all
D: standard course ("Legends and Lava") – women only
Legends and Lava begins in Fuego Flats and includes the Titans Grove Reverse KOM, Sprint Forward, and Volcano KOM as benchmarking segments. Climber's Gambit starts on Watopia Pier and includes Sprint Reverse, Titans Grove Reverse KOM, and the Epic KOM Reverse.
You'll want to choose your category carefully! Whatever one you do for your Baseline is what you should also do for your Finish Line ride to get the best view of your progress.
Baseline rides will be scheduled on Zwift's calendar from August 30-September 27, while Finish Line rides will be scheduled from September 27-October 24th. Both events will be scheduled every other hour during their respective time periods.
For more info on Baseline and Finish Line rides, see the Zwift Academy Baseline Ride FAQ and First Look: Completing a Zwift Academy Baseline Ride.
Two Workout Blocks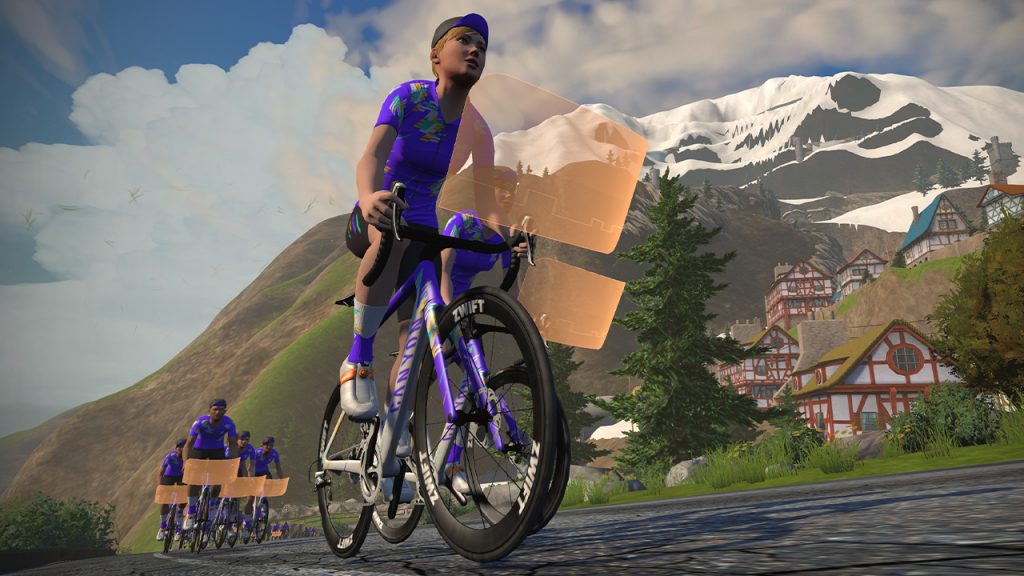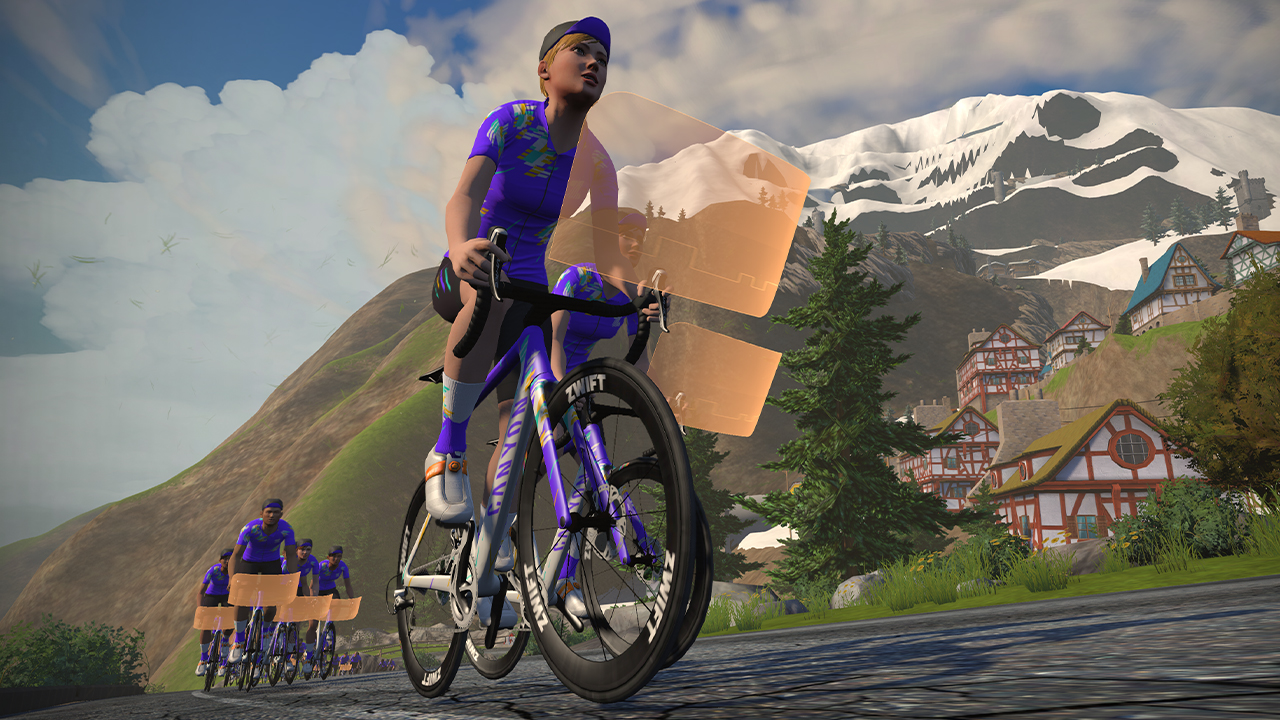 The eight weeks of Zwift Academy training will be divided into two four-week blocks, like many traditional training programs. The first block is VO2-focused, while the second block is more threshold (FTP) focused. Each block contains three workouts and a social/recovery ride.
Block 1
Block 2
In addition to the three workouts + recovery ride in each block, you are expected to include a Baseline ride in your first workout block (ideally at the very beginning), and a Finish Line ride in your second workout block (ideally at the very end).
Progress Tracking in Companion App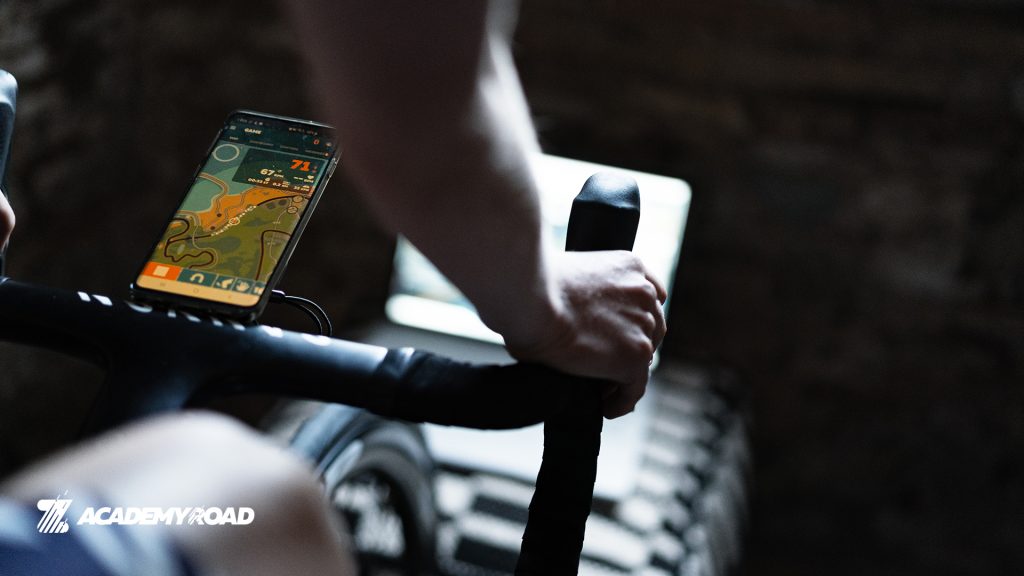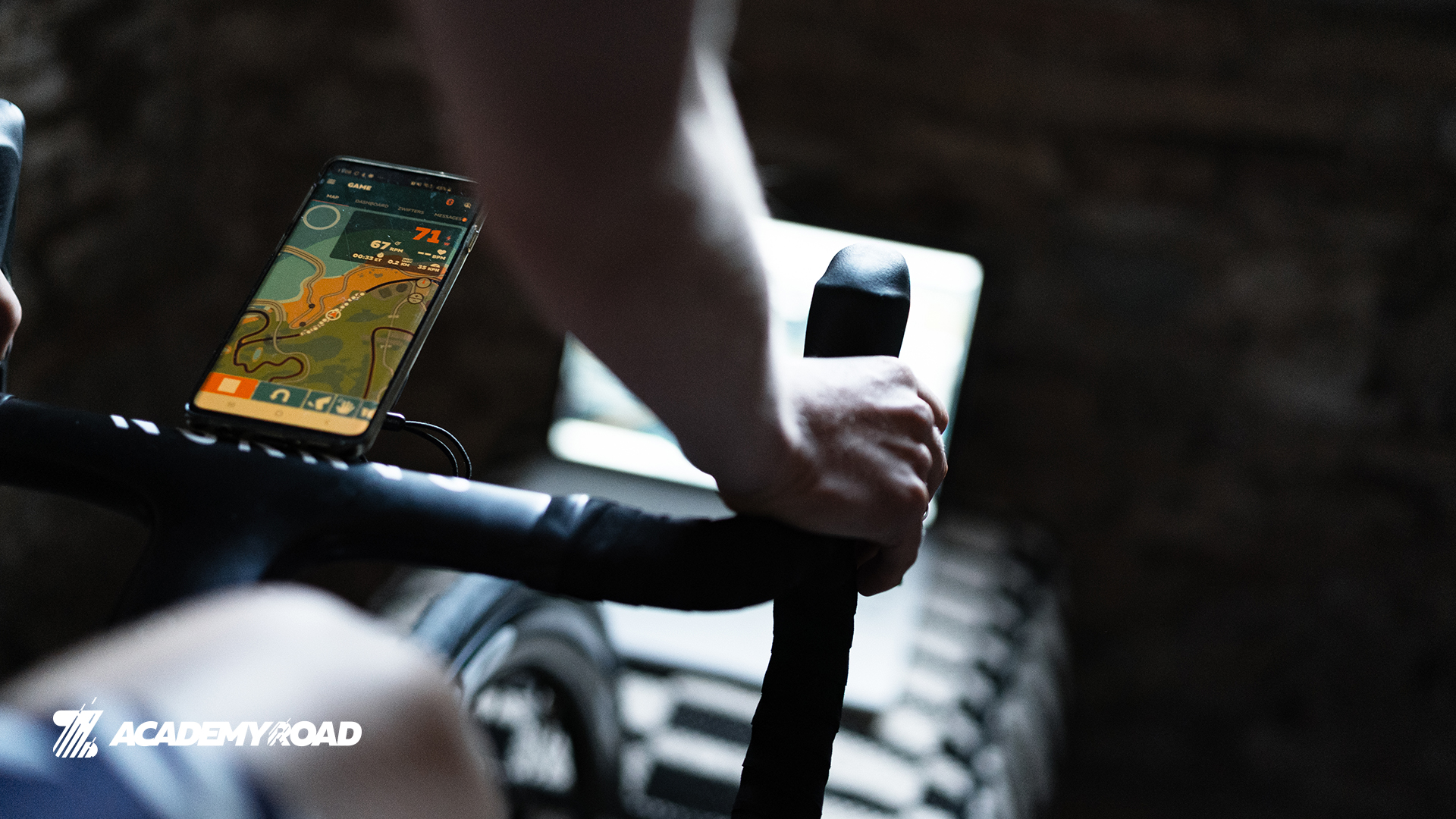 New features in Zwift's Companion app will let you track your overall Academy progress, as well as stats on your PRs for the short, medium, and long-duration efforts for the Baseline and Finish Line rides.
Key Dates/Schedule
ZA Road online and in-game registration opens August 17 (online registration for ZA Run and ZA Tri also opens)
ZA Road orientation group workouts available August 18-29
ZA Road begins August 30
ZA Road Workout Block 1 August 30-September 19
ZA Road Workout Block 2 September 20-October 10
ZA Road registration closes September 25
Makeup events October 11-October 24 (all events of the program will be available this week)
ZA Road ends October 24
ZA Run program begins October 4 (in-game registration will open on 9/20)
ZA Tri program begins October 18 (In-game registration opens 10/4)
Graduation Requirements
To complete Zwift Academy Road 2021, participants must complete a total of 10 rides:
1 Baseline Ride event
6 Zwift Academy workouts (group workouts or individual, your choice)
2 Zwift Academy recovery ride events
1 Finish Line Ride event
Riders pursuing the pro contract will need to put in some extra work, as Kate explains: "We designed the pro pathway differently this year. Aspiring pros will do the main program, plus a TT up the Alpe and an additional ZA Road Pro Contender workout. This allows us to put them through a few extra paces without making the main program too intense. All riders are welcome to test themselves on the extra events, but they are only required for pro contenders."
Unlocks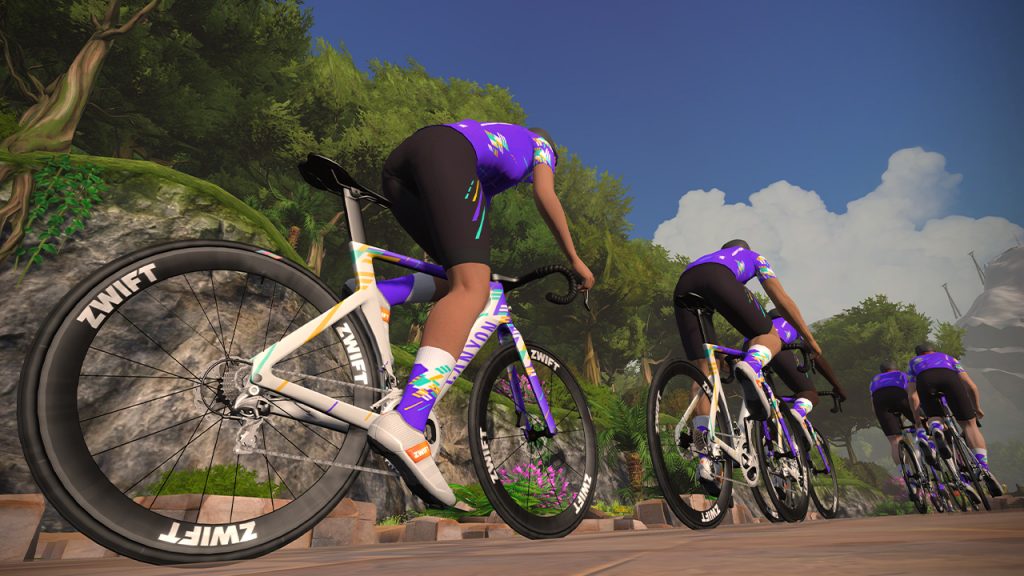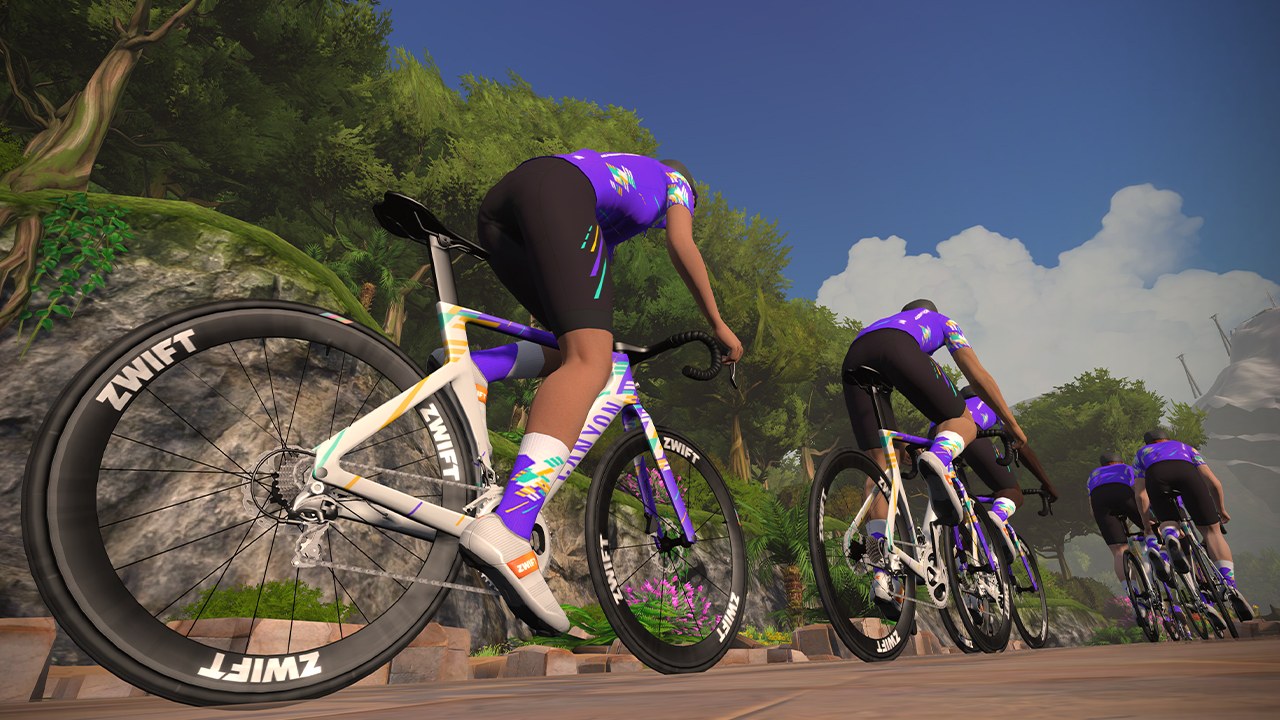 Riders will unlock new kit as they progress through the program:
2 events: unlock ZA cap
5 events: unlock ZA socks
7 events: unlock ZA kit
10 events: unlock purple paint job for Canyon Aeroad 2021 frame (you'll need to buy the frame, though!)
Pro Contract Competition
This year's "grand prizes" will be the same as ZA Road 2020: women will be vying for a 1-year pro contract with the CANYON//SRAM team, and men will be chasing a spot on the Alpecin-Fenix team. These competitions are open to all riders 18 years and older.
Along with completing the Pro Contender TT Race and Pro Contender Workout already noted above, riders vying for the contracts must also:
Wear a heart rate monitor
Be paired to the game with a smart trainer or power meter
Connect their account with Today's Plan
Complete the 'Advanced' Baseline and Finish Line ride events
See all the details on competing for a pro contract >
What will the competition look like for the finalists this year? That's all a bit up in the air, thanks to Covid-related challenges. Zwift tells us that the final competitions may or may not be done in person – they simply don't know at this time. (Last year's finals competitions were done from riders' homes, but previous years saw finalists flown to team camps where the pro teams and coaches could see the finalists ride and evaluate them in person.)
Coaches
This year's ZA Road coaches were first introduced last year. Stephen and Dan are experienced and strong bike racers, both indoors and out.
Stephen Gallagher
Stephen is a lifelong racer who's represented Ireland at Worlds and European Championships. His goal is to give every rider a 360° view of their physiology and strengths. He designed ZA's structured workouts as a journey – one that educates and asks you to exert hard efforts on the bike. See his ZwiftPower profile, or read his bio on DigDeepCoaching.com.
Dan Fleeman
Dan was born on a mountain bike, and his medal-winning history as a Brit racer speaks for itself. He used a rich knowledge of training, recovery, and structure to create a program that's as tough as it is intelligent. Follow it and discover the building blocks to unlock your inner power. He races on Zwift with Saris + The Pros Closet – see his ZwiftPower profile, or read his bio on DigDeepCoaching.com.
Ready to Get Started?
Sign up in-game, or do it online at zwift.com/academy.
Looking Forward
"The sky's the limit for Zwift Academy," Kate says. "Each year, the program doubles in size and the talent pool gets deeper and deeper. Zwift Academy is integral to building the community that is Zwift, and it reinforces how we can change the sport for the good."
Ride on, Kate. We're looking forward to seeing how ZA Road 2021 unfolds!
Questions or Comments?
Post below! We'll do our best to answer any questions, and may reach out to Zwift HQ if you have queries we can't answer.