The fourth points race of Zwift Racing League 2021/22 Season 1 happens Tuesday, October 26th (Monday the 25th for Premier Division racers). This week is another one for the sprinters, but they won't have an easy time of it if the punchy climbers ride smart.
The race takes place on Watopia's Two Bridges Loop route, which has never been raced before in ZRL. There's only one intermediate, and it's a short sprint with a downhill lead-in. The question is: who will get to that sprint first on the later laps?
Let's dig into the course, including tips for bike choice, strategic options, and the crucial pinch point where riders will get dropped each and every lap.
One lap of this route is 7.1km (4.4 miles) long, with 73m (240′) of climbing. A/B categories will race six full laps (42.6km plus a short lead-in from the pens), making it a decently long effort. On the other side, C/D will only be racing 3 laps (21.3km). We're not sure why C/D are doing such a short race, but it should make for some all-out efforts!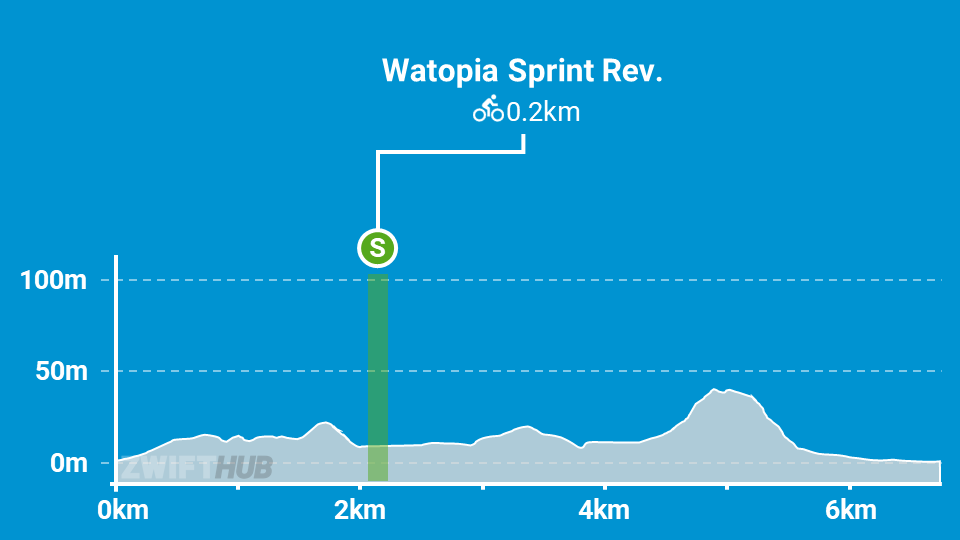 The race begins in downtown Watopia, riding in the reverse direction which takes us through the start/finish banner and up the short rise to The Esses. We'll twist our way through these curves, hit the last short kicker, then descend to the Watopia Sprint Reverse.
This is a short sprint (~10 seconds) with a downhill lead-in so speeds will be high and the aero powerup especially advantageous.
Strategically, this is a crucial part of the race since the sprint is awarding FAL points to the first 10 across the line on each lap, as well as FTS points to the 10 fastest through the segment for the overall race. This is the only intermediate on course, so make your choices wisely!
After the sprint we go through the cobbles of the Italian Village, then climb a few rollers past the waterfall. Most riders won't be pushing the pace here, but sprinters who get away off the front on the intermediate may want to do so if attempting a long breakaway, perhaps on the final lap.
Soon enough we'll arrive at the most crucial pinch point of the race course: a short climb up the start of Watopia's KOM Reverse. The climb is ~700 meters long, averaging 4% gradient but pitching up to 11% at its steepest as it bends through the giant statues.
This short climb is what makes this an attritional race because the w/kg workhorses will be putting in big digs to string out the pack and drop the pure wattage sprinters. If they're successful in breaking up the pack, the front group will be able to grab those crucial FAL points and be better-positioned across the finish line.
Once you turn left atop the short climb it's a shallow descent on the connecting road, then a steeper, supertuckable descent down the backside of the KOM. Speeds will stay high at the bottom of the descent proper as the road is still tilted slightly downhill. Then the road flattens out for the final ~350 meters to the start/finish line.
Read more about the Two Bridges Loop route >
PowerUp Notes
Riders will be awarded powerups through each segment banner, meaning we'll get 2 powerup chances per lap for a total of 12 powerups for A/B and 6 for C/D. Three powerups will be randomly given out at each banner: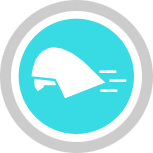 Aero Boost (helmet): makes you more aerodynamic (reduces your CdA by 25%) for 15 seconds.
Use at higher speeds (flats, descents, finishes), and to get your best time on sprint segments. Especially handy when no draft is available, such as during attacks. But still quite useful when drafting.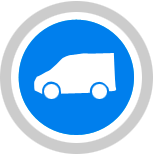 Draft Boost (van): increases the draft effect you are experiencing by 50% for 30 seconds. Use at higher speeds (flats and descents) when you are already drafting off another rider (since this powerup only helps when you are drafting.) Very handy to increase recovery on the flats, or boost your sprint speed when chasing FTS points through a sprinting pack.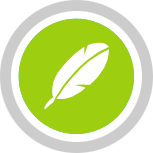 Lightweight (feather): reduces your weight by 10% for 15 seconds.
Use on climbs, when weight matters the most. This will be handy on the pinch point of each lap, or on the kicker before the descent to the sprint.
Bike Frame + Wheel Choice
With a fast, flat finish and so many intermediate points waiting behind a fast, flat sprint, going with your most aero setup possible is probably the wisest choice here. That's the Cervelo S5 2020 + DT Swiss Disc if you're at level 42+. If you're not there, see our handy "Fastest Frames and Wheels By Zwift Level" page.
If you want to give yourself just a bit of an edge on the crucial climb, or if you don't have access to a disc wheelset, go with the Tron bike as it's the fastest ride you've got access to.
See Tron vs Top Performers for a helpful chart of how different popular setups perform >
More Route Recon
Many rides are planned on Two Bridges Loop leading into the big race. If you're not familiar with this course, consider jumping into another event to do some recon! Here's a complete list of upcoming Two Bridges Loop events.
Zwift's vibrant race community continues to up its game when it comes to course knowledge and recon videos. Here are our two favorite recon videos this week:
Sherpa Dave
Si Bradeley
Strategic Options
This week's race is one of the longest of the season for A/B categories, and we'll be seeing riders dropped on each and every lap. Here are a few predictions of strategies we'll see deployed:
Climbers attacking climbs: the only chance climbers will have to win this race will be if they drop the sprinters on the key climb section. Look for climbers/puncheurs to put in big digs on every lap.
Sprinters chasing intermediates: sprinters will be going all-in for those intermediate sprint points, especially that crucial FTS on the first lap when the pack is largest.
Sprinters grouping up: some sprinters will get dropped, but their race isn't over. They may still be able to grab FTS points if they're riding with a fast enough group and have an aero powerup. Attempting a solo sprint probably won't win you any points, but grouping up may do the trick!
Long finish: the final go at the key climb will see some riders who don't fancy their chances in a pack sprint pushing hard to drop others in their group so they can solo to glory. Be ready for a long final effort on the final ~2.4km of the race, and hold onto a useful powerup if you can!
Watch the Premier Division Race
Zwift's top racers will take on 6 laps of Two Bridges Loop on Monday at 11am PST.
Your Thoughts
Any insights or further thoughts on Week 5's big race? Share below!