The second TTT and fifth race of Zwift Racing League 2022/23 Round 3 happens Tuesday, February 7th. Seasoned ZRL riders will be familiar with TTT races on this route – after all, the R.G.V. has been used at least twice in the past for ZRL TTTs, and it is also popular in WTRL's Thursday TTT series.
Let's dig into the race, including tips for route recon, bike choice, team strategy, and more.
Looking at the Route: France's R.G.V.
It's a fairly simple TTT this week, riding France's Route à Grande Vitesse (R.G.V.). One lap, 25.1km, 133 meters of elevation.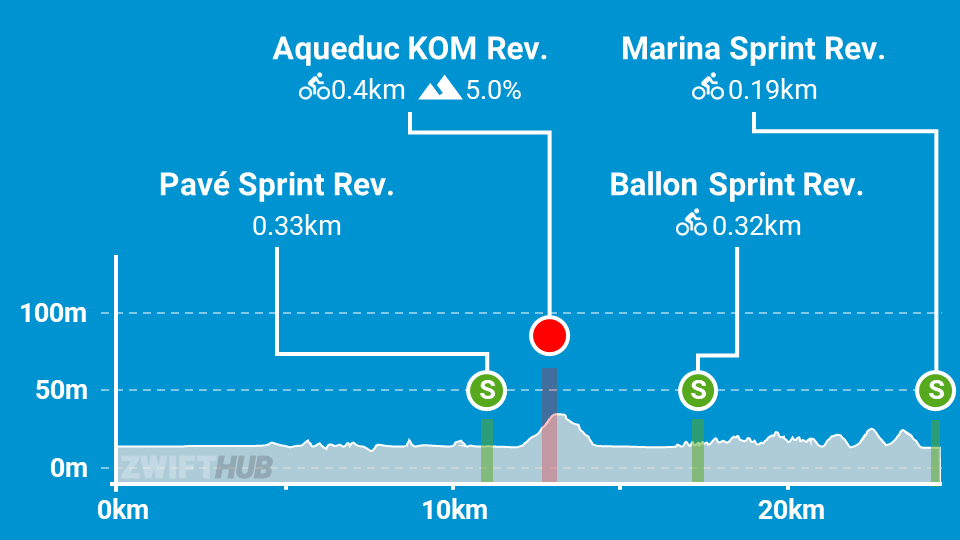 Here's the race breakdown, courtesy of Sherpa Dave who put it together months ago for the Thursday TTTs!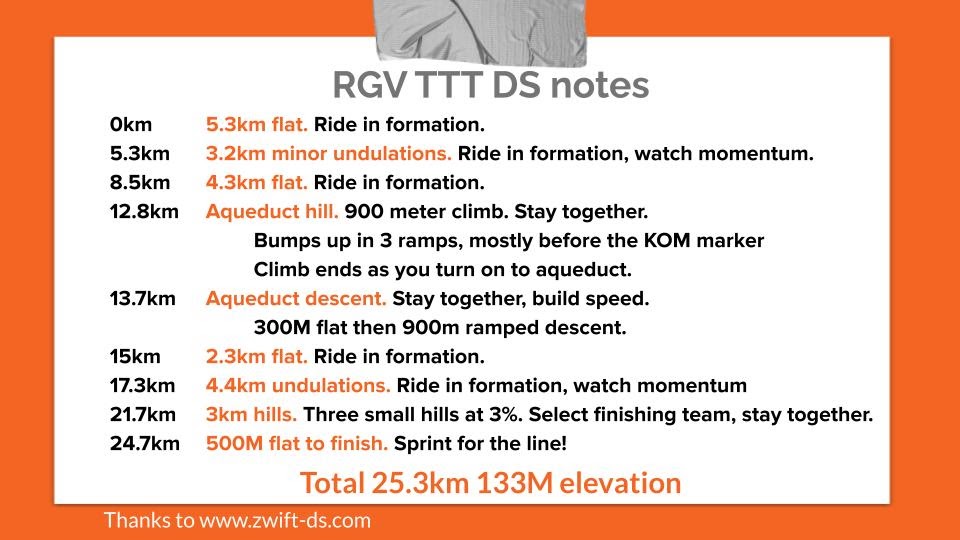 It's a beautiful ride, almost perfect for a Team Time Trial. I break this route into four sections:
Flat for 13.5km
Up the Aqueduct hill and down the other side
A little more flat
Bumpy stuff then a flat sprint to finish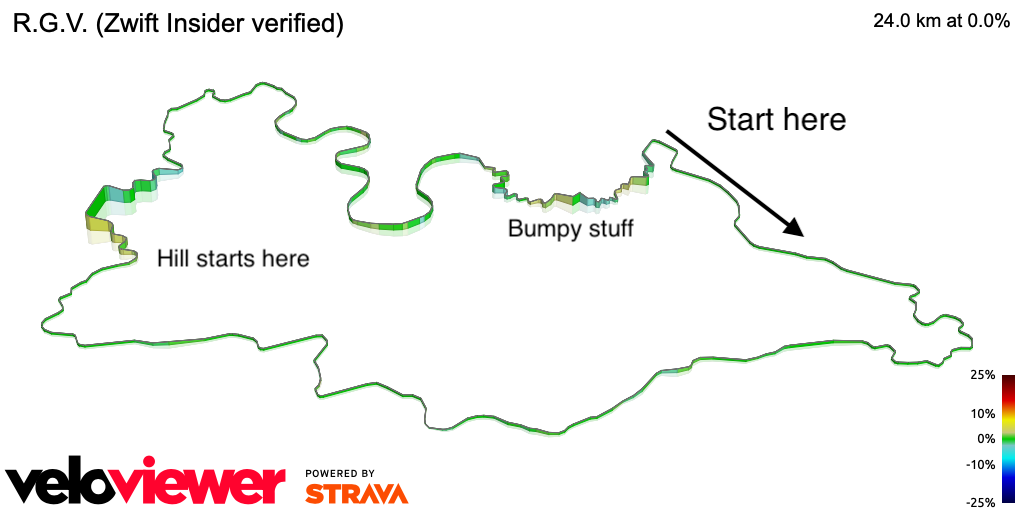 Part 1 – Flat
R.G.V. is the perfect route for a team that is still learning about each other. It starts with a 13km flat to sort yourselves out then gets a bit more technical but never too much.
Use the first flat section to work out your formation (whether you are blobbing, running a paceline, or something else). And get to know each other's strengths and weaknesses.
Those with more experience will just get in formation and ride!
Part 2 – Aqueduct Hill
Many will tell you this is a 400-meter hill averaging 2.5% starting 13.5km into the ride. They lie. What they are telling you is where the Aqueduc KOM starts, and that segment's overall statistics. Unfortunately, the KOM segment starts two thirds of the way up the hill – and ends halfway along the flat.

Right around 13km you will begin the rise – it is 2.5% on average and goes for 900M. The trick is that the actual aqueduct hill starts at 12.8km and bumps up in three ramps – two of which happen before the KOM marker. Even so, it's not that hard. The technique here is simple – don't let your lighter riders race ahead. It's not that bad and if you're careful you will barely notice it.
Part 3 – More Flat
After a 500m flat across the Aqueduct itself you'll drop back down the other side and it will be flat once more until you hit 17.3 km. This is a good time to regroup after the climb/descent and get yourself back into formation.
Part 4 – Bumpy Stuff
This is the most challenging part of the course. A series of undulations – at first each one is just a meter or two (barely there!) but they are just enough to mess with the team's momentum. You will be exhausted by now so concentrate on staying together. 4km of that sets you up for three small hillocks – each one approximately 10m ascent at around 3%. This whole area winds around and around, making it hard to get your bearings. Keep your eyes on the rider in front and stay there!
Don't underestimate these three hillocks. The team will be wiped out by now if you have been going fast enough, and these three will split what's left of you. Just remember you need 4 across the line, and it is the 4th rider's time that matters.
From 24km to the start/finish gate is 1.2km of downhill and flat. Finish with a group sprint to show the crowd what you're made of.
Read more about the R.G.V. route >
Bike Frame + Wheel Choice
This week, bike choice is easy: grab your most aero TT setup! The newish CADEX Tri is the fastest frame in game by a solid margin, and the DT Swiss disc wheels are the fastest wheels. If you don't have access to that setup (level 42+) then see this post to determine the fastest TT setup available at your level.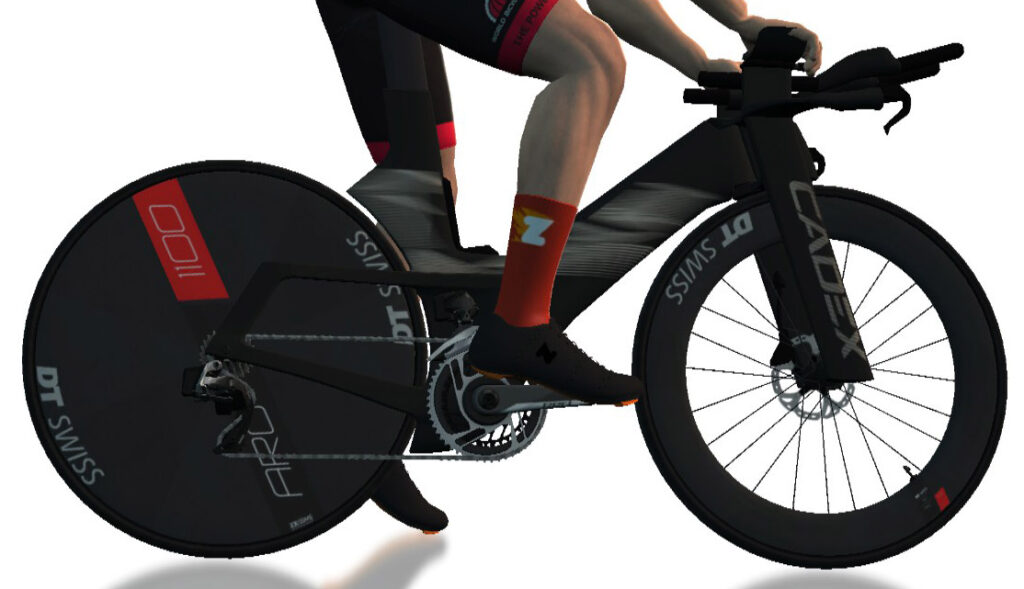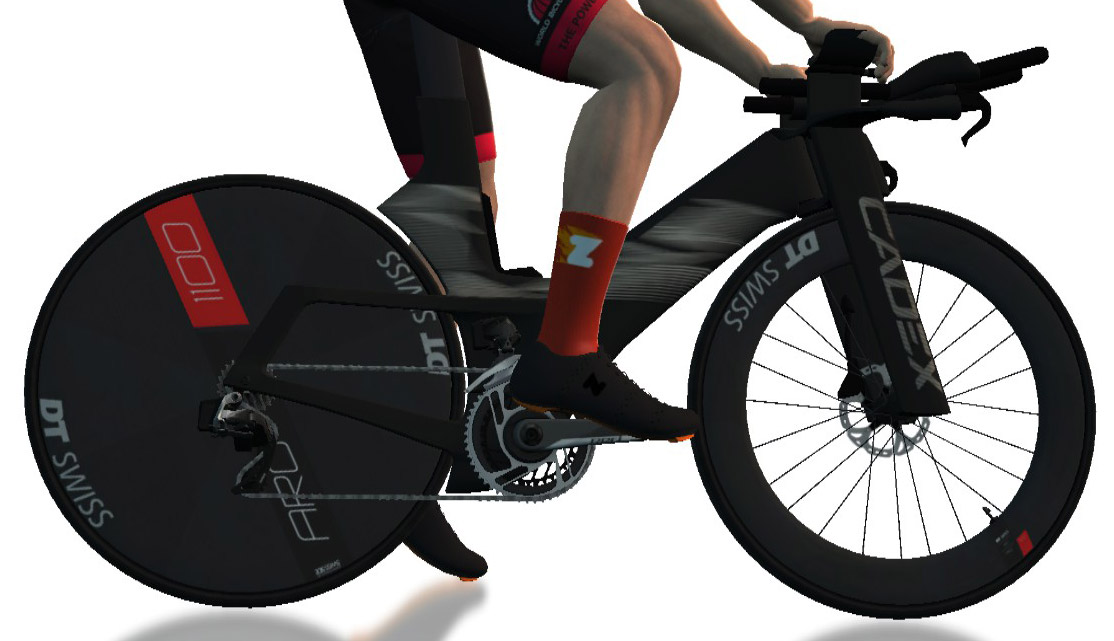 Whatever you do, do not use a road frame. Even a "slow" TT frame is faster than a road frame, so now that we're able to use TT frames and get a draft in TTT events, you'll want to take advantage of that!
More Route Recons
Many events are now being planned each weekend on the upcoming ZRL route. If you're unfamiliar with this course, jump into an event and do some recon! Here's a list of upcoming R.G.V. events.
TTTips
Team Time Trialing on Zwift is a challenging mixture of physical strength, proper pacing, and Zwift minutiae like picking a fast bike and understanding drafting.
Flatter courses like this week give valuable seconds to teams who can keep their speeds high over the short rollers and false flats that pepper the route. Staying in formation while surging your power for these rises is a challenge, especially if riders use various Trainer Difficulty settings.
Climbs like this week's Aqueduc KOM also present an opportunity to gain or lose lots of time over a short distance. You will want a target pace and attack plan for this section, to ensure your team is climbing as fast as possible.
Your goal in a ZRL TTT is to get four riders across the line in the shortest time possible. That means every team's pace plan will be different, based on the abilities of each rider. We highly recommend having an experienced DS on Discord directing your team, especially if your team contains some inexperienced TTT riders.
If you really want to go down the TTT rabbit hole, check out Paul Fitzpatrick's zwift-ds.com site and particularly the Excel Power Planner sheet.
Your Thoughts
Any insights or further thoughts on this race? Share below!